Discover more from Dub Nation HQ
High Quality coverage of the Golden State Warriors with the best commenting community in the world.
Over 3,000 subscribers
Would you trade Klay for Giannis? Blasphemy or smart team building?
Don't panic, it's just a thought experiment.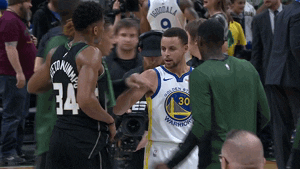 Dub Nation has been dreaming for a while of somehow getting Giannis Antetokounmpo and Stephen Curry together.  But what price are you willing to pay?
The Giannis Dream
We have already awarded Giannis the status of Honorary Warrior, through our scientific studies. From the inauguration: 
Dub Nation has been pining for this MVP to bolt Milwaukee and join the Warriors. We also have a soft spot for him for picking Stephen Curry first when he was All-Star captain, which Steph rewarded with this absurd alley-oop.

Giannis has also been openly humble about his MVP case, claiming not to care about it, in stark contrast to certain other bearded players who are obsessed with MVP. In fact, Giannis has been taking jabs at Harden and Harden has been taking bigger jabs back
The chance of getting Giannis are EXTREMELY low. But. Suppose he demands a trade from the Milwaukee Bucks and MIL offers GSW this (trade machine compliant) trade:
Giannis Antetokounmpo

Thanasis Antetokounmpo
for 
Klay Thompson

GSW 2020 first-round pick

MIN 2021 first-round pick (unprotected)

GSW 2022 first-round pick (unprotected)
Should GSW take the trade?  If not, what is the most you would offer in trade for Giannis?
Duby: Not only would I not execute this trade, I would respond with a formal Hell to the Naw singing telegram.
Apricot: Hahaha, I thought Duby was going to start with "Not only would I not execute this trade, I would also execute whoever thought of this trade."
Duby: The Warriors being good is directly correlated with the Splash Brothers. While I'll admit to a fair amount of personal resistance to this trade (just because I love Klay so much) I think we are also missing a huge structural component of what makes our backcourt so effective over the years. 
The pairing of two elite three point shooters creates a synergy. It's not just that Curry's on-court gravity itself is causing so much chaos (which it does), but the very real threat of having his fellow backcourt mate running around out there on the perimeter makes it so that the gravity Curry pulls players with also creates a sense of fear. While teams won't be able to bust out the "Box plus one" defensive schemes, Curry without Klay changes everything. 
Daniel: I just want to apologize to Dub Nation for Apricot raising everyone's blood pressure with this blasphemous trade idea. He's been going through a lot recently with no basketball to watch, and we all need to have him in our thoughts and prayers.
I guess Andrew Wiggins would be the piece I could realistically see being dangled, although I'd hate to see him leave.
Apricot: My point —and I do have one besides wanting to stir up sh*t —is that no one wants Wiggins and Draymond at their contracts, so if GSW really wanted Giannis, they'd have to offer Klay.
Duby: You know, you aren't necessarily wrong here. As I wrote in one of our recent roundtable articles, looking at the haul Paul George and Kawhi Leonard returned recently, it's going to take a metric ton of assets to get Giannis away from the Bucks. 
But as with so much other stuff in this life, we have to ask ourselves if the opportunity cost is worth it here. Could a team built around Steph and Giannis compete for a title every season? Probably, but as we've seen with this team over it's recent history, there are diminishing returns associated with a super top-heavy super team. Capped out, the Warriors are reliant on bargain players and young draft picks to keep the roster viable. I don't know how many discount veterans we could find (I'll assume it's a lot), but losing Klay leaves an enormous hole in our outside shooting attack. And if the team also send all the nice picks away in the deal, it's going to be a tough run… and Klay's gone now too, taking a significant chunk out of the Dubs' heart and soul. 
Now, how much would I be willing to offer? Pretty much anything else. You say no one wants Wiggins and Draymond, but I'm not so sure about that. While neither player has the value of Klay in a trade, surely there's some sort of non-negative market value for these guys? And the team has the TPE to play with, as well as both of these upcoming first round draft picks. I still doubt that's enough to get Giannis, but if we are playing mental games, then that's my top offer: slide Klay back to our side of the bargaining table and just push everything else into the offer and let the Bucks take whatever they want. 
Apricot: Okay, my take is that I would not do it, but mainly out of sentiment and team culture.
From a raw cold basketball perspective, I am not even sure this offer gets it done for Milwaukee. It's a steal for GSW and makes them a better -- on paper -- basketball team, younger and makes a position of multi-decade weakness into a strength. Klay is 30 and coming off ACL surgery.
It does put Dray into a full-time PF position, which may not be great, so if the deal happened, Myers and Co definitely would be seeing what they could get for Dray as well. 
Popovich probably had lots of chances and temptations to sell off Tim Duncan, Manu Ginobili and Tony Parker for parts to do a hard reset, but he never did. The Lakers horribly overpaid Kobe for the last years of his career. The Boston Celtics hung on to Larry Bird through his back decay.
There's something to be said about creating a team, and letting it grow strong and age with the natural cycles. And we have Klay who was drafted here, grew here, won everything multiple times here, and then collapsed with a horrible injury here. Can we really just dump him like a financial asset and leave him behind like a ponytail?
Is this a family, or is it a business? Well, it's 99% a business. But the family part is what keeps me watching a bunch of people throwing a piece of rubber around.
Nate: There's definitely something to be said for loyalty here, especially for a team that just made an incredible run of five straight finals appearances. Watching The Last Dance makes me even more inclined to just see where this core group can take us — I don't want to be looking back on this 20 years from now and wondering what this team could've done had they stayed together (assuming better health in the future than what we saw this season). After years of turmoil, we finally got a group of guys that (I think?) we like — why not just enjoy the rest of the show with the guys that gave us so many amazing moments over the last 5-7 years? 
---
In case you were wondering what Twitter thinks, here is a similar trade I asked about:
Okay, have your say in the comments!
---
If you want to support content like this, or if you want Apricot to stop enraging Dub Nation, consider tapping this button: