Discover more from Dub Nation HQ
High Quality coverage of the Golden State Warriors with the best commenting community in the world.
Over 3,000 subscribers
Was that it? Heat limp into second Finals game against dominant Lakers
Tragic injuries may have stuck a fork in this series before it even really got off the ground. But short-handed Heat aren't giving up.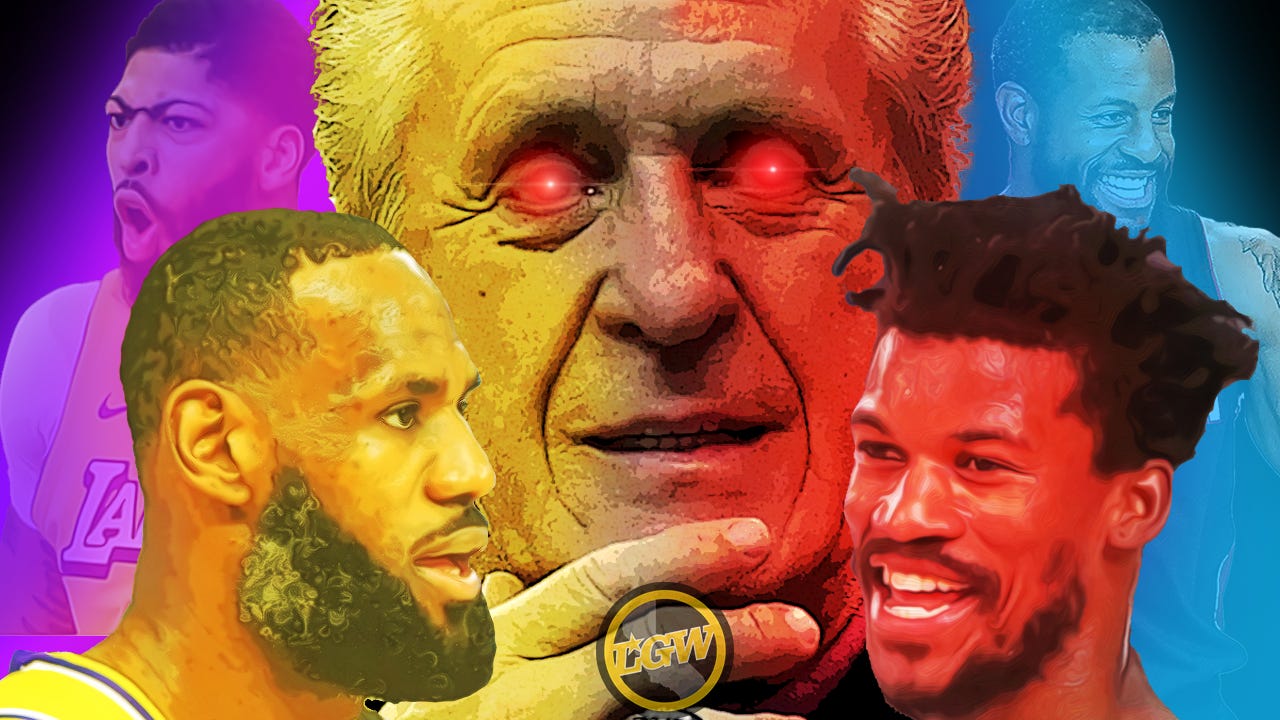 "You look so sad."
Mrs. Dubs was concerned. And to be fair, I was feeling pretty mopey. I had just walked away from game one of the NBA Finals. I watched it till the bitter end - a 116 - 98 blowout - and then stood up and was standing sort of blankly in the kitchen, staring at my discarded beer bottles and feeling just as empty.
"I didn't know you cared so much about these teams," she says.
It's not that. I mean, I do care, I've been watching every single game as closely as possible for weeks; writing daily. I was invested; even though these weren't my teams, I had a rooting interest and an emotional investment.
But that's not what hurts so bad about the first game of these Finals.
It was the feeling of losing something enjoyable, snatched away like so many other things in this year.
I knew the Heat were a long shot against a stacked Lakers team. In a game where we saw the Heat's three best players all go down to significant injuries, essentially ending the intrigue, it just felt too much like 2020 - a year that has objectively sucked on pretty much every single level. So to lose a series that I was excited for before the first half of game one had concluded was just a lot to emotionally process.
As happy as I am for the (likely) eventual champion, Los Angeles Lakers (looking at you JaVale McGee!), it hurts to have the fun ripped out of the Finals.
Jimmy Butler badly rolled his ankle early in the 2nd, a clear sprain, but he gamely played through. Bam Adebayo was wincing early, and by halftime wasn't lifting his injured shoulder at all. Goran Dragic went down with a non-contact injury that turned out to be as bad as everyone feared at first glance. Those are the Heat's top three scorers, all gone or severely diminished.
So, let's talk about the game, I guess?
By the end of the contest, it was just James and Davis stuffing the stat sheet against an injured 5th seed team's backup rotation. James came up just short of a triple-double; and Davis was phenomenal in his NBA Finals debut: 34 efficient points, 9 rebounds, 5 assists, and 3 blocks.
At one point, the Lakers had outscored Miami 75-30 after an early 13-point deficit. Coming in with a tenuous chance at best in the series, Miami playing without their best players healthy was on the level of that skinny little kid swinging their arms in futility as the bully holds them off with one arm.
Much like my golf game, the good news here is that Miami needs to fix just about everything, so there's no shortage of opportunity for improvement. Unfortunately the Heat are woefully short-handed:
Per ESPN, Anthony Davis had seven baskets in the restricted area alone, and 26 of his 34 points came in the paint or at the foul line. He was abusing Adebayo - and everyone else the Heat could throw at him.
It's a problematic matchup that most people who wrote previews for the series mentioned as a key factor. Now, without Adebayo? The Heat are at panic level response phase. The options at their disposal are Kelly Olynk, and I don't know… Myers Leonard? Davis is going to eat both of those guys.
After using it frequently against the Celtics, Miami rarely went to their zone (both stops) so even if it's not their preferred plan of defense, I think the Heat coaching staff will give it a shot in game two - because they need it.
We talked a little bit about the coaching battle in this one, and so far, it's Vogel's game plan (and personnel) that have the opponents on their heels. Quickly realizing Dwight Howard was to slow to cover Adebayo in the post, Vogel quickly went small and picked apart the Heat defense.
As the Golden State Warriors have seen facing both James Harden and LeBron James, teams will simply spam the pick-and-roll in the playoffs, looking to attack mismatches. In the Heat's case, this is Tyler Herro, who would frequently get dragged into the screening action by Rajon Rondo or Alex Caruso. Neither one of those Lakers players are especially dangerous offensive threats, but by predictably flipping the subpar defender Herro into a primary on-ball defense role, it was easy for the Lakers to selectively attack him. Which they did all game, mercilessly, and effectively.
A zone should help with that a bit, much of this will come down to Herro needing to figure out how to defend well enough to stay on the court.
The other Miami secret response could be Kendrick Nunn, who played fantastic for the Heat for most of this season prior to losing his starting role to Goran Dragic. Even if Dragic can miraculously go, it will be at some greatly reduced fraction of himself, so expect Nunn to get a fair amount of run.
Also in the Heat's favor, they have this guy:
There is no quit in Butler, and both he and Andre Iguodala understand that a lot can change in a seven-game series. Right now, the Heat are just thinking about winning this next game. To do so, they'll need to bring more assertive doubles against Davis, figure out how to protect their young shooters who aren't great defenders, and hope for some magic.
I picked the Heat in seven. Playing without their three best players mostly tosses that prediction to the wind, but even so, Miami has three more losses before they have to head home.
This is a resilient team, time to see how deep that goes.