Warriors Draft Pick Tourney, Round 2: #1 Anthony Edwards vs #8 Tyrese Haliburton
Round Two. Up to you.
Okay, welcome to the second round of the Warriors 2020 Draft Pick Tournament! Now we're dealing with some much harder decisions. I have added a few more scouting reports and comparisons since the first round publication.
Which of These Two Prospects Would You Rather The Warriors Draft?
We'll present scouting reports, and you can vote at the end of this post. For details on how these prospects were selected and seeded, see the master tournament post.
1. Anthony Edwards
Wizzy's Comps: (per 40 similarity > 70). Cole Anthony, Bracey Wright, Dajuan Wagner, Marcus Smart, Coby White, Eric Gordon, Gary Harris, Voshon Lenard, Keyon Dooling
Wizzy's Comps: (advanced similarity > 70) Cole Anthony, Rashad Vaughn, Tony Wroten, Tony Carr, Isaiah Whitehead, Marcus Smart, Coby White, Shelvin Mack, Carsen Edwards
NBADraftRoom Comp: bigger Oladipo

(Graphic from Sports-Reference.com)
So he was incredible in spots but largely up and down and inefficient. And though I clearly see the same potential for stardom that everybody else sees with Edwards, I simply think Ball and Toppin will have better NBA careers.
The physical tools are unquestionable, and he's strung together a series of more aggressive performances this month. Edwards still settles for too many jumpers, and he hasn't fully figured out how to impact winning.
The fact he won't turn 19 until August and that his basketball experience prior to college had been largely unstructured isn't lost on teams. You draft him hoping he's moldable, and Edwards brings so much to the table in terms of strength and coordination that it could be worth it. 
His shot is suspect as well. Edwards launched 3s early and often but only converted 29.4 percent of them. Watching him shoot before games (it's nice to have a top prospect play a short drive from your house), Edwards seemed equally inconsistent. His form tended to vary depending on whether he shot off the catch (straight over his head, elbow partly out) or off the dribble (more of a catapult motion off his right shoulder).
Powerful driving to the rim. Dynamic shot-maker off the dribble. A freight train in transition. Solid passer. Doesn't possess elite court vision. Potentially a super-versatile defender
Not a pure shooter; he settles for jumpers even against mismatches. Best suited to be in a multiple-ball-handler system. Inconsistent effort. Struggles as an off-ball defender. Fundamentals and effort must improve while defending on-ball.
PRO COMPARISON: Zach LaVine
There are also too many stretches where he looks disengaged in the game, whether it's due to his lack of focus on the defensive end of his passivity offensively. He's developed a reputation dating all the way back to his high school days for being a guy that starts slow and puts up huge second half numbers in a losing effort.
Want to know a good sign that a player has significant potential? When that player emerges as close to a consensus No. 1 choice despite shooting 40.2 percent overall and 29.4 from three in college.
Anthony Edwards' collegiate output clearly could have been better, but front offices seem willing to give him a free pass. When an 18-year-old has an NBA-ready body and flashes explosive athleticism and advanced shot-making maneuvers, the entire hoops community takes notice.
Edwards is a breathtaking athlete. He's not built like a basketball player. He looks like a football player who wandered into an open gym and started bullying all the skinnier guys on the court.
But there have been just as many nights this season when Edwards has shot his team out of the game. It's not just that he's built like a football player—he plays basketball like one, too.
Basketball is a game of decision-making. A player has to make dozens of reads in a single possession—when to attack, when to pass, and who to pass to. Edwards seems to skip that whole process entirely. 
SHADES OF: Victor Oladipo, Eric Gordon, Dion Waiters
Ethan Strauss and Evan Zamir, The Athletic:
Evan: I think you have to look at him as one of the safest bets to eventually be an efficient scorer inside and outside at relatively high volume. He's handling a big load offensively (30 percent usage) on a really bad Georgia team, which hasn't helped his efficiency (53 percent true shooting). He kind of reminds me of a bit bigger and perhaps a bit more athletic version of Dion Waiters. (I do think Edwards' athletic ability is somewhat overrated.) I'm thinking if Edwards unlocks just a bit more shooting and a quite a bit more defense than Waiters given his tools; that's going to eventually be a really good player and possibly, an All-Star.
Ethan: He's not my No. 1, somewhat for subjective reasons that could well look silly in retrospect. I didn't like how he wildly celebrated being up six points at halftime against Kentucky. There I said it. I know I'm an old man, but it was a ridiculous display that had Jay Bilas equal parts disdainful and flummoxed. More importantly, Kentucky's Ashton Hagans completely shut him down in the second half.
---
8. Tyrese Haliburton
Wizzy's Comps: (per 40 similarity > 70) None. (>50) Lonzo Ball, Shai Gilgeous-Alexander, Monte Morris, Raymond Felton, Shane Larkin, Luther Head, Desmond Bane, Trey Burke
Wizzy's Comps: (advanced similarity > 70) None. (>50) Lonzo Ball, Shane Larkin
NBADraftRoom Comp: better MCW, Dejounte
(Graphic from Sports-Reference.com)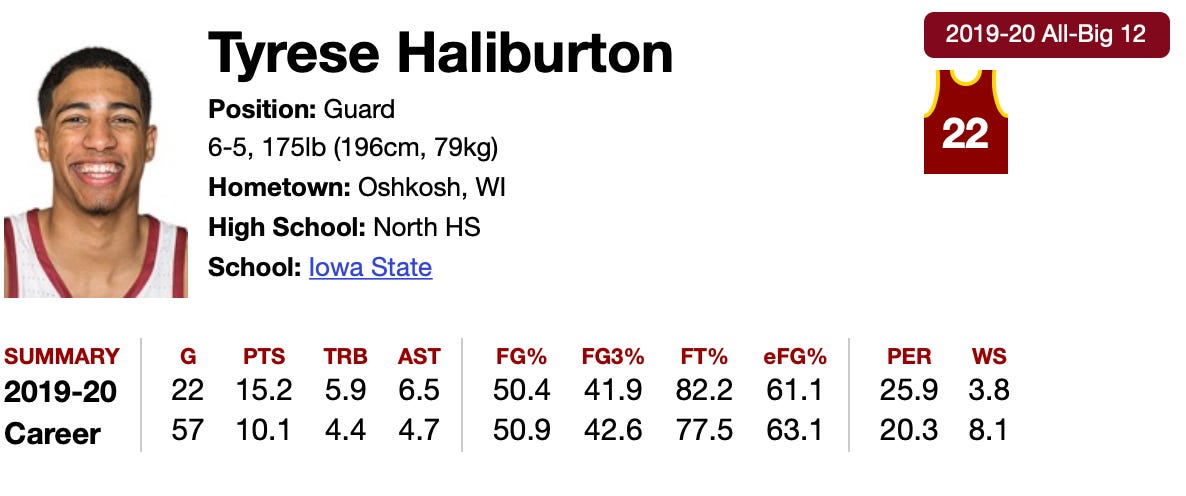 Haliburton, like Toppin, is a good example of a mostly unheralded high school prospect who became a statistical monster in college… before suffering an injury in early February that ended his college career
There's still some dissonance in how scouts value the things he brings to the table. His unselfishness and ability to facilitate winning play is a big draw for some. Other scouts remain hung up on his shooting mechanics and don't see a full-time lead ball-handler. He's a much better team defender than he is on an island, for better or worse.
As a scoring threat in the halfcourt, however, he has work to do. He's long and quick but doesn't have crazy burst and needs time and space to uncork his outside shot. At the basket, he shies away from contact with his thin frame and doesn't draw fouls.
He's more spectacular in transition, where his speed and court vision can combine for some breathtaking sequences. He's also a money shooter.
All the background on Haliburton is rock solid as well. He may never be a big scorer, but as a long-term plus at the guard position, he looks like one of the few close-to-sure things in this draft.
SHADES OF: Shai Gilgeous-Alexander, Sam Cassell
Always in control. Creative playmaker with extraordinary vision and ambidextrous handles. Good spot-up shooter with deep NBA range, despite his odd form. A coach's dream: He does all the little things on the court.
Lack of athleticism and burst limits his upside as a primary shot creator. Generally avoids contact at the rim. Made progress off the dribble as a sophomore, but still didn't shoot well, and his stiff form raises concern. Man-to-man defense: He stands in too much of an upright stance.
Tyrese Haliburton is one of the best examples. The league should be praying that he's kept away from the Warriors. I'm praying for the opposite. The Iowa State guard would be an incredible fit within Golden State's scheme because of the added jolt and intelligence he could bring to their healing offense, whether he's the primary initiator or not. In some ways he seems like Shaun Livingston reincarnated.
PRO COMPARISON: Lonzo Ball
He was the best player on the floor for Team USA at the U-19 World Championships over the summer. 
I'm high on Haliburton because, after seeing the way that elite passers like Luka Doncic, Ja Morant and Trae Young have thrived early in their NBA career, I'm willing to take the risk on a 6-foot-5 point guard that can make those passes in a year where the opportunity of rolling the dice at the top is relatively low.
NBA.com, Making his point: The rapid rise of Tyrese Haliburton:
"A lot of it's in the DNA," Prohm says, before listing Haliburton's inherent qualifications to play the point: "Unselfish. In his heart, Tyrese is a giver. Feel for the game. Ability to make people better. Charismatic. Personable … He'll be the governor of Wisconsin [Haliburton's home state] when it's over. He can own any room."
"You talk to a lot of NBA people, and they'll tell you there's a lot more to the really great players than performing on game night," Robinson says. "There's a tremendous amount of preparation that goes into it. That won't set back Tyrese. He'll be able to hit the ground running when it comes to preparation. He's like a sponge. He soaks up information, and he's not intimidated by guys being older or having more experience."
Prohm says Haliburton will be "blessed wherever he ends up," but he's got a spot in mind. "He'd be great [for the Warriors]. He's a ball mover, and he can play the 1, 2 or 3 at the next level. And he's all about winning, all about doing the right things, a lot of the things I've read about what the Warriors do as a team."
Ethan Strauss, "A breakdown of Tyrese Haliburton":
I didn't maintain that view, however. As I dug deeper into the Haliburton experience, I came away seeing more possibilities than limitations, more positive than negative. Because, while Haliburton isn't a top pick-and-roll guard, he happens to be an absolutely brilliant passer.
Despite his flaws, Haliburton could fit perfectly on this particular team. Defense is half the game and Haliburton has high-level defensive abilities. The Warriors are light on wing depth and desperately in need of plus defenders. Not only can Haliburton take pressure off of Stephen Curry and Klay Thompson on that end, but he can find novel ways to get them the ball.
Ethan Strauss and Evan Zamir, The Athletic:
Evan: I think some people will see shades of Shai Gilgeous-Alexander ("Shades of Shai" is either a great podcast title or new line of sunglasses), but the important differentiator there is Shai's driving ability. That is what makes him a special player with potential superstar upside. Regardless, if you buy into Haliburton's defense and off-ball skills, which I do, you're looking at a potentially uber role player with legit All-Star upside as the second- or third-best player on a contender.
Anyone who read what Tyrese Haliburton wrote for his social media feed after the George Floyd killing saw an intelligent, thoughtful person. Teams that have done their background research have come away thinking similarly. Particularly, they point to his maturity and emotional intelligence. Sources have said that Haliburton will be able to adjust to just about any situation he's put in early in his career, and will find success. Consistently, he's come up as being one of the most impressive human beings in this class. This played a role in his move up to No. 5 on my board. More than that, though, the more tape I watch on Haliburton, the more I see pretty substantial upside if he's able to fill out his frame with 20-25 more pounds throughout his career. I feel confident he's going to be effective quickly in the NBA because of his diversity of skill-set as a potential secondary ballhandler. But there is some upside for more.
How Iowa State's Tyrese Haliburton Has Emerged a Top NBA Prospect (video) 
---
Your Vote
Vote on Twitter or post a comment clearly supporting one or the other. Comment votes count ten times more than Twitter votes.