Warriors Draft Pick Tournament: #5 James Wiseman vs #12 Aaron Nesmith
You make the call.
Which of These Two Prospects Would You Rather The Warriors Draft?
We'll present scouting reports, and you can vote at the end of this post. For details on how these prospects were selected and seeded, see the master tournament post.
5. James Wiseman

(Graphic from Sports-Reference.com)
That's not a typo… only 3 college games before injury and fighting with the NCAA.
Wiseman's decision to quit on Memphis midseason raised eyebrows with some NBA executives who were left wondering if the 7-1 center is wired to be great. But his natural ability is so overwhelming that he can't possibly slip too far in a draft this devoid of high-end talent.
Many scouts felt like Wiseman had started turning the corner in terms of playing hard consistently before his season ended. He's the type of talent who's essentially a lock to look good in solo workouts.
The player he most reminds me of physically is Hassan Whiteside, but Whiteside is among the best rebounders in basketball and Wiseman's board work is a constant disappointment. Wiseman has some shooting touch, but that may almost serve as a hindrance – he seems to relish shooting 15-footers more than attacking inside.

Again, we're operating with only a three-game NCAA sample, one of which was him dunking on Nerf hoops against Kenpom.com's 339th-rated team. So we need to look at other information. Fortunately, we have it from his high school play. Believe it or not, AAU performance has predictive value for the NBA draft. In Wiseman's case, despite his size he didn't dominate the way you'd expect, especially on the glass.
Active rebounder. He displays a high motor and great instincts tracking the trajectory of missed shots on the offensive glass.

His best offensive role is as a screener who rolls hard to the rim since he can finish lobs or with touch. But he can also mix in pops to generate shots from the perimeter and keep defenses honest.

Strong post-up potential. Displays a rare blend of power and finesse and does a nice job of sealing off his man. But he currently lacks advanced power moves, instead defaulting to fadeaways.

Shooting upside: He has good mechanics and soft touch. But he lacks range and doesn't have a track record of success shooting from midrange and 3.

Sluggish lateral movement on the perimeter due to a lack of quickness and shoddy footwork. Defenders blow by him too often. At this stage, he's not switchable.

Shaky team defender who tends to find himself in the wrong position or a beat late when rotating. He reads the floor slowly, so his pick-and-roll defense is particularly underwhelming.
SHADES OF: David Robinson, mild-mannered Rasheed Wallace, Damian Jones
PRO COMPARISON: Chris Bosh
My gut feeling on Wiseman is that if he decided he wanted to be, say, the next Myles Turner, he could end up one of the eight-to-ten best centers in the NBA. If he decides that he wants to be the next Giannis, I don't think it will go as well.
If those skills never come around, the 19-year-old won't offer exceptional value as a likely top-five pick. That said, he won't be a bust, either. His physical tools are off the charts, and he could slide into a rim-running role tomorrow.

The upside comes from the possibility Wiseman will build onto this foundation. If he's a pick-and-roll terror who can also hit outside shots, anchor a defense and survive the occasional perimeter switch on defense, he could have the best career of anyone in this class.
The concerning plays might be easy to dismiss if Wiseman was an outright killer in high school. Instead, he was far less productive on the Nike EYBL circuit than, say, Sacramento Kings' big man Marvin Bagley.

Also, Wiseman has reportedly gotten into better shape over the last year and he may well be a late bloomer. I'm certainly not writing off a prospect whose physical profile evokes comparisons to a young David Robinson.

But I'm also not buying the "safe" pick thesis. The idea that physically dominant bigs are easy to project "safe" selections seems fit for another era. In this one, where big men are played off the floor more than ever before, bigs might present less upside and more downside. If James Wiseman completely fulfills his potential, forget I said anything. Those are big "ifs" going forward though, maybe even bigger than the young center's massive frame.
12.Aaron Nesmith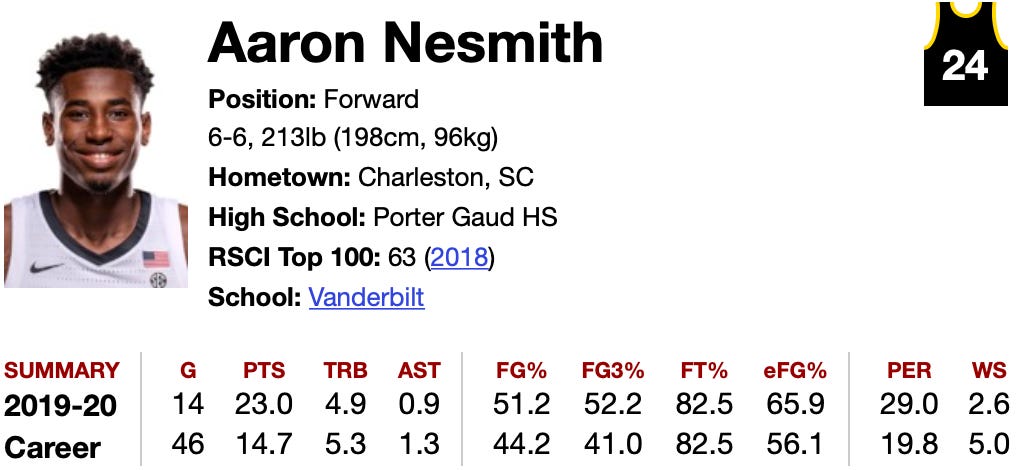 (Graphic from Sports-Reference.com)
It's true that Nesmith only played 14 games as a sophomore before suffering a season-ending foot injury — meaning the sample size is on the smallish side. But it can't be ignored that the 6-6 guard made 52.2% of the 115 3-pointers he attempted. 
His final performance of the season in a near-win on the road at Auburn stands as a pretty impressive showcase, with his ability to hit shots cleanly off the catch and on the move, attack closeouts and provide a feasibly sized body on the wing defensively.
Guys who can shoot are one thing. Guys who can shoot on the move? Now that's special. Nesmith can catch in motion and immediately let fly, rolling seamlessly off of screens and right into perfect rainbow splashes thanks to great footwork and a butter-smooth release.

Offensively, the biggest concern is that once he puts it on the floor the other 4 players might as well be invisible. Nesmith can show-and-go when teams crowd his jumper but doesn't see anything except the rim. 
SHADES OF: Dale Ellis, Danny Green, taller Buddy Hield

Unlimited range; Skilled shooter off screens who takes tight routes, makes smart reads, and has elite fundamentals from catch to release. Comfortable shooting 3s off the dribble. Straight-line driver who is decisive attacking closeouts.

Competitive on-ball defender; with some improved fundamentals and athleticism, he could become far more versatile. Intelligent defender.

Struggles finishing at the rim against length and contact. Lacks shake as a ball handler. He can make basic reads, but he isn't going to make any advanced plays.

Man-to-man defense needs work. He's slow laterally and would struggle against speedy guards.
PRO COMPARISON: Buddy Hield
Nesmith is a 6-foot-6 wing with a 6-foot-10 wingspan that was shooting a ridiculous 52.2% from three while taking more than eight threes per game before suffering a foot injury that ended his season. Nesmith's season was cut short before he really got into the teeth of SEC play. But I'd be willing to roll the dice on his shooting carrying him to a role in the league.
---
Your Vote
Vote on Twitter or post a comment clearly supporting one or the other. Comment votes count ten times more than Twitter votes.