Warriors 2020 Draft Pick Tournament: #1 Anthony Edwards vs #16 Tyrell Terry
You make the call.
Which of These Two Prospects Would You Rather The Warriors Draft?
We'll present scouting reports, and you can vote at the end of this post. For details on how these prospects were selected and seeded, see the master tournament post.
1. Anthony Edwards

(Graphic from Sports-Reference.com)
So he was incredible in spots but largely up and down and inefficient. And though I clearly see the same potential for stardom that everybody else sees with Edwards, I simply think Ball and Toppin will have better NBA careers.
The physical tools are unquestionable, and he's strung together a series of more aggressive performances this month. Edwards still settles for too many jumpers, and he hasn't fully figured out how to impact winning.

The fact he won't turn 19 until August and that his basketball experience prior to college had been largely unstructured isn't lost on teams. You draft him hoping he's moldable, and Edwards brings so much to the table in terms of strength and coordination that it could be worth it. 
His shot is suspect as well. Edwards launched 3s early and often but only converted 29.4 percent of them. Watching him shoot before games (it's nice to have a top prospect play a short drive from your house), Edwards seemed equally inconsistent. His form tended to vary depending on whether he shot off the catch (straight over his head, elbow partly out) or off the dribble (more of a catapult motion off his right shoulder).
Powerful driving to the rim. Dynamic shot-maker off the dribble. A freight train in transition. Solid passer. Doesn't possess elite court vision. Potentially a super-versatile defender

Not a pure shooter; he settles for jumpers even against mismatches. Best suited to be in a multiple-ball-handler system. Inconsistent effort. Struggles as an off-ball defender. Fundamentals and effort must improve while defending on-ball.
PRO COMPARISON: Zach LaVine
There are also too many stretches where he looks disengaged in the game, whether it's due to his lack of focus on the defensive end of his passivity offensively. He's developed a reputation dating all the way back to his high school days for being a guy that starts slow and puts up huge second half numbers in a losing effort.
Want to know a good sign that a player has significant potential? When that player emerges as close to a consensus No. 1 choice despite shooting 40.2 percent overall and 29.4 from three in college.

Anthony Edwards' collegiate output clearly could have been better, but front offices seem willing to give him a free pass. When an 18-year-old has an NBA-ready body and flashes explosive athleticism and advanced shot-making maneuvers, the entire hoops community takes notice.
Edwards is a breathtaking athlete. He's not built like a basketball player. He looks like a football player who wandered into an open gym and started bullying all the skinnier guys on the court.

But there have been just as many nights this season when Edwards has shot his team out of the game. It's not just that he's built like a football player—he plays basketball like one, too.

Basketball is a game of decision-making. A player has to make dozens of reads in a single possession—when to attack, when to pass, and who to pass to. Edwards seems to skip that whole process entirely. 

SHADES OF: Victor Oladipo, Eric Gordon, Dion Waiters
Ethan Strauss and Evan Zamir, The Athletic:
Evan: I think you have to look at him as one of the safest bets to eventually be an efficient scorer inside and outside at relatively high volume. He's handling a big load offensively (30 percent usage) on a really bad Georgia team, which hasn't helped his efficiency (53 percent true shooting). He kind of reminds me of a bit bigger and perhaps a bit more athletic version of Dion Waiters. (I do think Edwards' athletic ability is somewhat overrated.) I'm thinking if Edwards unlocks just a bit more shooting and a quite a bit more defense than Waiters given his tools; that's going to eventually be a really good player and possibly, an All-Star.

Ethan: He's not my No. 1, somewhat for subjective reasons that could well look silly in retrospect. I didn't like how he wildly celebrated being up six points at halftime against Kentucky. There I said it. I know I'm an old man, but it was a ridiculous display that had Jay Bilas equal parts disdainful and flummoxed. More importantly, Kentucky's Ashton Hagans completely shut him down in the second half.
16. Tyrell Terry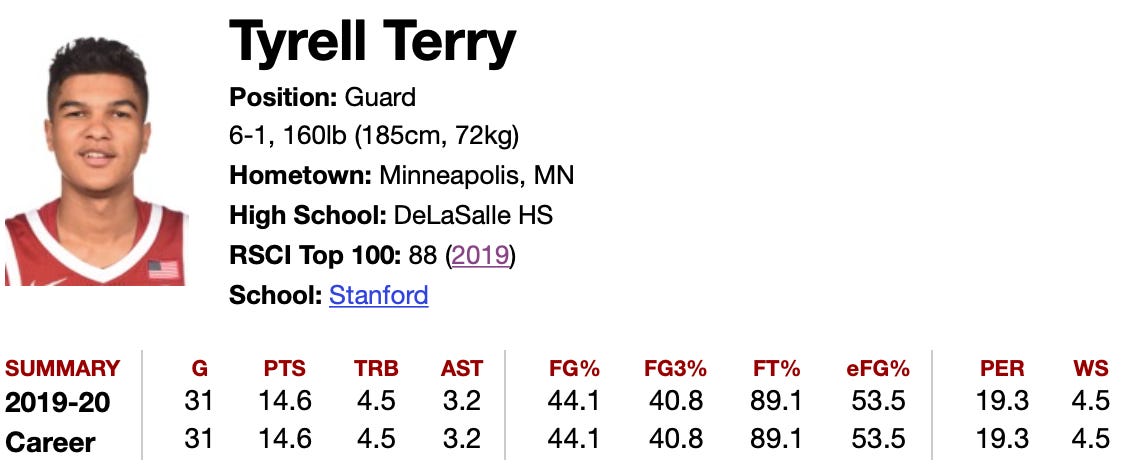 (Graphic from Sports-Reference.com)
The fact that Terry is listed at 160 pounds —physically, he's not close to ready for the NBA. But he's helped rejuvenate Stanford upon arrival in college, and his pull-up shooting skills, secondary playmaking and overall feel for facilitating offense really stands out upon close examination. 
Potentially a game-changing shooter with limitless range, but players his size historically have had limited potential. SHADES OF: Mark Price, CJ McCollum, Jason Terry

Elite shooter with a quick, high release. He can run off screens and find his balance midair (48 percent on catch-and-shoot 3s), or unload off-the-dribble jumpers from deep behind the arc (32 percent).

Advanced off-ball movement: He manipulates defenders with pivots and fakes to get himself open. The Curry family would be proud of his tendency to relocate for corner 3s after giving up the ball. Crafty interior finisher with an expansive layup package. Makes an impact in the pick-and-roll. Solid passer. Competitive defender.

Developing a stepback and side-dribble 3 is the next step for him. When he takes wild shots—which were often necessary at Stanford—his mechanics often fall apart. He needs to improve his off-hand to score better around the rim against length and contact. Picks up his dribble too often on drives to the rim. Goes through the motions at times as a playmaker.

Undersized point guards get targeted on defense no matter how hard they compete, and at 160 pounds he'll have a huge target on his relatively small back.
How did Terry surprise us? Again, the main way a player obtains sleeper status is by not fitting the mold of what everyone is looking for. At a skinny 6-1, without much quick-twitch athleticism, Terry certainly does not fit the mold of what teams are desperately in need of, and so there wasn't much hype coming in. Now? He's gained some admirers because he might be the draft's best shooter, and he can do it off the bounce.

He can also do it off the ball. You would think that getting open off ball is a common skill, but it's oddly rare and brings an underrated value to an offense. Here, you can see Terry slyly throwing a random screen at the lumbering Branden Carlson to free himself for a sweet shot….

No sleeper is perfect, but if you're taking someone in this draft whose game most resembles Steph Curry, it's Terry. He doesn't quite have Curry's shake and boldness, of course, and won't win two MVPs. There is, however, an excellent chance he helps a team's offense, maybe sooner than you'd think.
---
Your Vote
Vote on Twitter or post a comment clearly supporting one or the other. Comment votes count ten times more than Twitter votes.