Discover more from Dub Nation HQ
High Quality coverage of the Golden State Warriors with the best commenting community in the world.
Over 3,000 subscribers
Treasure these playoffs, because it's going to be a while before the next season starts
Lakers-Nuggets Game 3 tonight; plus NBA draft, season pushed back yet again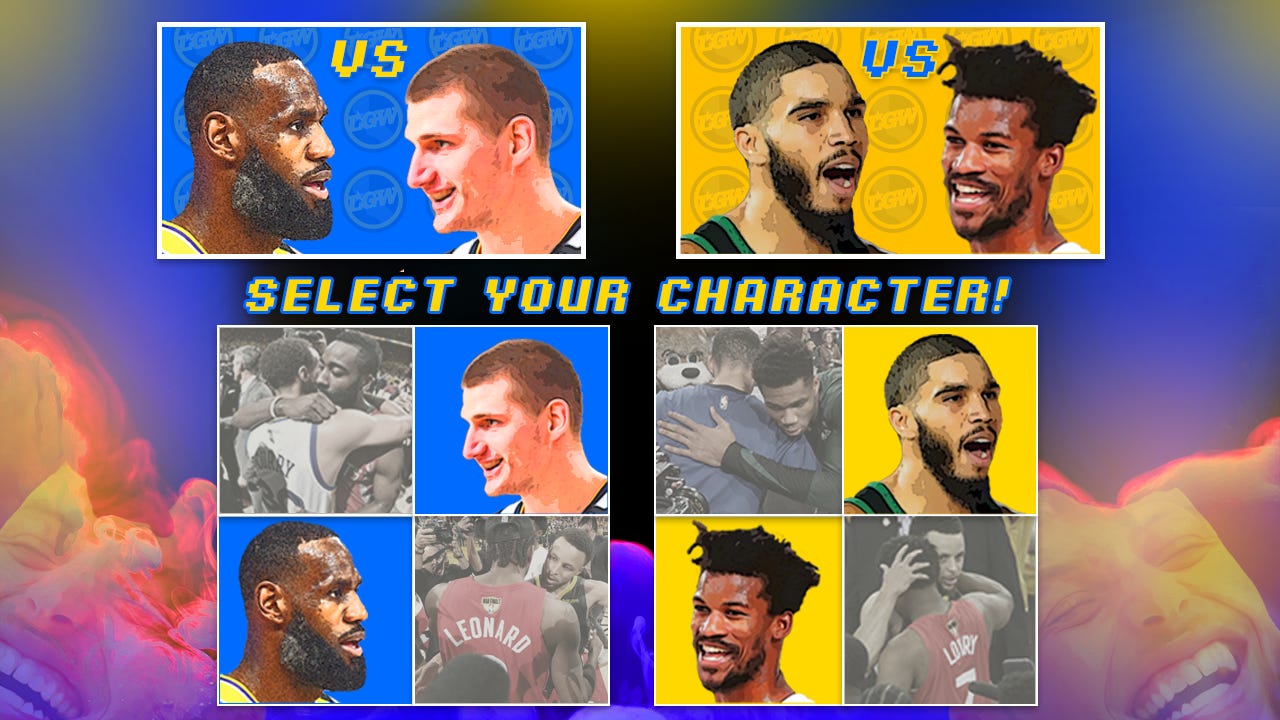 I suck at golf (badly), but have been taking my young son out to the driving range by our house, just to have something to do. Anyways, one of the main pieces of advice I've been giving him is to slow down and not rush his shots - which he tends to crank out like there's a timer going and he's got to get through the bucket before the buzzer sounds.
"Treat it like the last piece of your favorite candy," I say to him.
It's advice that he mostly ignores.
But maybe it will help us basketball fans, because from the looks of it, the next NBA season is far, far away.
So let's really enjoy these playoffs. It could be the last NBA basketball we see for a good long while.
Treasuring the Lakers-Nuggets series
While LeBron James continues to shoulder charge his way past the reaching hands of time's arrow, it's actually teammate Anthony Davis that has given the series it's signature moments. The Denver Nuggets will get another shot at the top-heavy Lakers squad tonight at 6:00 pm PST on TNT, hoping to push the series to 2-1.
After nearly succumbing to a late-game Nuggets push, fueled by the clutch mastery of Nikola Jokic, the Lakers got bailed out at the end of game two. Surprisingly, it was not multi-time champion LeBron James that made the game winning play. No, he was stagnant - standing and watching as the game got decided on the final possession.
It was the biggest shot of Anthony Davis' career, but one that probably shouldn't have been all that shocking, given the importance of Davis to this year's Lakers team. He led them in points, blocks, and rebounds during the regular season, and is precisely the sort of all world talent that James prefers to play next to - and who blames him!?
In the playoffs though, Davis has gone completely bonkers, dominating the mid range, and significantly outplaying his season - and career - averages. Take a look at his shooting splits, via The Athletic: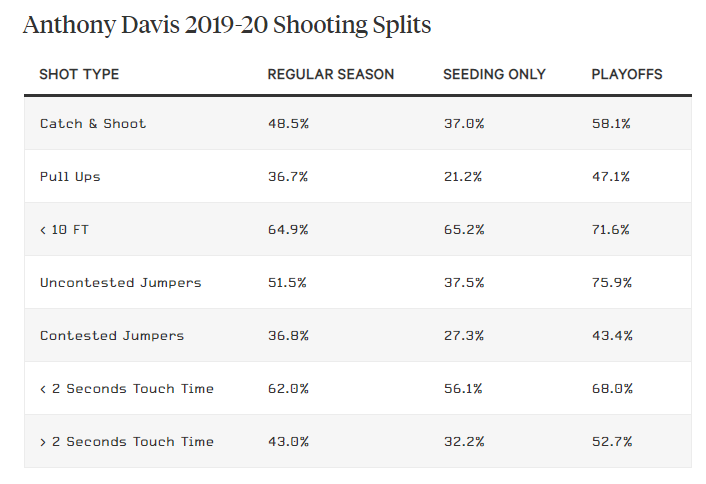 Sure, one could argue that these numbers are inflated as teams ply their best defensive tools against LeBron but regardless of the root cause here, it's simply a fact that Davis has been phenomenal.
But as Denver has shown over and over again in these playoffs, this is not going to be handed to Los Angeles. Some adjustments, a lucky call or two, and Denver would have come out of game two with a win.
This will all come down to Murray and Jokic, a tandem that has been keeping Denver alive with a brutal combination of individual brilliance and a lethal pick-and-roll attack.
There's an entire article about how similar Murray's impact and output have been to the clinic Warriors' star Stephen Curry put on in the 2015-2016 playoffs - take a look at the side-by-side totals, via The Athletic. The article goes on to point out that Murray's team is much worse off when he's not on the court; whereas the Warriors were a mere -3 per 100 possessions without Curry, Denver manages a staggering 18.2 fewer points per 100 possessions without Murray out there.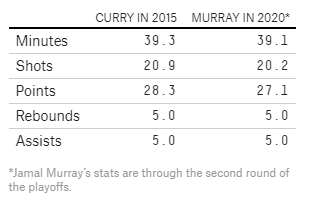 Keep your eye on Dwight Howard. He has seemingly taken a personal interest in this matchup, and while his physicality was extremely effective in game one, that seems to have worn off a bit in game two. Notable, Howard was one of the main agitators after game two:
As the Lakers mobbed Davis on the court after his shot, big man Dwight Howard broke off from the group and decided to taunt the Nuggets as they exited the basketball stage. If you somehow haven't noticed, Howard is leaning hard into this tough-guy approach.

"Go home!" he yelled over and over while laughing, jumping, pumping his fist and getting closer to the Nuggets' side of the floor with every second. "Go home!"
While we all watch from home, it's all too easy to discount this series, which feels to be heavily tilting towards a feeling of Lakers dominance. But the Nuggets have been here before. They've been much closer to the edge of elimination and didn't quit then, so hopefully they can dig themselves out of this 0-2 hole tonight.
Some clarity on dates for the upcoming(ish) next NBA season
We'll get into some of the rationale behind these dates, but bottom line up front: strap in for a really long offseason and another weird season whenever the NBA comes back.
The primary issue here is money. The NBA reportedly gets about 40% of it's revenue from game attendees and without that foundational leg of support, the NBA's finances can't viably stand. It was a fine concessions to make with the Orlando Bubble, but over the course of an entire season, it would clearly be a massive financial hit.
Players and the league have already indicated that they will be revisiting the collective bargaining agreement (CBA), which will occur prior to this year's draft in order to allow them to set team salary caps, and various other resultant salaries like the mid-level exception and max contract.
According to Adrian Wojnarowski, October 15th is the new deadline for modifications to the CBA for the 2020/21 season; so presumably we will all have a modicum of clarity on all of these pertinent details in the next month or so.
This is a tough pill to swallow for fans, as it means that we are about to enter months of nuclear winter. With the Finals wrapping up in October, and the Corona virus pandemic still ravaging the United States, even that January start date may be overly optimistic - especially given Silver's stated goal of playing in front of arenas packed full of fans.
The next date that Warriors fans care about will be the NBA draft, currently tentatively scheduled for November 18th - though even that may be pushed back as per the NBA, which stated in their official press release that "the date remains subject to change." 
It remains to be seen if the league will somehow truncate their next season, or work in some sort of off-season schedule trickery to return to their normal calendar - but as it stands now, NBA fans will not be opening up a full slate of games as their Christmas day present in 2020; so let's all be sure to enjoy these NBA playoff games while we have them.