The Warriors head into the All-Star break with another loss and bright hopes
Have the Dubs found their starting center of the next era in Marquese Chriss?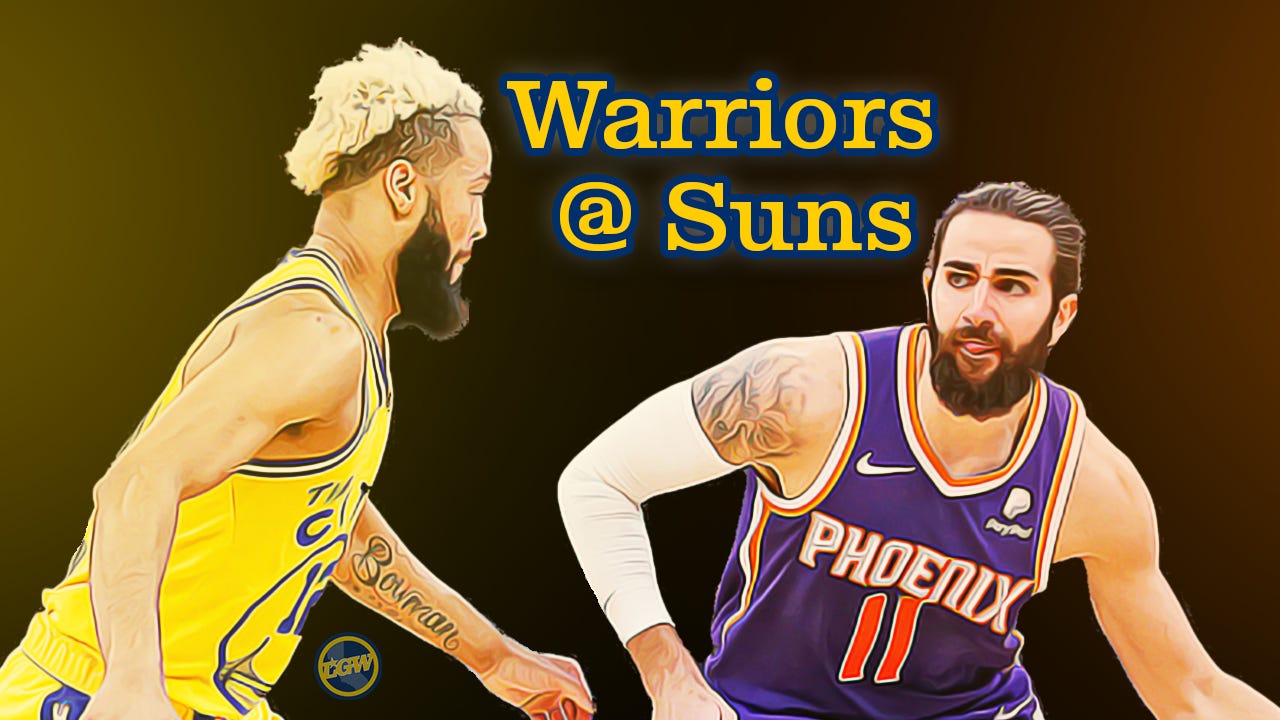 The Phoenix Suns survived a spirited Golden State Warriors effort last night in Arizona, 112-106.
Let's jump into it.
Turnovers doom Dubs
The Achilles heel for the Warriors (besides Kevin Durant's actual Achilles) has always been turnovers. The frenetic pace they love, combined with their tendency to overshare, often leads to dangerous passes. During the Golden Empire, they could usually overcome it with ridiculous shotmaking and stout defense.
With the retooling team on the mend, those days are long gone. Now, losing the turnover battle all but guarantees defeat.
Last night, the Dubs coughed up 22 turnovers, leading to 32 fast break points. Phoenix gleefully converted those mistakes into points like gleeful pre-teens in the 90's running through an arcade to exchange their handfuls of quarters for video game tokens.
Draymond Green was the main culprit for Golden State, throwing the ball away five times. The Dub actually shot 50% for the game and made 17-of-19 free throws, while limiting Phoenix to 46% shooting from the field. If not for those turnovers, we'd most likely be talking about a GSW win today.
OH WELL.
Wiggins/Chriss watch
The Warriors have invested into wing Andrew Wiggins and big man Marquese Chriss this season, two former high draft picks that were left for dead by the rest of the NBA. They have both played well heading into the All-Star break, and their box scores popped out in the loss against Phoenix.
Chriss scored 18 points and grabbed 12 rebounds on 7-of-11 shooting from the field, with 3 assists and 3 blocks. He's always good for one or two jaw-dropping highlights per game and last night did not disappoint.
There was a sequence near the close of the final period where Suns guard Devin Booker physically deterred Chriss from finishing at the rim.
After a pumped up Booker talked some smack to his former teammate, Chriss unleashed a wild fury reminiscent of the days of big men past.
He followed this up with a monster jam off of an offensive rebound that I thought was going to shatter the backboard NBA Jams style.
Chriss is averaging 15 points and 8 rebounds on 59% shooting during the month of February and has 15 blocks over that six game span. Not bad for a Suns/Rockets/Cavaliers castaway, eh?
Speaking of castaways, Wiggins has had to deal with the NBA Twitter mob telling anyone who would listen that his contract signaled the end of the Warriors-as-contenders era.
All he can really do is ball out, something he appears more than willing to do. Last night he tallied up 27 points, 5 assists, and 4 rebounds on 9-of-14 shooting from the field (3-of-4 from downtown). He even went a perfect 6-of-6 from the free throw line and added a career high 4 blocks.
Yes, that's right, Wiggins was supremely efficient from the field without being overly ball-dominant, got his teammates involved, and set a new personal milestone for defensive aggression.
Did you know Wiggins has led the starters in plus/minus in each of three games he's played so far? Not bad for a "bad basketball player".
Draymond's defense is still a thing of beauty
I've always enjoyed the analogy of Draymond Green as the heart of the Golden Sate Warriors dynasty. His contributions are often below the surface but supremely necessary to the Dubs system functioning, pumping out the lifeblood that powers vitality.
But this season, Dray's impact on the injury-reduced Warriors is more like the heart sustaining an under-the-weather dad knocked out from a double dose of Nyquil. That heartbeat is still obviously absolutely crucial to life, but that body ain't doing a damn thing until that sleep coma wears off.
In the same way, the Warriors won't be their weaponized selves until the Splash Bros are off the injured reserve, no matter how much point-forwarding Green does. Until then, the long-suffering former All-Star will have to settle for infusing wisdom into the next generation of Warriors hopefuls.
Last night we got an amusing glimpse of that in Green's 6 point, 9 assist, 6 rebound, 5 turnover performance. He directed traffic like an OG at the YMCA playing with eager high schoolers. With his 30th birthday only a couple weeks away, Green was the oldest player on the floor for either team (Suns guard Ricky Rubio turns 30 in October).
I was particularly impressed by how he took the challenge of locking up the Suns precocious scoring machine Booker in the fourth quarter of a tight game. Booker checked into the game with six minutes left, having already scored 25 points. Green began picking him up in the half court, getting low in his stance and hounding him around the perimeter.
Booker, who today was named as an All-Star game as an injury replacement for Damian Lillard, could do nothing against Green's defense. He couldn't penetrate, nor could he get space for a clean jumper. The best the youngster could muster was wild desperation passes when Green's teammates overhelped off of Rubio.
Booker went 0-2 for the rest of the game, with his lone two points coming at the charity stripe. Green let him hear about it between free throws, going back-and-forth with the feisty Booker despite the game's outcome being decided. For those fretting that Green will never recapture his elite defensive form of his younger years, that fourth quarter was a reminder that he's still a beast on that end.