The rising star of Eric Paschall is on display at All-Star weekend
The Warriors rookie is the only Golden State player invited to participate in the annual festivities.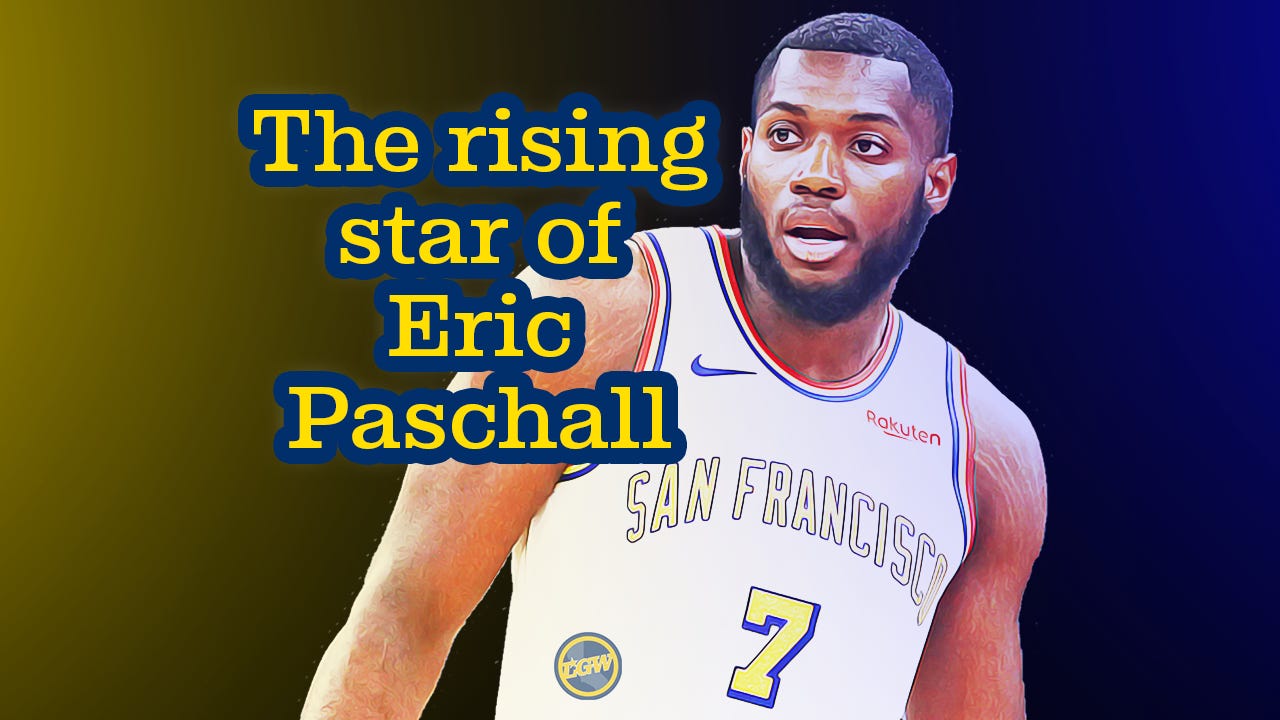 GAME DETAILS
WHO: USA vs World
WHERE: United Center, Chicago, IL
WHEN: Friday February 14th, 2020; 6:00 pm PST
WATCH: TNT
I first met Golden State Warriors rookie Eric Paschall at Media Day last fall. We were on a sound stage in Chase Center: he the burly young player from Villanova, and me an overly amped member of a sweaty mob of Dub Nation fanatics.
He was there to flex and pose in front of the cameras like a WWE superstar, while our job was to go crazy and dance around him like a bunch of hyenas as the strobe lights and smoke machines did their magic.
At least, that was the script. When the music hit, Paschall initially looked around at the lot of us quizzically, like he had just rolled the dice in Jumanji and accidentally been transported to a den of beasts.
My buddy Shawnanthony was the worst offender, scowling and gyrating next to Paschall like he was going dumb at an East Oakland sideshow.
"Bro," Paschall comically groaned as he side-eyed my friend. "You can't be mean mugging like that, you're making me laugh".
The rook flashed a sly grin at my shocked partner, turned back to the cameras, and started smoothly two-stepping to the beat as the crowd cackled. Shawnanthony turned to me with an incredulously amused expression, as if to say, "Who the hell does this kid think he is?".
Five months later, Dub Nation is finding out Paschall could be a major key to unlocking the franchise's full potential in the Post-KD era.
Tonight, the 23-year old second round draft pick will join some of the league's best and brightest in the NBA's Rising Stars game. This makes him the only Golden State Warrior selected for any All-Star game festivities, which is pretty surreal considering as recently as 2018 the Dubs had four people playing in the All-Star game at the same time.
Well, I guess that just means more room for Paschall on owner Joe Lacob's private jet.
Paschall the scorer
Remember his profile coming out of the draft?
Can heat up from the perimeter off the dribble on his best nights. Got 24% of his possessions on Isolations and Pick & Rolls—among the highest marks among big men in the NCAA—using his quickness and floor game to attack traditional big men
We've seen the 6-foot-6, 255 pounder show flashes of a bruising isolation game at the pro level, with the best example coming against the Portland Trailblazers. Paschall's final stat line: 34 points, 13 rebounds on 11-of-19 shooting from the field, 4-of-6 from beyond the arc.
WHO NEEDS KEVIN DURANT?! Lol jk jk.
Anyways, Paschall fell back to Earth after that explosion and would only cross the 30-point threshold once more. Opponents began adjusting to his bulldozing style, occasionally baiting him into avoidable offensive fouls and funneling him into bad spots on the floor. That's just an expected part of the learning curve for any physical hooper coming into the NBA, and it hasn't neutered Paschall's desire to score.
Per Basketball-Reference, here's how he ranks in the rookie categories (qualified by minutes per game leaderboard):
6th in scoring average (13.2 PPG)

7th in field goal percentage (48%)

9th in true shooting percentage (55%)

7th in rebounding average (4.7 RPG)

10th in games played (50 GP)

8th in minutes per game (26.7 MPG)

6th in PER (13.7) (for qualifying players based on MPG leaderboard)
Data from Cleaning The Glass shows he's a solid mid-range bucket getter who does a lot of his damage from the old-school power forward shooting zones. He's currently in the 86th percentile of forwards at nailing long-mid range jumpers!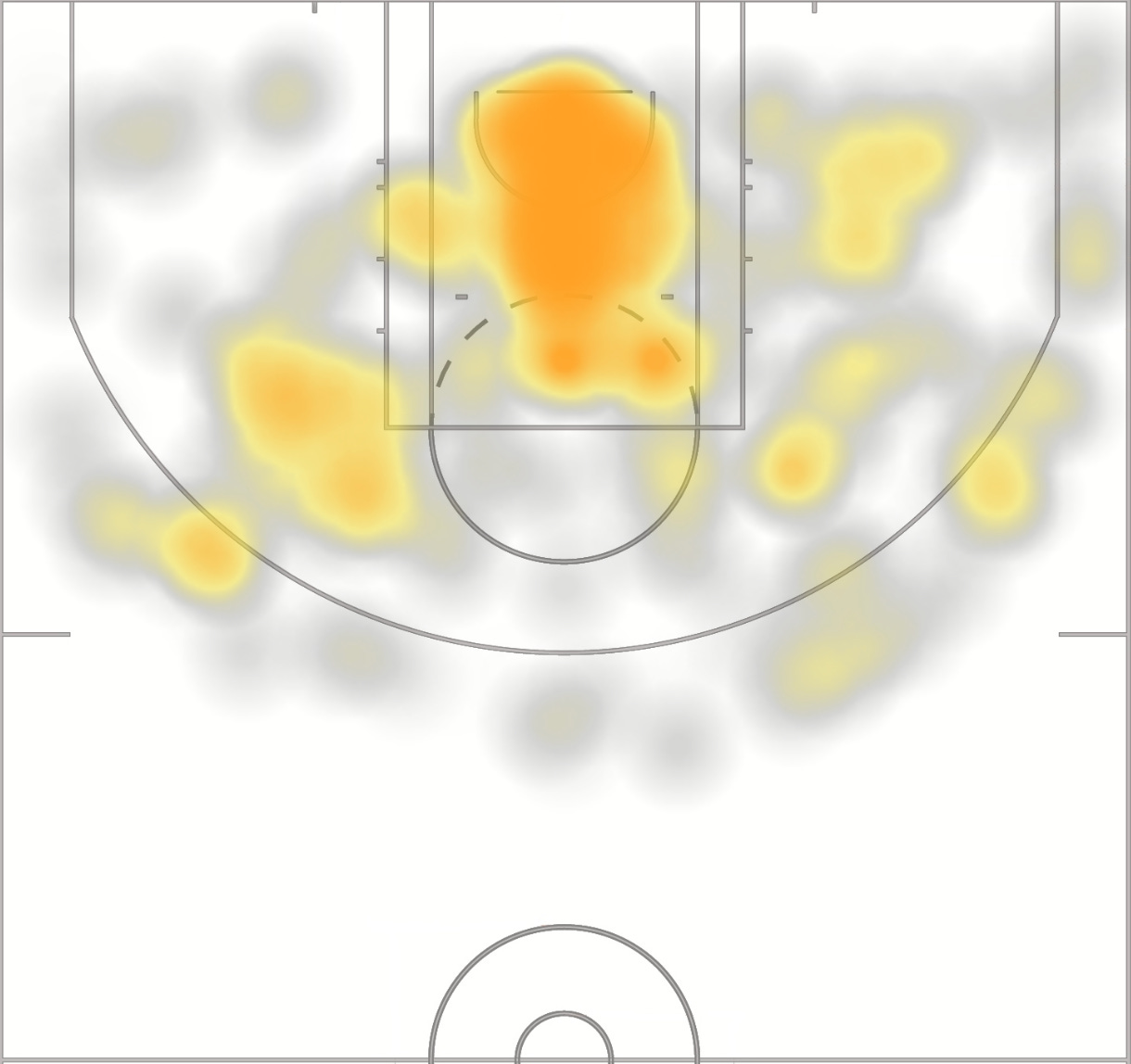 He combines the threat of that shooting touch with decent dribbling skills. He has enough of a handle to lure big forwards into deep waters on the perimeter, and a quick enough first step to beat them to the rim.
As far as his three-point shooting goes, he's scuffling at a Draymondian 28%. While still better than anything Russell Westbrook is shooting from downtown, it's not consistent enough yet to be relied upon.
I noticed that he seems to be a much better three-point shooter in the first quarter than in any other part of the game. Sure enough, per Basketball-Reference, check out the 3P% drop after his robust .389 percent shooting in the first period.

If he continues to evolve that part of his game (as is natural for many NBA players), he'll become truly problematic to defend.
Clearly Paschall regards himself as a weapon on offense, and as his game continues to mature, we could see more 30+ point explosions from him. Don't forget he's one of one of only seven Warriors rookies in the last 20 years to have a 30-point game!
Paschall the defender
Here's the aforementioned draft profile touching on Paschall's collegiate defense:
Very capable, intense defender. Gets low and works hard giving him some versatility even if he isn't overly quick on the perimeter or imposing as a rim protector. Communicates well and has strong fundamentals.
NBC Sports Bay Area's Grant Liffman commented on the eager Paschall figuring out his defensive role as a pro:
Paschall is learning to play defense at the NBA level, and even with that, has shown to be more of a one-on-one defender so far. While he is more accustomed to guarding the power forward position, he has had impressive defensive moments defending "straight up" against wings, sliding his feet and using his strength to force them into tough shots.

It will take time for Paschall to develop from a good defender into the great one that many think he is capable of becoming.
Wait, did coach Steve Kerr reference THE TUCKWAGON in terms of Paschall's potential??
It'd be great if Paschall continues developing in that mold. While I certainly wouldn't call him a defensive stopper yet (how many rookies are?), he's shown that he's competitive and has the tools to defend multiple positions.
And he's good for one of these monstrous blocks occasionally.
Paschall's swag
The rook is polished, cool, and collected. Check out LGW's footage of him today at media availability for the Rising Stars game.
But on the court he's damn near as loud as Draymond Green. Watch him cook Charlotte and give the verbal business to fellow rookie P.J. Washington.
LOL and he had the audacity to tell my buddy Shawnathony he was doing too much mean mugging! But Paschall's rookie peers aren't the only ones who can get it. Watch Paschall hungrily bully MVP James Harden for the and-one.
HE CALLED THE MAN "FOOD"! I'm sorry, we need to immediately induct Paschall into the Warriors Ring of Honor after that.
Clearly this young man has the goods to be an integral part of Golden State's plans going forward, and Dub Nation is proud of him as the team's lone representative on All-Star weekend in Chicago.