Stephen Curry, Under Armour set to re-brand SC30 with the Curry8
Multiple sources now confirm + 3Zer0.5 leak?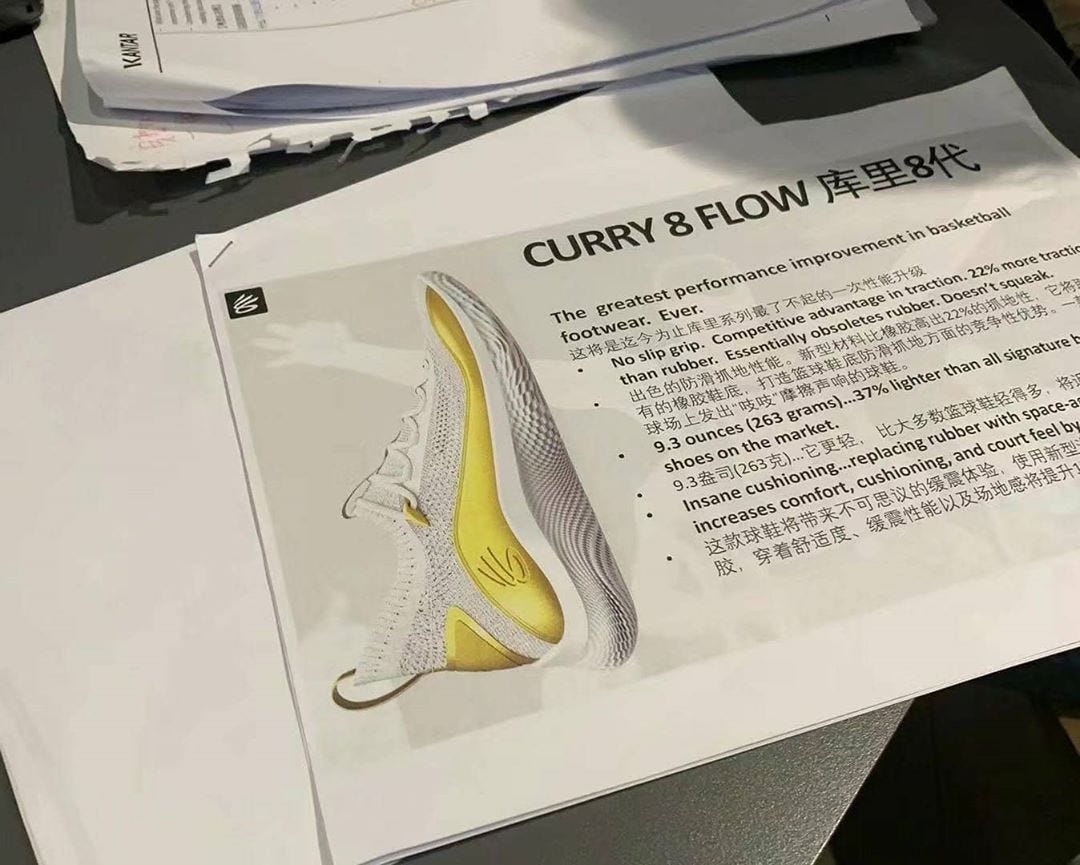 About two weeks ago, the Golden State Warriors' social media team released a video of some players working out individually at the Biofreeze Performance Center, the team's training facility in the basement of Chase Center.
One of the quick glimpses they provided was of Stephen Curry lacing up some black shoes with white soles. One of the many Chinese sneakerhead accounts on Instagram indicated that Curry was wearing a prototype of the Curry8 — actually the "Curry8 Flow", to be exact, as part of the whole new re-branding strategy.
From there, we Googled "Curry8" and surprisingly found an article by a website called Juiced29.com, which isn't typically known for breaking sneakerhead news. In the article were some leaked Under Armour documents and pictures. Juiced29.com also doesn't have a social media presence, which is odd for a site that reported seemingly ground-breaking sneaker news. This is not to say there isn't an imposed news embargo by Under Armour on the usual suspects, however. I guess we'll find out, soon enough.
We covered all of Juiced29.com's findings in our video, made for smartphones at the 9:16 aspect ratio, from two weeks ago:
The video also covers the new technologies UAbasketball is introducing.
But as of this morning, there's another piece of info that reinforces the re-branding which, as you can see from the video and the pictures here, changes the familiar high-tech-looking "SC30" into something that resembles Curry's autograph while still retaining that "30" feel to it.
This time, the leak was made by another one of those Instagram accounts based in China. That's where all the shoes are manufactured, of course, so it's no surprise they often get a first look at things. Under Armour has, in the past, demanded that some of these accounts which obviously have access to the factories, keep their mouths shut but it appears there can still be leaks.
There's a photo of what appears to be a slide in some kind of presentation, similar to what we saw from Juiced29.com and put in our video.
After a few DMs with such various China-based sneakerhead Instagram accounts which shall remain unnamed, LetsGoWarriors can confirm that this is not some elaborate hoax.
These are indeed the forthcoming Curry8 Flow, new logo and everything:
BREAKING: This seems to confirm Steph's "SC30" re-branding as we reported earlier:
youtu.be/0BQUYOs8GFE
(more coming soon re the gold version in the video: probably the 3zer0.5, per sources) 📸:
instagram.com/p/CC0Qi2HgkN1
The shoe in our thumbnail of the video is actually not a Curry8. It is the Curry 3zer0.5, which is, for lack of better words, an alternate line of Curry so-called "Zer0" signature shoes, of which there have been two versions so far.
The Curry8 Flow release date is supposed to be in either August or September. There are conflicting reports as to the exact month.
Leave your thoughts on the Curry8 Flow, the new logo, and/or the Curry 3zer0.5 below in the comments. Also let us know if you think we got anything wrong, as we don't typically report on sneaker news…