Discover more from Dub Nation HQ
High Quality coverage of the Golden State Warriors with the best commenting community in the world.
Over 3,000 subscribers
Remember the last time the Warriors made a draft pick directly after the Timberwolves? Worked out ok.
Golden State lands the #2 pick, behind Minnesota - good vibes for the October 16th draft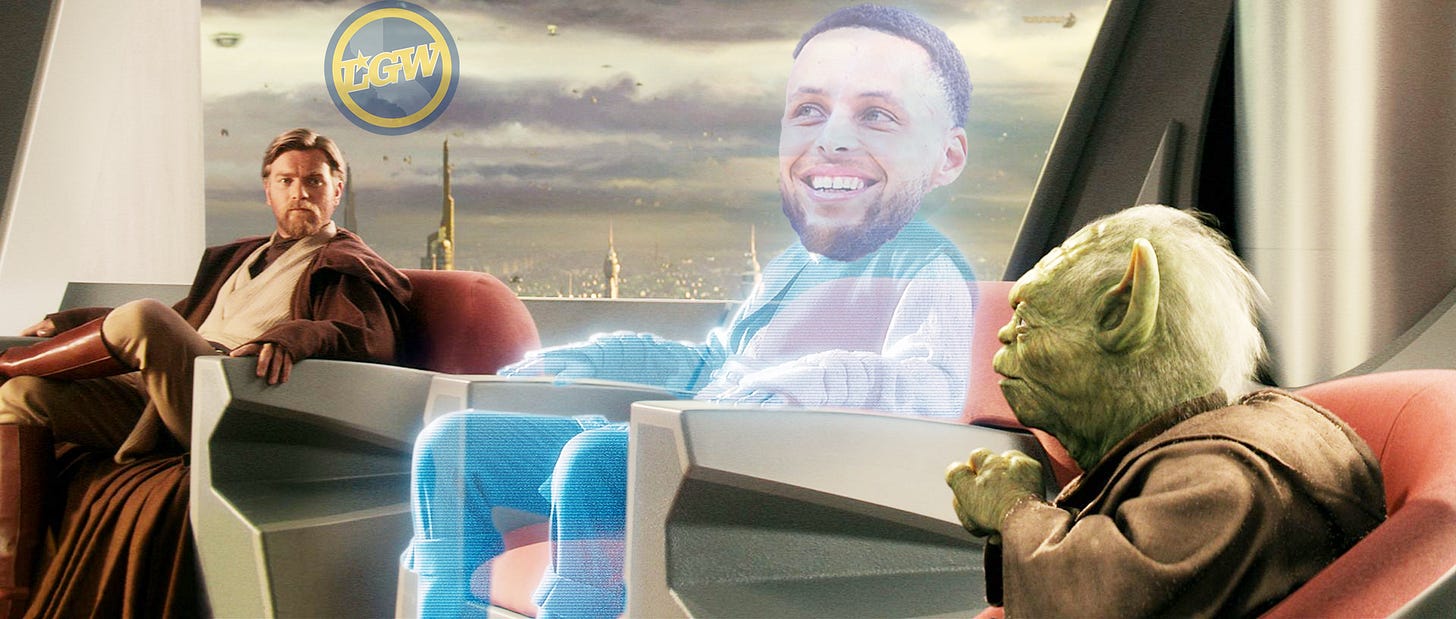 The Golden State Warriors came close to winning the NBA Draft lottery last night, walking away with the second pick. The Minnesota Timberwolves scored the top option, and will have their choice of pick on October 16th - assuming the draft proceeds as currently scheduled.
Here's the full order for the top ten:
1. Timberwolves
2. Warriors
3. Hornets
4. Bulls
5. Cavs
6. Hawks
7. Pistons
8. Knicks
9. Wizards
10. Suns
Keep it?
Bob Myers said last night that he likes the number two spot because, "we just have to like two guys." So now the Warriors brass will get serious about setting their draft board. Sure, it only needs to be two names deep, but the Warriors are at least now able to start from a more certain point. Not knowing if you were going to be picking first, or fifth is a crippling level of uncertainty.
At the top of most boards is James Wiseman, a create-a-player video game body containing a monstrous shadow of enigma. On paper, this is the guy that probably has the most upside; and missing on an All NBA talent in a weak draft is exactly the sort of move that haunt a franchise for years. However, the NBA landscape is littered with forgotten players that never sniffed their Draft Express potential.
But the book on Wiseman is thinner than one of those overpriced joints from the Scholastic book fair school that came with a free toy and only had like 7 pages. He played just 69 minutes in College after being suspended for 12 games - because his family improperly accepted moving expenses while he was in high school.
Averaging about 20 points (on impressive efficiency), 10 rebounds, and 3 blocks in 23 minutes per game, the 7-1, 240 pounds of potential is certainly there. Though not without risk, here's a good thread on Twitter showing his only game against a high tier college team:
The Warriors were strongly rumored (I don't know, maybe it was just one actual rumor that kept getting pinged around?) to be interested in big guard Anthony Edwards. Edwards though, may be the choice of the Timberwolves, since the other top options both play redundant positions. It doesn't seem likely that they would draft LeMelo Ball to play the point alongside D'Angelo Russell (who also is best at point guard), nor does Wiseman seem like a viable player alongside starting Center Karl Anthony-Towns.
So maybe this works out for the Warriors. Last time Golden State made a pick directly after the Minnesota Timberwolves, it worked out pretty well.
(by the way, these shirts were designed by our old friend Tony.psd. He's retired from the business now, but you can still purchase a licensed version of it here)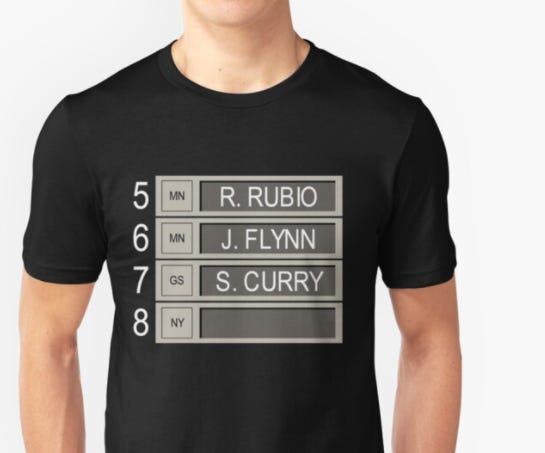 What's next?
We don't really know, do we?
Given the Covid realities in the United States, it's going to be an extremely unique year for scouting the draft. Generally, there are a series of interviews and workouts but this year it appears as if the NBA is working to set up approved regional hubs where all teams would have equal access to a prospect workout.
However they do it, Golden State is going to put boots on the ground. Bob Myers was sighted in Orlando "scouting" and you can be assured that the team will be dilligent in their process for such an important pick - assuming they end up keeping it and not trading.
Playoffs (and a program update)
Good ol' Shane Young has everything summed up nicely in one tweet, so here you go:
Yet another quadruple header today, and the first day of action I will be missing completely since the playoffs started.
Also, moving forward, I'm out for the weekend (beach camping) but we will resume our playoff coverage for the five of you that have been reading these things
😉