Which of the Warriors new players will be the most weaponized with Curry's return today?
The Golden State Warriors and the Toronto Raptors meet for the first time since the NBA Finals; and neither team looks the same.
As the Toronto Raptors have proven by surviving the departure of superstar Kawhi Leonard, being a top-tier franchise is about a lot more than the biggest names on the building's marquee. While obviously the top end of your roster matters more, this Raptors, Warriors matchup showcases the deep value (and risks) of gauging marginal talent.
Both teams lost a superstar in the offseason (the Warriors much more than that actually) and yet the Raptors somehow find themselves in 2nd place in the Eastern conference, trailing only the dominant Milwaukee Bucks. The secret to their sustained success is one of keen interest the Golden State and their fans: development of marginal players.
Like Golden State's core, the Raptors are mostly homegrown. Kyle Lowry bumped around between a couple of teams before settling in with Toronto. Siakam was late first-round pick, Fred VanVleet came in as an undrafted free agent that spent plenty of time in the developmental league.
For the Warriors to succeed in their planned rise back to contention, they're hoping that they've found their own stock of late draft picks and undrafted players that will grow into a viable support crew.
Golden State will see their biggest star return tonight. This season's outcome is going to be defined more by whatever value they can extract from the junk drawer of the NBA talent pool. But since Steph Curry is such a key cog in the machine, it's almost more important how well these guys play with Curry, as it is how well they can generally play.
---
GAME DETAILS
WHO: Golden State Warriors (14-48) vs. Toronto Raptors (43-18)
WHEN: Thursday March 5, 2020; 7:30 pm PST
WHERE: Chase Center, San Francisco, CA
WATCH: TNT
INJURY UPDATE: Kevon Looney remains out (3rd consecutive game missed); Draymond Green (knee) is questionable.
---
Which of the Warriors new players will be the most "weaponized" [
©
Daniel Hardee
] with Curry's return today?
It's a question at the heart of Golden State's future.
From Wiggins to Dragan Bender, it seems many players come into the Warriors' system and show immediate signs of improvement. It's a function of coach Steve Kerr's rigid insistence on a certain style of unselfish play. But that system, in order to truly be effective, requires Steph Curry (and eventually Klay Thompson) running around causing problems.
The entire scheme here is built around forcing the defense to bend because they're so worried about Curry, which opens up better subsequent opportunities. Here are the three players I'm most excited about watching next to Curry.
Wiggins - intelligent slasher
Curry is in constant motion, so the players that respond best to his presence are those that have the basketball IQ required to know what's going on, and a body that is physically able to exploit the action precipitated by Curry.
Wiggins is advertised as a scorer, but in his limited time with the Warriors he's demonstrated an impressive feel for the game - both defensively, and as an offensive facilitator (see the graphic above for his steady statistical rise). Here's an example of a single play where he does both:
The Warriors tried an experiment with D'Angelo Russell knowing that he played the same position as their two best players. Wiggins has no such strike against him, quite the opposite in fact. If Wiggins fits as well next to Curry, then Golden State can head into the offseason content to tinker around the edges of the roster.
Jordan Poole - bench general
Initially, the Warriors are going to need Poole to play major minutes. But his development, especially as a playmaker, may earn him a significant role in next year's rotation.
He's nowhere near the floor general that Andre Iguodala and Shaun Livingston were, but as a developing young player that has looked like he's figuring some things out, Curry's return may be the key to unlock his game. Rather than outliers, what if plays like this became the norm for Poole?
The Canadian connection - Wiggins and Mulder will be needed against the Raptors
As the Warriors welcome the NBA's first Canadian Championship team to Chase Center, it's fitting that two of the Warriors most intriguing additions in this broken season are both Canadian citizens: Andrew Wiggins and Mychal Mulder.
Building for the future is about more than just signing and keeping good players. Strewn among the detritus of castoffs from NBA rosters, the best teams can find valuable players on the fringes.
Mulder is just that sort of player. A three-point specialist plucked from the G League, he's the exact "diamond in the rough" that Golden State needs to hit on in order to fully reload next season.
In his first NBA game, he scored two points while missing all of his shots from behind the arc. In the three games since? 15 points per game (hitting 43.5% from deep), 3.7 rebounds, and enough defense to make him a non-liability. But how viable he is as a long term option at the wing is largely going to be contingent on how good he looks alongside Curry.
On the opposite end of the spectrum is Wiggins, a player that was once a highly touted prospect but came to the Warriors with a career sagging under the weight of his maximum contract… or was it?
Just 25 years old, you can see a pretty clear improvement for his entire career if you look deep enough. Contract value aside, Wiggins is precisely the sort of player that would appear to be well-suited to thrive in the Warriors egalitarian system. Take a look at his career numbers on non-scoring stats (per 100 possessions); and remember that his time here with the Warriors has been played completely without floor spacing stars, Curry and Klay Thompson.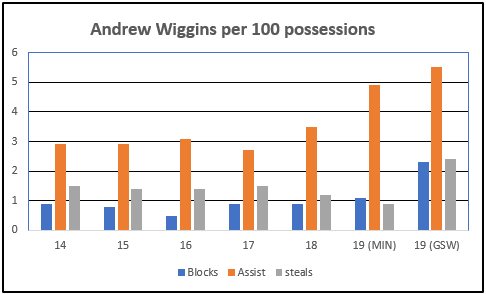 Prediction
The Raptors have the second best defensive rating, second most points off opponent turnovers, best three-point percentage defense, lead the league in deflected passes, and are a ridiculous 33-4 against sub .500 teams… it would take a miracle for the Warriors to even be close in this game.
Which is why I'm predicting a win for the home town tonight. Curry returns, causes multiple miracles, and the Warriors somehow win a close game to welcome Steph back.
Let's Go!