Preview: Warriors vs. Kings - "Do you dwell in the cellar, or are you just visiting?"
Both teams are struggling this season, yet these franchises are on different paths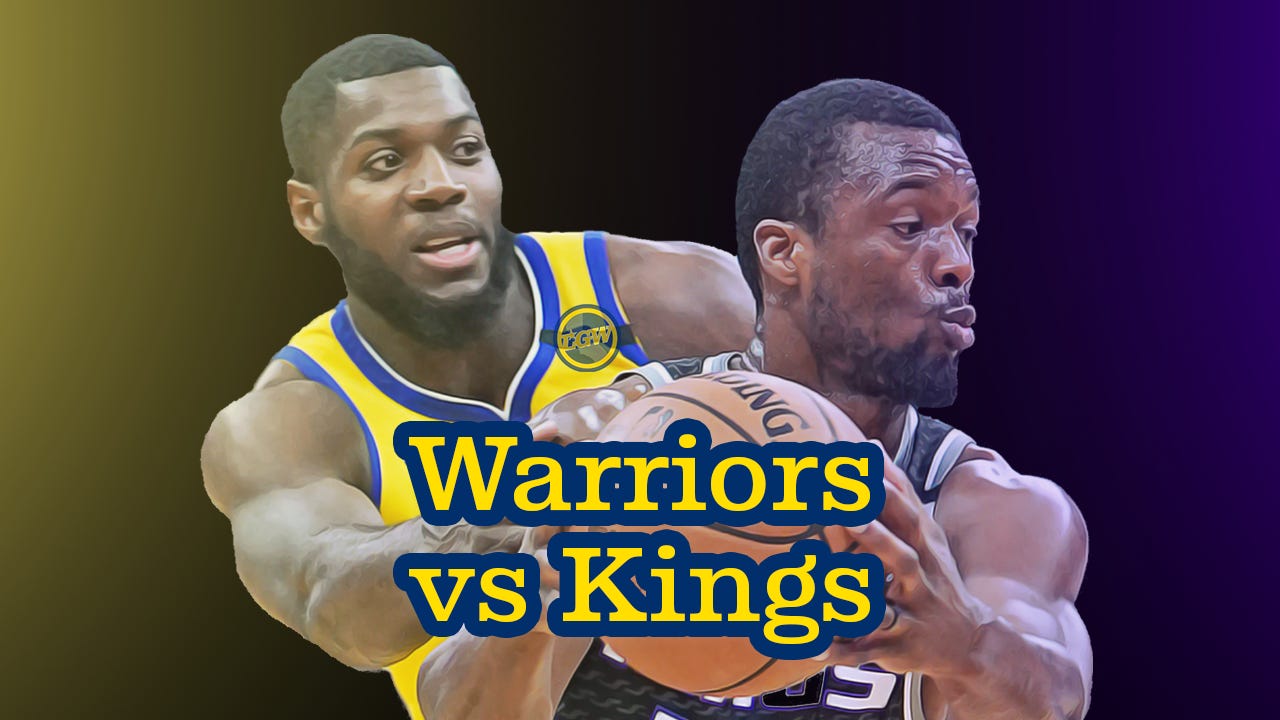 If there's one thing that fans of the two NBA teams in Northern California have in common, it's an understanding that rooting for a lowly franchise builds character. For most of my life, the Golden State Warriors were bad - and that's part of what made cheering for them so charming. Everyone at those games was there for the team (and the 20 dollar seats with free hot dogs).
So too have fans of the Sacramento Kings known the deepest pit of fandom, with the rare joys and all too frequent pains that comes with it. It may not always be fun, but there's a hardening of the fan base that occurs when your team is a perennial also-ran - everyone left caring about that team is there because they are deeply invested in watching and hoping that their favorite franchise finally turns it around.
They've never both been a playoff team at the same time - could that possibly change next season?
---
GAME DETAILS
WHO: Golden State Warriors (12-45) vs. Sacramento Kings (23-33)
WHEN: Tuesday, February 25, 2020; 7:30pm PST
WHERE: Chase Center, San Francisco, CA
WATCH: NBC Sports Bay Area
---
It wouldn't be a Warriors preview this year without some injury news
As much as we love to discuss the fact that the Warriors are tanking this season, a lot of it has been taken out of the team's hands via injury. So no one should be surprised to see that the first news trickling in on tonight's game involves a couple of key Warriors rotation players battling injuries.
Golden State, who played in their last loss with just nine active players, finds themselves just as short handed tonight - if not more so. Two starters are listed as questionable for this game, and the team sent another back down to the G League.
Reading the tea leaves here a bit: Chriss may very well be more likely to play tonight than not. The Warriors sent big man Alen Smailagić back down to the G League team (even though Golden State has a game tonight and Santa Cruz does not play until Wednesday) - which would leave the front court rotation extremely barren if Chriss was sitting.
In the team's last outing newly acquired project player, Dragan Bender, chipped in 20 mostly solid minutes in his first game with the team - against one of the league's more challenging opponents to guard. Kevon Looney is slowly working his way back from injury. His six rebounds and two points in 20 minutes against the Pelicans was less than stellar, but still a step in the right direction. So you can see how heading into a game with just those two players (and no Draymond Green) the Center position would be a little thin.
Or I could be wrong here. Nothing helps a tanking team more than cautiously holding out key rotation players with minor bumps and bruises! The NBA roster minimum is eight active players
Draymond Green's status is tougher to read, because there is much more redundancy at his position and despite plenty of lip service about resting him a lot down the stretch, so far Golden State has mostly played Green normally. As per Basketball Reference, Green is playing around 29 minutes per game - right in line with his career average (though a few less minutes per night as compared to the past 3-4 years).
With Curry returning as soon as Sunday, this could be a good opportunity for the Warriors to give some intentional down time to the only All Star that has played significant minutes with the team this year.

The Kings' struggle is real, but there's a glimmer of hope on the horizon… right?
Sacramento currently sits at 12th in the West, with a bottom-ten defense and offense. It is hard to argue in any objective fashion that this is a good NBA team. Looking at their Basketball Reference page, there is no aspect of basketball that they excel at (though the high defensive turnover number is nice):
Those statistics are somewhat representative of the problems plaguing the Sacramento franchise in general - middling performance that is just not horrible enough to keep them above a full rebuild. Their picks however have begun to improve though. Their past two first round draft picks have been De'Aaron Fox, Buddy Heild, and Marvin Bagley - two players that appear to have significant upside and have already begun to demonstrate that they belong in the NBA.
Bagley, unfortunately has struggled with injuries and will miss this game. But his extended absence has the unintended side effect of propelling the Kings deeper into the draft lottery where they can hopefully use their first round pick to add another young player and start a legitimate core.
Is it possible? Do we yet dare hope that the Sacramento Kings front office is starting to make some smart pickups?
Unfortunately, the team did leave Harry Giles available to chase free agency rather than extending his rookie deal. It's exactly the tough choice teams have to make all the time for their marginal young players - but Giles has been playing well and would have been a nice long term asset.
Remember, this is a team that has spent years digging out of their own holes. Finally clear of the many bad contracts they've taken on over the years, the Kings have actually begun to assemble a roster that makes sense.
Old friend of the Warriors franchise, Harrison Barnes has found a home in Sacramento. His utilitarian value is on full display as he works under his former coach Luke Walton and has become integral to many of the Kings most impactful lineups. Here's the team's best 5-man units, via NBA.com: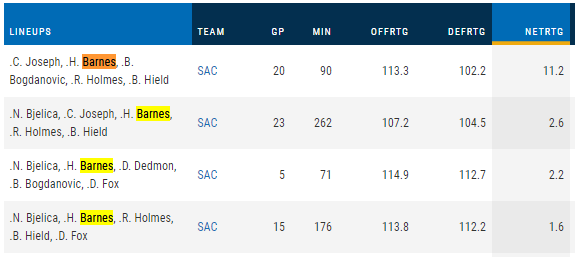 Now, ignore the declining net ratings (the numbers go precipitously negative after the screen shot cutoff) and just appreciate how well Barnes seems to find a fit in the top lineups - as he did while with the Warriors.
He's also challenging the team to keep him from looking like a member of ZZ Top though I wonder how long his resolve can hold:
Also, keep an eye out for Bogdan Bogdanović a 6'6" shooting guard with a nearly seven-foot wingspan. With him and Barnes working the perimeter the Kings can get teams flustered. As we pointed out above, the Kings are ranked fifth in the league at forcing opponent turnovers.
Inexplicably, Luke Walton has slowed this team's pace to a crawl - taking them from top five last season to bottom five this one. But add another nice draft pick, get Bagley all the way healthy, and turn the dial back up on the pace - and the Kings could really have something here.
Prediction
The Kings are too hot right now. Two wins in a row? Forget about it, make it three after they win a tight one over the home team.
Golden State will take another L, but keep licking their wounds. Curry comes back as early as Sunday, so the team may as well pile up as many losses as possible before Curry leads the team undefeated over the final 25 games or so.
I want to believe.
---
If you want to support this site and community, please mash this button: