Preview: Why are the Warriors so bad on the perimeter, and can they stop Denver?
Curry's return is imminent, but first, Golden State has another extremely challenging game - this time against an elite opponent to boot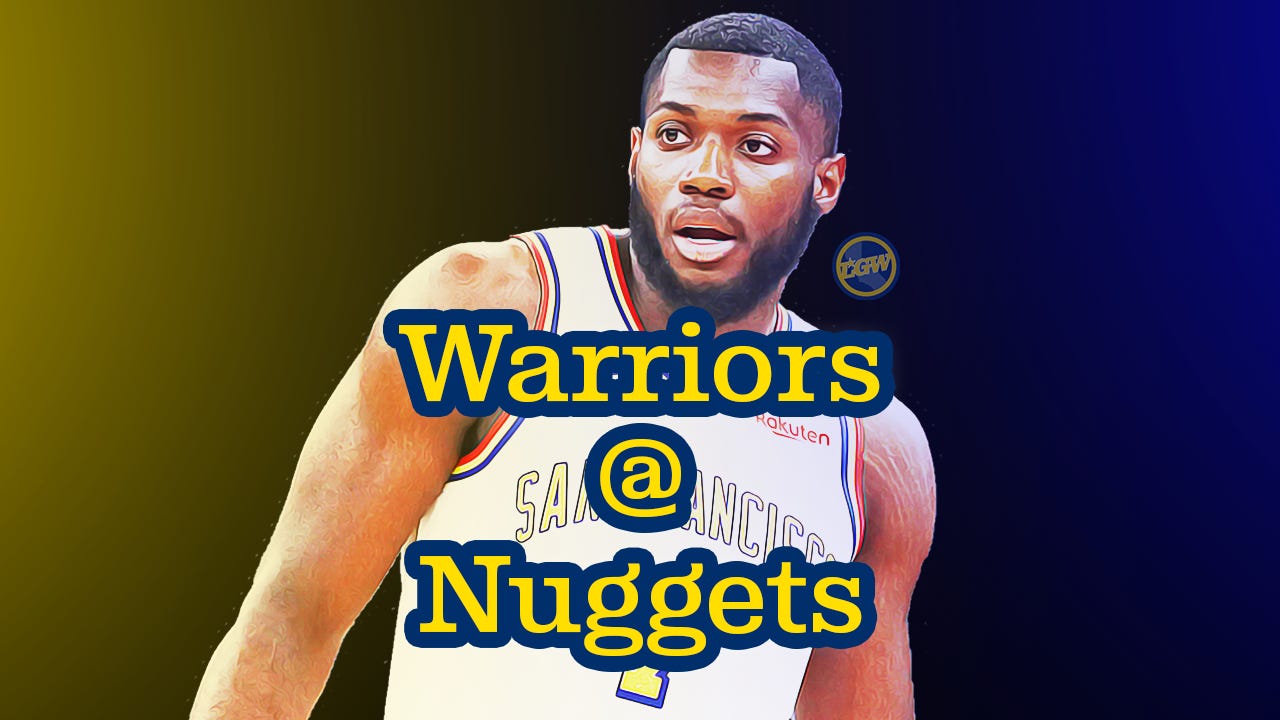 It's the final countdown to the return of Stephen Curry.
After practicing with the G League team to knock some of the dust off of his game, Curry is presumably ready to return to action. Almost.
First, the Golden State Warriors are travelling to the mile high city in order to take on the Denver Nuggets. This will be another short-handed game for a Warriors roster that has been decimated by injuries, and against the team with the second best record in the West this time.
Nikola Jokic is a hard man to stop; he averages 20 efficient points, 10 rebounds, 7 assists and about one steal and one block per game. Against the Warriors spongy soft defense? Not looking good.
---
GAME DETAILS
WHO: Golden State Warriors (13-48) at Denver Nuggets (41-19)
WHEN: Tuesday March 3rd, 2020; 6:00 pm PST
WHERE: Pepsi Center; Denver, CO
WATCH: NBC Sports Bay Area
---
Warriors struggling with all aspects of perimeter play
Defense
While we can safely presume that the return of Curry (and eventually, Klay Thompson) will fix a lot of the Warriors' problems, it's worth a deeper dive into the extent of Golden State's issues on the perimeter. After all, as magic as he is, Curry can't fix everything.
Defensively, Golden State is coughing up the league's worst percentage from deep; the team ranks 30th with an allowed 39% three-point shooting accuracy for opponents.
Take a second to let that one sink in. Every team we've played has, on average, hit nearly 40% of their three-pointers. That's an elite percentage for a sharp shooter (Curry is at 43.5% on his career), so for entire teams to be averaging that mark against us is… not ideal.
This is all tied in with the generally poor defense, because the team is also ranked last in overall shot defense as well, giving up an average eFG% of 49% (again, worst in the league) - something specifically that Curry's return will not fix. Even paired with elite wing defenders and All Stars in the past, Golden State has had a recurring problem over the past few years with declining effectiveness of their perimeter defense. The three-point revolution has caught up to Steve Kerr's Warriors.
But this is Joe "Joey Light Years" Lacob's team. They've got a plan.
When the Warriors traded for Andrew Wiggins, I was less than thrilled, but he's been solid enough to assuage a lot of my concerns. One of the aspects that the front office talked up during the Wiggins trade was how much better his "fit" was on this roster. You see, if you start with the assumption that Curry and Thompson are your backcourt (which we do around here) then you can also see that the need for another long limbed, agile wing player is a better fit than another sweet shooting guard with bad defense like D'Angelo Russell.
In limited minutes, Andrew Wiggins has shown flashes of being exactly the sort of player that can help solve the Warriors perimeter defense issues. From Cleaning the Glass, take a look at where Wiggins falls within the hierarchy of block percentage on the team so far: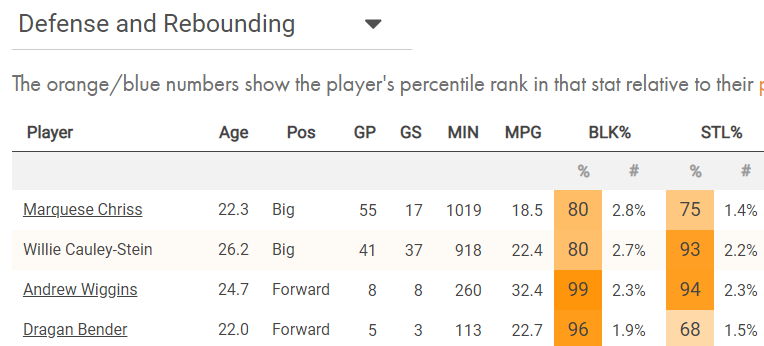 Wiggins' block rate (again, in his limited time here) is good enough to put him in the 99th percentile for his position - and he also steals it at a pretty good clip too. I almost hate to admit that those values are outliers for him as compared to his career numbers, but for now, let's just go with the assumption that this is Wiggins' new normal.
Bottom line is that the Warriors three-point defense is a huge problem, and one the the team will need to correct in order to truly take a shot at another championship next year.
Offense
Now, this one can be covered more briefly, because as Steve Kerr said yesterday, it's safe to assume that the Warriors' outside shooting will be significantly better next season.
But just to thoroughly discuss the Warriors perimeter problems, it's important to note that a big part of their problem is the sort of basketball truism that doesn't get talked about much because it kills the conversation: the ball just isn't going in the bucket.
Now, if you've ever watched NBA players warm up, you'll know that these players are all ridiculous shots. It seems safe to assume that the improvements when the Splash Brothers return to the fold will be numerous: there will be more spacing, you'll have guys that are all world shooters, and we can expect some regression to the mean for the players that have just been flat out missing open looks this season.
Denver Nuggets remain one of the more controversial top teams
The Denver Nuggets have caused many disagreements in our writers Slack chat. Led by skilled big man Nikola Jokic, the team is on that painful edge between "elite" and "championship tier."
Playing at one of the league's slowest paces, and featuring a post dominant Center as their primary weapon, the Nuggets are a bit of an anathema to the "pace and space" era. But it works.
As per NBA.com, they've got the 7th best defense, and the 11th best offense; good enough to be tied with the Los Angeles Clippers for second best record in a top-heavy Western conference.
They should easily have more than enough firepower to bury whatever 8-, or 9-man squad the Warriors drag into Denver, but for the truly elite teams, these aren't the sorts of contests that are used as measuring sticks.
Prediction
Jokic is impossible to stop, the Warriors aren't good at stopping people anyways… feels like yet another L.
Between the losses, and the delayed return of Curry, Golden State's tank positioning is looking strong indeed.
According to Tankathon, the Warriors now hold a solid four game "lead" on the nearest team.