Discover more from Dub Nation HQ
High Quality coverage of the Golden State Warriors with the best commenting community in the world.
Over 3,000 subscribers
Showdown: Dubs All-Time Draft Round 1 - Steph Curry vs Baron Davis' team
It's the number one seed against the eighth, and like the Highlander, only one will advance.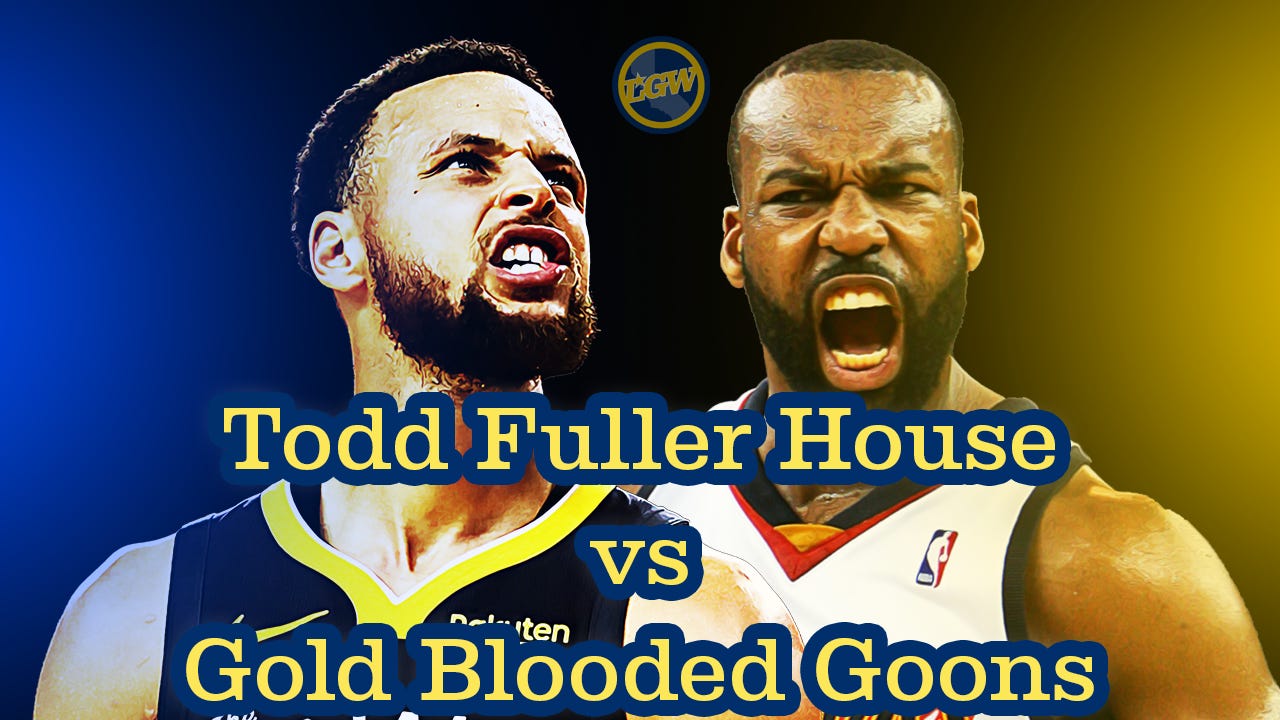 You've already seen the draft, now it's time to get to know the Frankenstein's monster teams that have been created by some of Dub Nation's maddest scientists. It was a tough draft but one where each team emerged with a personality: some are built for emotional appeal, others timeless fundamentals; but each franchise has a chance at the title.
For our first matchup, we've got a heated battle between two of the most beloved point guards in Warriors history: Stephen Curry versus Baron Davis. But it's a team game, so let's take a look at each team and some specific match-ups as Todd Fuller House takes on the Gold Blooded Goons.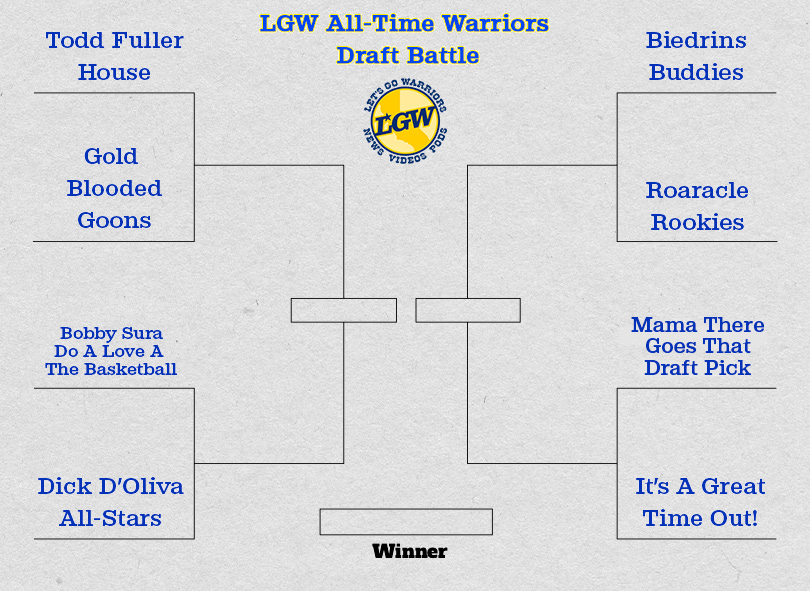 Todd Fuller House
This is the top seeded team (admittedly the seeding is just assigned based off our random pick order selection), led by the most beloved Warrior of all time, Stephen Curry.
Their backcourt is one of the most difficult covers that anyone could formulate. Curry is the only Unanimous MVP in NBA history and the greatest shooter of all time, but his partner Mitch Richmond of "Run TMC" fame is a terror in his own right. "Rock" brings a solid physical set of off guard skills, as well as five consecutive All-NBA team awards (between 1994 and 1998).
No wonder Michael Jordan once referred to Richmond as the "hardest shooting guard to defend".
Strengths: That backcourt is just silly good, and the Cousins/Jamison frontcourt will be a tough cover
Weaknesses: Lack of defense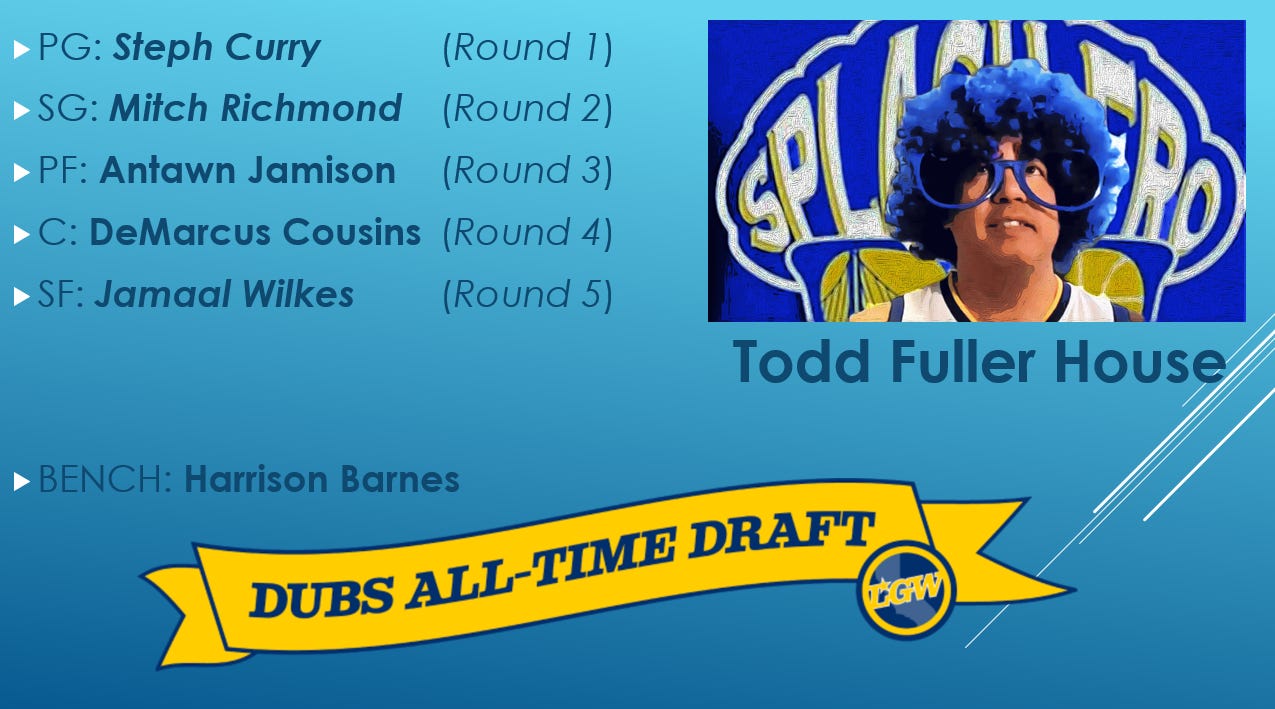 Todd Fuller House brings a front court that is a fascinating mixture of size and skill. Younger fans may be more familiar with the finesse skill of Antawn Jamison, or the flashes of brilliance DeMarcus Cousins showed during his lone injury-marred campaign with the Dubs.
But the secret weapon on this team may very well be the Hall-of-Famer Jamaal Wilkes. The Berkeley-born forward was a Warrior for only three years, but in that short time he won Rookie of the Year, became an All-Star, made two All-Defensive teams, and helped Golden State win the 1975 title.
Gold Blooded Goons
Everything about Oakland fit me perfect, and I guess the way I played and I didn't take no s**t, and I played hard and I wanted to win. Just that go-hard attitude was the same attitude the city had, so it worked hand in hand for me."

— Stephen Jackson, co-captain of the "We Believe" team.
If there was ever a team to mirror the swaggering ambition and hard knocks of Oakland, the Warriors home for 47 seasons, this is it.
Strengths: Swagger, heart, and a very switchable roster with serious firepower off the bench
Weaknesses: Manute Bol's lack of mass and skill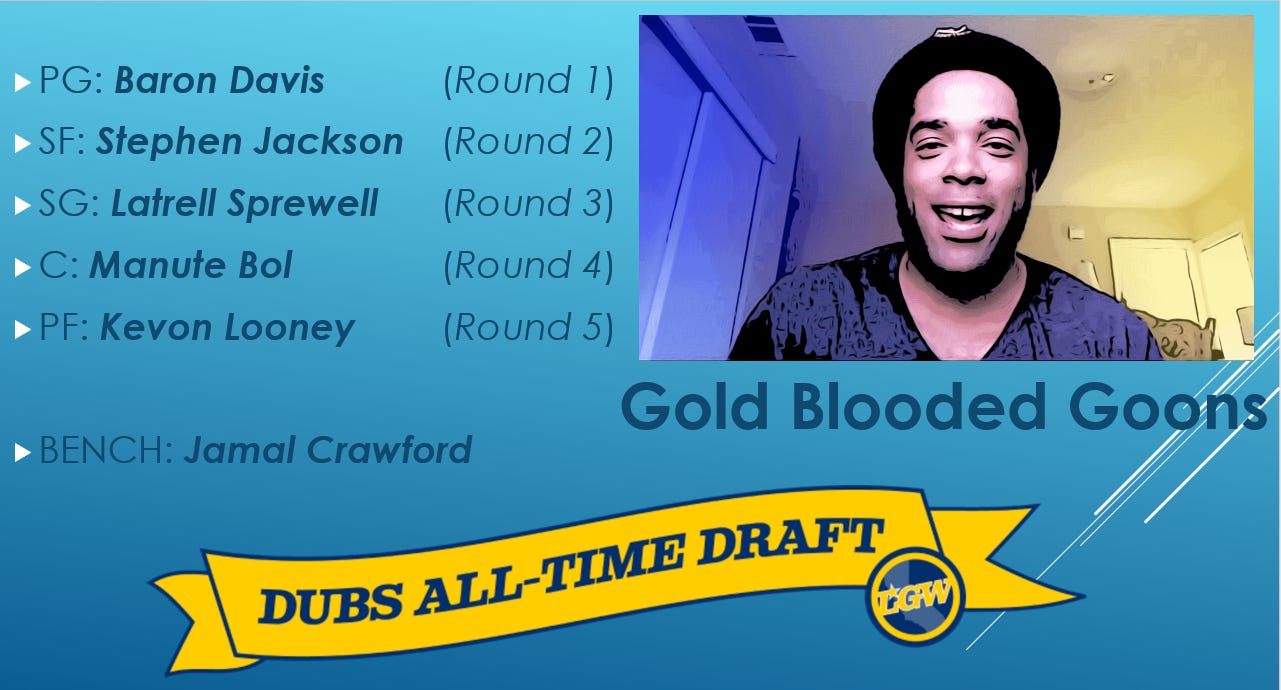 This team looks like a good match against Todd Fuller House's deadly backcourt. The scoring trio of Baron Davis, Latrell Sprewell, and Stephen Jackson should be able to keep up with anyone, even the Curry/Richmond pairing. From 1-4, this is a team with tremendous ability to switch and rotate defensively - from point guard to power forward they've got an answer to any ball handler seeking to attack the basket.
Bol at center is the real X Factor on this squad. The combination of outside threat and blocks would seem to translate well to the modern era. At 7'7" his flat footed standing reach is a problem for anyone within 10 feet of the rim - he once recorded 31 blocks in a college game. But outside of the historical context of his era, a player shooting 21% from deep may not be a sufficient threat to translate into a positive impact overall.
Matchups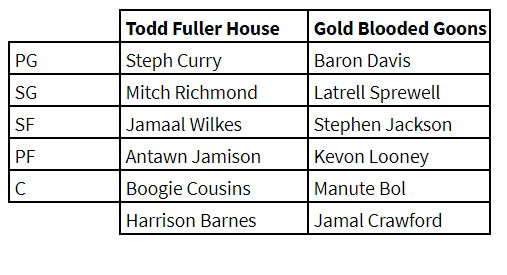 Point Guard
Curry is clearly the superior player, but if we are looking at a single season peak, Davis is still going to be a handful. Curry's size here will become an issue, and with limited defensive impact at other positions, Davis, Sprewell, and Jackson could take turns abusing Curry in isolation.
Advantage: Todd Fuller House
Shooting Guard
Richmond versus Sprewell is going to be a blood bath. both were heady, two-way players with a penchant for mixing it up. Richmond had the more storied career and found a long-lasting success, but Sprewell was an impressive player in his own right - though one who found their career arc defined more by their behavior than their on-court accomplishments.
Advantage: Even? Slight edge to Todd Fuller House?
Small Forward
Wilkes is the first player that falls outside of my personal memory, so some remedial history may be in order here.
Jackson was flashier and found plenty of success in the NBA, but nowhere near Wilkes. Jackson was a critical cog in a San Antonio Spurs championship, and played a central role in the We Believe team's playoff success - often locking up Dirk Nowitzki. The real question here is how well his modern NBA skillset would do against Wilkes superior credentials and all-around game.
Advantage: Todd Fuller House.
Power Forward
On paper, most NBA observers would quickly take Antawn Jamison over Kevon Looney. Jamison was a big combo forward before that was even really a thing in the NBA. He helped pioneer that world dominated by large wing players that were able to dribble pass and shoot.
Looney however is a descendant of that prestigious line. Though his scoring is woefully anemic in a head to head pairing, the overall gap between these two players is smaller than it would appear on first glance - again, presuming neither player needs to carry a heavy scoring load.
Advantage: Todd Fuller house, but less significant than it appears.
Center
Cousins' left leg weighs as much as Bol's entire body, and his skill, speed, and size would definitely be a humongous problem for Bol. Some of this is the historical inertia. In the time between eras, the NBA big man skill tree has left Bol far behind.
But on this team, Bol's role would be to stand around and gum up the paint. His long body and ridiculous standing reach are going to be a factor on drives as well as a rebounding advantage. Given his awkward lanky game, it's likely he could slip behind Cousins for a number of easy lobs, but in general the coach is probably only playing Bol for 5 or 10 minutes at a time.
Advantage: Significant advantage to Todd Fuller House.
Bench
Both of these teams have a strong asset coming in off the bench, and one who fills a very specific weakness in their team's roster. Harrison Barnes was picked dead last in the fantasy draft, but his stout defense and switchability is going to be desperately needed on a team peppered with adequate (or less than adequate) defenders.
On the other side, Crawford is exactly the sort of microwave scorer off the bench that any team could use in a crunch game. His lack of defense is a significant problem, particularly against the pairing of Curry and Richmond, but he's a bench player, so you take the points and play him selectively.
Chemistry/Fit
The Gold Blooded Goons squad's path to victory is going to be all about the chemistry and intimidation factor. Can this team push Curry around enough to overcome a team that is so much better on paper? I saw B-Diddy make Andris Biedrins look like a serviceable player, so anything is possible.
There's also a lot to be said for how flexible the Goons' roster is. Forget Bol for a minute and plug in Crawford - now you've got an extremely fast, agile team that can score in bunches and can lock you up on the other end.
Fuller House is the top seed not just because they took Curry with the first pick. Curry, Richmond, Jamison, and Cousins will drive an impressive offense; with Wilkes and Barnes floating through the gaps to punish any overhelping.
Grabbing Cousins was a steal, but for this exercise, it is supposed to be peak Warriors year and a busted up Boogie Cousins with no lift could just as easily be a detriment as a help.
Overall, I am leaning ever so slightly towards Fuller House here. In a seven game series, I am finding it extremely difficult to not bet on Stephen Curry's team. However, if Curry is stifled by his defenders, and the Goon team can force their imprint on the game, this is no sweep; and as everyone knows: anything can happen in a game seven.
Then again, can you trust a team named after Todd Fuller that DID NOT draft him? Hmmmm.
Prediction
Fuller House in 7; winning on a buzzer beater from Curry.
Vote!
Show your love for the team you believe is best by either voting on Twitter…
Or by upvoting below! Apricot has decreed that each vote on LGW counts for +10, so make it happen peeps!