Mid-season(ish) report grades: you need a sliding scale to evaluate this team (Part 2)
The next generation of players is out there somewhere; who sticks around next season and beyond?
2019 was a tumultuous year for the Golden State Warriors, so the midway grades for the players should reflect the difficult position this team is in. Because, let's be honest: this is a team in dead last, with the league's worst offense, and a defense that is bottom six.
So no. We will not be handing out F's to everyone.
With 55 of the season's 82 games under the belt, the Warriors are actually about two-thirds of the way through the season; but since the All Star break serves as a natural stopping point… here are Golden State's mid-season(ish) grades.
You can read Part 1 here on the main players.
Requiem for a dream - role players that have moved on
Before digging into the various support players that are currently on the team, let's take a moment to reflect on those that were here and played a significant role before getting dealt.
Wiley Cauley-Stein: C
The expectations were mixed when the Cauley-Stein signing was announced, and his play was commensurate with that. The narrative arc is becoming a familiar refrain with the Golden State Warriors - a necessary concession to having a roster and salary structure that is so top-heavy: can they redeem a player coming into the team from a worse system?
With Cauley-Stein, the Warriors took a shot that they could uncover another JaVale McGee. A rim-running, vertical spacer that was quick enough to run with Golden State on transition attacks, and yet big enough to contend with the larger Centers that invariably appear.
(Marquese Chriss, the nominal starting Center headed into next season is 6'9"; the only player taller than that on the roster is Alen Smailagić who stands at 6'10" but weighs only 215 pounds.)
But Cauley-Stein was pretty much the player we saw in Sacramento. The same production that landed him with the Warriors on a bargain deal. It's not that he's bad at basketball or anything, but for a big man, he shows a strange proclivity on offense to chase weird perimeter shot attempts, and on defense shows an equally strange aversion to stout post defense.
Overall, a C.
His averages were fine here. 8 points, 6 rebounds, and about one block and steal per game in about 23 minutes of court time is fine… Just not the all around impact player that didn't make bad decisions that the Warriors were looking for.
Alec Burks and Glenn Robinson
As they were while with the team, so too are Burks and Robinson grouped in their mid-season review. An almost Tolkein-esque pairing (who were all those Dwarves from the Hobbit again?) these two veteran wing players had slightly different specialties but were both heavily leaned upon by coach Steve Kerr.
They're both gone now, but I have zero complaints about either player - both of whom may very well be welcomed back next season for another shot at playing next to Stephen Curry on a minimum contract.
Overall, an A.
No complaints. Solid veteran presence with good, efficient production; Robinson's wing defense would fit well here next season.
Star Quest - The Next Generation
Okay, maybe "star" is too strong of a word choice, but these players are ones that are hopefully sticking around for a while - and hey, if they turn into legitimate stars, all the better!
As a reminder, these grades are on a sliding scale. All of these players below were taken as low picks, or plucked from that bargain bin of the NBA.
Eric Paschall
Taken 41st overall in the last draft, Golden State's most promising rookie in years has been a revelation this season for the Warriors. Averaging 13 points, 5 rebounds, and just under 2 assists per game, he is widely presumed to factor in to the Warriors rotation next season (assuming he isn't dealt in the offseason as part of a bigger move by the front office).
The big question with Paschall isn't fit, but where he fits. Though he's spent approximately 75% of his court time at Power Forward, the team has made plenty of noises about slotting him in as the Small forward.
Regardless of where the team plays him, his bullish "mouse in the house" post game is exactly the sort of player that the Warriors have been missing since… Festus Ezeli(?). Paired alongside the Splash Brothers gravity, he should be even more effective moving forward.
Check out his shooting chart from Positive Residual's True Shooting chart page the efficiency and frequency of shots in the post fill a clear need on this roster: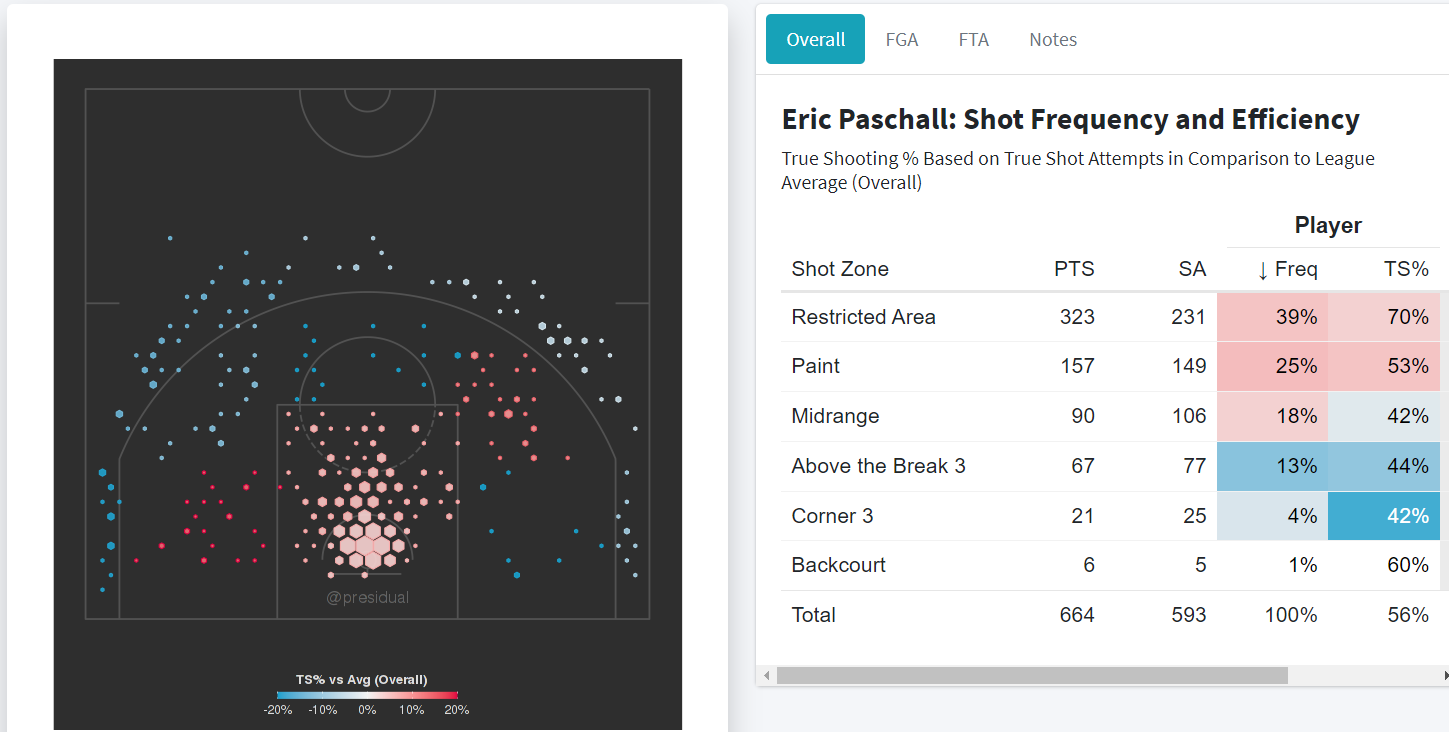 Overall, an A.
Great find out of the second round who continues to improve, and will likely find the game even easier alongside the full power of this Warriors attack.
Marquese Chriss
Chriss has been a phenomenal bargain find, and his play since signing his NBA deal with the team have cemented not just his future role here, but a position of hope.
Chriss is the team's starting Center until further notice, and though a bit undersized he more than makes up for it with hops and a great wingspan. We discussed the failed redemption experiment of Cauley-Stein above, but Chriss (a former #7 pick just three years ago) is the counter point that makes all of those little gambles worth the risk.
Overall, an A.
Great find. If he can play well enough to start regularly on a good team, this should go down as one of the greatest outcomes of this mostly lost season.
Alen Smailagić
This young man is so intriguing that I don't even mind the limited minutes. Though he's played just 118 minutes in the NBA, he's a darling in the eyes of many fans.
He's got a blistering scoring efficiency around the basket, and is above average from above the break three-point range. Though young and skinny, he plays with a fearless abandon that will serve him (and the team) well moving forward.
Overall, an A.
Great find. Give this kid more minutes please!
Damion Lee, Jordan Poole, and Ky Bowman
Finally, we get the lump of guards that are good enough to stick around, but still have plenty of room for improvement. I'll give each of them a separate grade at the end, but let's just talk about the role in general, since their sliding scale grades are largely contingent around how well these guys can meaningfully fill that roster hole.
The Warriors are looking for a lot of things this season, but their main gaps are at the wing, and backup point guard. How well these three players can serve as capable filler in any of those roles is really the primary criteria of judgement here.
Damion Lee is the most uncertain of this group because he is primarily a scorer - though he is not especially efficient at it. His season has been uneven, with a handful of strong performances (including a recent 26 point outing against the Miami Heat); leaving many just as unsure about his long-term role here as when the season started.
Bowman is the clearest "pure" point guard of the group. With a 20.2 AST% percentage (the measure for how many teammate baskets are assisted by that player while on the court), he's also the best of the bunch when it comes to facilitating offense.
Poole has been inconsistent, but has made recent strides. From the Positive Residual shooting charts again, take a look at Poole's offense since January. These are exactly what the Warriors have been hoping for. They've moved him over to play more point guard, and if he can make that new role work, he'll be another victory extracted from the jaws of this losing season.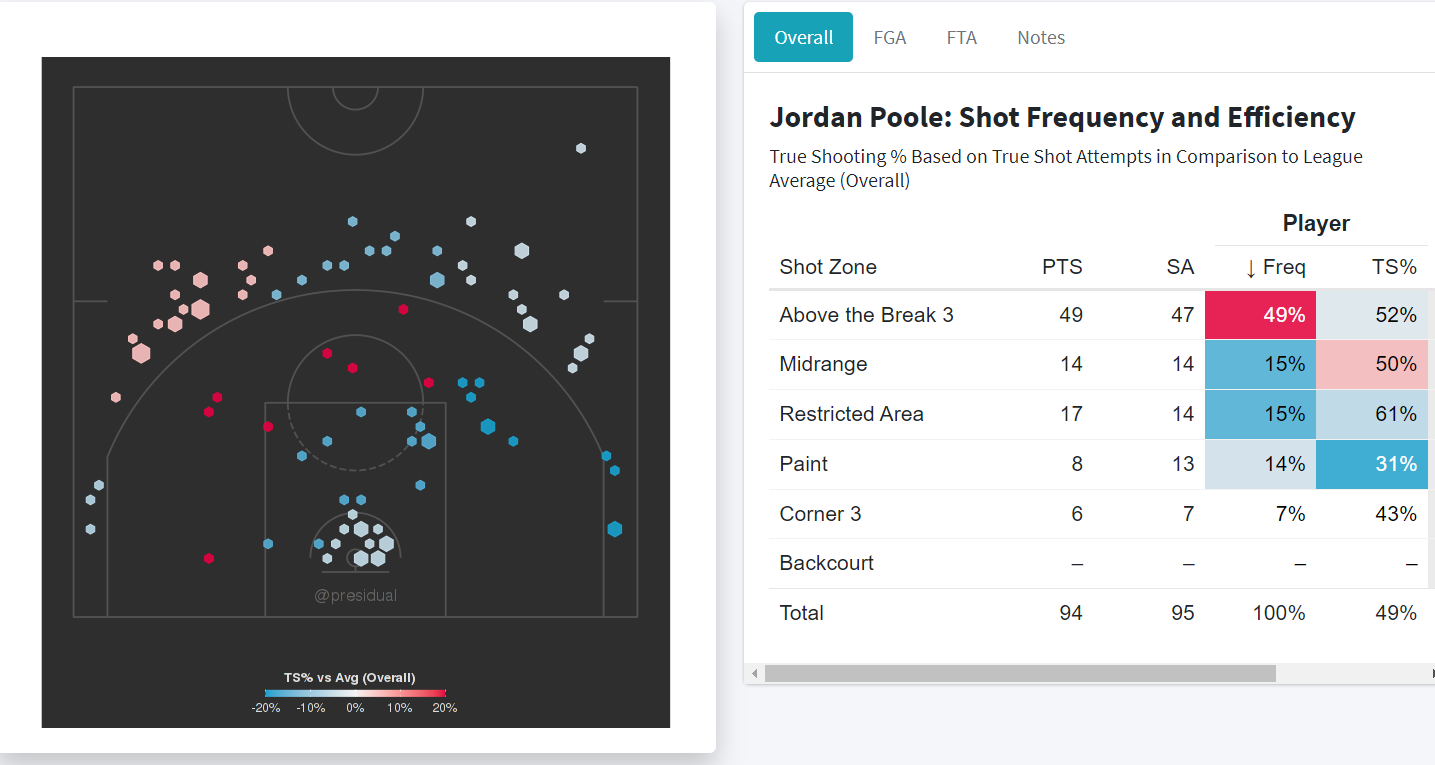 Overall… you all still with me?
Bowman gets a B. Strong play, nice defense, and doesn't force anything. Even playing as he is now, it's easy to envision a place for him here next season.
Lee gets a C. Though he's shown flashes, the overall statistical profile is troubling enough to sow doubt about his long term value.
Poole gets a C. Improving, but the bar started low. Upgraded from a D because his recent move to Point Guard, and strong play in the new role offer another path to a valuable member of the roster.