Keep or Cut? Part 3: the peripheral cogs Eric Paschall, and Kevon Looney
At first glance, Golden State would keep both. Ironically, that's also the biggest reason they might be gone.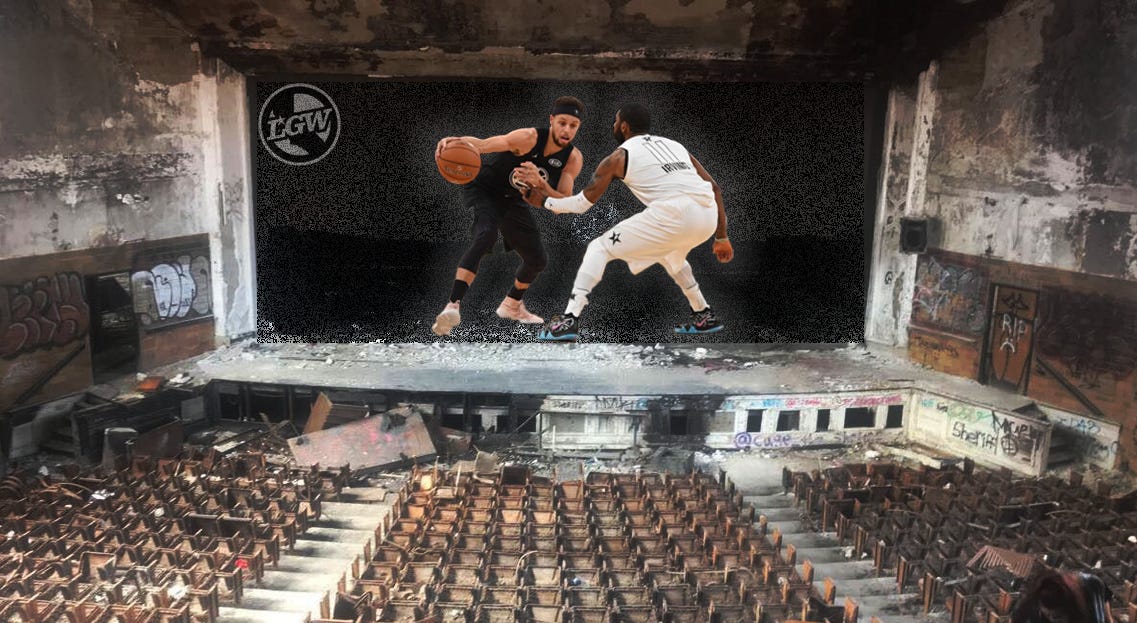 We've already covered the peripheral players in Part 1 of this series,  and the value enigma that is Andrew Wiggins in Part 2, now we move our sights over to the peripheral cogs; players that seem to be entrenched as long term role players, at a minimum.
On first glance, it would seem silly to include Eric Paschall and Kevon Looney in an article that implies any sort of question regarding their stability on the Golden State Warriors roster. After all, these are young, promising players on low-cost contracts that do and say all the right things - precisely the type of cheap, developing player that the Warriors need to flesh out their rotation.
But my good friend Javier once explained a pressure sales technique called "the reverse close" that I think applies here. You see, the reverse close is when you take a person's reason for not doing the transaction, and pitch it back to them as the exact reason that they should. For example, if someone says, "I can't afford this house right now" the reverse close philosophy will retort "that's exactly why you should buy the house today! Before you get further away from being able to afford it."
In the case of Looney and Paschall, the desirability and relative assurance that these players will work out is precisely the reason that the Warriors may need to move them. If none of the main cogs are going anywhere, and the rest of the junk drawer is relatively valueless, Golden State may need to consider Looney and/or Paschall as their only fungible assets.
Which means that as much as the team is interested in keeping them, these players' inherent value is also the same reason we may see them gone in a trade. As great NBA thinker Athletic Alchemy posited the other day, it's not out of the question that the Warriors would be forced to move Paschall in order to sweeten an offer on a player that fits under the Warriors TPE contract vehicle. While teams are prevented from attaching a player to any specific TPE transaction, there's nothing to preclude two teams from establishing a trade framework that involved a couple of steps.
The Warriors don't seem to have any players on smaller contracts that would fill the role of "deal sweetener," so if the front office decides to move on a big name player, it wouldn't be at all surprising to find Paschall's name tied into a potential deal.
Eric Paschall
Eric Paschall is the find that makes the Warriors' 2019-2020 season-long pain all worth it. In fact, the reason he is included in the list of "main cogs" should go a long way towards telling you what I think of this young man.
He spent most of his rookie season as one of the team's featured players after exploding out to a start impressive enough to cause a radical adjustment to his rating on NBA2k.
But Paschall isn't just good at basketball, he's good at it in a way that fits in well with the Warriors existing infrastructure. With Stephen Curry and Klay Thompson manning the perimeter. Via Basketball reference, Paschall is a high output, high efficency post scorer. He takes 33% of his shots within three feet of the rim, converting about 73% of those attempts into buckets.

This is exactly the sort of dynamic post/wing player that the Warriors have been hoping to pick up for years. From The Athletic's Anthony Slater, Paschall's isolation scoring was elite - a rare phrase to be used on the 41st pick in any draft.
Among the 101 players who have used 300 or more possessions this season, Paschall's 1.03 points per is ranked 31st, ahead of noted scorers like LaMarcus Aldridge, Kyrie Irving, Jimmy Butler and his friend Donovan Mitchell. 
Beyond that, he's young and developing. While no one can predict the future (except Dr. Strange when he does that tweaky head move thing), it's a pretty safe bet to assume that Paschall's career arc will continue it's upward trajectory.
As Joe Viray wrote back in November, one of the main developments that helped Paschall reach new heights was an improved jumper.
Obviously he's in the right place - working alongside the Splash Brothers is certainly the ideal environment for someone looking to refine their jump shooting form. Additionally, Paschall has mentioned that he is prioritizing development of his outside shooting during this offseason.
Bottom line: he's a desirable player for pretty much any team; doubly valuable to the Warriors.
Kevon Looney
Looney is a good to great young player that just had an awful season. Hampered by injuries the entire season, he spent the entire campaign either on the bench, or playing at less than his full capacity and showing it.
However, at his peak, Looney is an extremely versatile player on both ends of the court. At this point, it's hard to evaluate his value across the league. Even before his off season, the NBA already voiced their perceived value, allowing the Warriors to sneak him back out of unrestricted free agency on a contract that was well below most people's predictions.

Given his off year, and lingering injury concerns related to a nerve damage issue that is hard to diagnose and treat, it is unlikely that Looney is highly sought after in the market right now. Golden State has made all the right noises to indicate that Looney is part of the team's long-term plan, so we are also going to label him as a keeper.
Bottom line: versatile, young and on a good contract, Looney has value. If Golden State parts with him, it would be reluctantly.