Discover more from Dub Nation HQ
High Quality coverage of the Golden State Warriors with the best commenting community in the world.
Over 3,000 subscribers
Keep or Cut? Part 2: the cogs - Andrew Wiggins
Curry and Thompson's will return to fix most of everything, but righting the ship is going to also require tinkering around some key edges.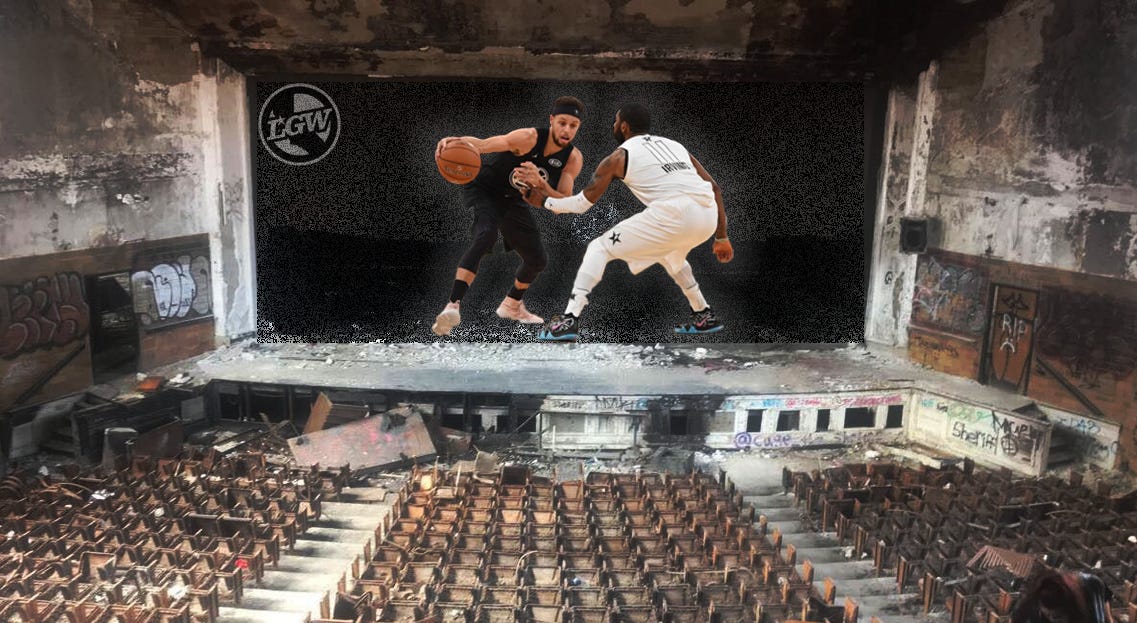 The Golden State Warriors shiny new Chase Center Arena is closed, costing the team "tens of millions of dollars." A global pandemic has officially been declared, which brings to light the dichotomy of sports: so meaningless, and yet so important. Low wage workers living paycheck to paycheck across all sorts of service industries are facing life-altering lost wages, and people are literally fighting for their lives.
So yeah, it feels a little silly to be worried about, or even interested in a basketball game.
And yet for those of us shut in, keeping our social distance, these basketball games are a welcome escape. For all it's silliness, sports is a unifying force at its core. That's why we are here to discuss some of the biggest decisions facing the team moving forward.
I'd also like to take a moment to personally thank Eric Apricot for keeping everything flowing around here while I hunkered down in my emotional hermit cave with my family. I'm back now, so let's talk basketball!
Who (and what) are we talking about?
Firstly, we are not talking about the stars. Stephen Curry, Klay Thompson, and Draymond Green aren't going anywhere. We've already covered the peripheral players in Part 1 of this series, so that leaves a few of our developing young players: Andrew Wiggins, Eric Paschall, and Kevon Looney.
Separately from those known players, the Warriors also have some options to change the roster from the outside: the draft, mid level, and the enormous traded player exception from the Andre Iguodala trade.
Andrew Wiggins
I was skeptical about the signing of Wiggins, to put it mildly. And yet, his play in the limited amount of time with the team assuaged a lot of doubts. In around 34 minutes per game the small forward scored 19.4 points (46% from the field, 34% from beyond the arc), 4.6 rebounds, 3.6 assists, and a very nice 1.3 steals and 1.4 blocks.
More importantly, as I wrote back when the NBA was still happening, is the improvements that Wiggins demonstrated in his short time with Golden State. Take a look at his rate stats: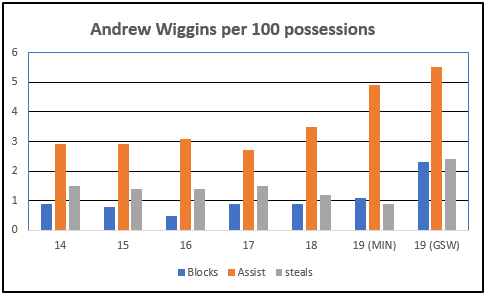 While the data has to be taken with a "small sample size" caveat, it's impossible to ignore that drastic, holistic improvements that the Small Forward demonstrated under the Golden State banner. Andrew Wiggins played just 403 minutes in a Warriors uniform (less than Jacob Evans) in the 2019-2020 season.
However, that's still around 11 games worth if we assume 36 minutes per contest; and given the remarkable jump in production it's hard to not form some sort of opinion of Wiggins' game changing for the best while playing for the Warriors. This is also one of those cases where the advanced statistics match up precisely with what our eyeballs have told us. It's not just that Wiggins is making a freak play here or there, his output fundamentally shifted into a higher gear once he arrived.
The Warriors would be extremely happy with that demonstrated level of production, and barring some miraculous big move, it's reasonable to expect Wiggins to return. Enormous contract aside, Golden State has rightly pointed out that Wiggins fills a position of need, and offers the sort of size, speed, and defensive versatility that the Warriors will want out of their starting small forward.
As Steve Kerr said about the max contract player, back in February (via Monte Poole):
"People have said he's overrated, for a couple years. He's become underrated. If you look at what he does, if you look at his size, if you look at the way he defends, the guy is a damn good NBA player. It seems people have forgotten that."
He's a keeper. The only way the Warriors move on from Wiggins is in pursuit of a top tier talent (think: All Star).