Discover more from Dub Nation HQ
High Quality coverage of the Golden State Warriors with the best commenting community in the world.
Over 3,000 subscribers
I, like many people, would prefer GSW trade down and out of the #2 spot. There's a feeling that every pick in this draft won't be ready to be a playoff difference maker.
But whoever the Warriors get in the Draft on Wednesday, I'm going to want to pull hard for their success. So I've pre-written some optimistic takes on the most likely GSW draft picks.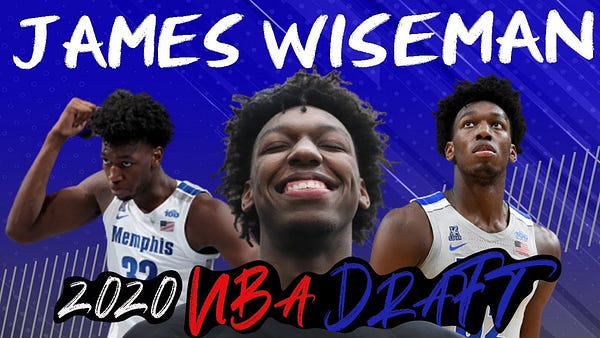 1. Anthony Edwards
GSW have a soft spot at the wing position, as does the entire NBA. Edwards is an athletic powerhouse who can flex between the big guard and small wing position. The Dubs have a glaring lack of anyone not-Steph who can create his own shot, and Edwards has a dynamic drive and pull-up game.
From the start, GSW will give Edwards time to run the second unit to work on his shot selection and develop his dishing game. You can put Edwards on the ball and let him dish to Steph and Klay off-ball. You can put him next to Wiggins, same role. In the meantime, he will apprentice under Andrew Wiggins, so there isn't high pressure to be a star in Year 1.
If Edwards thrives and becomes Dwyane Wade 2.0, then GSW can eventually try to move Wiggins for the right trade. If Edwards has ups and downs like a normal rookie, then that's okay too.
What about the glaring hole at center? So-so Bigs are the easiest and cheapest position to fill in the NBA, and GSW will grab a huge vet to play alongside Marquese Chriss and Kevon Looney.
Looking forward to: dazzling drives and pull-ups.
2. LaMelo Ball
LaMelo dribbles at the top of the key. Two of the best off-ball players in NBA history — Stephen Curry and Klay Thompson — are cutting hard off pindowns, or they've resurrected the ring-around-the-rosie under the basket Floppy play. The defense is in scramble mode. LaMelo has got elite court vision (enough that scouts can rate him #1 despite his shaky shot) and he zips a clean pass to a backdoor Klay cut. Basket.
Ball runs back on defense. His height lets him defend the small forward in the corner. But… the SF backcuts HIM and it's a layup. Draymond gets in his ear and gives him some loud but practical advice about focus and peripheral vision.
Ball will be the best GSW ball handler and pick and roll guard since (ignoring Steph)… Baron Davis maybe? He'll get the keys to drive the second unit. Kerr will let him run PNR and practice shooting when the defense goes under the screen. On the first unit, he'll have his chance to show he can get the most out of Steph and Klay with the ball in his hands, and cut and spot-up respectably with the ball out of his hands.
LaMelo will probably not sneak into the starting lineup, as Kerr usually wants to reward his big man bruiser with a starting role (think Zaza Pachulia and JaVale McGee) knowing that they might not close and Steph-Klay-Wiggins-Dray-Big would be locked in. But if LaMelo's team defense and effort is there and the synergy on offense is good, then he might close the close games.
What about the glaring hole at center? So-so Bigs are the easiest and cheapest position to fill in the NBA, and GSW will grab a huge vet to play alongside Marquese Chriss and Kevon Looney.
Also, it looks like Papa Lavar Ball has learned to keep a lower profile, so it's going to be a more fascinating year on court than off, thank goodness.
Looking forward to: wildly creative and artistic passing.
3. James Wiseman
The big enchilada, with the physique and smoothness of David Robinson. He's raw and has barely played out of high school, but he's a hard worker, got a high GPA, and is a high character player… he even speaks Mandarin.
He can immediately take over JaVale McGee's role as the weak side shot blocker. He will set screens in the pick and roll and look to catch lobs. He will sit in the dunker spot when not setting the pick. If he can harass smalls on the perimeter on the way to the paint and be a rebounding force, he will already be an upgrade from McGee.
GSW will also look on offense to set him up to seal off his man for quick entries into the paint. They may give him the rule that he has to dunk everything… none of these little fadeaway jumpers.
If he can catch up to the pace of the game and survive being targeted by smalls on the perimeter, he might have a Rudy-Gobert-like defensive presence by Year 2. Wiseman's post game can wait to develop… in Year 1 all he needs is to be a vertical threat. Over time, JW can work on a post threat so GSW can throw the ball to him and let cutters cut, with the lurking threat that Wiseman will catch the D sleeping, drop step and dunk.
Looking forward to: soaring blocks into transition dunks.
---