Discover more from Dub Nation HQ
High Quality coverage of the Golden State Warriors with the best commenting community in the world.
Over 3,000 subscribers
How are you judging Draymond Green right now?
Green's recent ejection and struggles in a down year have brought back some familiar concerns, and equally familiar answers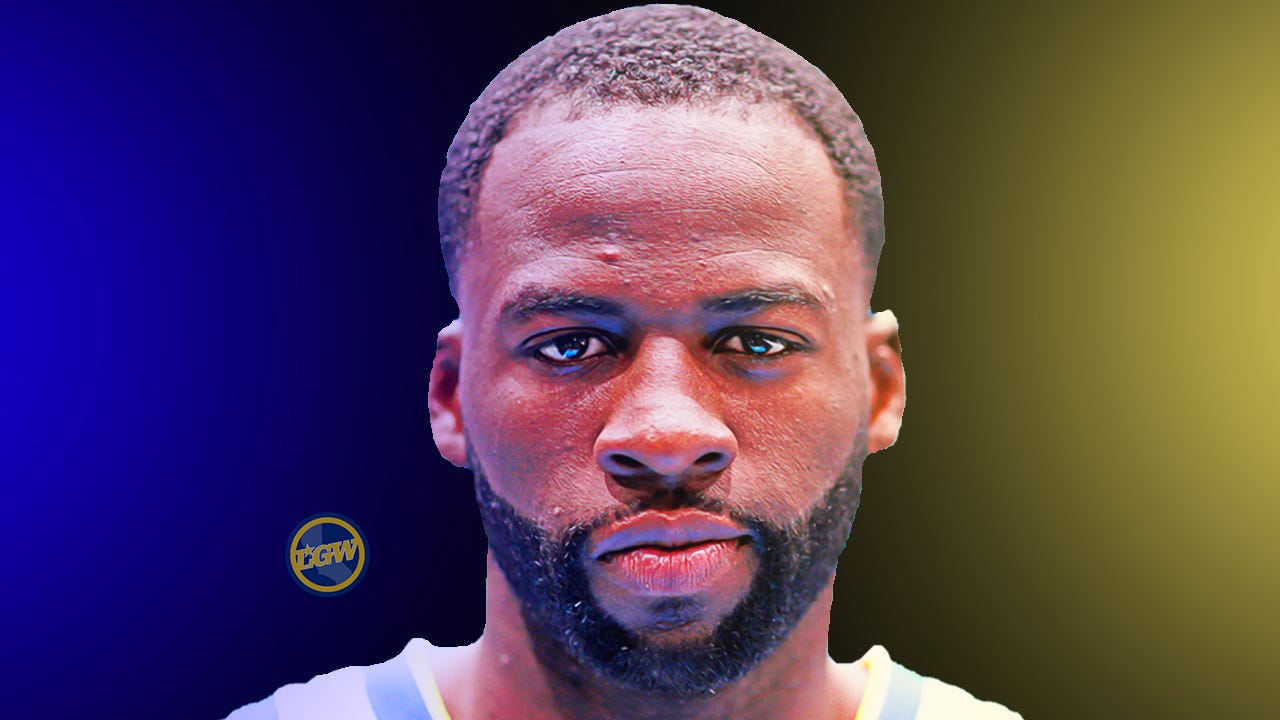 Draymond Green, a polarizing figure in general, is not having a great season with the Golden State Warriors. Coming into the year, much of the conversation was about what more Green could do to help cover for the loss of so much talent; at best though, his production has been stagnant.
Are his struggles just a minor blip across the landscape of a wasted season, or a damning indictment of a declining basketball skillset? Some of the answer to that question will come down where you, as a consumer of basketball, choose to place the emphasis.
Green's credentials are beyond reproach.
A three time All Star, Defensive Player of the Year, he's been selected to the All NBA team twice, and All NBA Defensive team five times - in his six completed seasons. His career highs in the playoffs are 37 points, 19 rebounds (twice), 7 blocks, and 13 assists. He is widely credited as one of the main reasons that the Warriors have maintained such an elite defensive rating for so long, and he's come up huge in extremely important games reliably throughout his career. Oh, and he's also led the team in assists in three of the past four seasons.
Many (myself included) would argue that Green can be forgiven for any perceived shortcomings this season. Yes, the poor shooting is a growing concern but taken as a whole Draymond Green is still 100% worth every penny and a rightful cornerstone of this team.
But maybe you don't care about that.
The case against Draymond Green
They say defense is half the game, but in basketball there is an alternative truth: points get paid. Reliably, a player that can score better will get a larger contract than one that is a defensive specialist (that's a nice way of saying he can't score).
So too does it go with people who watch basketball. As awesome as Ben Wallace was, people seldom list him as one of the greats of the era - at least not right off the top. It would be fair to say that basketball has an inherent bias towards favoring offense, and then you stack on top of that how much easier it is to track offensive play results and put them in clean box scores.
So Green gets called out for his weaknesses, which are two-fold, generally: his lack of offense, and hot head.
Offense
Green is not a great shooter. On his career he's averaging 43% from the floor, 32% from deep, and 71% at the line. More worryingly, the slow downward side of his outside shooting.
To get a better sense of how far he's fallen, I made a little graphic that shows not just his shooting percentage, but the number of threes he's shooting: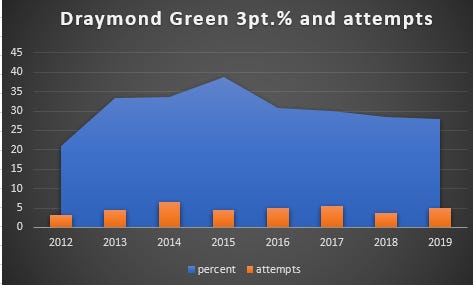 His percentages are wild. Green has shot as high as 38.8%, but also as low as 20.9%. This season's 27.9% is the second worst of his career. And there's a weird mental element (or small sample size variance, but who's to say), but more on that later. In his best shooting season back in 2015-16, Green's percentage is propped up by how well he shot playing with interim head coach Luke Walton at the helm: 38.8% on the season, 41.4% under Walton, and 34.9% under Kerr.
It's a symptom of a deeper woe - his lack of reliable scoring punch. Green has never averaged more than 14 points per game on a season, a figure that would be welcome this year over his current average of just 8 points per game.
If we all agreed in the intro that offense is relatively more important in basketball, then it's not a huge logical leap to think that his lack of shooting and scoring - and the associated spacing problems that brings - are an emerging concern of growing importance.
The hot head
This is one of the oldest knocks on Draymond Green. From the old ESPN article that Ethan Sherwood Strauss wrote (which I ironically cannot find because it's buried under stories surrounding Green's verbal altercation with Kevin Durant) to his recent ejection in a game against the Los Angeles Lakers, Green's reactionary behavior is often cited as the reason the Warriors must part with Green as soon as possible.
My new internet friend, Slim listed this concern out perfectly:
…remember to include his role in the 2016 loss. Imagine if Steph lost his head and got ejected for being on the wrong side of a bad call or getting grabbed and not getting a call in those playoff runs.
This is a fair call out. For the amount of grabbing that Stephen Curry endures, he certainly has as much of a right to complain as anyone else. And Green's ejection in those Finals was critical. Though the final flagrant foul ruling was laughable (and assessed after the game had ended) it would not have even been possible if Green's constant chirping at the referees and opponents hadn't put him in position to earn a suspension in the first place.
The case for Draymond Green
We already listed out the extensive list of accolades, so if you are still on the "get rid of him now" side of the debate, I'll assume none of that matters.
For starters, a lot of his apparent decline is related to two things: his low shooting percentages, and lowered playing time. Take a look at his basic box score stats normalized for possessions.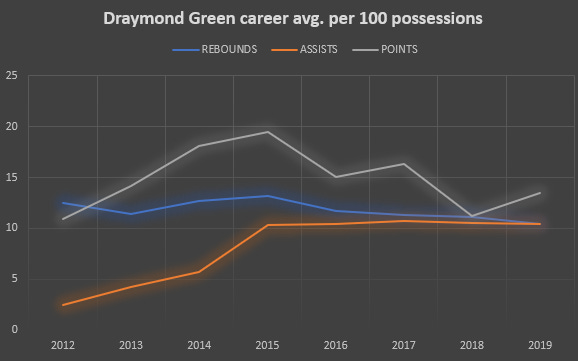 His scoring went up, and he somehow managed to maintain the same assist rate, despite the bonfire of talent he watched go up in flames since last season.
Defense
You'll have to venture with me into the land of advanced stats for a moment. Block Percentage is an estimate of the percentage of opponent two-point field goal attempts blocked by the player. In other words, if Green's on you, what's the chance your shot gets blocked?
As per Cleaning the Glass, Green's block percentage this season is in the 91st percentile in the league at his position. I don't think this aspect is really in dispute, so let's just leave the All NBA Defensive team five times in his first six seasons and remind you all that defense is important, but systematically under-rated by box scores and humans alike.
Offense
Green has led the team in assists in three of the previous four seasons. His ability to handle the ball as a pressure relief valve for Curry when he's trapped was at the epicenter of the Warriors emergence as an elite squad.
Now, you don't need to watch all eight minutes of this (but you probably should if you still think we should get rid of Green):
Also, yes, his shooting percentages are down this year but the Warriors have been living with it for years. Looking at his career shooting for this article, I'm convinced his shooting will begin to rise back up towards his historical average. And remember, for people who aren't superhumans, shooting the basketball is a tough, quirky challenge.
Intangibles
Remember Green's "I'm not a robot" tirade? It's exactly that same fire that burns in Green to become one of the league's best defenders, and to come up big in huge moments. He is not, in fact, a robot. Micro managing a players play tendencies is always a tricky thing, but Green's outbursts fueling him to do good things on the court outweighs the bad.
You know what else I remember about that game? Yes, he yelled and freaked out, but came back in the second half, and completely dominated the game while missing all eight of his shots - 14 rebounds, 14 assists, six steals, and four blocks in an overtime win over the Thunder. A perfect encapsulation of his value, and his short comings.
The primary argument for keeping Green is that his defense is extremely valuable, and likely irreplaceable, and he fills an offensive role that allows Curry and Thompson to run off ball and get better shots.
His fire can get uncomfortable, but the Warriors have been forged in that fire, not destroyed by it.