Discover more from Dub Nation HQ
High Quality coverage of the Golden State Warriors with the best commenting community in the world.
Over 3,000 subscribers
Curry's ability to create easy buckets ALMOST stole a Warriors victory from a dominant Raptors team
Damion Lee may be blamed for missing at the end, but the Dubs overall were especially bricktastic on wide open shots last night. Also, the Raptors are the champs for a reason.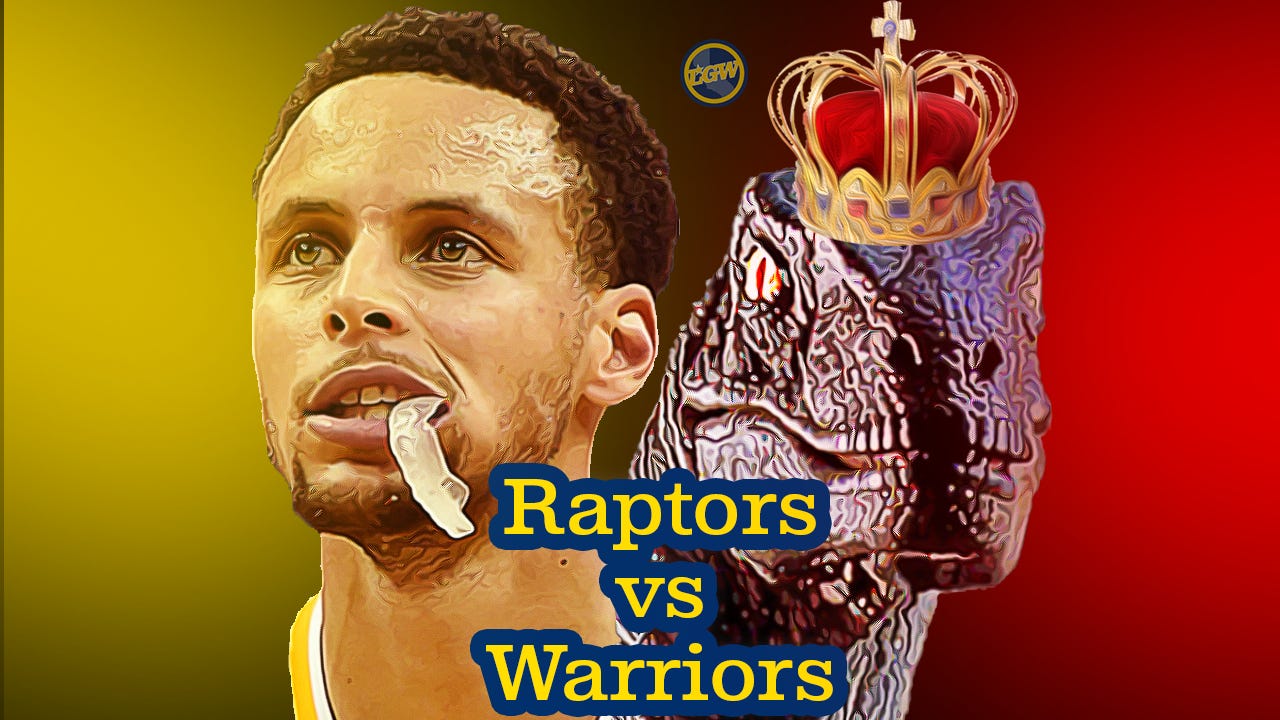 Last night was Stephen Curry's first game back in several months and a certain sense of normalcy returned to Dub Nation. The energy in Chase Center was humming at near Oracle levels…
Curry was back to drilling impossible three-pointers…
Annnd the Toronto Raptors did the same thing they did last NBA Finals, physically punishing a depleted Warriors team to win on Golden State's floor 121-113. They are so good at spoiling home games for the Warriors; it's truly annoying.
There was a lot to chew on from the most exciting game of the Warriors season, so let's get to it!
Steph is the cure
Curry's first game back after a 58-game layoff was a rollicking adventure. His 23 points, 7 rebounds, and 7 assists in 27 minutes were a welcome sight for a team desperate for scoring and playmaking.
The greatest shooter of all time wasn't his most accurate self, shooting 6-of-16 from the field (3-of-12 from three-point range). Part of that was perhaps some good ol' fashioned rust, but another part of that was definitely the Raptors #2 rated defense.
The two-time MVP spent most of the evening running full speed around a seemingly endless sea of alert Toronto defenders.
You know how sometimes great players get other players involved early so that they can rely on them late? Curry was forced into this by default as the Raptors were pressing, doubling, and running him off of the three-point line with vigor.
"Unanimous" buzzed through in constant traffic, spamming wild left-handed behind-the-back passes with an arrogant nonchalance that told me three things:
1.) That surgically repaired left-hand is doing JUST FINE.
2.) He was unfazed by the Raptors shadowing him like the Secret Service. Instead of turtling up and slowing down, he ratcheted up the pace and flung audacious passes that would impress even the Harlem Globetrotters.
3.) He wanted his teammates to get in on the fun of executing against a lockdown defense. Golden State's hero was repeatedly stuck by double-teams 30 feet from the basket and his cartoonishly slick passes sent the message that he trusted his Warriors brethren to make good things happen.
Now, the question is, exactly what happened when the Raptors swarmed Curry and pressured the 6-foot-3 assassin to give the rock up?
Warriors missed hella open shots
This season's Warriors haven't manufactured a lot of easy looks from three-point range. Per NBA.com, the Dubs average 4.8 makes on 13.9 attempts (38.8%) on deep shots classified as "wide open" (no defender within six feet).
Last night Golden State shot 7-of-28 (25%) beyond the arc on wide open treys, a ghastly stat that effectively ended their opportunity to fend off Toronto. Here's the individual numbers from last night's game on such shots:
Damion Lee - 4/8

Andrew Wiggins - 2/7

Mychal Mulder - 1/3

Dragan Bender - 0/3

Eric Paschall - 0/2

Stephen Curry - 0/2

Jordan Poole - 0/1

Juan Toscano-Anderson - 0/1

Marquese Chriss - 0/1

The most sought after shot in the modern NBA is a wide open three-pointer. Is it a coincidence that those shot opportunities for the Warriors DOUBLED when Curry returned? He kickstarted their pace to Usain Bolt levels while leveraging a gravitational pull so strong that he was chased d by at least two Raptors every time he had the ball.

Lee was a primary beneficiary of the speedy pace of the game, scoring 23 points with 3 assists and leading the Warriors with 5 made three-pointers. And yet it was his frustrating end-of-game sequence that underscored the Warriors' agonizing shooting night.

Nauseating end of game gaffes aside, Lee scored well alongside his brother-in-law Curry. These young Warriors are going to learn that Curry's presence will allow them to get the ball in juicy spots, but it's on them to do something positive with it.
Getting a better feel for Wiggins
The talented Mr. Wiggins tallied up 21 points on 9-of-20 shooting, 3-of-9 from 3PT range, with 9 rebounds.
But let's go back to that "wide open shots from deep" stat. Last night, Wiggins was Golden State's worst offender, only making 2-of-7 wide open three-point opportunities.
Wiggins is a very conscientious basketball player: he rarely gets in anyone's way or stands in one place dribbling forever. He's happy to keep the ball moving and float to a corner spot to space the floor.
While a positive overall, that style can become problematic when his outside shot isn't falling. As a lifetime 33% 3PT shooter, it should come as no surprise the Raptors gambled on leaving him open last night.
Wiggins is certainly capable of hitting the shot:
But he's so athletic and smooth around the basket, sometimes I'm looking for a little more of this:
Keep an eye on Wiggins toggling between shooting and driving for the rest of the season, I'm sure it's only a matter of time before he finds the proper calibration.
(Also, if he hits two more three-pointers last night then I'm up this morning giddily writing a column about how Wiggins is the next Splash Cousin. Please take all of this 20/20 hindsight conjecture with a grain of salt.)
Raptors show why they're the reigning champs
You need no salt for my next take: TORONTO IS HELLA GOOD.
That Raptors defense, oh my. They swarmed the Warriors with calculated intensity and preternatural connectedness. They harassed Golden State into 15 turnovers, 7 in the decisive final period. That is crazy! In that fourth quarter the Dubs committed more turnovers than they made free throws (5) or three-pointers (4).
And they have so many scoring weapons. Their All-Star point guard Kyle Lowry had a double-double with 26 points and 10 assists. Norman Powell (averaging 16.4 PPG) suddenly tapped into his highest potential, dominating the Warriors with a career high 37 points.
Young All-Star Raptor Pascal Siakim struggled offensively for most of this game (thanks in part to some stellar defense by Paschall). And yet there he was late in the fourth quarter with a champion's shovel, burying the Dubs with the eurostep and-1 finish.
The defending champions didn't even have two of their best weapons in Fred Van Vleet and Marc Gasol. This team is a drive-and-kick machine that constantly puts pressure on both sides of the ball and will be a nightmare matchup for several teams in the East.
And yet, these ragtag Warriors still battled blow for blow with them in Curry's first game back. Kudos to young Dubs Paschall (16 points, 8 assists) and Marquese Chriss (17 points, 12 rebounds) for pushing their weight around against that imposing Raptors frontline.
I can't wait for the rematch in a week and a half.