Celtics clinging to life with Heat just one win away from Finals
Plus: "Did you get my email?" LeBron's suspiciously timely plea to the league furrows brows as Lakers roll on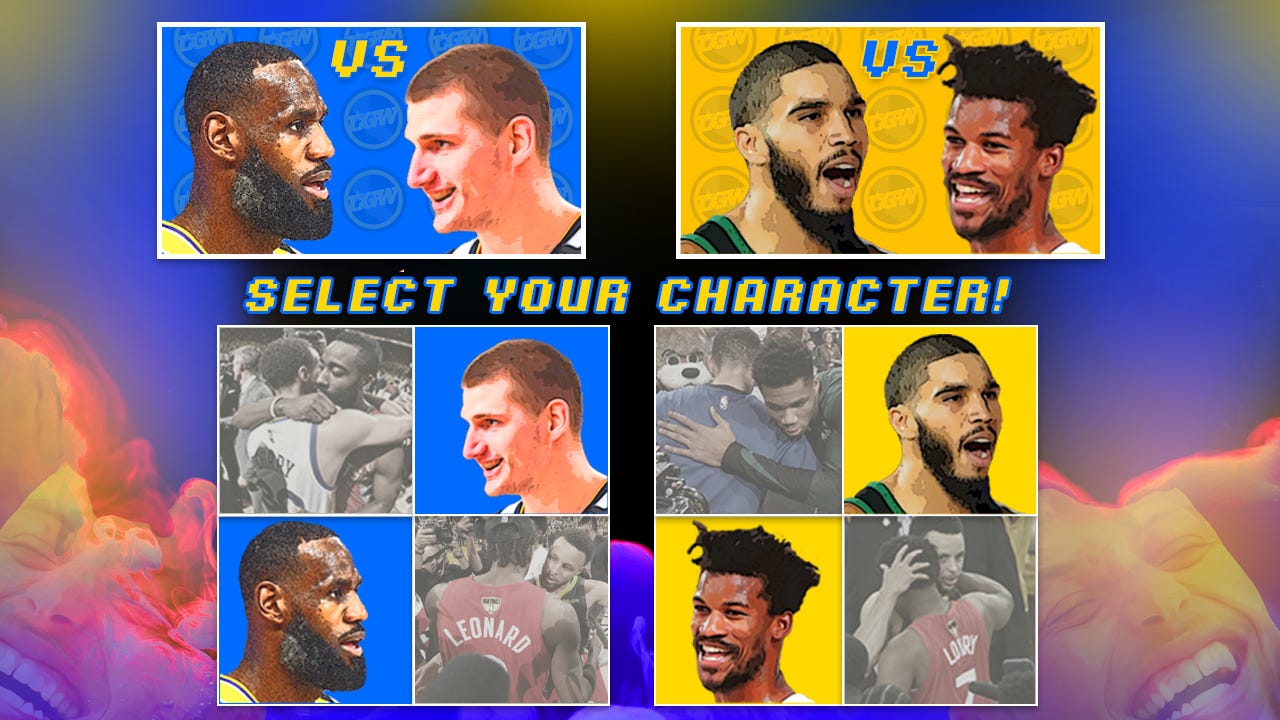 The Miami Heat are just one measly win away from a trip to the NBA Finals. For the Boston Celtics, it's a long hard road back out of the dreaded 3-1 hole, but as the Denver Nuggets have already proved twice this season: it is possible. Tune in today at 5:30 on ESPN to see what happens.
Rookie Tyler Herro bombarded the Celtics onto the brink of this precipice with a career high 37 points in game four, so presumably the Celtics are going to make some adjustments. As we pointed out after the game, the Heat's frenetic, non-stop motion offense is wreaking havoc amongst the Celtics normally tight defensive rotations.
If I'm the Celtics, I'm extremely nervous right now, for two main reasons.
First of all, take a look at how poorly Miami has been at hitting their open threes:
This is the same Heat team that sported the leagues third-best shooting efficiency, as per Cleaning the Glass, and ranked second overall in three-point shooting percentage during the regular season. It's not just Herro they need to worry about; there's a whole lot of "regression to the mean" potential sitting on Miami's side of the equation that the Celtics cannot afford to allow.
Secondly, we need to have a very serious discussion about the Celtics' struggles against the Miami Heat zone defense. It used to be less viable in the NBA, but as players have developed athleticism at all positions, and the rise of "tweener" players that are widely adaptable continues to increase, this ain't the same zone I saw in High School.
As Detroit Pistons coach Dwane Casey recently told ESPN (in their fascinating deep dive into the rise of the zone defense) "The way teams have bastardized the zone so much and tinkered with the zone, it's really a glorified switch." And most importantly, the zone discourages shots in the paint:
However, six of this year's top 10 defenses were in the top eight in preventing shots in the restricted area around the basket, per analysis of data from NBA Advanced Stats, and none in the bottom eight.

It's here where the zone shines. Per Second Spectrum tracking, teams shot 3s far more frequently against zones (53% of their shot attempts, as compared to 38% of shot attempts against man-to-man defense). But zone defenses dramatically reduced shots in the restricted area, from 26% of attempts against man-to-man to just 16% against zone.
That article goes on to point out what many people foresaw coming into this series - and it's why our own Daniel Hardee (and NBC's Grant Liffman) see the Heat beating the Lakers in the eventual NBA Finals.
With Jimmy Butler and Jae Crowder manning the top Miami's zone for most of Game 2, as the Heat played 31 zone possessions and held Boston to 0.968 points per possession - which is not good. It's not just a fluke that Boston is struggling.
Via Cleaning the Glass, look at how poorly some of the Celtics primary ball handlers shoot at the rim. Kemba Walker, Jason Tatum, and Marcus Smart are some of Boston's most important weapons and none of them are especially good at finishing around the rim: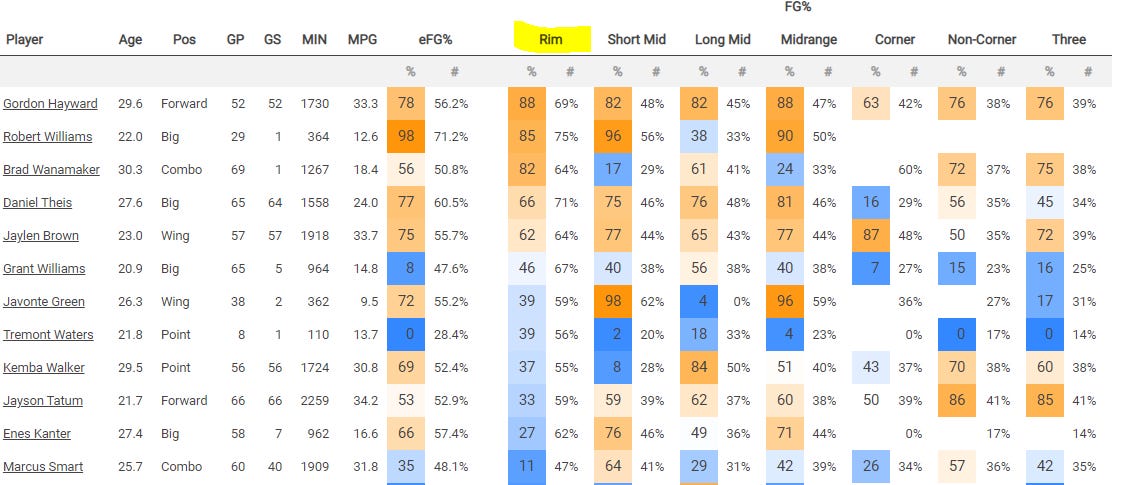 So not only is Miami's zone stifling penetration (while also doing a good job preventing outside shots), Boston doesn't have a ton of personnel available to do the thing you are supposed to do: attack the middle of the zone off dribble penetration.
Unless Boston can figure this out tonight, it's the last we'll see of them, because Miami just needs one more win, and it feels like they have a comfortable path to get it.
"Did you get my email?"
Last night, the Los Angeles Lakers pulled out a win to push the series to the world's most tenuous 3-1 series lead - a risky strategy against a Denver Nuggets team that has already overcome two such deficits in this post season alone and has had every series in the past two years go to seven games.
It was a tough pill to swallow for Denver because it's all too easy to see the series swinging an entirely different direction had Anthony Davis not hit that one amazing game winning shot.
And while it's not at all helpful to play "what if" games, let's do exactly that, shall we?
Because here's the problem that many viewers had last night: there was a series of late game call that all went the Lakers way, many of which were fairly blatantly incorrect. The league has a history of favoring the Lakers, a franchise that was the beneficiary of one of the most bizarre sequences in NBA playoff history.
The league also has a history of issuing timely "guidance" to their referees, and honoring the requests of LeBron James, the King is really not that far into the realm of the absurd.
Speaking of absurd, watch James "shut down" this shot - without touching the ball in any way:
Just a touch of contact there on Murray's forearm.
Warriors fans are all-too familiar with the impact that James can have, as we remember that he lobbied the league during the 2016 Finals to great effect. Which was weird because the play in question passed in game without any sort of whistle at all.. a fact that was reviewed and changed after LeBron said he expected the NBA to review it and make a decision. The NBA elevated it from a no-call in the game to a flagrant foul issued a day later; resulting in the suspension of Draymond Green for a critical game and arguably costing the Warriors the chip.
So eyeballs were rolling when LeBron - a player that heavily relies on a questionable shoulder charge in most of his drives to the basket - again took a lobbying effort to the NBA while making a number of pointed comments about not getting enough foul calls. And then, like a suspiciously well-tuned machine:
Happy Friday, let's dance!
I know no one is asking for this, but since exactly one person commented favorably on it the last time I did it, I thought I'd drop a little Friday music on you all.
This one is in honor of my daughter, who was just invited to a skateboard party. I am blissfully old enough to have obtained the wisdom required for me to leave certain questions unanswered. Like, could I still hit a kickflip?
I think I could.