Discover more from Dub Nation HQ
High Quality coverage of the Golden State Warriors with the best commenting community in the world.
Over 3,000 subscribers
Warriors Trade Exception Tournament Group A: Andre Iguodala, Cody Zeller, Danny Green, Dennis Schroder
You decide who advances.
The 2020 Warriors Trade Exception
The Trade Exception technically expires on July 7. However, Anthony Slater writes:
Everybody I've chatted with about the subject said they'd expect the new expiration date to land a day or two after the free-agent moratorium, even if it's in September, since that's where it was initially planted, for strategic purposes. Which brings us to the next question.
This trade exception was created in the Andre Iguodala trade to the Memphis Grizzlies, and is worth $17.2 million. It's fair to say that I am no expert at how to use it. Here's Larry Coon's FAQ about it. But roughly speaking,
it needs to be used to acquire players under contract (technically there could be a sign-and-trade, but the Warriors want no part of that again after this year's experience);

it can't be combined with other exceptions or players to make it bigger;

it can most simply used to acquire a single player (and while there seem to be technical ways to acquire more than one, I don't understand exactly how)
So we're looking for players under contract for less than $17.2m, and which teams might trade to the Warriors for (possibly extremely protected) draft picks.
Local writers have come up with some excellent ideas for possible targets:
It's time to settle this, tournament style. I've combined all the ideas from the local writers and added two of my own, to make a list of 16 possible targets. I will break them into four groups for a Group Stage, and the winners of each group will have a final showdown. The groups have been determined by straight alphabetical order.
The question that will be put forward to you is simply: which of these players should the Warriors most want to acquire for the trade exception?
Let's ignore details of whether to throw in certain draft picks or whether their contracts are worth it or whether their team would even want to trade them. These are unknowable. The Warriors championship window is closing, and the time to win is now.
Group A
Andre Iguodala

Cody Zeller

Danny Green

Dennis Schroder
I've written brief scouting reports below. All stats below are from Cleaning The Glass.
Andre Iguodala
6'6" FORWARD, 36.3 YEARS OLD

2020-21: $15,000,000
Andre Iguodala turns 37 next season. He once had the IQ and game to make the Warriors machine hum and complement the Splash Brothers. He is the known quantity except for the big question of decline.
Overall, Andre's effect was once above average on both offense and defense, but he has declined into being a negative on offensive shooting on-court, offset by his playmaking continuing to lead to lots of free throws.

Stats show he is at the top of the playmaking low-usage forwards, with decent finishing and an erratic jumper.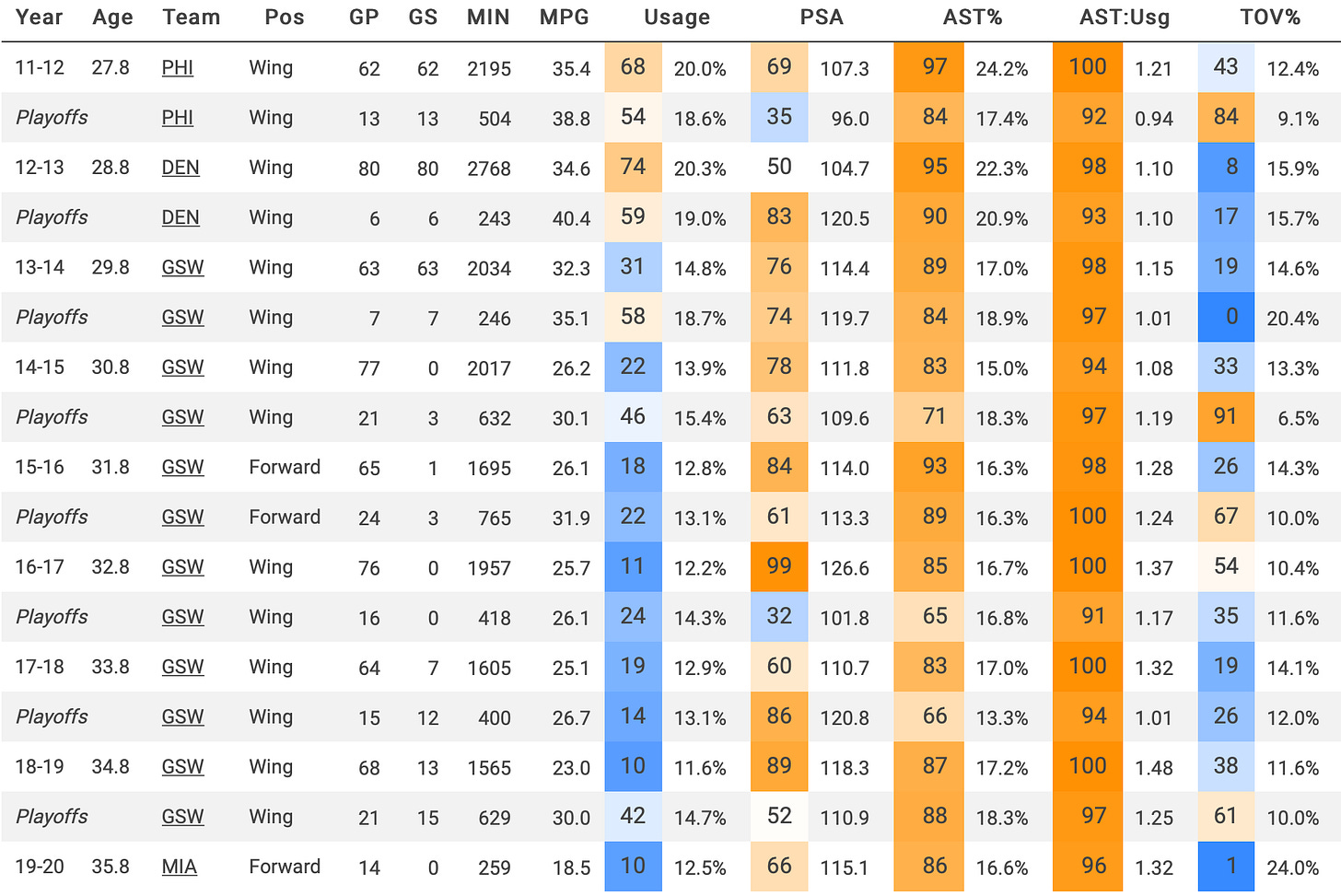 His jumper was once a little above average but has fallen off a cliff since 2017, from all ranges.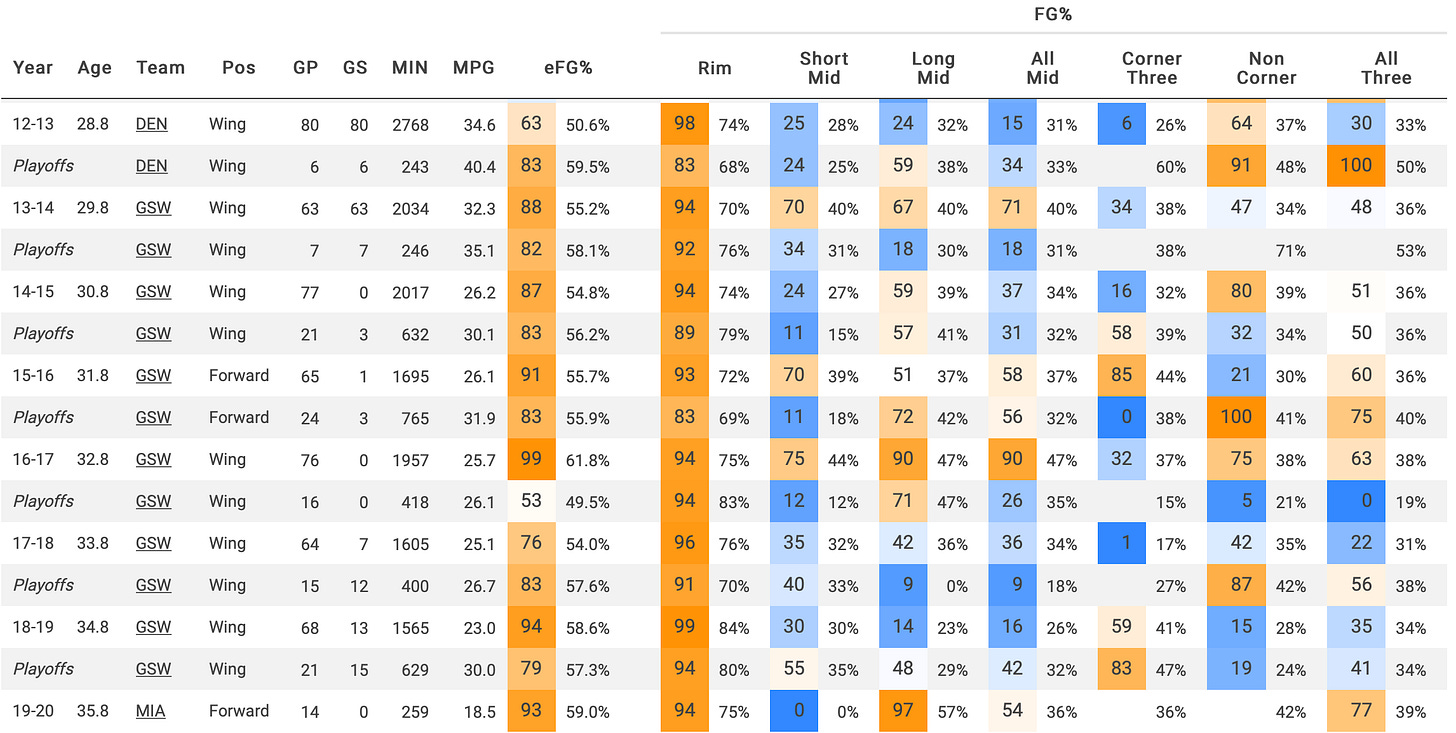 His defense still seems to be holding up, with elite on-ball steal and block percentages. that's ignoring the small sample of Miami… but should we really ignore it?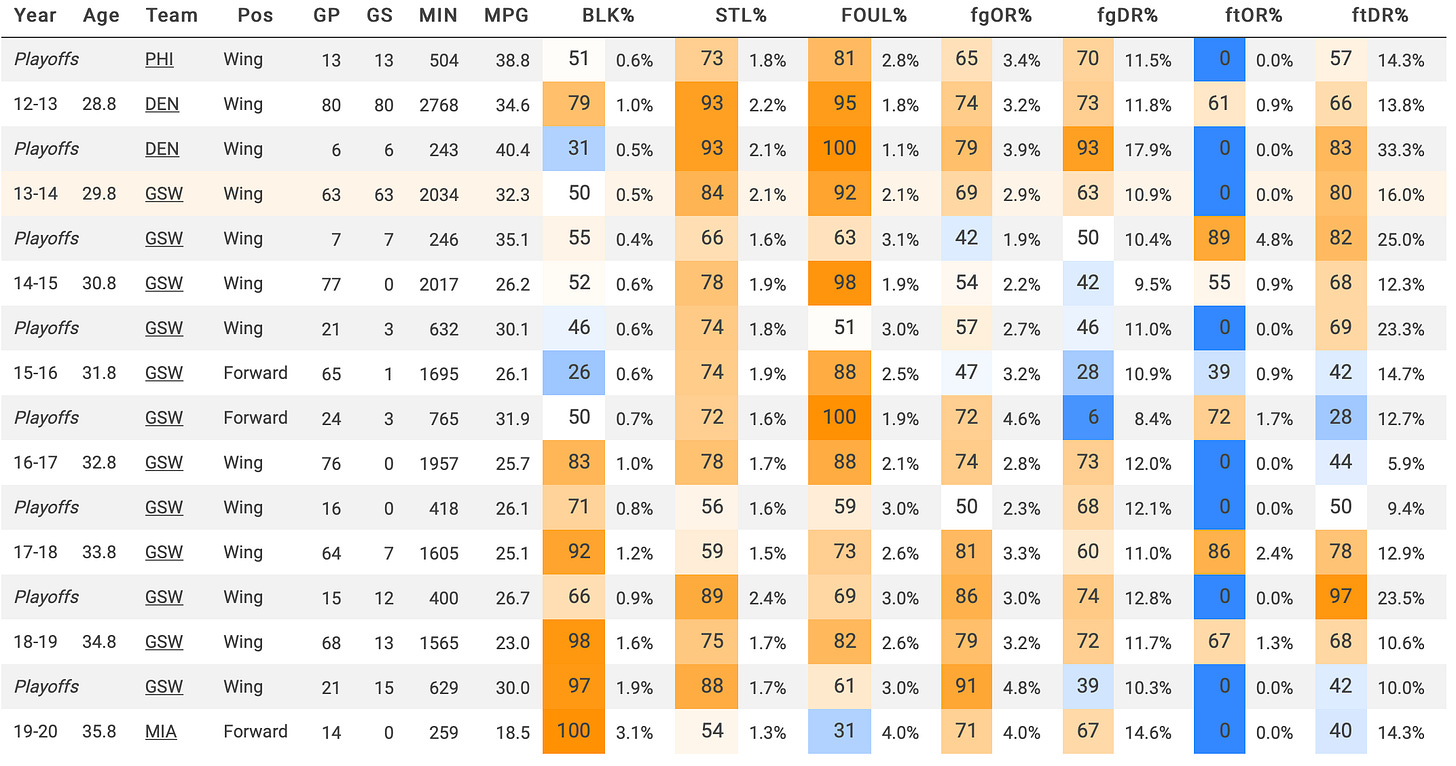 Cody Zeller
7'0" BIG, 27.6 YEARS OLD

2020-21: $15,415,730
Ignoring this last year as possibly an outlier (or was it??), Cody Zeller actually has been positive influence on offense and defense. Perhaps more than sufficient to be an innings-eater for the Warriors?

He is large and has the size that Steve Kerr likes to have to counter other massive players. Think Zaza Pachulia, JaVale McGee, DeMarcus Cousins, Andrew Bogut.

His stats show he's a mostly low-usage, decent passer. On offense, he isn't a great finisher, doesn't have much of a jumper, and forget about three-point range.

On defense, he is a somewhat-above-average big at blocks and steals and offensive rebounding, and is average at defensive rebounding. He's a sturdy average defensive big who can defend the very large.

Danny Green
6'6" WING, 32.9 YEARS OLD

2020-21: $15,365,854
This guy has been torturing the Warriors in the playoffs for years in different uniforms, no matter how crummy his regular season or even last series was. Now it's time for him to torture Dub Nation wearing a Warriors uniform!! Wait, that sounded wrong.
So who is Danny Green today? Is he a big plus on offense and defense as he showed in Nick Nurse's Raptors offense and Frank Vogel's Lakers offense? Or is he a declining player propped up by the ultra-loaded championship Raptors lineup and LeBron James?

On offense he once was a stellar spot up shooter, but he has been mostly poor except for a blazing 2018-19 Raptor regular season.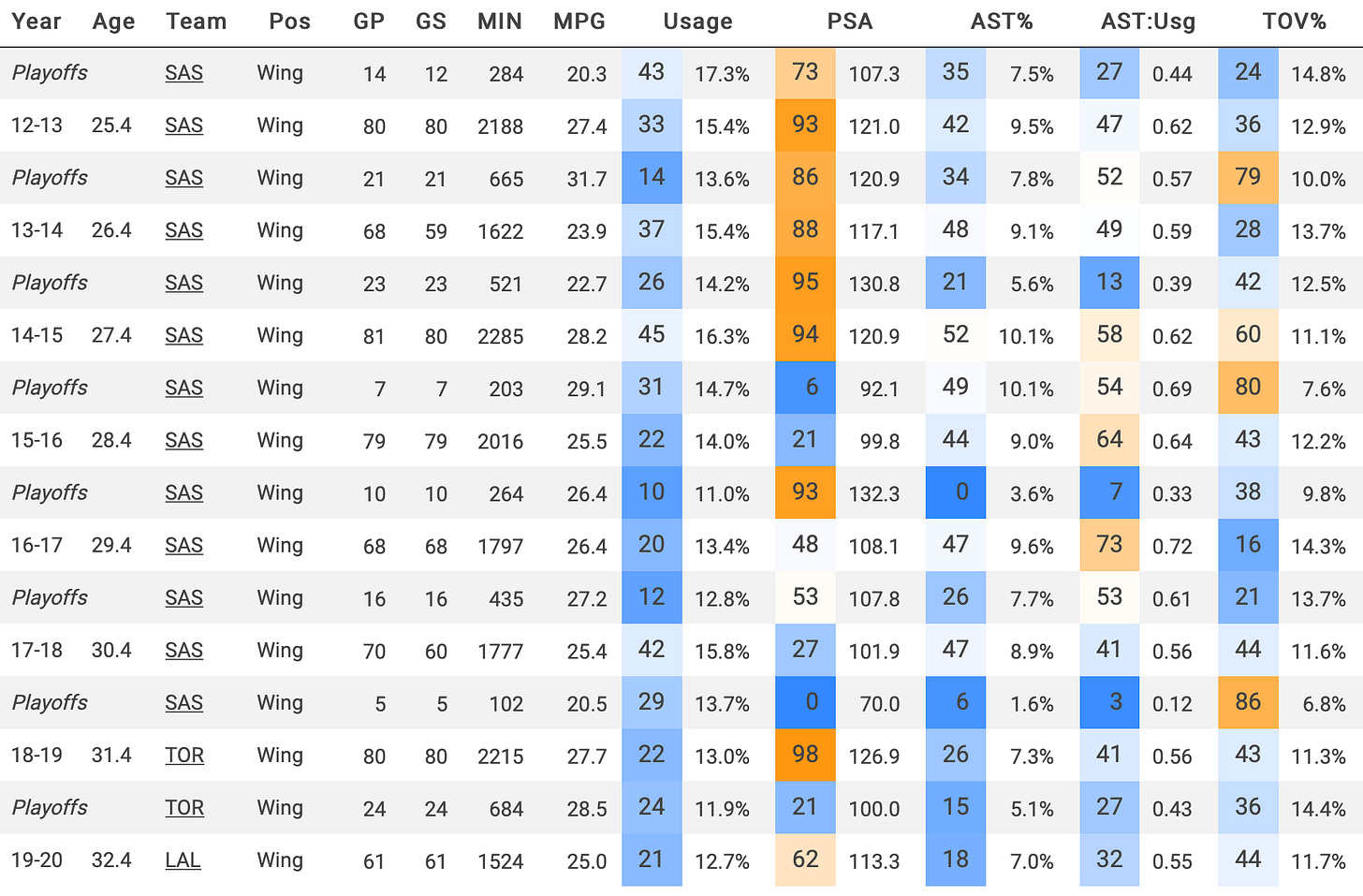 Burrowing into the data shows the same pattern of an erratic jumper since 2016.

He remains an above average wing defender, but there is a decline if you are squinting for a pattern.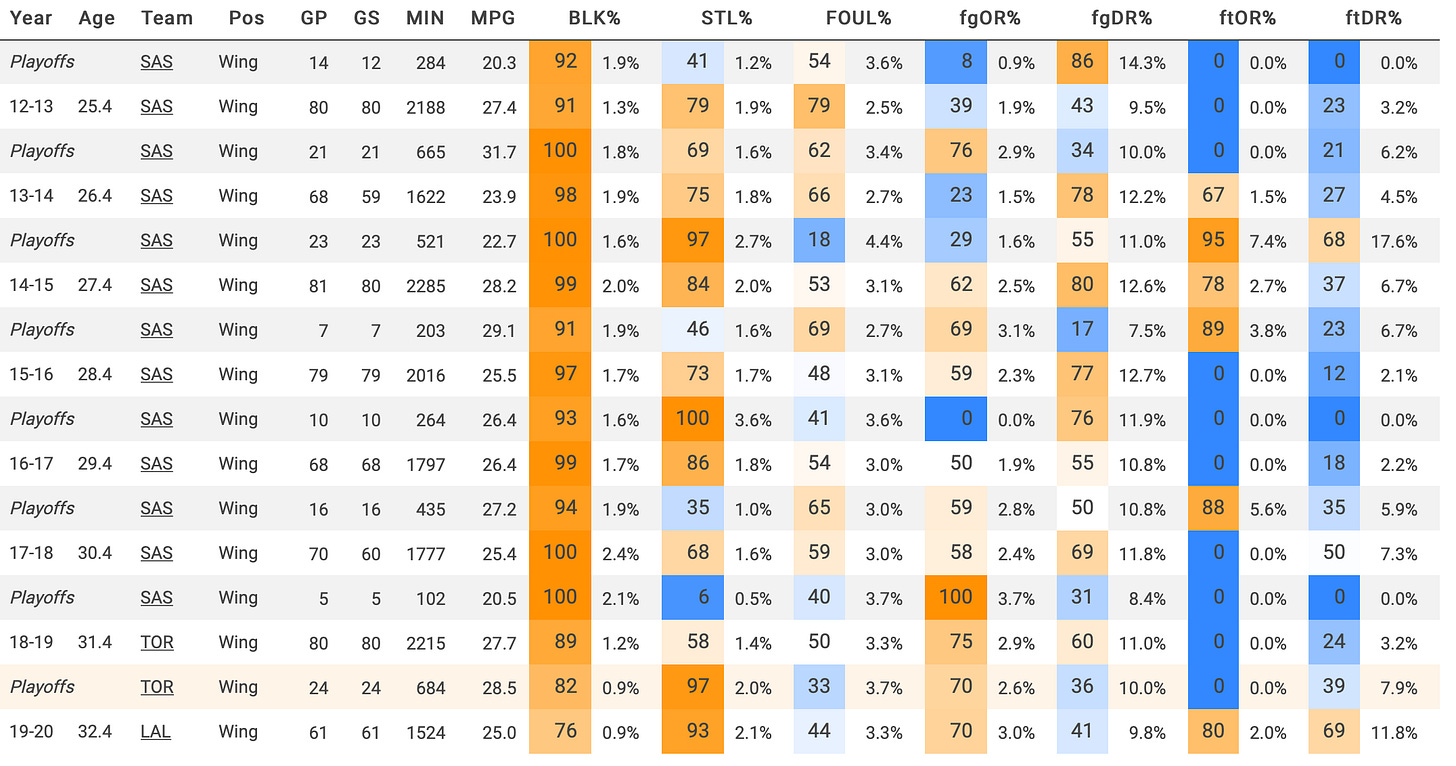 Dennis Schroder
6'1" COMBO, 26.6 YEARS OLD

$15,500,000
It's hard to know what to make of last year, when he was fine on offense and a terror on defense. Before that, he was a God of Chaos, with wild energy and decisions on court, leading to a bump in offense and a big dip in defense.

His midrange jumper is better than you'd think (though poor in the playoffs) and his three-point shooting and finishing is below-average.

CTG rates him as a very poor defender.

Which of these four would you MOST want the Warriors to add for the trade exception?
You can vote on Twitter, or you can vote in the comments. Votes in the comments will count as 10 Twitter votes.
---
To support this content, community, site and a good trade by the Warriors, please consider pushing this button: