Discover more from Dub Nation HQ
High Quality coverage of the Golden State Warriors with the best commenting community in the world.
Over 3,000 subscribers
Warriors set their clocks forward to show their bright future in win vs Sixers
Damion Lee's bounceback game helped the Warriors fight back from a double-digit deficit.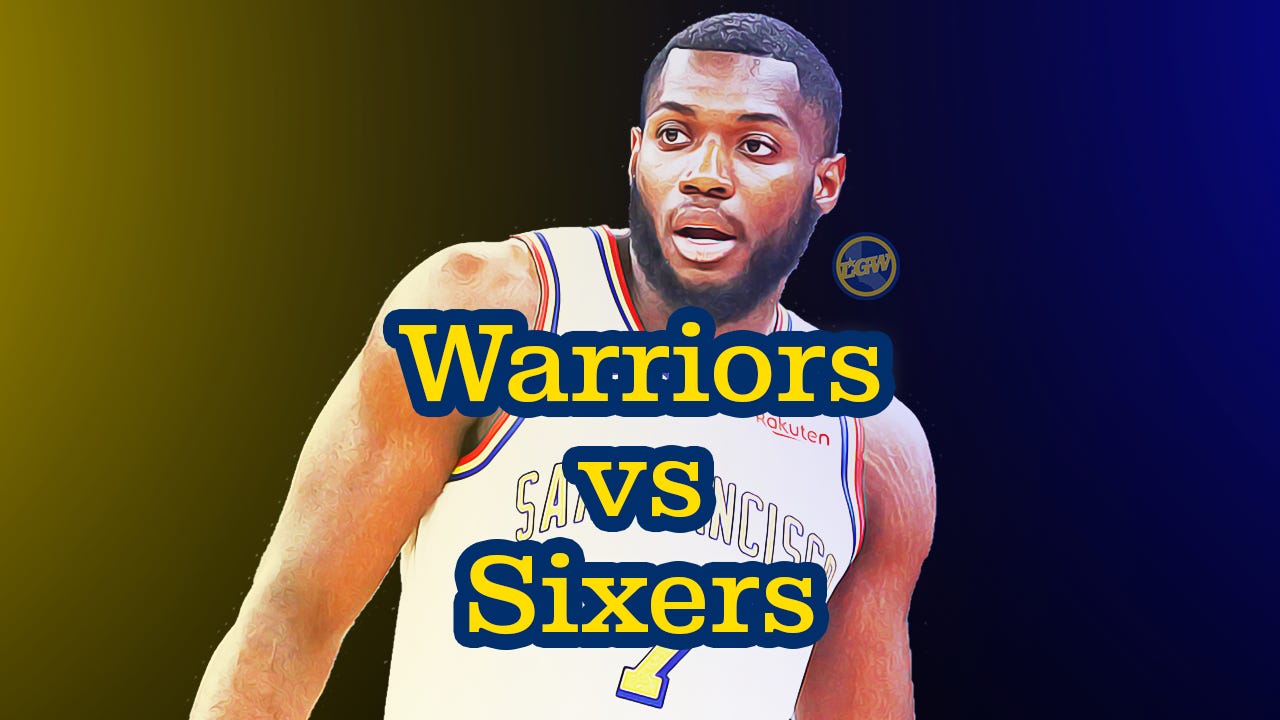 Last night daylight savings time struck; that funny time of year when we adjust our time one hour ahead. The Golden State Warriors got a jump on it, with their young players showcasing a polished resolve well beyond their years in a thrilling 118-114 victory over the Philadelphia 76ers.
Neither team was at full strength, with the Warriors missing Stephen Curry, Klay Thompson, and Draymond Green while the Sixers didn't have their All-Stars Joel Embiid and Ben Simmons.
Still, the Sixers were slight favorites going into this game, and led by ten points before the Warriors stormed back for a gutsy win in front of a roaring Chase Center. Can you believe these young Dubs tallied up a 30-assist, 7-turnover game without Curry and Green?
Golden State's last three games:
Come from behind W @ Denver

Close home loss to Toronto

Come from behind home win vs Philly
Something good is brewing by the Bay as we wind down this bizarre season! Let's jump into how these plucky Warriors sent the Sixers outta the 415 with an L.
Damion Lee saves the day
The NBA is the ultimate "what have you done for me lately" league. Just two games ago, Lee was labeled as a choke artist and suffered the wrath of NBA Twitter for a string of gaffes at the end of a loss to the Raptors.
When you're paid a lot of money to put a ball through a hoop, people will get on your head for your failures. Some players can have a crisis of confidence after that level of scrutiny (Nick Anderson, anyone?), but Lee proved he's built for this life with a resilient performance against Philly.
He led the Dubs with 24 points on 10-of-17 shooting (3-of-8 from 3PT range) with 6 rebounds and 3 assists. But it was his clutch performance down the stretch that sealed the deal.
He scored 7 points and grabbed 3 rebounds in the fourth quarter, knocking down 3-of-4 of his shots, and used great defensive anticipation to choke out Philly's last gasp.
Lee's 4th quarter steadiness buoyed an undermanned Dubs team desperate to win for their home fans. His teammates clearly never lost faith in him and I don't think Dub Nation should either.
Marquese Chriss is a legit option for starting center
Chriss locked horns with All-Star power forward and borderline Hall-of-Famer Al Horford and held his own. He nearly pulled off a triple-double with 13 points, 10 rebounds, and a team high 8 assists. 4 of those dimes came in the fourth quarter!
His biggest moment came when he protected the slimmest of leads in the closing seconds of the game with an emphatic block that shook the entire Chase Center.
DENIED!
The Dubs have consistently sought after bigs who can pass, guys like Draymond Green, Andrew Bogut, David West, and David Lee. Believe it or not, Chriss is fitting right into that mold. I checked Basketball-Reference for bigs who have tallied that 13-10-8 statline in a game over the last 20 years of Warriors basketball: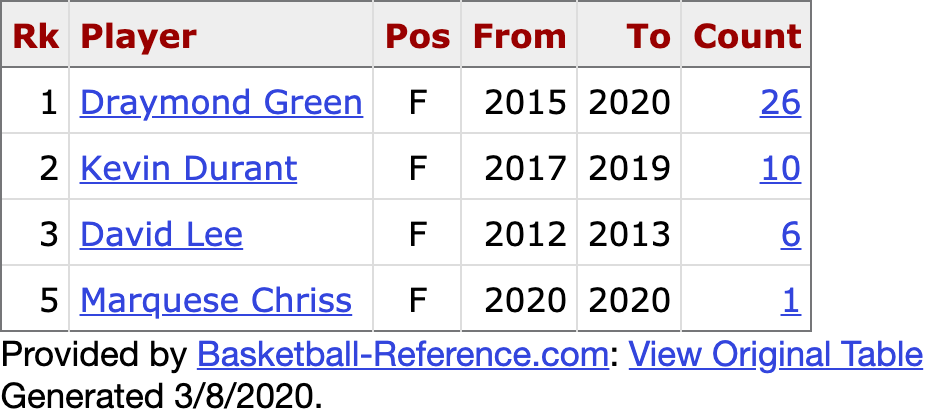 Not bad company, and a very encouraging sign for anyone campaigning for Chriss to remain the full-time center next season when the Dubs are fully weaponized.
Warriors rookies gone wild
Golden State was lifted by a combined 58 points from their first year players. Eric Paschall led the effort with a ridiculously efficient night, scoring 23 points on 8-of-12 shooting, knocking down all 7 of his free throw attempts. He also added 6 assists with only one turnover.
His mid-range jumpshot sets up everything he does, and you can tell the threat of it is unnerving opposing defenses. Watch how he catches the ball at the top of the arc and gives hesitant stutter steps like he's itching to launch a sweet jumper…
ONLY TO UNLEASH A LIGHTNING QUICK FIRST STEP AND SLAM ON THESE JABRONIS! LET'S GOOOOO!
Mychal Mulder scored 18 points and drilled 5 triples, to lead the starters in plus/minus at +15. He was especially crucial in the final quarter, where he led the team with 9 points with two three-pointers.
Also I knew the Splash Nephew was related to Klay Thompson due to the power of wet jumpshot, but did you know Mulder was named after Klay's dad, Mychal??