Discover more from Dub Nation HQ
High Quality coverage of the Golden State Warriors with the best commenting community in the world.
Over 3,000 subscribers
Warriors Draft Pick Tournament, Semifinals: #5 James Wiseman vs #8 Tyrese Haliburton
Round 3, the choice for thee
Okay, welcome to the third round of the Warriors 2020 Draft Pick Tournament! I have added a few more scouting reports and comparisons since the first round.
Both players have had significant support along the way. Will you support the high character, sharp shooting, smart passing guard Haliburton? Or will you support the raw, athletic marvel James Wiseman?
Which of These Two Prospects Would You Rather The Warriors Draft?
We'll present scouting reports, and you can vote at the end of this post. For details on how these prospects were selected and seeded, see the master tournament post.
5. James Wiseman
Wizzy's College Comps: (similarity above 70): none. (similarity above 40) Greg Oden. Tough to find comps on basically no college data.
NBADraftRoom Comp: AD lite, David Robinson

(Graphic from Sports-Reference.com)
That's not a typo… only 3 college games before injury and fighting with the NCAA.
Wiseman's decision to quit on Memphis midseason raised eyebrows with some NBA executives who were left wondering if the 7-1 center is wired to be great. But his natural ability is so overwhelming that he can't possibly slip too far in a draft this devoid of high-end talent.
Many scouts felt like Wiseman had started turning the corner in terms of playing hard consistently before his season ended. He's the type of talent who's essentially a lock to look good in solo workouts.
The player he most reminds me of physically is Hassan Whiteside, but Whiteside is among the best rebounders in basketball and Wiseman's board work is a constant disappointment. Wiseman has some shooting touch, but that may almost serve as a hindrance – he seems to relish shooting 15-footers more than attacking inside.

Again, we're operating with only a three-game NCAA sample, one of which was him dunking on Nerf hoops against Kenpom.com's 339th-rated team. So we need to look at other information. Fortunately, we have it from his high school play. Believe it or not, AAU performance has predictive value for the NBA draft. In Wiseman's case, despite his size he didn't dominate the way you'd expect, especially on the glass.
Active rebounder. He displays a high motor and great instincts tracking the trajectory of missed shots on the offensive glass.

His best offensive role is as a screener who rolls hard to the rim since he can finish lobs or with touch. But he can also mix in pops to generate shots from the perimeter and keep defenses honest.

Strong post-up potential. Displays a rare blend of power and finesse and does a nice job of sealing off his man. But he currently lacks advanced power moves, instead defaulting to fadeaways.

Shooting upside: He has good mechanics and soft touch. But he lacks range and doesn't have a track record of success shooting from midrange and 3.

Sluggish lateral movement on the perimeter due to a lack of quickness and shoddy footwork. Defenders blow by him too often. At this stage, he's not switchable.

Shaky team defender who tends to find himself in the wrong position or a beat late when rotating. He reads the floor slowly, so his pick-and-roll defense is particularly underwhelming.
SHADES OF: David Robinson, mild-mannered Rasheed Wallace, Damian Jones
PRO COMPARISON: Chris Bosh
My gut feeling on Wiseman is that if he decided he wanted to be, say, the next Myles Turner, he could end up one of the eight-to-ten best centers in the NBA. If he decides that he wants to be the next Giannis, I don't think it will go as well.
If those skills never come around, the 19-year-old won't offer exceptional value as a likely top-five pick. That said, he won't be a bust, either. His physical tools are off the charts, and he could slide into a rim-running role tomorrow.

The upside comes from the possibility Wiseman will build onto this foundation. If he's a pick-and-roll terror who can also hit outside shots, anchor a defense and survive the occasional perimeter switch on defense, he could have the best career of anyone in this class.
The concerning plays might be easy to dismiss if Wiseman was an outright killer in high school. Instead, he was far less productive on the Nike EYBL circuit than, say, Sacramento Kings' big man Marvin Bagley.

Also, Wiseman has reportedly gotten into better shape over the last year and he may well be a late bloomer. I'm certainly not writing off a prospect whose physical profile evokes comparisons to a young David Robinson.

But I'm also not buying the "safe" pick thesis. The idea that physically dominant bigs are easy to project "safe" selections seems fit for another era. In this one, where big men are played off the floor more than ever before, bigs might present less upside and more downside. If James Wiseman completely fulfills his potential, forget I said anything. Those are big "ifs" going forward though, maybe even bigger than the young center's massive frame.
Wiseman is the top center in the class for me due to his elite-level physical tools and developing defensive prowess on the interior. By the end of Wiseman's high school career, I thought that genuine All-Defense team upside existed within his potential outcomes. After struggling a bit early in his career when he was skinny, Wiseman now uses his length really well while also being able to embrace contact from powerful drivers due to improved core strength. He's not a liability in space, but he's not a switch-y defender.

Offensively, Wiseman is best when he keeps things simple. He has a chance to be one of the league's elite rim runners due to his hands, his catch radius and his ability to high point the ball once he gets downhill. I also think he's going to be able to shoot it from distance long-term. Too often though, he tried to act as a face-up high-post player in the midrange area to poor results. He's not really a shot creator, nor is he much of a passer.
---
8. Tyrese Haliburton
Wizzy's Comps: (per 40 similarity > 70) None. (>50) Lonzo Ball, Shai Gilgeous-Alexander, Monte Morris, Raymond Felton, Shane Larkin, Luther Head, Desmond Bane, Trey Burke
Wizzy's Comps: (advanced similarity > 70) None. (>50) Lonzo Ball, Shane Larkin
NBADraftRoom Comp: better MCW, Dejounte
(Graphic from Sports-Reference.com)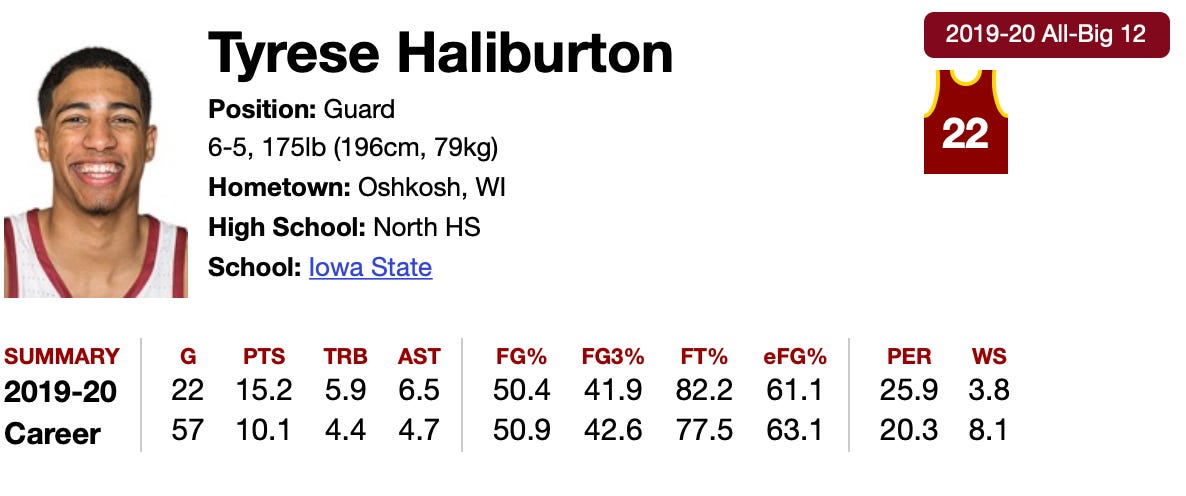 Haliburton, like Toppin, is a good example of a mostly unheralded high school prospect who became a statistical monster in college… before suffering an injury in early February that ended his college career
There's still some dissonance in how scouts value the things he brings to the table. His unselfishness and ability to facilitate winning play is a big draw for some. Other scouts remain hung up on his shooting mechanics and don't see a full-time lead ball-handler. He's a much better team defender than he is on an island, for better or worse.
As a scoring threat in the halfcourt, however, he has work to do. He's long and quick but doesn't have crazy burst and needs time and space to uncork his outside shot. At the basket, he shies away from contact with his thin frame and doesn't draw fouls.

He's more spectacular in transition, where his speed and court vision can combine for some breathtaking sequences. He's also a money shooter.

All the background on Haliburton is rock solid as well. He may never be a big scorer, but as a long-term plus at the guard position, he looks like one of the few close-to-sure things in this draft.
SHADES OF: Shai Gilgeous-Alexander, Sam Cassell

Always in control. Creative playmaker with extraordinary vision and ambidextrous handles. Good spot-up shooter with deep NBA range, despite his odd form. A coach's dream: He does all the little things on the court.

Lack of athleticism and burst limits his upside as a primary shot creator. Generally avoids contact at the rim. Made progress off the dribble as a sophomore, but still didn't shoot well, and his stiff form raises concern. Man-to-man defense: He stands in too much of an upright stance.
Tyrese Haliburton is one of the best examples. The league should be praying that he's kept away from the Warriors. I'm praying for the opposite. The Iowa State guard would be an incredible fit within Golden State's scheme because of the added jolt and intelligence he could bring to their healing offense, whether he's the primary initiator or not. In some ways he seems like Shaun Livingston reincarnated.
PRO COMPARISON: Lonzo Ball
He was the best player on the floor for Team USA at the U-19 World Championships over the summer. 

I'm high on Haliburton because, after seeing the way that elite passers like Luka Doncic, Ja Morant and Trae Young have thrived early in their NBA career, I'm willing to take the risk on a 6-foot-5 point guard that can make those passes in a year where the opportunity of rolling the dice at the top is relatively low.
NBA.com, Making his point: The rapid rise of Tyrese Haliburton:
"A lot of it's in the DNA," Prohm says, before listing Haliburton's inherent qualifications to play the point: "Unselfish. In his heart, Tyrese is a giver. Feel for the game. Ability to make people better. Charismatic. Personable … He'll be the governor of Wisconsin [Haliburton's home state] when it's over. He can own any room."

"You talk to a lot of NBA people, and they'll tell you there's a lot more to the really great players than performing on game night," Robinson says. "There's a tremendous amount of preparation that goes into it. That won't set back Tyrese. He'll be able to hit the ground running when it comes to preparation. He's like a sponge. He soaks up information, and he's not intimidated by guys being older or having more experience."

Prohm says Haliburton will be "blessed wherever he ends up," but he's got a spot in mind. "He'd be great [for the Warriors]. He's a ball mover, and he can play the 1, 2 or 3 at the next level. And he's all about winning, all about doing the right things, a lot of the things I've read about what the Warriors do as a team."
Ethan Strauss, "A breakdown of Tyrese Haliburton":
I didn't maintain that view, however. As I dug deeper into the Haliburton experience, I came away seeing more possibilities than limitations, more positive than negative. Because, while Haliburton isn't a top pick-and-roll guard, he happens to be an absolutely brilliant passer.

Despite his flaws, Haliburton could fit perfectly on this particular team. Defense is half the game and Haliburton has high-level defensive abilities. The Warriors are light on wing depth and desperately in need of plus defenders. Not only can Haliburton take pressure off of Stephen Curry and Klay Thompson on that end, but he can find novel ways to get them the ball.
Ethan Strauss and Evan Zamir, The Athletic:
Evan: I think some people will see shades of Shai Gilgeous-Alexander ("Shades of Shai" is either a great podcast title or new line of sunglasses), but the important differentiator there is Shai's driving ability. That is what makes him a special player with potential superstar upside. Regardless, if you buy into Haliburton's defense and off-ball skills, which I do, you're looking at a potentially uber role player with legit All-Star upside as the second- or third-best player on a contender.
Anyone who read what Tyrese Haliburton wrote for his social media feed after the George Floyd killing saw an intelligent, thoughtful person. Teams that have done their background research have come away thinking similarly. Particularly, they point to his maturity and emotional intelligence. Sources have said that Haliburton will be able to adjust to just about any situation he's put in early in his career, and will find success. Consistently, he's come up as being one of the most impressive human beings in this class. This played a role in his move up to No. 5 on my board. More than that, though, the more tape I watch on Haliburton, the more I see pretty substantial upside if he's able to fill out his frame with 20-25 more pounds throughout his career. I feel confident he's going to be effective quickly in the NBA because of his diversity of skill-set as a potential secondary ballhandler. But there is some upside for more.
How Iowa State's Tyrese Haliburton Has Emerged a Top NBA Prospect (video) 
If the team looks in the backcourt, I do think the buzz surrounding the Warriors and Haliburton makes some sense. Kerr would love his high-level basketball IQ. He brings a lot of the same qualities Shaun Livingston did to the table, he's just a bit more explosive and a bit more modern in his approach to the game.

Halibuton's weakness… is shot creation for himself. In almost any scenario, Halibuton works. Such is the value of his diverse set of skills. 
---
Your Vote
Vote on Twitter or post a comment clearly supporting one or the other. Comment votes count ten times more than Twitter votes.