Discover more from Dub Nation HQ
High Quality coverage of the Golden State Warriors with the best commenting community in the world.
Over 3,000 subscribers
Which of These Two Prospects Would You Rather The Warriors Draft?
We'll present scouting reports, and you can vote at the end of this post. For details on how these prospects were selected and seeded, see the master tournament post.
8. Tyrese Haliburton
Wizzy's Comps: (per 40 similarity > 70) None. (>50) Lonzo Ball, Shai Gilgeous-Alexander, Monte Morris, Raymond Felton, Shane Larkin, Luther Head, Desmond Bane, Trey Burke
Wizzy's Comps: (advanced similarity > 70) None. (>50) Lonzo Ball, Shane Larkin
(Graphic from Sports-Reference.com)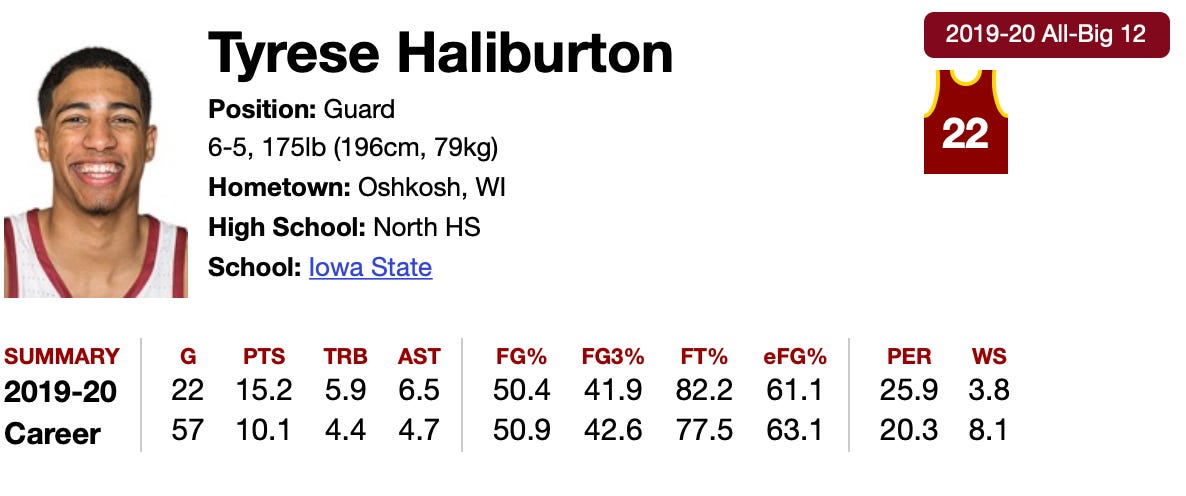 Haliburton, like Toppin, is a good example of a mostly unheralded high school prospect who became a statistical monster in college… before suffering an injury in early February that ended his college career
There's still some dissonance in how scouts value the things he brings to the table. His unselfishness and ability to facilitate winning play is a big draw for some. Other scouts remain hung up on his shooting mechanics and don't see a full-time lead ball-handler. He's a much better team defender than he is on an island, for better or worse.
As a scoring threat in the halfcourt, however, he has work to do. He's long and quick but doesn't have crazy burst and needs time and space to uncork his outside shot. At the basket, he shies away from contact with his thin frame and doesn't draw fouls.

He's more spectacular in transition, where his speed and court vision can combine for some breathtaking sequences. He's also a money shooter.

All the background on Haliburton is rock solid as well. He may never be a big scorer, but as a long-term plus at the guard position, he looks like one of the few close-to-sure things in this draft.
SHADES OF: Shai Gilgeous-Alexander, Sam Cassell

Always in control. Creative playmaker with extraordinary vision and ambidextrous handles. Good spot-up shooter with deep NBA range, despite his odd form. A coach's dream: He does all the little things on the court.

Lack of athleticism and burst limits his upside as a primary shot creator. Generally avoids contact at the rim. Made progress off the dribble as a sophomore, but still didn't shoot well, and his stiff form raises concern. Man-to-man defense: He stands in too much of an upright stance.
Tyrese Haliburton is one of the best examples. The league should be praying that he's kept away from the Warriors. I'm praying for the opposite. The Iowa State guard would be an incredible fit within Golden State's scheme because of the added jolt and intelligence he could bring to their healing offense, whether he's the primary initiator or not. In some ways he seems like Shaun Livingston reincarnated.
PRO COMPARISON: Lonzo Ball
He was the best player on the floor for Team USA at the U-19 World Championships over the summer.

I'm high on Haliburton because, after seeing the way that elite passers like Luka Doncic, Ja Morant and Trae Young have thrived early in their NBA career, I'm willing to take the risk on a 6-foot-5 point guard that can make those passes in a year where the opportunity of rolling the dice at the top is relatively low.
NBA.com, Making his point: The rapid rise of Tyrese Haliburton:
"A lot of it's in the DNA," Prohm says, before listing Haliburton's inherent qualifications to play the point: "Unselfish. In his heart, Tyrese is a giver. Feel for the game. Ability to make people better. Charismatic. Personable … He'll be the governor of Wisconsin [Haliburton's home state] when it's over. He can own any room."

"You talk to a lot of NBA people, and they'll tell you there's a lot more to the really great players than performing on game night," Robinson says. "There's a tremendous amount of preparation that goes into it. That won't set back Tyrese. He'll be able to hit the ground running when it comes to preparation. He's like a sponge. He soaks up information, and he's not intimidated by guys being older or having more experience."

Prohm says Haliburton will be "blessed wherever he ends up," but he's got a spot in mind. "He'd be great [for the Warriors]. He's a ball mover, and he can play the 1, 2 or 3 at the next level. And he's all about winning, all about doing the right things, a lot of the things I've read about what the Warriors do as a team."
Ethan Strauss, "A breakdown of Tyrese Haliburton":
I didn't maintain that view, however. As I dug deeper into the Haliburton experience, I came away seeing more possibilities than limitations, more positive than negative. Because, while Haliburton isn't a top pick-and-roll guard, he happens to be an absolutely brilliant passer.

Despite his flaws, Haliburton could fit perfectly on this particular team. Defense is half the game and Haliburton has high-level defensive abilities. The Warriors are light on wing depth and desperately in need of plus defenders. Not only can Haliburton take pressure off of Stephen Curry and Klay Thompson on that end, but he can find novel ways to get them the ball.
Ethan Strauss and Evan Zamir, The Athletic:
Evan: I think some people will see shades of Shai Gilgeous-Alexander ("Shades of Shai" is either a great podcast title or new line of sunglasses), but the important differentiator there is Shai's driving ability. That is what makes him a special player with potential superstar upside. Regardless, if you buy into Haliburton's defense and off-ball skills, which I do, you're looking at a potentially uber role player with legit All-Star upside as the second- or third-best player on a contender.
Anyone who read what Tyrese Haliburton wrote for his social media feed after the George Floyd killing saw an intelligent, thoughtful person. Teams that have done their background research have come away thinking similarly. Particularly, they point to his maturity and emotional intelligence. Sources have said that Haliburton will be able to adjust to just about any situation he's put in early in his career, and will find success. Consistently, he's come up as being one of the most impressive human beings in this class. This played a role in his move up to No. 5 on my board. More than that, though, the more tape I watch on Haliburton, the more I see pretty substantial upside if he's able to fill out his frame with 20-25 more pounds throughout his career. I feel confident he's going to be effective quickly in the NBA because of his diversity of skill-set as a potential secondary ballhandler. But there is some upside for more.
How Iowa State's Tyrese Haliburton Has Emerged a Top NBA Prospect (video)
9. Deni Avdija

(Graphic from The Ringer)
Avdija should be the first non-American international prospect to come off the board. He's a former Most Valuable Player of the FIBA Under-20 European Championships who is now a rotation player for Maccabi Tel Aviv.
Avdija's minutes have taken off in February, and he's strung together a series of good performances that can only help his stock, given how tricky it's been to fully assess him at times in a sporadic role with Maccabi. He'd been a regular in domestic league play, but his role also appears to be increasing in EuroLeague games, a better level that makes him a little bit easier to evaluate relative to the competition. 
I saw Avdija in person at Basketball Without Borders a year ago, and it reminded me a lot of seeing a teenage Dario Saric play in Croatia. Like Saric, Avdija showed as a teen that he can handle the ball and pass, but probably isn't good enough at it to be a primary initiator in the NBA.

My default is that prospects who get regular minutes in Euroleague as teenagers and play halfway decently virtually never bust, but Avdija just barely creeps over the bar on this one. His Euroleague minutes with Maccabi weren't terrible, but they certainly weren't good. His fans say to focus on his play in domestic Israeli League games, but that league stinks. No thanks.
SHADES OF: Danilo Gallinari, Nicolas Batum, Dario Saric

Great playmaker for his position. He's savvy in the pick-and-roll, rarely makes mistakes, and attentively locates cutters and shooters. He keeps the ball moving in the half court and pushes the ball ahead on the break.

Solid ball handler. Strong finisher who can use either hand and scores through contact. Excellent team defender who rotates well and typically finds himself in the right position. Good intangibles. He knows how to use his strength: He plays hard and constantly competes. He also takes analytics-friendly shots by mostly scoring on 3s and layups.

Worrisome shooting. Doesn't have top-end burst or springs. Lacks the lateral quickness to contain quicker players. Lacks the length to be an effective rim protector.

He shot 56 percent on 363 free throw attempts since 2017, per RealGM data. There is little historical precedent for a player with such poor free throw numbers to ever become a reliable shooter.
PRO COMPARISON: Danilo Gallinari
The key for Avdija long-term is two-fold: What does he turn into defensively, and how well can he shoot the ball? He's never consistently shot it at a high percentage from beyond the arc, and that's concerning given the fact that he has consistently been a sub-70 percent FT shooter throughout his time in the youth ranks. But passing translates, size translates and shooting can be taught. If he continues to improve defensively, he's got a chance to be a good starter in the league for a long time.
Ethan Strauss and Evan Zamir, The Athletic:
Evan: I think some people see him as a kind of "Luka light," which doesn't seem fair. Luka Doncic is clearly light-years (sorry) ahead of Avdija in pretty much every facet of the game, at least, offensively. The main questions I have for Deni are how much scoring will he provide and how efficient will he be as a 3-point shooter and, crazily enough, as a free-throw shooter…. So either I have to believe Deni is a complete outlier in terms of being the worst free-throw shooter ever to become a good 3-point shooter or I have to be kinda down on him. 

Ethan: On Deni … I just don't see it. It's not something I say with confidence, either. There are smart people, savvy scouts, who sing Avdija's praises. When I've pushed back about his lack of presence in European play, they demand that I watch more of his Israeli league games. I suppose it helps Avdija's case that he had a great game against Turkish powerhouse Fenerbahçe. It's just that when I watch, he's not on the ball enough and the shot doesn't go down enough. Defensively, I haven't loved what I've seen.
In the case of Avdija, I wanted to check in with someone who's followed his whole career. Eran Soroka is an Israeli basketball journalist who has been covering the game since 1996.

Eran: The most likely comparison is Joe Ingles. He's playing the 3, but he can be a playmaker or a secondary playmaker. A lot of times when he gets the ball, he penetrates and finds an open shooter or roll man. He's very versatile. Most of the time he's playing as a big wing but handling the ball…. Some would say he has a kind of Boris Diaw-type game. Less bulky, of course. But as far as basketball IQ and court vision. Any big wing that has good interior and transition passing. I think the teams that can benefit most from him are the teams that play smart basketball. Maybe the Spurs if they don't make the playoffs or trade up, maybe the Warriors. There's a lot of teams that try to play smart, but teams need to use him as a secondary playmaker to use his potential.
Trevor Marks, "Film Room: Deni Avdija's Return":
He's exactly the kind of intuitive linking player whose off-ball capabilities — as a quick ball-mover, sharp cutter, and (hopefully) improving spot-up shooter — and positional versatility fit in a franchise such as Golden State, who, if unable to land a pick/asset that can be used for talent acquisition, will look to add a prospect who can flourish next to aging stars Steph Curry, Klay Thompson, and Draymond Green. In an offensive scheme predicated on up-tempo ball movement, Deni fits the mold of a 3/4 combo-forward who can capitalize on his teammates' gravity whilst making the occasional play with the ball, too.

I'm not trying to rain on anyone's socially-distanced parade, but please consider the team that Deni played against. At 20–2, Maccabi Tel Aviv is alone at the top of the 12-team league… and at 4–18, Maccabi Ashdod is at the very bottom, with a staggering talent gap separating the two teams.
---
Your Vote
Vote on Twitter or post a comment clearly supporting one or the other. Comment votes count ten times more than Twitter votes.