Warriors Draft Pick Tournament: #6 Onyeka Okongwu vs #11 Cole Anthony
Round One. You decide.
Which of These Two Prospects Would You Rather The Warriors Draft?
We'll present scouting reports, and you can vote at the end of this post. For details on how these prospects were selected and seeded, see the master tournament post.
6. Onyeka Okongwu
Wizzy's Comps: (per 40 similarity > 70) Stromile Swift, Anthony Davis, Isaiah Stewart, Rasheed Wallace, Derrick Favors, Bam Adebayo, Darrell Arthur, Brandan Wright, Chris Taft
Wizzy's Comps: (advanced similarity > 70) Anthony Davis, Kenneth Faried, John Collins, Isaiah Stewart, Richaun Holmes

(Graphic from Sports-Reference.com)
Okongwu mostly operated off of the national radar this season because he played for an unranked team on the West Coast. But he was fantastic — averaging 16.2 points and 8.6 rebounds while shooting 61.6% from the field. He's the main reason USC won 16 of its first 20 games and would've been in the NCAA Tournament. 
Okongwu has been a divisive name in league circles, but his value at this point is pretty firmly entrenched somewhere between here [#9] and the mid first-round. Some struggle to see the upside while others place a high premium on his floor. Okongwu is a highly impactful player within seven feet of the rim, runs the floor well, and will be able to hang defensively and anchor smaller lineups without needing his number called.
Okongwu was awesome as a freshman and the only reason I don't have him higher is that today's game doesn't value bigs as much. He still might be undervalued here [#4]. Relative to his position he's arguably the best player in this draft, and in particular would seem to be an outstanding fit with the Golden State Warriors.

Since 2011-12, five major conference NCAA freshman have had a PER north of 30 and shot better than 70 percent from the line, an important indicator that they had enough skill to be something besides a '90s beast-ball 5 in the pros.

The first four were Anthony Davis, Cody Zeller, Karl-Anthony Towns and Deandre Ayton. Three of them were the first pick in the draft and the other one was picked [fourth] and has had a very solid pro career.

Okongwu is the fifth.
SHADES OF: Bam Adebayo, young Antonio McDyess, Taj Gibson

Excellent finisher with soft hands that catch tough passes, a pillowy touch around the rim, and the quick-leaping ability to score with power.

Good post scorer. Handles the ball like a wing. He makes slick passes, loves to throw outlets, and passes well out of the post. Does the little things: He hustles, screens well, rebounds all over the floor, and makes clutch plays.

Excellent pick-and-roll defender. He's mobile and versatile, able to drop, switch, or hedge.

Inconsistent shooting mechanics from the field and the line. He's slightly undersized for a center at 6-foot-9 with a 7-foot-1 wingspan. He also needs to get significantly stronger to contain elite post-up bigs like Joel Embiid.
PRO COMPARISON: Bam Adebayo
He's athletic enough that being a switchable five seems like his floor. Worst-case scenario, Okongwu turns into an off-the-bench big that provides energy, rebounding and defense. If the jumper — and, especially, the passing — comes along, he can be much more than that.

Ethan Strauss and Evan Zamir, The Athletic:
Evan: Okongwu has been so dominant this year (at or near the top of my freshman stats rankings all season) and that was without the benefit of playing with a high-end point guard or much spacing around him. I just feel like he's going to be a super solid center on both ends with some shooting potential. (He has great touch around the rim and on his hooks and shot 72 percent at the line.) 
He's also a confusing mix of qualities. The more I look, the trickier Okongwu is to completely figure out. Is he a throwback post-up center? Or is he a rim runner who guards positions 1 through 5? Is he a future 3-point threat, as his form and free-throw percentage might indicate?

In talks I've had with bored, quarantined NBA coaches who've done the scouting, questions of conditioning are raised. In their view, Okongwu tends to go all out until he burns out, like a marathoner who starts a race sprinting.

All in all, I just don't think Okongwu's productivity can be dismissed as something that's only possible within the college game. Yes, he's a post-up killer in a world that increasingly doesn't need post-ups, but he gets his baskets quickly enough to keep a 24-second shot clock at bay. Also, he runs a beautiful pick-and-roll and shows promise as a shooter. Teams will rank him lower than James Wiseman because Wiseman has an obvious role as a center with archetypal size. Okongwu is something different, something a bit harder to project, but I'm buying the possibility. 
11. Cole Anthony
Wizzy's Comps: (per 40 similarity > 70) Kenny Satterfield, Josh Selby, Isaiah Whitehead, Coby White, Anthony Edwards, Dejounte Murray, Collin Sexton, Malachi Richardson, Wade Baldwin
Wizzy's Comps: (advanced similarity > 70) Dejounte Murray, Isaiah Whitehead, Anthony Edwards, Nico Mannion, Malachi Richardson, Archie Goodwin, Tyrone Wallace, Tony Wroten, Andrew Harrison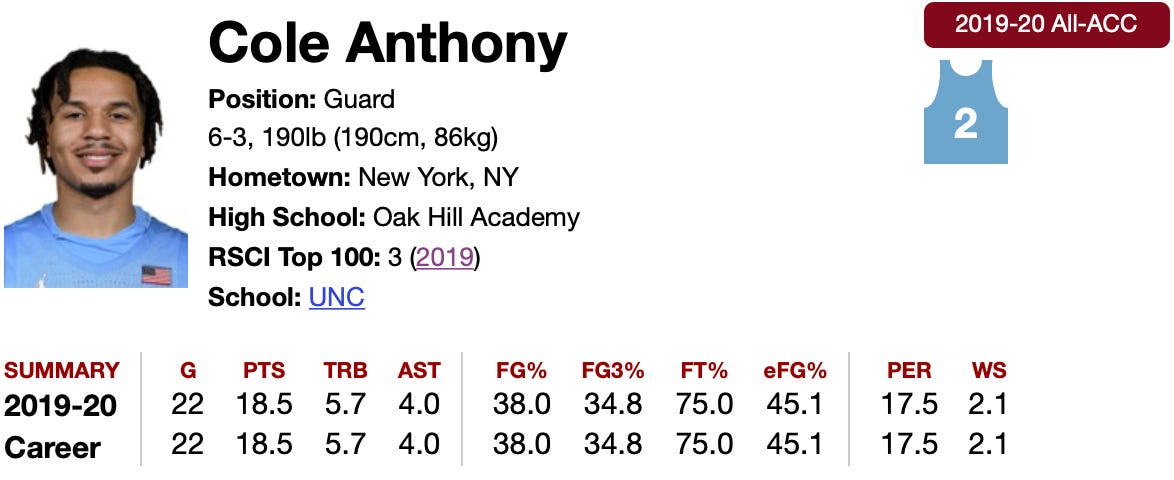 (Graphic from Sports-Reference.com)
Anthony's in-season knee surgery that limited him to just 22 games is the biggest reason — not the only reason, but definitely the biggest reason — the Tar Heels' season spiraled. 

Shooting numbers as a freshman leave something to be desired, but he took so many tough shots, sometimes out of necessity, that it's hard to know exactly what to make of them
In short, he's likely not going to be quite this bad at the NBA level, but teams have to decide whether they can comfortably project him as more than a microwave scorer at this point.
Is he this year's Shabazz Muhammad? OK, that's probably too harsh. But like Muhammad, Anthony is an older freshman with an impressive physique, who dominated in AAU but wasn't as good when he got to the NCAA and couldn't just take over with his physical tools.

His AAU numbers are indeed impressive and, as noted above, that has some predictive value. The eye test says he can get to pull-ups pretty easily and profiles as a microwave bench scorer. In time he could become a really good jump shooter off the dribble.

But he'll likely be a supbar defender — he has short arms, meh instincts, and a disappointing steal rate.
SHADES OF: Kemba Walker, Austin Rivers, Patty Mills

Talented shooter. He knows how to relocate off-ball, balance himself midair, and drain off-the-catch 3s. Constant threat to score thanks to his ability to hit stepbacks and pull-ups from all over the floor.

Ambidextrous finisher with hops, body control, strength, and touch; he's much better than his numbers indicate because of North Carolina's horrific spacing in the half court, often with two nonshooting bigs on the floor.

Dynamic ball handler. Dangerous transition threat. Feisty on-ball defender, impactful off-ball defender

Forces too many contested looks. Not a pure playmaker, nor does he naturally make his teammates better. Plays hard and smart, but he's still undersized. Underwent surgery in 2019 for a partially torn meniscus in his right knee.
In an era where draft prospects are quitting their teams, what they call "shutting it down", midseason once they've earned a spot near the top of the lottery, Cole fought back from a knee injury that required surgery to get back on the court and fight with his team despite the fact that they really don't have much left to play for during the season.

He plays like Russell Westbrook, a hyper-kinetic athlete that is a streaky, sometimes inefficient shooter with a limited passing range that has a habit of dribbling the air out of the ball and shooting his team out of games on off nights. He'll be 20 years old by the time he's drafted. How much more room is there for him to change?
Ethan Strauss and Evan Zamir, The Athletic:
Evan: Cole has a strut to him. I don't know if it's being the son of a former player or what, but Cole definitely has an edge. Now, his lone season at North Carolina has been a bit of an up-and-down-and-mostly-down nightmare, to be sure. His teammates are pretty ass (if I can say that) and he suffered an extended injury…. Basically, he's been quite a bit better late in the season and that has given me a renewed sense that maybe there's something there worth betting on.
---
Your Vote
Vote on Twitter or post a comment clearly supporting one or the other. Comment votes count ten times more than Twitter votes.