Warriors 2020 Draft Pick Tourney Bonus Round: Four Dark Horses
The NIT to the recent Warriors Draft Pick Tournament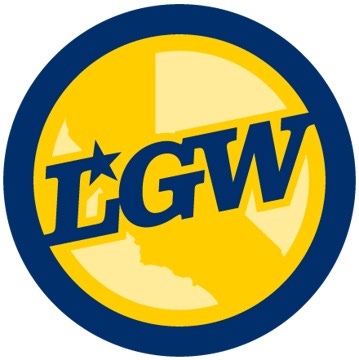 We just finished off Round 2 of a big Tournament of the Top 16 potential Warriors Draft Picks. I'll give the results and then we'll take a short break by looking at four draft candidates with the most hype that didn't make the tournament.
Draft Tournament Round Two Results
For details on how these prospects were selected and seeded, see the master tournament post.
I wrote: "I can definitely imagine some upsets are coming" and LGW came through, powering an upset in every single match.
My personal ballot goes:
Haliburton over Edwards. Edwards could be the next Oladipo, but Oladipo look a long time to become Dipo and Steph isn't getting younger. The Haliburton dream is that his flaws (not explosive creator) aren't relevant in Kerrball.

Vassell over Ball. I'm really not sold on Ball and he's not a great fit for the Steph/Klay/Dray contender window. I'm not that excited about Vassell… GSW could use a 3-and-D type, though.

Okongwu over Hayes. I can't get excited about the Hayes video from a weak basketball league. The Okongwu dream is to contribute right away as a sixth man defending big, and grow like a Siakam or Adebayo.

Toppin over Wiseman. Wiseman has essentially no track record past high school, and his high school play wasn't impressive. Toppin looks to be a skilled attacking big and maybe his defensive issues can be cleaned up.

And it feels like there are Damian Joneses out there (athletic tall and still learning the game) for not so much $. Toppin is looking like at least an ok big on offense, possibly excellent, and the Q becomes how bad will the defense stay? 

Assuming his D stays poor, I checked out the ESPN RPM for Centers and PFs with + ORPM and - DRPM:

Boban

Kyle O'Quinn

Thomas Bryant

Jaxson Hayes

KAT (!!!)

Blake Griffin

Kyle Kuzma

Kelly Olynyk

Kevin Love

James Johnson

Jaren Jackson

Michael Porter Jr

So, these are mostly decent contributors, though challenging to build a top flight contender around.
Semifinals Matchups
The bracket is in a shambles. But LGW Nation has spoken loud and clear against the consensus Top 4 picks (Edwards, Ball, Hayes and Toppin).
8. Tyrese Haliburton vs 5. James Wiseman

10. Devin Vassell vs 6. Onyeka Okongwu
The Dark Horse Bonus Round
We started researching and writing this series in early June. I created a spreadsheet with expert draft rankings and tried various formulas to determine the expert consensus, but in the end, I came up with a very simple rule. Since the Warriors pick Top 5, I only included candidates that at least one expert ranked in the Top 10.
In the intervening month, more expert draft rankings have come out and a few other candidates have come up that didn't make our Tournament, but whom numerous smart analysts really love. So we are going to have a Bonus Round, a kind of NIT for long-shot candidates.
I considered various complex methods for selecting more candidates, but in the end, the simplest rule is the best rule: these are all the candidates who weren't in the Tournament that at least one expert ranked in the Top 11 . That leaves these four dark horse candidates for a Top 5 draft pick.
Aleksej Pokusevski

Patrick Williams

Precious Achiuwa

Tyrese Maxey
Given the hype, I don't think Pokusevski gets out of the first round, and some team may even talk themselves into him in the first half. NBADraftRoom has him at #11. EvanZ has him in the same tier as Okongwu, Wiseman and Toppin.
The other guys are also long shots for a lottery pick, but they all have someone notable who rates them high:
Wasserman ranks Maxey at #7.

NBADraftRoom has Williams at #8 and EvanZ has him in the same tier as Okongwu etc.

Dauster and Ford have Precious at #11.
Which of These Four Prospects Would You Rather The Warriors Draft?
We'll present the usual scouting reports, and you can vote at the end of this post.
Aleksej Pokusevski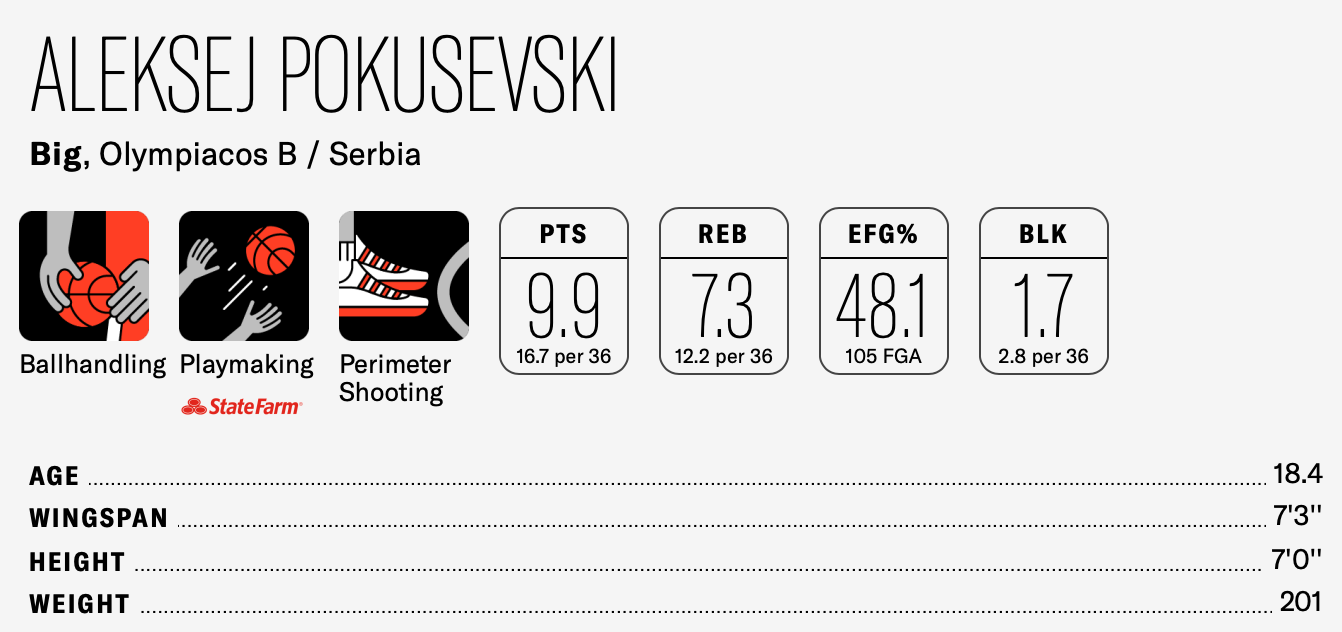 (Graphic from The Ringer)
So here's where I'd swing for the fences on the biggest boom-bust guy in the draft.

Pokusevski is one of the most unusual players you'll see – a rail-thin seven-footer who shoots clean-looking 3s on the move, shows skill for dribbling and passing, and snags steals on the perimeter. He also gets absolutely mashed inside the paint and struggles enough with lower body strength that it even impacts his 2-point percentages offensively. He still can protect the rim though, with a staggering 14.2 percent block rate in the Euro U18 championships in 2019.

He plays in the Greek second division, which is roughly on par with the competition in your neighbor's driveway, so it's tough to gauge his real ability level.
SHADES OF: Detlef Schrempf, Lamar Odom, Dragan Bender

Versatile shooting potential. Nifty passer who can deliver a variety of precise dimes. He has good handles for his size. It's easy to envision an offensive role for him as a floor spacer and secondary handler in the half court. Potentially a versatile defender if he gets stronger. Attentive off-ball defender who communicates and jumps passing lanes to deflect passes.

He's so skinny. Inconsistent defensive effort. Tries to do too much on offense. Doesn't hold his follow-through on jumpers. Potentially a skilled interior finisher since he can use either hand.
After making a brief appearance in Euroleague in February, Pokusevski moved back to Greece's second league. Despite a lack of noteworthy reps this past season, his latest stat line is the type that makes him an enticing gamble: 15 points, 11 rebounds, five assists, two steals, two blocks and two three-pointers in only 18 minutes. Pokusevski is stick-skinny, but he possesses unusual fluidity and skill for a 7-footer as a ball-handler, shooter and passer. He might be too risky to reach on in the top 20, but the potential long-term reward is worth the risk after that.
---
Patrick Williams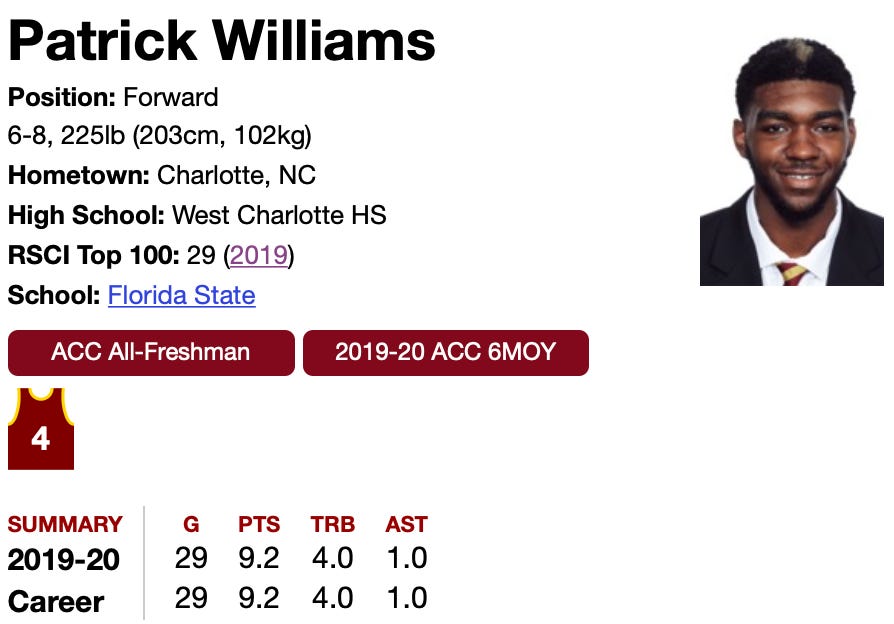 (Graphic from Sports-Reference.com)
Wizzy's Comps: (per 40 similarity > 70) Quincy Miller, Jayson Tatum, Rudy Gay, Kevin Knox, Troy Brown, Cam Reddish, Luol Deng, Jaden McDaniels, Grant Jerrett
Wizzy's Comps: (advanced similarity > 65) Isaiah Roby, Quincy Miller, Michael Kidd-Gilchrist, Chris McCullough, Troy Brown, Cam Reddish, Jaden McDaniels, Kelly Oubre, Chris Singleton
SHADES OF: Danilo Gallinari, P.J. Tucker

Efficient at-rim scorer who uses either hand on athletic extended finishes. Talented scorer off the dribble who can rise—and sometimes hang —before draining tough. Sound decision-maker who plays within the system. Good playmaker for his size due to his solid handle and excellent passing vision. Does the little things like cutting. Smart. Gritty player who hustles hard on defense. Flashes versatility on-ball in a switch-heavy scheme at Florida State.

Still developing as a spot-up shooter. He totaled nearly double the number of turnovers (50) as he did assists (29). Stiff man-to-man defender without the versatility to reliably switch onto guards and wings.
A versatile player who defends multiple positions and is developing as a wing scorer. A plus athlete who plays with great balance and strength and is one of the youngest players in the draft. PatWill would be an ideal fit for the Spurs development staff to work with.

Comp: Dante Cunningham+, Milsap
The youngest collegian in draft, Williams is the less extreme version of Pokusveski….

There is some bust potential here – does he really know how to play? Why doesn't he rebound more? But his ability to defend at the rim is clear and he has quick hands on the perimeter. Tape says he made the right pass more often than his assist rate would suggest. At 6-9 with a projectible shot and a decent handle, he's a potential long-term starter at both forward spots, and those types get $15M a year if they're even halfway decent.
It's easy to fall for Williams' effort plays, exciting finishes and flashes of versatility and look past his skill limitations. Averaging only 9.2 points while shooting 16-of-50 from three, he hasn't consistently produced like an impact lottery pick. But his potential trajectory remains appealing if he can build on his shooting and pull-up game (41.9 percent), ball-screen playmaking (10-of-20 as pick-and-roll ball-handler) and activity around the basket.
---
Precious Achiuwa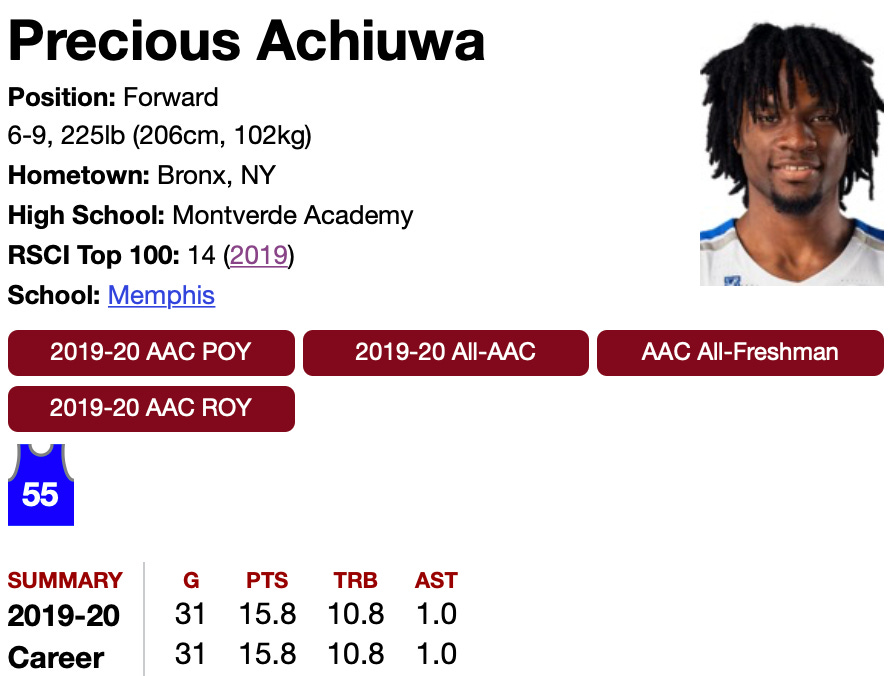 (Graphic from Sports-Reference.com)
Wizzy's Comps: (per 40 similarity > 70) Paul Millsap, Jordan Mickey, Stromile Swift, Kenneth Faried, David Vaughn, Anthony Randolph, Noah Vonleh, LaPhonso Ellis, Michael Ruffin
Wizzy's Comps: (advanced similarity > 66) Jordan Mickey, Henry Ellenson, Ivan Rabb, Trey Thompkins, Tony Mitchell, Chris Singleton, Jarell Martin, Terrence Jones, Reggie Perry
SHADES OF: James Johnson, Montrezl Harrell

Pick-and-roll upside. Active rim runner in transition. Good rebounder. Athletic defender who makes plays in the passing lanes as a mobile helper. High defensive potential thanks to his physical measurements and quickness.

Turnover prone. Poor shooting touch. Struggles with inconsistency as a defender.
Achiuwa could be a complete disaster on offense; he's a below-average shooter with no concept of what a good shot is and little interest in generating one for a teammate. But his size and motor alone land him in my top 20; just by rebounding, running and defending he can probably earn minutes as long as he isn't a complete pig on offense.
The biggest question mark for me when it comes to Achiuwa is whether or not he is going embrace what he actually is. For my money, he's something of a poor man's Bam Adebayo, a big man that can be used at the four and, ideally, as a small-ball five. He plays hard, he has a 7-foot-2 wingspan and he's proven himself as a rebounder. He also has some perimeter skill, and he did make some threes this season. There's a market for that in the NBA, and it's a role Achiuwa should be able to thrive in.
While he needs to improve his offensive skill level and decision-making in the half court, his physical tools (6'9", 225 pounds, 7'2" wingspan) and athleticism alone enable him to make special plays at both ends. It's worth banking on his foundation and natural talent and gambling on his ball-handling, post game, shooting and passing to improve over time.
---
Tyrese Maxey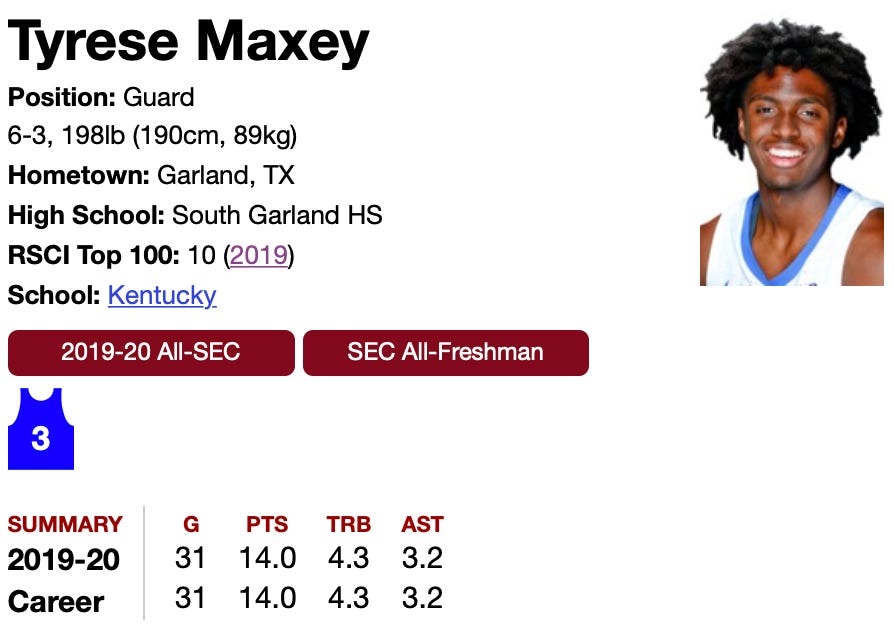 (Graphic from Sports-Reference.com)
Wizzy's Comps: (per 40 similarity > 70) Malcolm Lee, Hamidou Diallo, Daniel Hamilton, Mo Williams, Romeo Langford, Marquis Teague, Josh Green, Michael Redd
Wizzy's Comps: (advanced similarity > 70) Hamidou Diallo, Marquis Teague, Cory Joseph, James Young, Lonnie Walker, Josh Green, Austin Rivers, Keldon Johnson, Malcolm Lee
Maxey's stock cooled a bit after a statistically unimpressive year at Kentucky, and he was among the higher-profile players who really could have used a strong postseason run to help his stock. The back part of the lottery is the high end of his range, but he still has a good amount to offer, and provided his jumper improves—which, if you buy his free throw shooting and soft touch around the basket, is easy to buy—Maxey should still become a well-rounded contributor. He's not a point guard, and becoming more of a threat without the ball in his hands is imperative to his success as a combo. But he has the tools to be a strong defender, and enough craft as a scorer to think he eventually pulls it all together. If he's afforded more space to operate and asked to create a little bit less of his own offense, his efficiency should tick upward, and as long as he's an average shooter, there should be a path to value here.
SHADES OF: Kyle Lowry, Bradley Beal, Carsen Edwards

Clever finisher at the rim who can score from awkward angles using the glass and absorb contact to find an angle using either hand. Shot only 32 percent on jumpers. Comfortable shooting off the dribble in either direction. Good pick-and-roll scorer who can get to the rim or pull up and shoot. Excellent on-ball defender with a strong frame and long arms. Off-ball defense.

Lacks top-end quickness and acceleration. Attempts a lot of tough. Low release may contribute to his streakiness as a shooter. Average pick-and-roll playmaker who makes simple passes but doesn't show advanced vision.
One of my last cuts. Just couldn't get excited about him. Undersized, not much of a shooter, not a freak athlete, analytics were meh.
Taking a risk on Maxey this high in the 2020 NBA Mock Draft means betting on the fact that his 29 percent three-point shooting as a freshman has more to do with adjusting to the college level than it does his actual shooting ability. Coming through high school, Maxey had the reputation for being a big-time scorer because of his ability to make deep jumpers off the bounce and because of the way that he can finish around the rim with a variety of floaters and layups.

He is a pretty good on-ball defender. He's also a worker, and by all accounts a great kid and competitor. I think there's a real chance his ceiling is as a second-unit scorer, but if it all comes together I can see him putting together a career on par with Lou Williams.
While it's tough envision Maxey developing into an NBA star, it's easy to picture him as a pro. Playing alongside Immanuel Quickley and Ashton Hagans has limited Maxey's freedom at Kentucky. He's still managing 14.0 points and 3.2 assists while ranking in the 86th percentile as a pick-and-roll ball-handler and demonstrating plenty of shot-making skills, even if his percentages remain underwhelming (29.2 percent 3PT). His 83.3 percent free-throw mark and dribble jumpers create optimism.
---
Your Vote
Vote on Twitter or post a comment clearly supporting one of these candidates. Comment votes count ten times more than Twitter votes.