The Warriors youth movement embarrassed the Nuggets in Denver
Is Mychal Mulder the new Splash Nephew?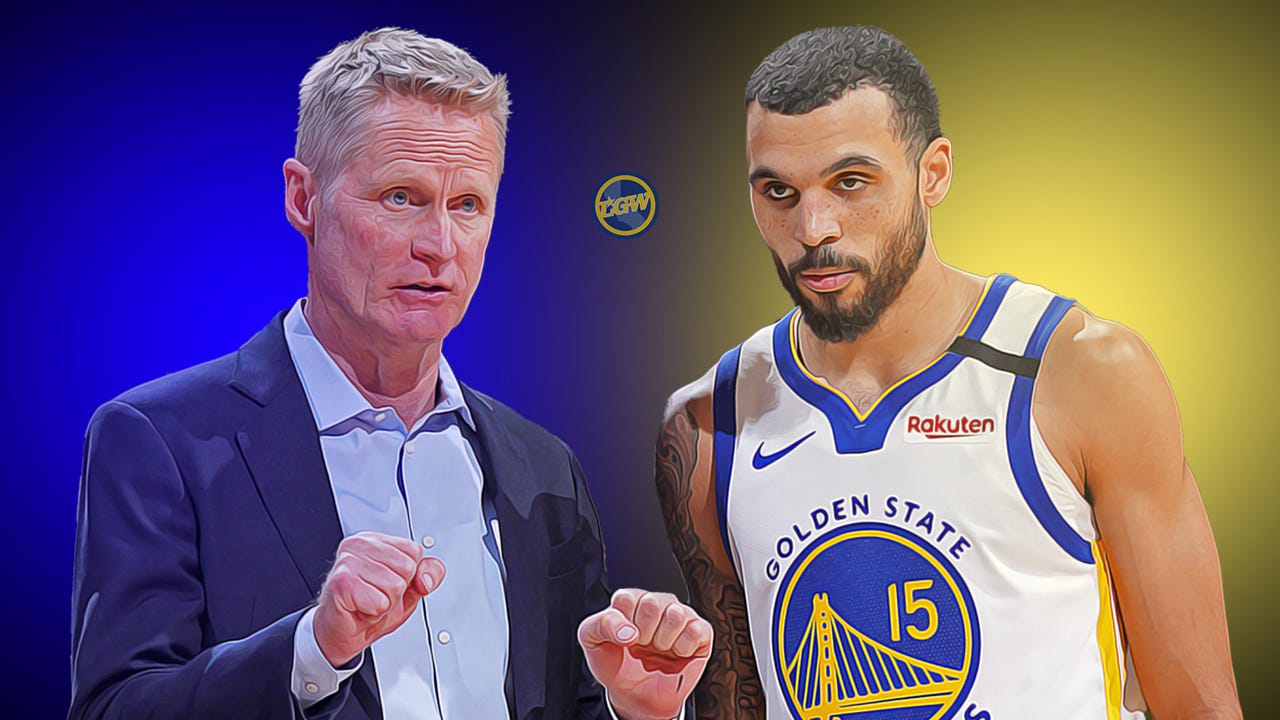 The 2020 NBA narrative was supposed to go like this:
Golden State ruined the league by being a "super team". Now that they've been dismantled by the repetitive strain injury accrued from breaking their foot off in the league for five straight years, plucky "dark-horses" like Denver Nuggets will be able to roam freely.
And yet today Dub Nation beams with pride after the limping Warriors took nine bright-eyed youngsters into Colorado to devour the Nuggets, 116-100.
This was quite a li'l upset considering three factors:
The Nuggets are the #3 seed in the West.

They possess arguably the most daunting home court advantage in all of sports, a fortress known as the Pepsi Center perched high in Colorado's unforgiving altitude.

They have Nikola Jokic, a giant who allegedly can dominate from the center position like few ever have. Meanwhile the Warriors are tinkering with two reclamation bigs from the Phoenix Suns' lottery scrap heap, Marquese Chriss and Dragan Bender.

Sports Book Wire had this to say before the contest regarding Denver being a 16-point home favorite:

"This is the most lopsided matchup of the night in the NBA, making it a tough sell on the moneyline. The Nuggets line is -1429, which offers very little upside; a $10 wager would net just $0.70 in winnings. There's a great chance the Nuggets will win this one, with Golden State (+775) losing 24 of its last 27 games, but it's not worth the risk."
Can you believe that 16-point favorite blew a 16-point lead and lost by 15? Let's talk about how the Dubs reeled in this big W.
Warriors got back to nailing threes (FINALLY)
Greatest shooter of all time Stephen Curry didn't play for Golden State last night, but the Dubs had no problem sniping from distance. They lit Denver up by knocking down 18-of-41 (43.9%) attempts from three-point territory, an effort that was keyed by a player fresh out of the G-League, Mychal Mulder.
Mulder knocked down five of his ten attempts from deep en route to 15 points in 35 minutes. His ability to approximate a brother of Splash opened the game's spacing up and kept Denver off balance.
The shooting was contagious, as the Warriors had six players make at least two triples. After LGW's Duby Dub Dubs wrote a piece lamenting Golden State's perimeter struggles, I'm sure he was quite thrilled to see that the Warriors limited Denver to 3-of-20 shooting from deep.
Warriors rookies figuring it out
Eric Paschall 22 points, 5 rebounds, 5 assists, 8-of-13 FG, 2-of-4 3PT
Recently at LGW we've dissected how the Warriors (temporary) fall from grace is summed up by their punchless third quarters. Last night, Paschall helped dig the team out of a hole in that stanza by tallying 6 points, 4 assists, 2 rebounds, and a steal. He played all but 38 seconds of the third and had a +14 plus/minus for the period.
He also took Denver's heart out of their chests when he trash compacted Denver's veteran defensive stalwart Paul Millsap into the hoop.
Remember when LeBron James referred to Paschall as "Baby Millsap" because of the similarities in their games? The baby is now grown and he's taking up the art of posterization.
Jordan Poole 15 points, 6 assists, 4-of-6 3PT
We're witnessing Poole refining his feel for the game. In six contests since the All-Star break, the Michigan product is averaging 16.5 PPG and 5.3 AST on 50% shooting from the field (37% from downtown).
Last night he was ruthlessly efficient, dishing out nearly as many dimes (6) as he had shot attempts (7) with no turnovers. Poole is toggling between scoring and facilitating with increasing confidence, showing glimpses of a sixth man swagger reminiscent of veterans like Jamal Crawford and Lou Williams.
Juan Toscano-Anderson 8 points, 5 rebounds, 1 block, 2-of-3 3PT
The Bay Area product keeps proving that he belongs on the pro level. His hustle and tenacity kept the Warriors competitive in all of his 20 minutes. He's shooting 42% from beyond the arc on the season, demonstrating that his outside shot has to be respected.
Andrew Wiggins: Droppin' dimes
Andrew Wiggins 22 points, 10 assists, 5 rebounds, 1 block, 1 steal
Wiggins was the de facto point-forward, savvily orchestrating out of the pick-and-roll and keeping the Warriors running in transition.
For reference: Harrison Barnes, the former Warriors forward Wiggins is constantly compared to, has never had a 20-point/10-assist game. I can't wait to see how Wiggins plays once he gets another All-Star or two (or three) next to him.