The Warriors All-Time draft results are here; which Dub Nation GM made the right picks?
Plenty of legendary (or at least familiar) names, and some from deep out of the franchise's historical archives; let's get to know each of these squads.
The premise started off as a Hennessy-fueled discussion in our writer's chat during the doldrums of the Quarantine Era - what would a fantasy draft of the GREATEST WARRIORS of ALL TIME look like?
With so many different eras of Warriors basketball to draw from, there are plenty of historically dominant players worthy of early selections. But what about in the mid to late rounds when the Hall-of-Fame alumni were off the board?
The challenge would be for the brave fantasy GM's to sift through decades of Warrior futility in search of standout players like a child tipping over and spilling a coin stuffed Alhambra jug in a desperate search for quarters. How high would "We Believe" members be selected? Would Harrison Barnes get some love?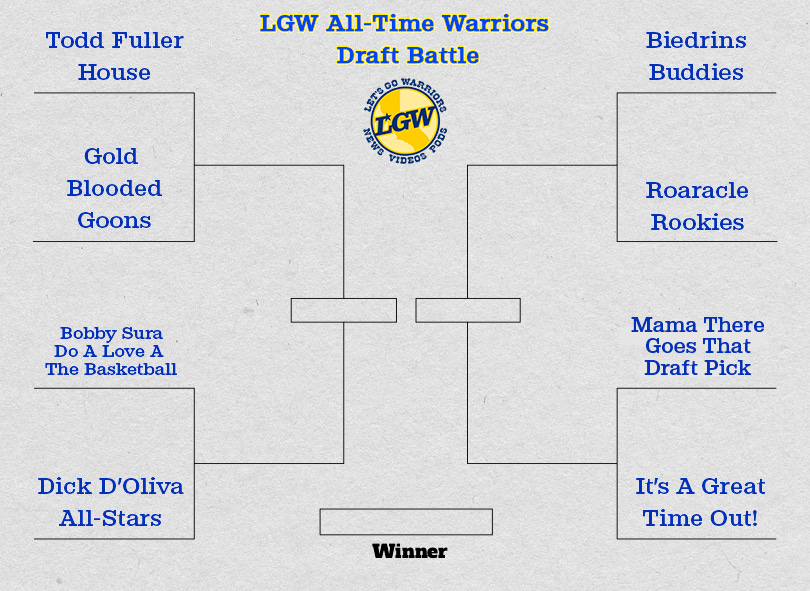 So we put out an open contest in the LGW community and got together eight excited participants for the historic Zoom draft (the video is embedded at the top of this page).
Tomorrow we open the polls to Dub Nation; your vote will determine who advances to the next round. Who was the best GM? Which squad is likely to have the best chemistry between ballers of different eras? Who has the most dangerous offense and the stingiest defense?
So watch the video, familiarize yourself with the teams, and make your vote count!
If you enjoy this content, please support us by subscribing below. Thanks!