The performances that surprised us in the NBA bubble: Part I
Chris Paul, T.J. Warren, and Devin Booker turned heads and raised eyebrows with their Orlando explosions.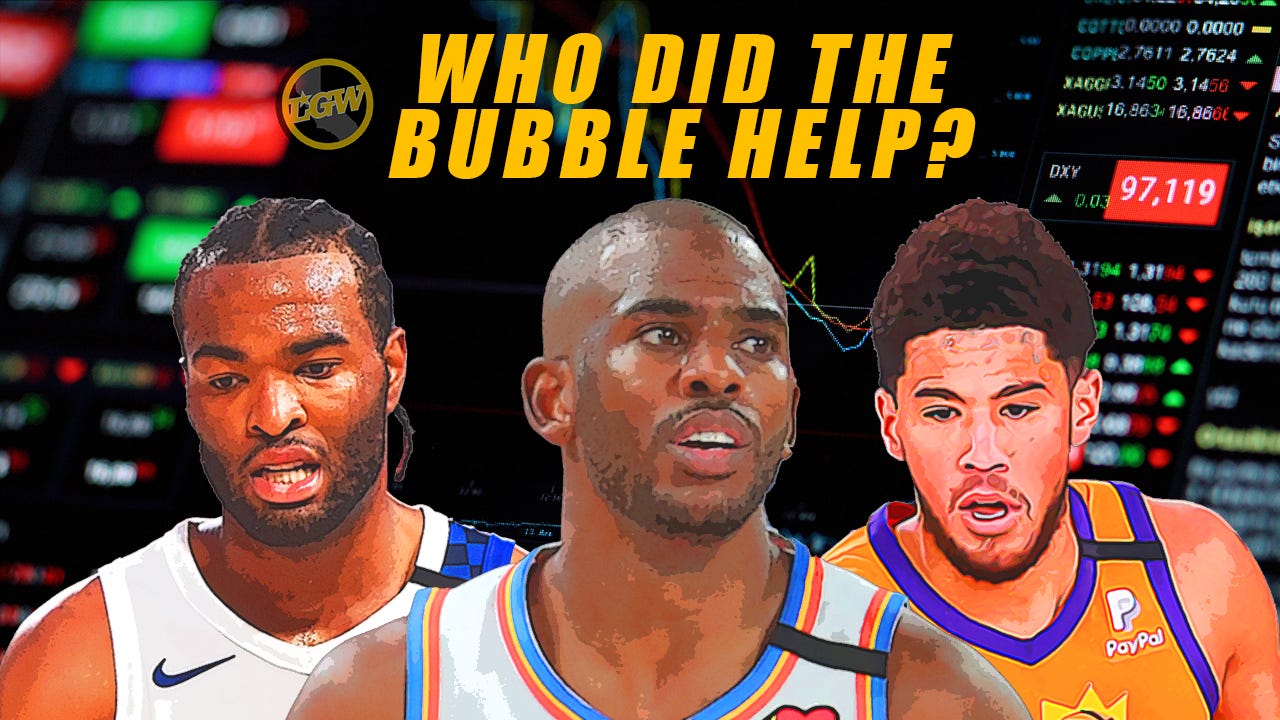 As a grizzled LeBron James marched the Los Angeles Lakers to this year's NBA title, I know many Warriors fans were watching with a perturbed resignation. It was like watching the diabolical supervillain Thanos collect the Infinity Stones in the Avenger's movies: LeBron's Lakers truly felt…inevitable.
One of my favorite Thanos quotes from those films comes right after he wrecks Iron Man. As the good guy collapses to his doom, Thanos ominously stands over him and growls through a veneer of pity: "I hope they remember you".
In that spirit, I hope we remember a select handful of valiant hoopers who were crushed during the quarantine bubble playoffs in Orlando. For them there is no championship champagne to taste and no trophy to cradle. But there were special performances that elevated some players to a new level of respect in the basketball world.
Devin Booker
When the NBA restarted their season, the Phoenix Suns had the worst record of all the Western Conference teams in the bubble.
It would take a miracle for the Suns to force a play-in series for the conference's final playoff spot. But for a young squad, there is value in spending several more weeks together — an experience the Suns can potentially use to build on for next season.
No one foresaw the Suns going 8-0 in the bubble and baaarely missing the postseason. Phoenix's undefeated play was spearheaded by their young star Devin Booker going supernova. He averaged a stellar 30.5 points, 6 assists and 4.9 rebounds.
He also unleashed a vicious game winner over the Los Angeles Clippers that sent NBA Twitter into a frenzy:
His balling even inspired Draymond Green to get a $50K fine for tampering:
If Booker keeps hooping like this, the Suns might actually make the playoffs next year for the first time since 2010.
T.J. Warren
With no fans in the building and extraordinary measures in place to keep a global pandemic out, wonky stuff was bound to happen inside the Orlando bubble. 

But T.J. Warren turning into peak Kevin Durant? This is an entirely different idea.
Before the bubble, my only real memory of Warren was that he was the guy with the "Like Mike" braids who once got into a very emotional chest bump war with Jimmy Butler.
But Warren was a #CertifiedBucket in the bubble, starting with a 53 point performance in his first game of the restart (9-of-12 from downtown!).
Considering his previous season high was 35 points, it's fair to say no one saw THAT coming. Warren would average 31 points (on a ridiculous shooting split of 58/52/89) as the regular season wound down in Orlando, leading the Indiana Pacers into the playoffs.
Chris Paul
Paul has drawn the ire of Warriors fans for several years. Sometimes it was for his annoyingly effective basketball skills…but as he aged he was known more for his questionable extracurricular physicality and shameful flopping antics.
When the Warriors crushed the CP3-era Rockets and he was shipped out to the Oklahoma City Thunder, it seemed like the future hall-of-famer would finish his career by collecting $40m checks in obscurity.
Au contraire mon frère! Paul struck back with a vengeance, leading a young hungry cast into the playoffs for an exciting seven game war with his former team from Houston. His 28 point masterpiece in Game 6 of that series reminded the NBA that he's got plenty of tread left on those tires.
And he punctuated his clutch performance with a hilariously cryptic subliminal diss to somebody (I'm assuming his former teammate James Harden).
Although CP3's efforts were ultimately in vain as OKC fell in 7 games, he still made a bit of history on his way out.
---
Keep an eye out for the next part of our look back over the bubble! And if you want to support our hoops creativity, please subscribe!