Discover more from Dub Nation HQ
High Quality coverage of the Golden State Warriors with the best commenting community in the world.
Over 3,000 subscribers
The NBA rises - games resume as basketball emerges from the Covid lockdown
Inter-squad scrimmages will be shown on NBA TV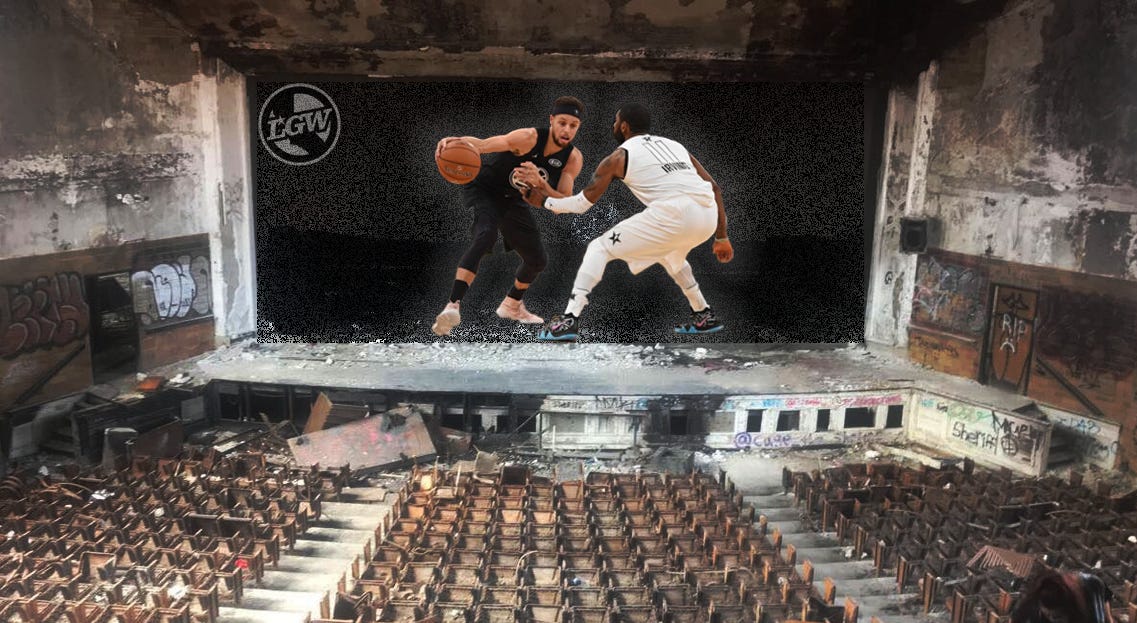 While most fans of the Golden State Warriors are worrying about the impending NBA draft, the teams that were contending for the Playoffs this year are re-opening their campaign.
It feels a little weird to write about basketball right now, honestly. I don't think I've seen more than 20 people together at a time since March (watching the fireworks on the 4th of July from my local hilltop). There are legitimate moral concerns about the NBA's ability to line up fast testing while regular people in the region are dealing with one of the world's worst outbreaks of Covid.
That said, I'm more than ready for some sort of outside entertainment to resume. I've cooked plenty of overly complicated meals, taken long walks and rides, and even bought my first guitar. So even though the Warriors will remain idle, I am legitimately looking forward to this upcoming Bubble Season.
Make no mistake, this is going to be a little weird. No fans in the stands, but a much tighter, more personal arena experience will be captured by the cameras.
When are the games again?
Scrimmages are starting today, but here's a broad overview of how the upcoming asterisk Playoffs will be unfolding: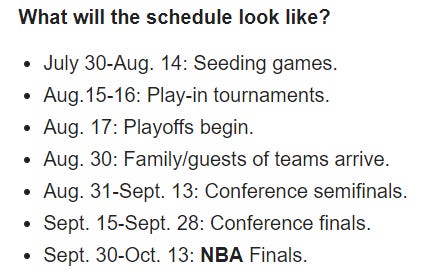 Although inter-squad scrimmages start today, games won't start to matter for another week or so (July 30th). All teams will start with their existing season record, and all games from that point on will count towards their overall records - with one team dropping from each conference once the playoffs start.
If you want to read ahead, here's the full Bubble schedule.
Thankfully, time has lost all meaning in the Covid lockdown, because all of the games are on East Coast friendly time slots which means that we are mostly getting late morning and early afternoon games out here in California. Viewers will get all seven days of scrimmages on NBATV, including six doubleheaders and one quadruple-header: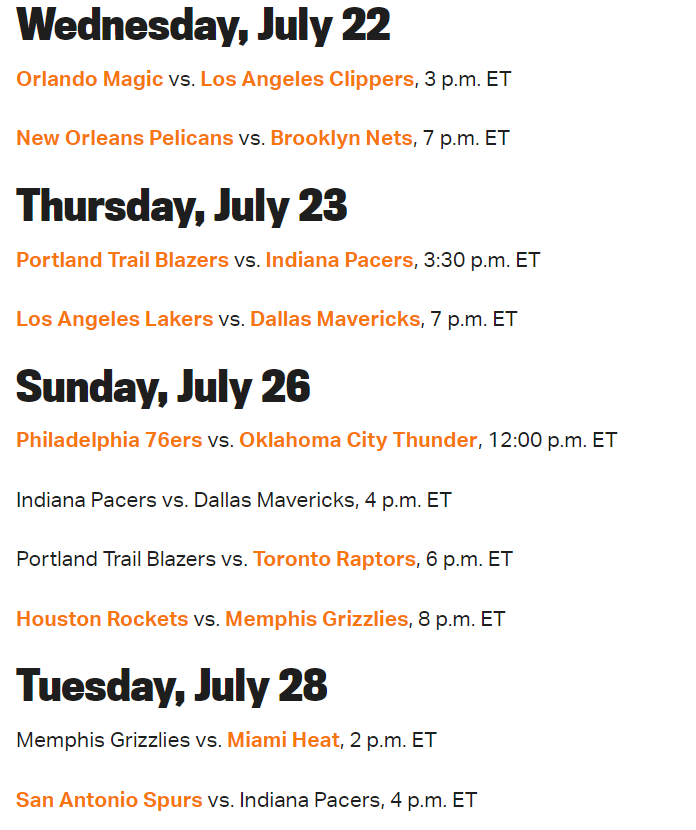 Cool.
Today's Games
My pick to come out of this whole thing is the Los Angeles Clippers. Fittingly, they will play the opening salvo. In my opinion, this is exactly the sort of team that will thrive in this format. They've weathered a rash of early injuries, but used the time to develop their supporting cast and feel out some of their more favorable roster pairings.
It's going to be like one of those wrestling matches where Hulk Hogan goes against Steve Jones (who? exactly.) Even if the Orlando Magic come out of the day with the win, there isn't much of a cost to the Clippers - a team that is mostly unconcerned about seeding.
In the late game, the New Orleans Pelicans are going to face whatever is left of the Brooklyn Nets.
We'll have more detailed coverage once these scrimmages end and the games begin to count. For now, I'm just dusting off the keyboard and hoping to enjoy some real NBA action.

Welcome back, NBA!