The NBA is back! Orlando Bubble season starts today - here's everything you need to know
Though the Warriors are dormant, the NBA is rising from the ashes to forge a season out of a lost year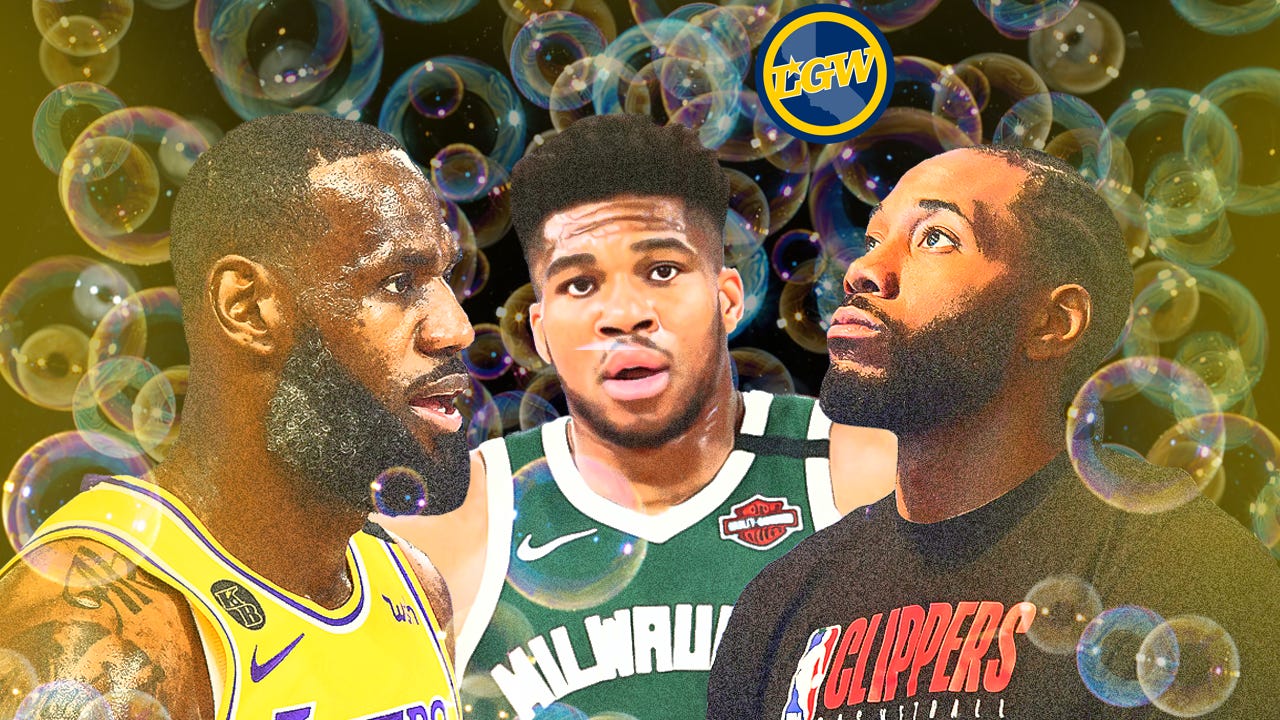 They did it. They actually pulled it off.
Heading into the so-called Orlando Bubble, the NBA was attempting to forge a foothold of safety while a pandemic rages in the Nation around them. As the league announced yesterday, of 344 players tested for COVID-19 since results were announced July 20, zero have come back positive.
So it looks like the bubble idea is working, and we have ourselves an honest to goodness NBA mini season about to unfold for us!
The framework
For the next two weeks, each invited team will play eight games apiece to establish final playoff seeding. Then, on August 17th, the very real NBA playoffs start. There's a cool quirk of scheduling where the fringe bubble teams (the six teams that were six games or fewer behind the eighth seed in their respective conferences: the Pelicans, Trail Blazers, Suns, Kings, Spurs and Wizards) can fight their way into the playoffs. While it may not happen, if one of those fringe teams finishes close enough, they'll be able to play into the playoffs via a new format where they would have to beat the higher seed twice, but a single loss to the higher seed would knock them out.
Here's a cool picture of the schedule, for any visual learners out there, courtesy of USA Today: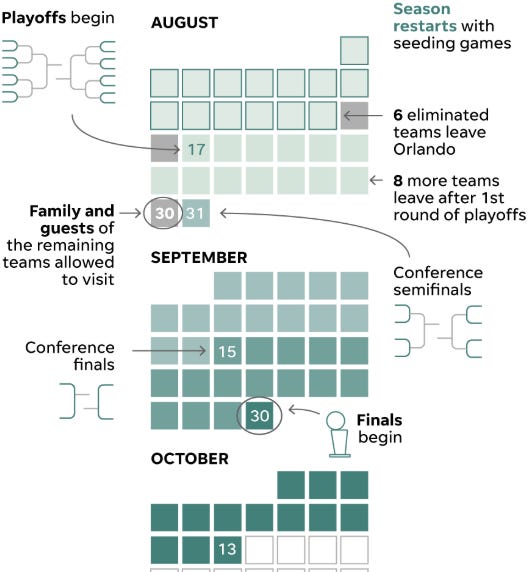 The teams
The cool thing about the abrupt ending to the season is that it removed a lot of the fluff from the schedule. With just about two weeks of action before the playoffs start, there's not a lot of wiggle room for teams to jump very far up or down the standings. Out east, the Bucks, Celtics, and 76ers are presumptive favorites. Similarly in the West, a top-heavy standings featuring the Lakers and Clippers seem to be poised well above the competition.
But don't take my word for it, here are the betting odds (which may not reflect actual calculated chances of winning, or course, but an interesting proxy anyways):
What to watch
I'm ready for some chaos.
The conventional wisdom is that the tighter schedule means less wriggle room, but it also means that teams won't have very much time to smooth out performance curves. The James Harden-led Houston Rockets could once again destroy their entire season by going 0-27… or they could go 25 of 27 over the course of a game and demolish a team they "should" have lost to.
There's no fans, no nightlife to speak of, just pure, focused basketball. So although the scrimmages in the past week didn't really capture my interest, I am extremely keen to watch these games.
As the games unfold, I'll focus on certain games to preview, so for this week, here are some of the early matchups to look for:
July 30
Lakers vs Clippers; 6pm PST on TNT
Injuries and absences are going to have a major impact on this important matchup of two of the strongest teams. The Clippers are playing without Lou Williams (Quarantine - hot wings), Montrezl Harrell and Patrick Beverley are both out for personal reasons, along with Avery Bradley from the Lakers. The Lakers are also facing a more concerning long term issue with point guards, as Rajon Rondo is essentially done for the season with a thumb injury.
Normally, this would be a significant, but ultimately a game of little overall meaning. But with so little lead time into meaningful playoff games, none of these teams are going to be mailing these games in. This should be an exciting look as two of the strongest teams put their best players to work against each other.
July 31
Celtics vs Bucks; 3:30pm PST on ESPN
Not to be ignored, the East swings out directly into the top tier of action as well. The Bucks are not favored by Vegas odds, but they may have the strongest team overall. Given the relative strength of their supporting players and more intentional roster construction.
While the Celtics seem to be a step below the top tier teams, it's a small step, and a re-emergent Gordan Hayward could push this team back up into the upper echelon.