Sweltering under the Heat - What would it mean if the Bucks get eliminated today?
Are the Clippers arrogant? Can the Bucks survive? Will the Lakers turn it around or slide down two?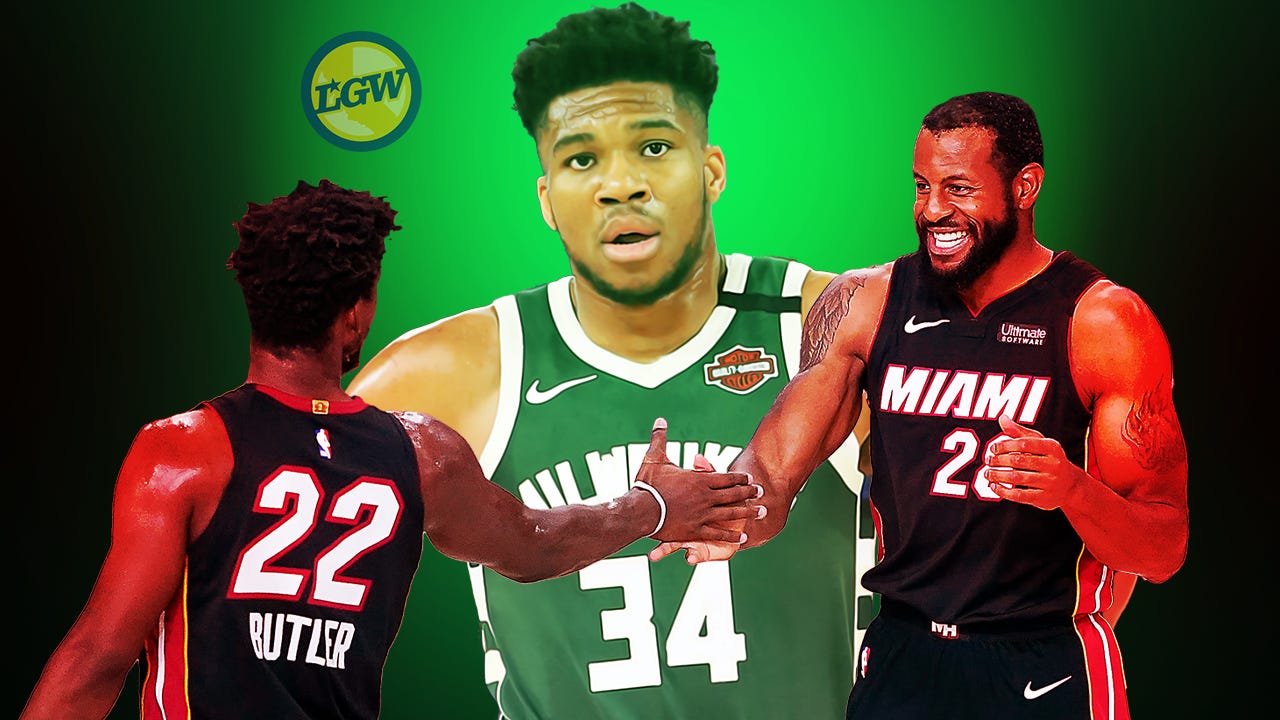 It's too hot in the Bay to do anything, so let's sit around and watch some playoff basketball!
The NBA's two top seeds are back in action today though the pressure on both is unequal. Out East, Giannis Antetokounmpo and his Milwaukee Bucks are on the bloody edge of elimination. To make matters worse for the rising star, he's dealing with a badly rolled ankle in what is almost certainly the biggest game of his career.
The game starts at 12:30, so it's perfect for hiding from the heat (see what I did there?).
If the Bucks fall, what comes next?
No NBA team has ever come back from an 0-3 deficit, but that does not mean it isn't possible - it's happened four times in Hockey, and once in baseball. There's something weird that happens once a new barrier is broken like this.
In skateboarding, no one thought landing anything more than a 360 (one full rotation) was physically possible. That is until Mike McGill managed an inverted 540 (full rotation and-a-half, with a flip mixed in) - within days multiple skaters were pulling this "McTwist" trick off. A few years down the line, Tony Hawk was managing 720-degree aerials (called the McHawk) - a trick that is now widely seen in multiple sports.
Anyways, point is, no one thinks it's possible till someone does it.
Could the Bucks be that team? My prediction is somewhere between "no" and "hell naw."
Antetokounmpo is playing on a tweaked ankle, but more importantly, the Heat have outclassed the Bucks so far in this series. I'm not sure the McTwist would have ever been invented if Andre Igoudala was out there playing defense on the half pipe.
The "what's next" is a fascinating question. Antetokounmpo only has one more season left on his current contract, and the Bucks are going to be hard-pressed to convince him that staying put is the best avenue to advance his career. The Warriors (and the rest of the league) are already rubbing their hands. Here, I made you a meme.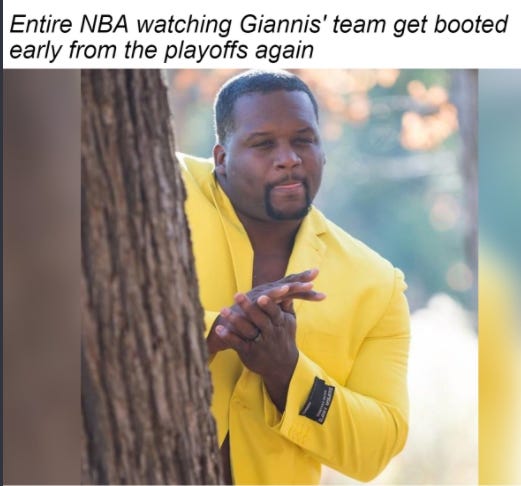 Bucks coach Mike Budenholzer is almost certainly gone… right?
With all the discussion of Black coaching jobs around the hire of Steve Nash, Budenholzer is probably the poster child for white NBA coach privilege (along with Terry Stotts). After leading the Atlanta Hawks to tremendous regular season success, his teams reliably got crushed in the playoffs.
Can his career survive another big playoff letdown?

The franchise is far from blameless in all of this.
Last season's starting shooting guard, Malcolm Brogdon, was fresh off a strong season and found himself highly sought after by potential suitors in restricted free agency. The Bucks decided to let him walk - working out a sign-and-trade deal that sent Brogdon to the Pacers in exchange for a 1st round (top 14 protected) and one 2nd round pick.
Nikola Mirotic was a decent floor-spacing big man that simply walked, choosing to return to the overseas market (where he incidentally dominated with FC Barcelona).
Sure, Brogdon probably got overpaid (ok, ok, he definitely got overpaid), and it's impossible to know all the reasons that the Bucks didn't work harder to retain Mirotic. That said, the franchise's bizarre chase of draft assets over players that can immediately contribute led to more head scratching than a room full of poorly groomed Kindergartners.
In a series that is being defined by the Heat's superior performance on the wings, Brogdon would have been precisely the sort of player that could help sway the series.
So something has to happen over there.
The Bucks are the sixth #1 seed to trail 3-0 in a conference playoff series. Four of the previous five teams were swept, via ESPN.
Lakers Rockets Game 2
We wrote about the asymmetric aspects of this matchup, and in Game 1, it was all Houston. The Lakers' bigs were ineffective, and they lacked the perimeter scoring punch to keep up with the frenetic Rockets attack.
The Rockets didn't necessarily play a great game, but the Lakers combination of limited roster options, and weird coaching decisions was too much to overcome (why are you trying to turn Anthony Davis into a post player, coach?).
For today, I feel pretty comfortable saying that the Lakers are going to even the series. This iteration of the Rockets feels much weaker than the past couple of seasons. Without the steadying, infuriating presence of Chris Paul - now replaced with the ball-punishing dribbles of Russell Westbrook - and no center to speak of, the Houston team is a one-trick pony. It's an effective trick, but one that LeBron James and Anthony Davis should be able to figure out.
Yesterday: Raptors Celtics tied up; Lackadaisical Clippers drop game to Denver
The Eastern Conference playoffs have emerged as my surprise favorite this year, and it's not just the lack of Golden State.
The defending champs rose to the challenge after getting bloodied early by the Celtics, and have climbed out of an 0-2 hole to even the series. It's beautiful basketball, with two well-coached teams taking turns knocking each other around. At times, it doesn't look like Boston can figure out Toronto's transition attack, and then at others, it looks like Jason Tatum is the second coming of Kevin Durant.
I don't know what's going to happen in this series. I'm just happy knowing this will go to at least six games now.
I have complicated feelings about the Denver Nuggets.
On the one hand, I've really enjoyed watching the pick and roll with Jokic and Murray; but on the other hand, there's just such a… plodding feeling to their games.
Jokic in particular was fantastic against the Clippers, who didn't seem to have a good defensive answer for the talented big man.