Stephen Curry pays homage to his journey in insoles of forthcoming shoe
Includes S/O to not one, but two coaches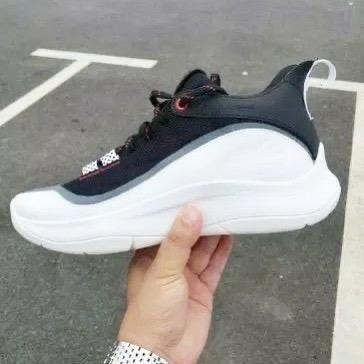 (Photo by @sneakerhighway23)
Hot on the "heels" (pun intended) of the news that Stephen Curry will be getting his own brand at Under Armour like Michael Jordan has with Jordan Brand at Nike, one of our other "sneakerhead" insiders based in China gave us a peek at the insoles of the forthcoming Curry 3zer0 V shoe.
To get up to speed, be sure to check out our most recent Curry/UA video report from early June, embedded below, which includes the Curry brand updates since then in the YouTube description and comments. Although this video focuses on the new "SC30" logo and the signature Curry8 "Flow" shoe, pictures of which are included in the video, the thumbnail is actually of the Curry 3zeroV, sources have confirmed on multiple occasions:
Some in the Warriors Twitter-verse might be surprised that Steph chose to give such an honorable nod to Golden State Warriors head coach Steve Kerr. For many observers of #WarriorsTwitter including myself, it is comedically ironic, as there exists an acute segment of Twitter fandom that routinely chastises Kerr for having Curry give up ball-handling duties to run around and set back-picks and make off-ball cuts a bunch of times to eventually get open for either a three-pointer or a back-cut to the rim. Of course, regular fans already know that the superstar-always-gets-the-ball approach didn't exactly maximize the team's offensive output because it didn't put standard NBA defenses to work, like Kerr's system does.
So to me, aside from "Stay In The Moment" (see next paragraph) and "Dub Nation", the "Kerr Unleashed" phrase is truly an awesome part of Curry's tribute.
We're not here to get any of our sources in trouble, so we'll refrain from posting an actual picture of the insoles, as Under Armour has made it clear to them in the past that they are not to leak any visuals, but below is the 63-word tribute. The phrases have been truncated here as they are on the actual insole, following the shape of the foot.
And one final note: my first podcast last season (Part 1, Part 2) was dedicated to Steph's saying, "Stay in the moment," and includes audio snippets about that mantra from Curry, Davidson coach Bob McKillop, Steph's trainer Brandon Payne, Kerr, Dell Curry and even Shaun Livingston and David West. Please go check that out, thanks! [end shameless plug]
MADE TO RISE.
AKRON. CHARLOTTE.
WRITE YOUR STORY.
UNDERRATED. 3-STAR
RECRUIT. McKILLOP
BELIEVED. DAVIDSON.
ELITE 8. 7TH PICK.
THE TOWN. SPLASH
BROTHERS. KERR
UNLEASHED. GAME
RUINED. FIRST
MVP. FIRST RING.
UNANIMOUS
MVP. 73 W's.
I CAN DO ALL
THINGS.
SECOND RING.
THIRD RING.
DUB NATION.
WORKING ON
EXCELLENCE.
THE PAST IS
BEHIND US.
THE FUTURE IS
NOT PROMISED.
STAY IN THE
MOMENT.