Source: Stephen Curry will have his own brand at Under Armour
Curry will be to UA as Jordan Brand is to Nike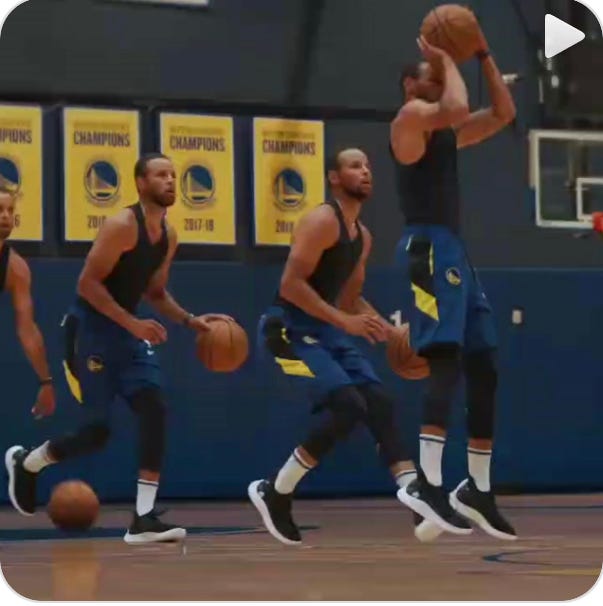 (Photo: screenshot of post by Instagram user "dub_area30") I've been told by a "sneakerhead" source in China that Golden State Warriors superstar Stephen Curry will soon have his own brand under the umbrella of Under Armour, just like how Michael Jordan has his Jordan Brand at Nike.
His new "Curry8 Flow" is supposed to drop sometime in the Fall. I have heard both August and September as possible release time frames, so I don't have strong intel on that.
This news, then, updates the previous report of a "re-branding" into what really amounts to a new brand launch, which includes the new logo we previously reported. Obviously, that new logo will be akin to what the Jumpman logo is to Jordan Brand, and different or separate than the Nike brand. In other words, Under Armour's "UA" logo will no longer appear on any forthcoming Curry signature shoes.
The new, or rather morphed, "SC30" logo can also be seen in our previous report, which all started with the following video, which was based on leaked information posted at Juiced29.com. [Please note: the shoe in the video's thumbnail is actually not the Curry8; it is supposed to be the Curry3zer0. The logo on the Curry3zer0 in the thumbnail, however, is the same new logo.]
Per another source, yesterday Curry was "accidentally" filmed working out at the Warriors practice facility while wearing the Curry8 Flow. The Warriors posted the video clip, but quickly deleted it. We've been told that Instagram user "dub_area30" managed to copy the video and reposted it before the Warriors deleted it from their @warriors account. Its deletion suggests, of course, that the shoes worn by Curry were indeed the Curry8 Flow.
One difference in this pair, colored black with a white sole, as compared to previous leaks is that the new logo is white. Before, the logo was black and couldn't readily be seen. Incidentally, I'm told the new logo is supposed to resemble the three-point hand symbol or 👌 while still having some semblance to "SC30". Our previous report also mentioned a similarity to his signature.
A quick check on the Under Armour website shows that most, if not all, Curry signature shoes are currently listed with "UA" in the shoe's description. For me, it was difficult to readily find Curry basketball shoes unless you did a website search on his name. So if Curry is indeed having his own brand, expect the website to have its own Curry section.
Another source in China hasn't gotten back to me yet to corroborate all of this, and I didn't have time to research the financials for Jordan as compared to Nike, or revenues for Curry's signature line as compared to Under Armour, but with anecdotal evidence of Steph's popularity with kids, as seen first-hand inside many different NBA arenas, you'd have to assume this is the right move for both parties.
---
To support this original content and this community, please consider pressing this button: