Showdown: Dubs All-Time Draft Round 2 - Curry's team vs Mullin's squad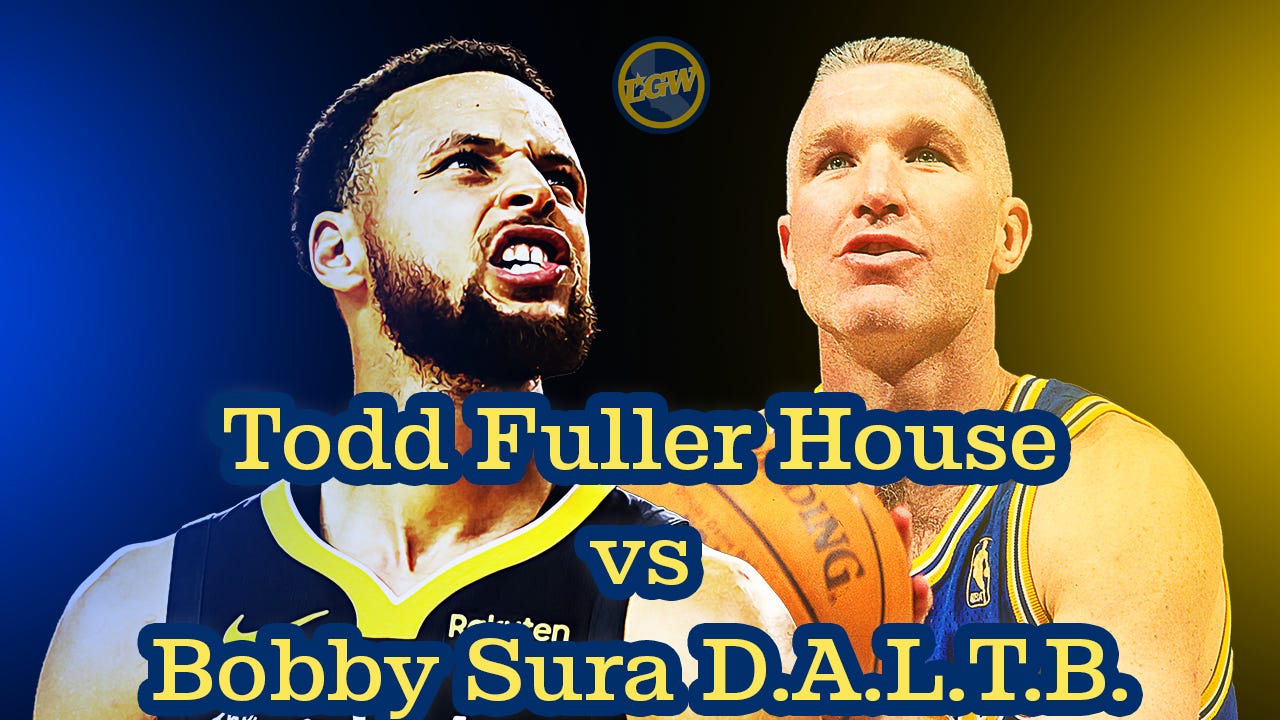 Our final battle of the first round's bracket was a victory for the ferocious backcourt of Klay Thompson and Tim Hardaway over the formidable frontcourt of Wilt Chamberlain and Draymond Green, as "It's A Great Time Out" advanced to the semi-Finals.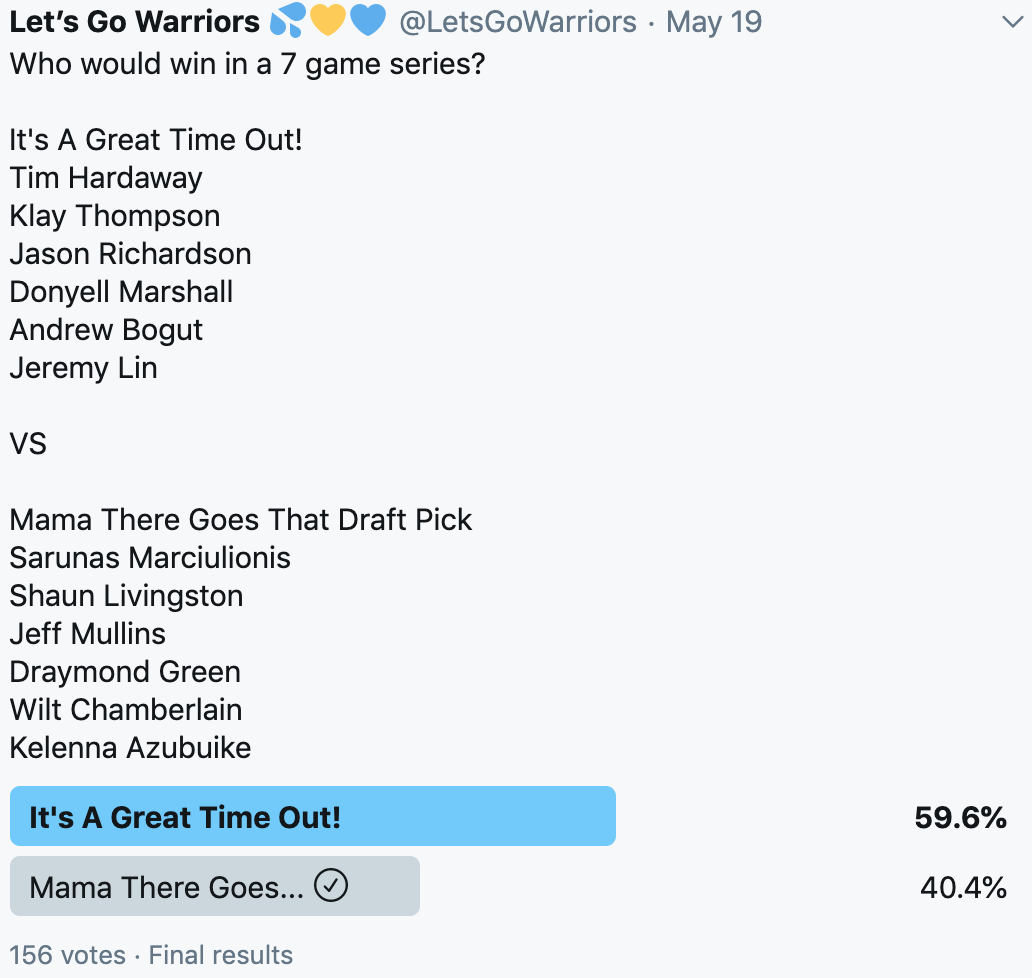 Now, we move onto the second round, where Steph Curry's squad goes to war with Chris Mullin's as "Todd Fuller House" battles "Bobby Sura Do-A Love-A The Basketball"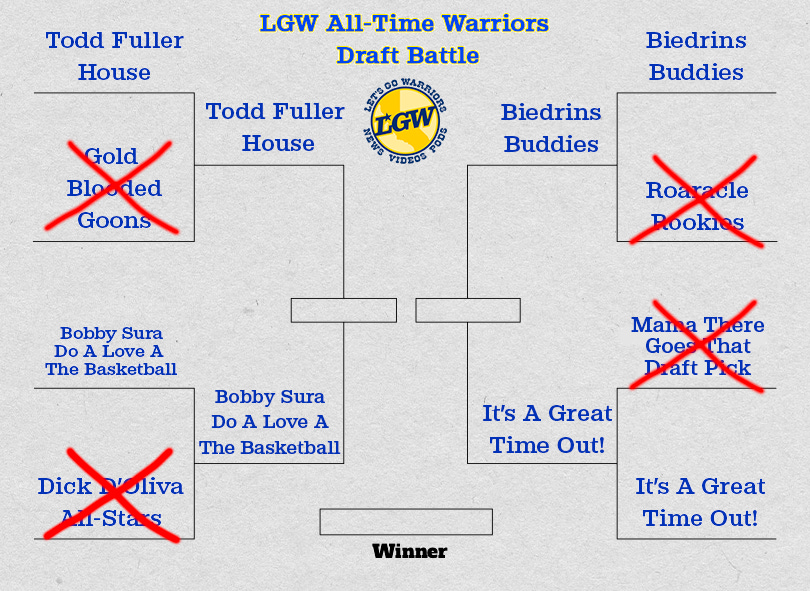 Todd Fuller House
This team made good on their first overall pick in the draft when they selected the most beloved Warrior of all time, Stephen Curry.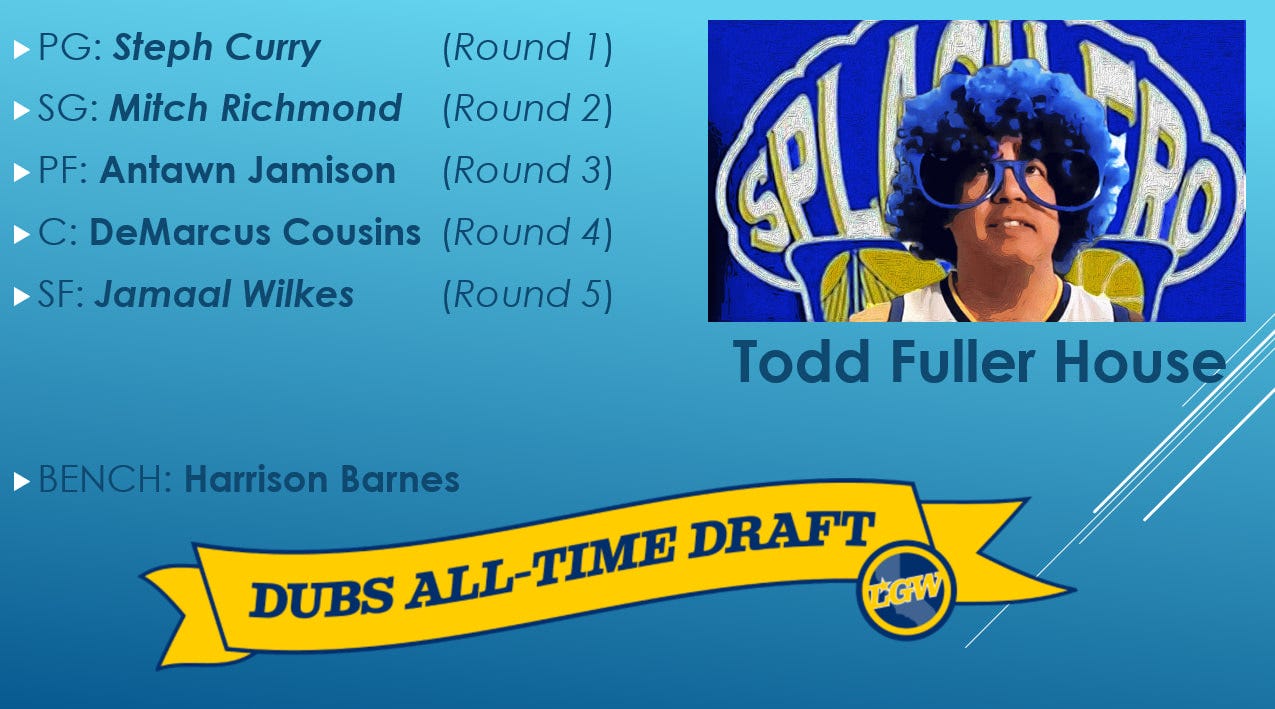 Strengths: That backcourt is just silly good, and the Cousins/Jamison frontcourt will be a tough cover
Weaknesses: Lack of defense
This squad had the largest margin of victory in the first round, obliterating the Gold Blooded Goons on LGW's Twitter vote.

Bobby Sura-Do-A Love-A The Basketball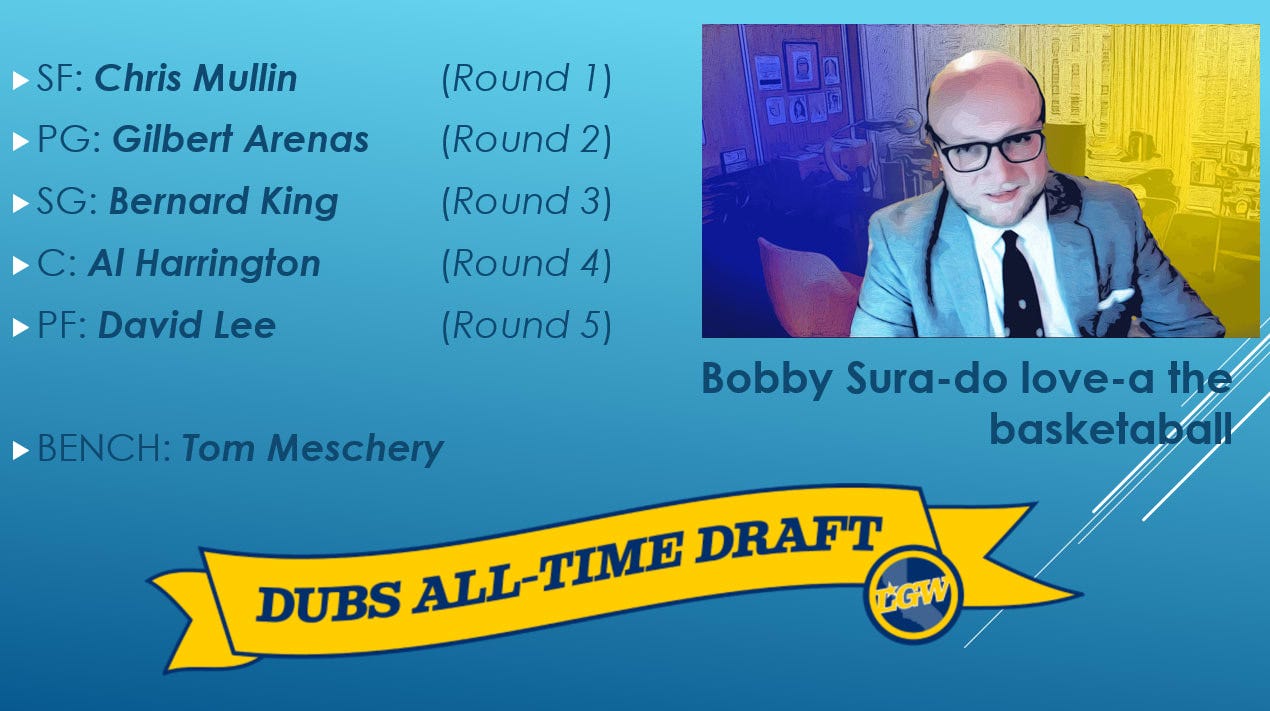 Chris Mullin and Gilbert Arenas lead a team that is one of the sneakier threats in the tournament.
Strength: Absurd amounts of offense
Weakness: Defense? What defense?
Bobby Sura DALTB is the most difficult name for us to repeatedly type out in the tourney, but their squad cruised to an easy first round victory in our Twitter vote.

Matchups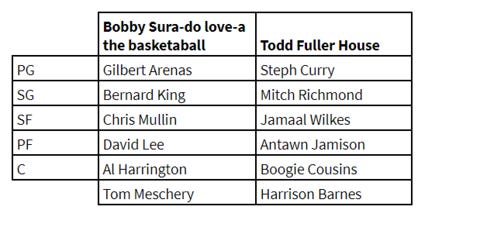 Point Guard
Ooowheee, Unanimous vs Agent Zero is going to be insane. Many may remember Gilbert Arenas as the Wizard's All-NBA combo guard who dropped 60 on Kobe before getting suspended for bringing guns into the locker room.
But he was a bonafide shooter well before then with the Warriors, and it's a shame the Dubs couldn't retain him after two years because of a salary cap rule. Arenas personifies the hyper-competitive, sensational scorer.
On the other hand, Stephen Curry revolutionized the game of basketball at a dynastic level. He's the deadliest shooter of all time, with a crossover as vicious as a prime Mike Tyson left hook, and the audacious vision to find teammates in the tightest of traffic.
(Well, sometimes those are horrible turnovers, but usually it works out.)
But Curry is the deadliest shooter of all time, able to light up scoreboards with efficiency levels Arenas could only dream of.

Thank you Basketball Reference for reminding me why this Curry is clearly the superior player. But would he be a superior player in this series? Don't forget: he'd have to guard Arenas too. I'm pretty sure a young "Hibachi" would love to put Unanimous on the grill.
Advantage: Todd Fuller House, but Curry would be pushed to be his greatest self by the fury of the uberconfident Arenas.
Shooting Guard
Bernard King and Mitch Richmond is a beautiful draw in this matchup. These two were textbook offensive assassins with touch and creativity. King would activate his low post magic, and Richmond would answer with a barrage of smooth jumpers.
I am leaning toward King for his prolific "eruptability" factor. Only ten more players in NBA history have had more 50-point scoring games.
Advantage: Bobby Sura DALTB.
Small Forward
Check out this quote from Bill Simmons' "The Book of Basketball" describing Dream Team coach Chuck Daly's wishlist for the supersquad.
"(In order): Jordan, Magic, Robinson, Ewing, Pippen, Malone, Mullin. So the NBA's top coach at the time ranked Mullin behind Jordan and Pippen as the third-best perimeter player during the deepest run of talent in NBA history.

Here's the point: Chris Mullin was really freaking good".
Mullin's pedigree doesn't give him an easy nod here however, as Jamaal Wilkes is a Hall-of-Famer in his own right. Wilkes was a two time All-NBA defender as a Warrior with tenacious rebounding skills and a silky smooth jumper.
These two will be trading pretty rainbow jumpers all series long.
Advantage: Bobby Sura DALTB, because Mullin 4x All-NBA player who is going to get his regardless.
Power Forward
David Lee vs Antawn Jamison. Jamison has to win this right?
Advantage: Todd Fuller House, because Jamison did drop 51 on the Shaq/Kobe Lakers.
Center
DeMarcus Cousins wasn't a very agile (or healthy) Warrior, although he did show flashes of the dominance he displayed for other teams. Al Harrington was the scoring stretch-5 of the We Believe squad who could defend multiple positions.
In this matchup, I think Harrington's mobility is a problem for Warriors-era Cousins, who struggled to keep up with shifty bigs in his limited stint as a Dub. But, if Cousins is right for a night, he could punish the smaller Harrington with a fury.
Advantage: Even due to Cousin's questionable health.
Bench
Tom Meschery is the first player in Warriors history to get his jersey retired, a crafty power forward with a confident mid-range game. He would match up quite well against the opposing frontcourt, who don't have any defensive stoppers. #sleeperalert
Harrison Barnes unlocks some small-ball capabilities for Todd Fuller Squad that could help increase the pace if Cousins starts lagging. .
Advantage: Todd Fuller House. If Harrison Barnes can't hit his corner threes, then this flips the other way.
Chemistry/Fit
This is going to be a wide open game from both teams; a regular gunslangin' showdown in the wild wild West. At this high tempo, it will be interesting to see how Cousins holds up. If he's able to impose his will and force double teams in the paint against smaller defenders, Todd Fuller House could break the record for most points scored in a game.
But he will also be a liability against the assortment of greedy scorers Bobby Sura DALTB possesses. Can you imagine Cousins trying to guard Arenas, Mullin, or King in space with Lee and Harrington spacing out the floor? Scary.
Advantage: Slight edge to Todd Fuller House because of size advantage.
Prediction
First one to 150 wins!
Dub Nation it's your turn to decide the winner. Vote on twitter here (and/or upvote one of the comments below).