Showdown: Dubs All-Time Draft Round 1- Klay's squad vs Wilt's team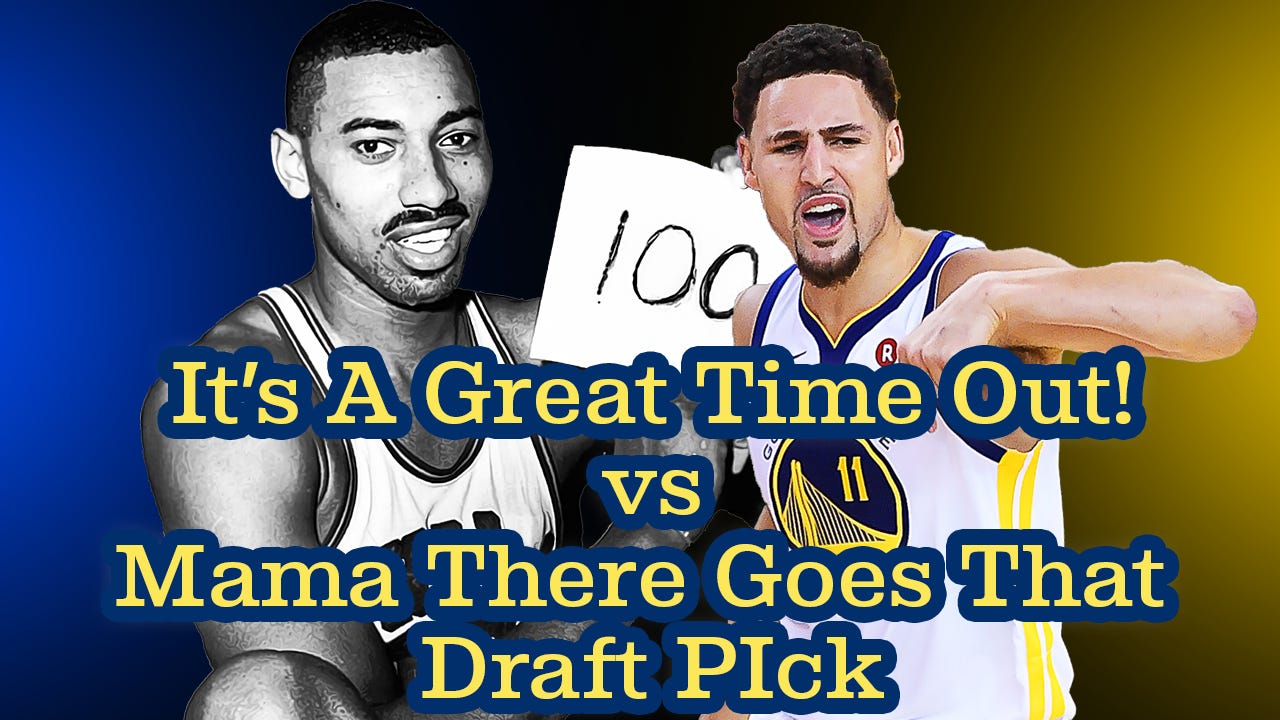 Our previous battle of the bracket was victory from the Kevin Durant-led "Biedrins Buddies" team over the "Roaracle Rookies".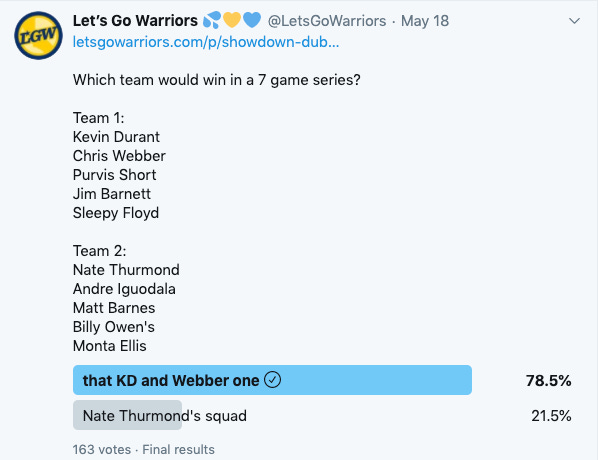 Today's matchup features a ferocious backcourt of Klay Thompson and Tim Hardaway against a formidable frontcourt of Wilt Chamberlain and Draymond Green.
Mama There Goes That Draft Pick
There are some teams that give up easy paint points. After drafting defensive anchors Chamberlain and Green with their first two picks, "Mama There Goes That Draft Pick" is certainly not one of those teams. #nothingeasy
This team has an old-school feel, with a big guard in Shaun Livingston orchestrating the offense from the mid-range. He shares the backcourt with a crafty slashing guard in Sarunas Marciulionis, the pioneer of the eurostep and key member of the Run TMC era.
At the wing spot they have Jeff Mullins, starting guard on the '75 championship team and one of the game's original swingmen. Much like his fantasy teammates Livingston and Marciulionis, Mullins possessed a super sweet mid-range jumpshot.
Rounding out the team is Kelenna Azubuike, an athletic wing who was on the We Believe team who showcased a solid three-point shooting touch and tenacious defense.
Strengths: A physical frontcourt that provides Alcatraz level lockdown defense. Chamberlain is arguably the most dominant individual force basketball has ever seen.
Weaknesses: 3PT scoring will be hard to come by as Azubuike is the only consistent shooter from downtown (lifetime 40% average ).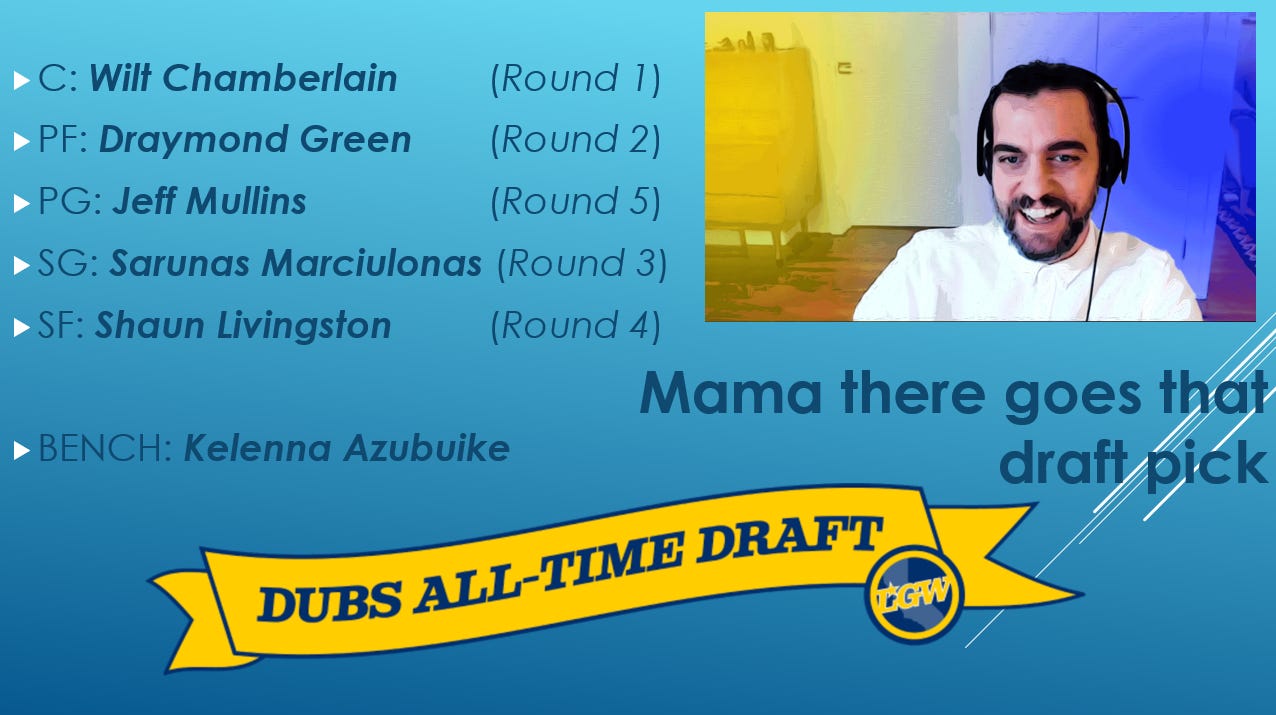 It's A Great Time Out
This is a team built for the basketball's 21st century. Klay Thompson at the 6th and Tim Hardaway at the 11th overall picks are excellent value, creating a backcourt that can light up the scoreboard and defend with vigor. Thompson is probably the second greatest shooter of all time, while Hardaway's "Killer Crossover" makes him virtually unguardable in isolation.
Jason Richardson at small forward provides athleticism, shooting, and grit for this uptempo squad. If the defense is caught flat-footed in transition, look out for a posterizing jam from the two time dunk champ.
The front court for this team complements those three quite nicely, with defensive stalwart Andrew Bogut providing toughness around the rim, and multifaceted stretch-big Donyell Marshall's penchant for drilling from outside.
Bogut is almost certainly the best center the Warriors have had since Wilt, and his passing and defense out of the position will be an important foil to Chamberlain's expected dominance. He would get schooled, for sure, but if you were picking a Warriors center to try and cover Wilt, it would probably be Bogut - one of the few players with the size, speed, and basketball IQ to at least make Chamberlain work a little harder.
Jeremy Lin was this squad's final pick, a playmaking guard who can get downhill and either score or find open teammates.
Strengths: This team can rain threes and run in transition at Sonic the Hedgehog level speeds. They also have the personnel to regularly harass opposing offenses into bad shots.
Weaknesses: Lack of interior scoring.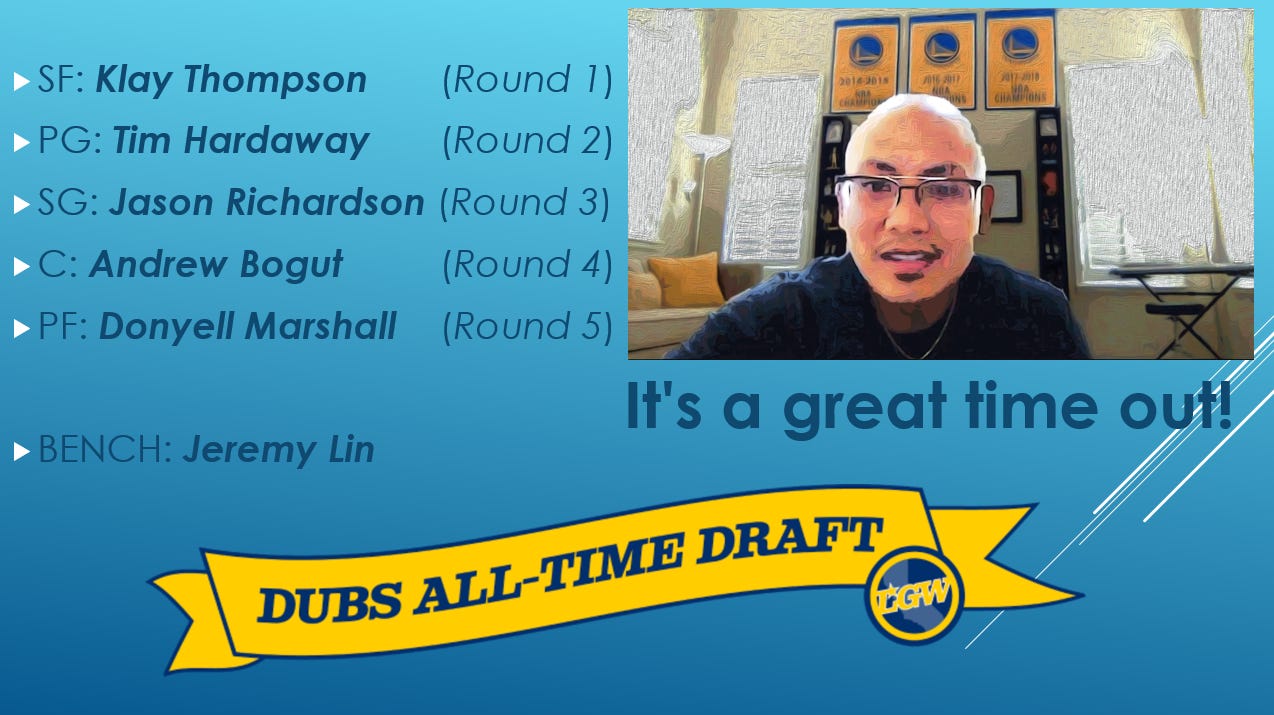 Matchups
Point Guard
There's kind of some crossmatching craziness here. Livingston would technically be the de facto PG here, but it seems more likely that he and Hardaway wouldn't be matched up too often since Liv would probably have to guard Thompson.
That leaves Marciulionis to matchup with his former Run TMC teammate Hardaway. Marciulionis was a 2x runner up to the Sixth Man of the Year and a shifty scorer that many regard as a precursor to Manu Ginobili's game.
Hardaway was an All-NBA guard as a Warrior, and in 1992 became one of only 15 players in NBA history to average 23 PPG and 10 APG in the same season.
At 6-foot-4, the Lithuanian would have the height advantage, and there would be plenty of competitive ire between the two…but there's a reason Hardaway started over Marciulionis on that team. He was clearly the better option.
Advantage: It's A Great Time Out, easy.
Shooting Guard
Livingston survived a career-threatening knee injury to become a stalwart member of the Warriors dynasty. He was a basketball savant with elite passing skills, explosive finishing ability, and a nearly unstoppable mid-range offensive repertoire. He could also switch easily to defend multiple positions.
But he'd have his hands FULL dealing with Thompson, a two-way monster who owns the records for most points in a quarter, most three-pointers in a regular season game, and most three-pointers in a playoff game.
Advantage: It's A Great Time Out, for sure.
Small Forward
Mullins averaged at least 20 PPG for four straight seasons as a Warrior during the late 60's and early 70's, so we know he can get buckets. He was a 3X All-Star during the era of Elgin Baylor, Jerry West, and Gail Goodrich, so we know he wouldn't be intimidated in this contest.
But could he deal with the athleticism of prime J-Rich? Richardson was an explosive two-feet leaper who humiliate any defender with a monster jam for merely leaning the wrong way.
On the flip side, could Richardson deal with that beautiful shooting touch that Mullins used to punish defenders during his day? From the scant footage I was able to watch of Mullins heydey, he was giving defenders hella buckets.
If this is a wide open fast paced battle, I'd give the edge to Richardson's dynamic athleticism. But if the game slows down, Mullins could easily light J-Rich up.
Advantage: Mama There Goes That Draft Pick for Mullins' reliable offensive repertoire and championship pedigree.
Power Forward
Donyell Marshall is emblematic of this team's namesake, as the "It's A Great Time Out" era was coined during Marshall's time as a Dub. He averaged a 14-point 10-rebound double-double during the 2000 season while shooting 35% from downtown. He was an early prototype of the versatile power forward who could bang in the post but also stretch the floor with shooting.
Draymond Green is emblematic of the Warriors' fiery resolve to never be that terrible again, and is the super upgraded version of Marshall's prototype. He's a dynamic power forward who has led the Warriors in assists while hitting just enough deep bombs to force the defense to guard him away from the rim. He's also one of the greatest defenders in NBA history, a former Defensive Player of the Year who can guard every single person on the floor.
I foresee him running Marshall ragged, locking him up with dogged defense, and drowning him with trash talk. Green wouldn't be in the league if he couldn't make examples out of players like Marshall.
Advantage: Mama There Goes That Draft Pick (YUP!)
Center
Andrew Bogut was beefy defensive anchor for the beginning of the Warriors dynasty. His ability to protect the rim could quickly turn the paint into no man's land. He was also a very intelligent passer, dangerous screener, and a springy lob threat. While not often eager to look for his own shot, he occasionally showed a nifty inside game that included clever hook shots.
But he's going against WILT DAMNED CHAMBERLAIN. Here, let Basketball Reference give you a quick refresher on the legend.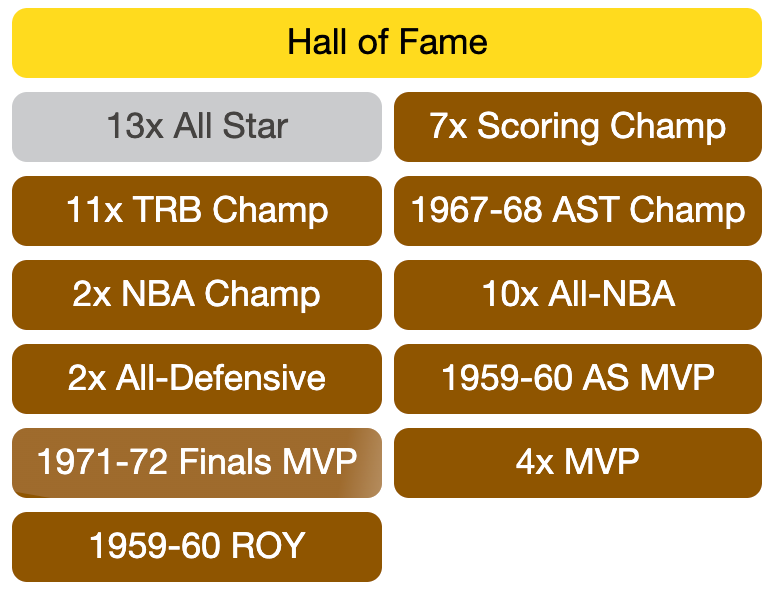 Here's what Chamberlain's rival Bill Russell (arguably the greatest defensive big man of all time) said about "The Stilt":
"After I played him for the first time," Russell says, "I said, 'Let's see. He's four or five inches taller. He's 40 or 50 pounds heavier. His vertical leap is at least as good as mine. He can get up and down the floor as well as I can. And he's smart. The real problem with all this is that I have to show up!"
Advantage: Mama There Goes That Man by a landslide. THIS ISN'T EVEN A QUESTION.
Bench
Jeremy Lin wasn't #LINSANITY when he was with the Dubs. He averaged 2.6 PPG in his lone season with the Dubs and spent a ton of time in the D-League. Azubuike averaged 14.4 PPG in 2009 for the Warriors and nailed nearly 45% of his three-pointers.
Advantage: Mama There Goes That Draft Pick. Azubuike by production as a Warrior (seeing as though this is what this excercise is about). However, perhaps Lin could be unleashed in this fantasy scenario without Steph Curry and Monta Ellis taking away his opportunities.
Chemistry/Fit
This is classic old school vs new school basketball tactics. Mama There Goes That Draft Pick has Chamberlain, a man who once scored 100 points in a game. The next best scorer on his team by PPG would be Mullins, so we can safely believe Chamberlain will get the lion's share of the touches.
Bogut will most likely get bodied with extreme viciousness, forcing It's A Great Time Out! to send help. The question is, can Chamberlain's teammates knock down enough outside shots to punish the opposition? Livingston doesn't attempt many threes (his highest output beyond the arc as a Warrior was 2-of-12 in 2016). Green can hit the outside shot, but for his career he's around a 32% 3PT shooter. That leaves Marciulionis, Mullins, and Azubuike to pick up the slack.
Fortunately, the players around Chamberlain are willing distributors and intelligent in the art of the tic-tac-toe passes it can take to break down the defense.
On the other hand, It's A Great Time Out! have three bonafide scoring options who can ratchet up a pace-in-space tempo. Hardaway, Thompson, and Richardson can push the tempo and create a buzzsaw attack that forces the defense to rotate and stretch into mistakes. And when defenses make mistakes around Thompson and Richardson, the cost is three points or a poster.
Prediction
My head says Mama There Goes That Draft Pick will control the paint and bully their way to a victory.
But It's A Great Time Out! has the offensive starpower to hit juuust enough three-pointers while hacking Chamberlain/forcing him to pass out to not-so-great-shooters.
It's too close to call for me, and that's why I'm turning it over to you Dub Nation!
Vote on twitter here (and/or upvote one of the comments below).