Discover more from Dub Nation HQ
High Quality coverage of the Golden State Warriors with the best commenting community in the world.
Over 3,000 subscribers
Showdown: Dubs All-Time Draft Round 1- Durant and Webber vs Nate Thurmond's team
How will a frontcourt featuring two dominant scoring bigs fare against a team featuring some of the best defenders in Warriors history?
Our previous battle of the bracket was victory from the Chris Mullin-led "Bobby Sura Do-a Love-a The Basketball" team over the "Dick D'Oliva All-Stars".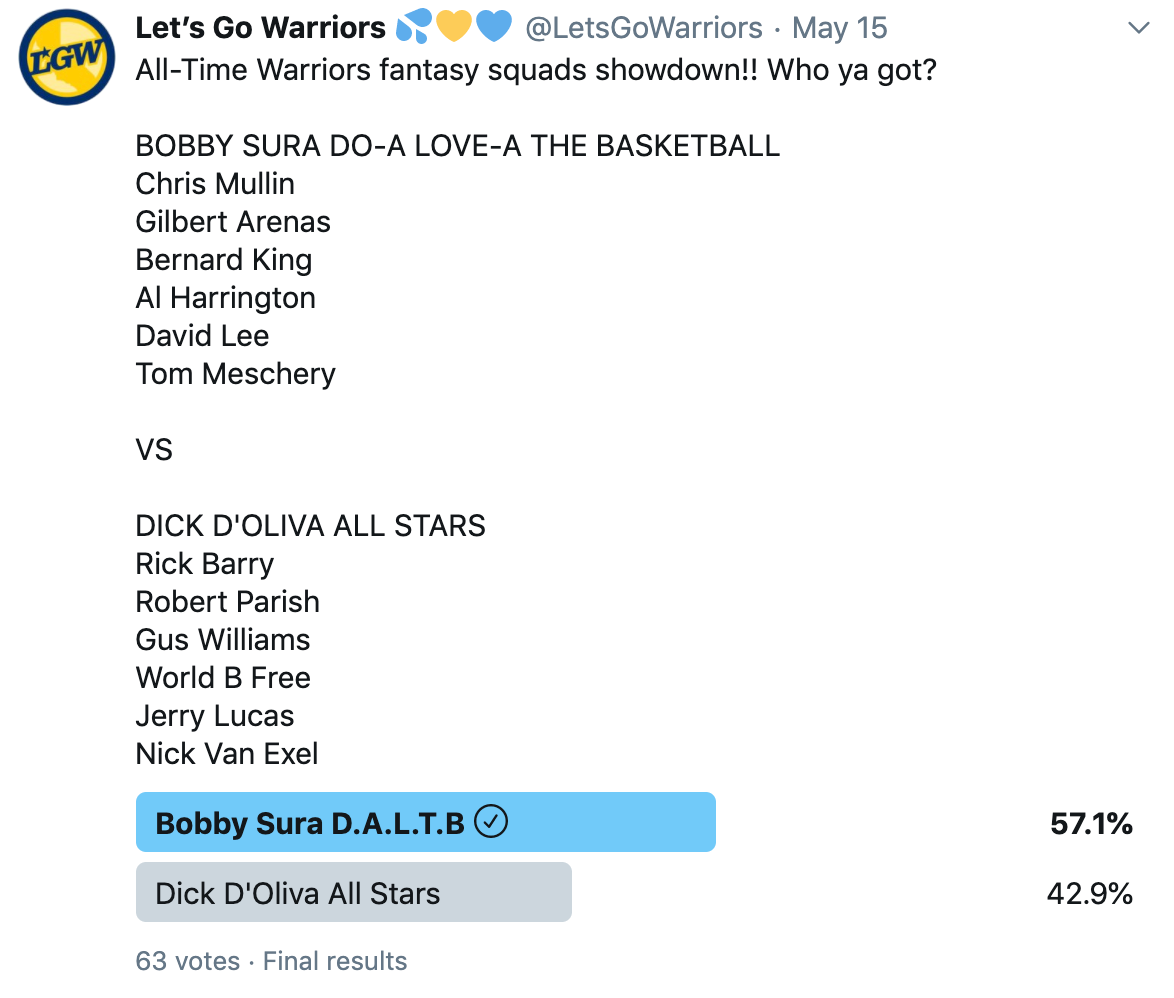 Today's matchup features the #2 pick Kevin Durant alongside Chris Webber against a team featuring Nate Thurmond and Monta Ellis - as "Biedrins' Buddies" takes on the "Roaracle Rookies".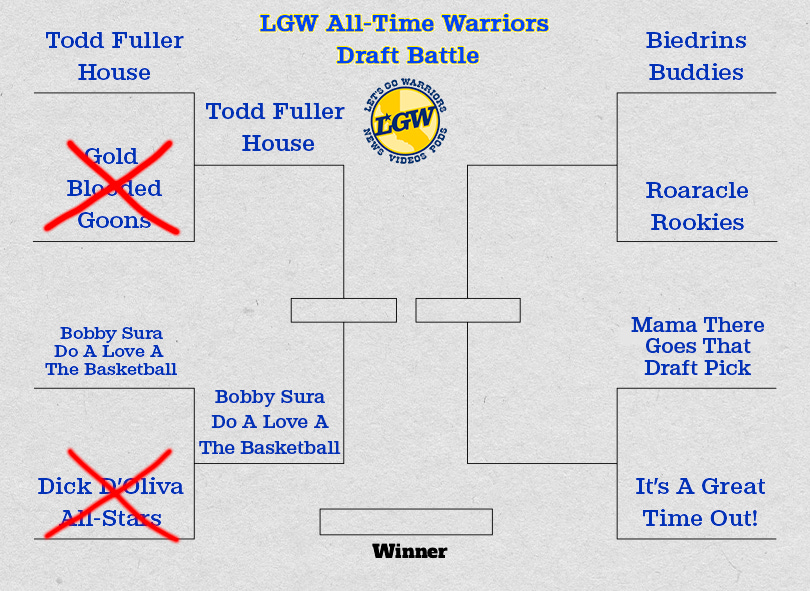 Biedrins' Buddies
Author's note: This is the team that I drafted. While I will attempt to remain as objective as possible, I cannot promise a completely unbiased opinion.
Kevin Durant was selected with the #2 overall pick in the draft and then the General Manager (me), grabbed Chris Webber in the second round to create one of the most brutal 4/5 combos imaginable. The success of this team is mostly contingent on how the fan voting will view the Durant/Webber pairing.
On paper, it would seem to be a nearly impossible defensive task. Just Durant alone will put a ton of pressure on the wings and bigs, but paired alongside the wizardry of Webber, this tandem is going to score every single time down the floor.
For more recent fans of Golden State, some of the older names on this roster may not ring an exceptionally loud bell, so let's talk about the rest of the squad.
When Stephen Curry scored 54 points at Madison Square Garden, it was the most points by a Warrior since Purvis Short scored 59 (Short also put up a 57-point game in that same year). He's a crafty player - which is something of a theme on this team - that was known for rainbow jumpers and clever moves off the dribble.
You may know Jim Barnett from his role as a broadcaster, but the humble legend was famous for his on-court performances long before he sat down behind a mic. You can see some of his old highlights here. Barnett was known for his aggressive play style and yes, strong fundamentals and court vision.
The team also features Sleepy Floyd. He is the inspiration for one of the most astute of our community members: Sleepy Freud. Floyd features heavily in some of my earliest Warriors memories as the one guy who actually managed to do anything against the Lakers in the playoffs. In fact, the man set NBA playoff record – which still stands today: 29 points in a quarter and 39 points in a half in Game 4 of the Western Conference Semifinals against the Lakers. The man was a baller.
Off the bench, this team has one of the greatest historical Warriors of all time. The Philadelphia Warrior won the scoring title three straight years (1952-55) - including one season where he won the scoring title and led the league in made field goal percentage - and was a six-time all-star. He was a first-teamer in 1956 when the Warriors won the NBA title.  At 6'8" he will offer flexibility, rebounding, and scoring off the bench.
Strength: Well-balanced, potent offensive attack led by brutal frontcourt of Durant and Webber
Weaknesses: No three-point shooters outside of Durant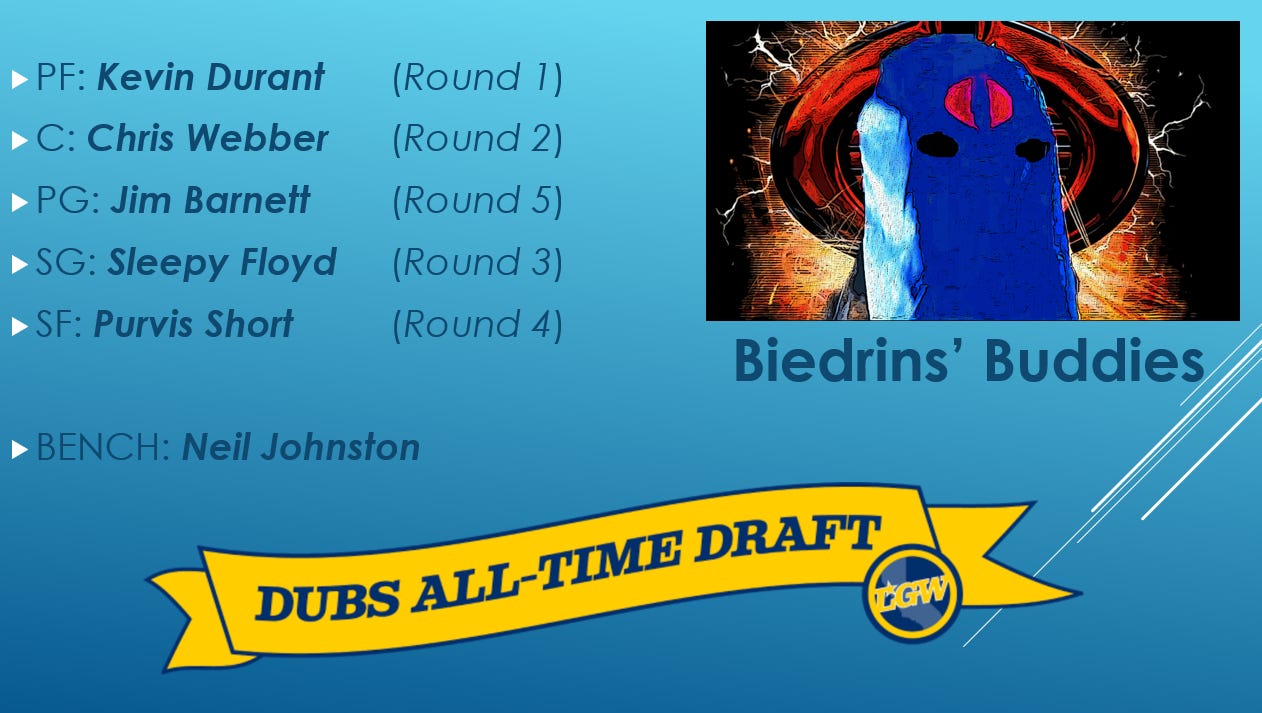 Roaracle Rookies
This is a well-balanced team that is defensively anchored by two of the best: Andre Iguodala and Nate Thurmond - neither of whom should need any introduction to Dub Nation. Together, there is a defensive synergy that will be hard to beat, with Iguodala manning the perimeter and Thurmond down low, the Roaracle Rookies have an elite wing and post defender - which will be needed in any of these matchups.
Matt Barnes was a critical component of the We Believe team, and his game translates well to a format like this one - where his ability to be in the right place at the right time should return dividends on both ends of the court.
In the backcourt, this team has a pair of guys that are not shy about attacking the basket. Both Owens and Ellis are fast-paced shooters that are known for being scorers. Defensively, there are some serious concerns about this duo, but with Iguodala, Barnes, and Thurmond shoring up the scheme, this should not translate into any sort of team design flaw.
Off the bench, they've got Rod "Hot Rod" Higgins. Not any especially impressive career averages to claim, but Higgins will serve the team well as a scorer off the bench, while also adding size and defense to a team that may need some extra punch.
Strengths: Nate Thurmond and Andre Iguodala will control the game
Weaknesses: The Owens/Ellis backcourt is not very efficient on offense, and would be downright bad, defensively
Matchups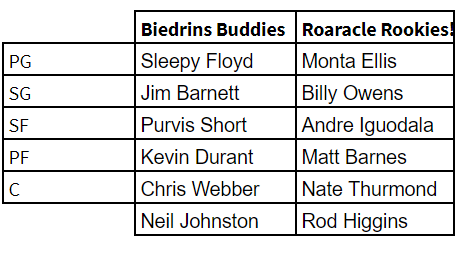 Point Guard
Sleepy Floyd is a clearly superior player. While Monta will certainly get his buckets, Floyd is simply in another tier of NBA players. Neither player was known as a defensive asset, so the overall advantage here simply comes down to offense. Floyd carried that Warriors to their only playoff win by going off against the Lakers while Monta was an exciting player on a bad team.
Advantage: Significant advantage Biedrins' Buddies
Shooting Guard
Jim Barnett versus Billy Owens is going to be a back and forth battle with both players getting the better of each other from time to time. Though Barnett has a much greater overall career legacy and list of accolades, Owens did turn in a decent season with the Warriors, and his ability to take over as the team's primary scorer is something that Barnett generally didn't have in his arsenal.
Advantage: Even. Owens is the better scorer, but Barnett makes for it in all other aspects of the game
Small Forward
Finals MVP, Andre Iguodala is unquestionably one of the smartest players to ever play in the NBA. He came to the Warriors as a defensive specialist, but morphed into so much more. His ability to assert control of a game on either end is phenomenal - whether it be a timely three-pointer, or locking up the opposing team's best player, Iguodala was a master.
"Never Nervous" Purvis Short is going to push this defender to the limit, however, which isn't quite an advantage, but may require Iguodala to at least stay home on him.
One factor that could move the needle is Iguodala's penchant for doing all the little things and making everyone around him better. That's not something Short was known for and could be an advantage if you are looking at that level of detail in the head-to-head matchups (more on this below in the "chemistry" section).
Advantage: Even? Offense versus defense cancel each other out. Potential advantage to Roaracle Rookies because of Iguodala's leadership and intangibles
Power Forward
I think even Matt Barnes himself would be forced to admit that he's going to come out on the wrong side of a head-to-head battle with Kevin Durant. Barnes was selected late in the 4th round of the fantasy draft, Durant was the 2nd overall pick. This is such a mismatch that the opposing team would certainly scramble to come up with alternative coverage schemes to stem the blood loss.
Advantage: Enormous, Kevin Durant-sized advantage, Biedrins' Buddies
Center
Nate Thurmond was an absolute beast on the court. Similar to Durant, he was a big man with some guard skills, but the comparisons end there. Where Durant tends to take his game to the perimeter, Thurmond was a much more post-centric player that pulled down rebounds and blocked shots to an extent that Durant isn't interested in. The defense will translate well to the modern era, but his relatively basic offensive skillset may hamper his impact against current NBA players.
Webber is no defensive ace, but is one of the most skilled offensive centers to ever play the game. His dazzling array of post moves, nifty dribbling and passing, and crafty style of play is going to put a lot of pressure on Thurmond, a player who is not accustomed to operating away from the basket.
Advantage: Even? Two hall of fame players; Thurmond is probably better overall, but modern game may blunt some of the advantage, especially against a player with Webber's skill set
Bench
Rod Higgins and Neil Johnston are pretty much even, assuming Johnston is able to translate his old man game to the modern era. Higgins would be relied on more than Johnston, but neither player figures to play an especially pivotal role in the series.
Advantage: None. Both serviceable, non-dominant wings with decent size.
Chemistry/Fit
Concerns about Thurmond and Iguodala aside, it's really hard for me to imagine any team without significant firepower keeping pace with the Durant/Webber tandem. It's especially tough when the opposing front court is a (great) player from a bygone era, and Matt Barnes - a player who will get absolutely demolished every single possession against a player of Durant's caliber.
From a chemistry/fit standpoint, there's also some concern that an Ellis/Owens backcourt would be successful due to overlap of skill sets. Neither player is effective without the ball in there hands, and there's only so much damage Iguodala will be able to do as the de factor point guard.
In a seven game series, it's pretty much a certainty that Iguodala would eventually migrate over to cover Durant, but that takes away a lot of the help that Owens and Ellis are likely going to need to contain the dribble penetration of Biedrins' Buddies - where all three wings/ballhandlers are going to be able interchangeably get past the first line of defense.
Or… maybe I'm too biased for my own team.
If Nate Thurmond can hold Webber down, and Iguodala is able to do the same on Durant, then the rest of the roster has a better shot at making this a series. This is a well-balanced roster; both Barnes and Iguodala are excellent two-way players, and with Ellis and Owens providing the scoring punch, they could pull out some wins.
But again, it is all contingent on Roaracle Rookies being able to shut down the Durant/Webber scoring tandem - something I don't see plausibly happening.
Prediction
Biedrins' Buddies in a sweep. Too much scoring prowess from the front court, and not enough elsewhere to move the needle.
But what do I know? Vote on twitter here (and/or upvote one of the comments below)
letsgowarriors.com/p/showdown-dub…
Which team would win in a 7 game series? Team 1: Kevin Durant Chris Webber Purvis Short Jim Barnett Sleepy Floyd Team 2: Nate Thurmond Andre Iguodala Matt Barnes Billy Owen's Monta Ellis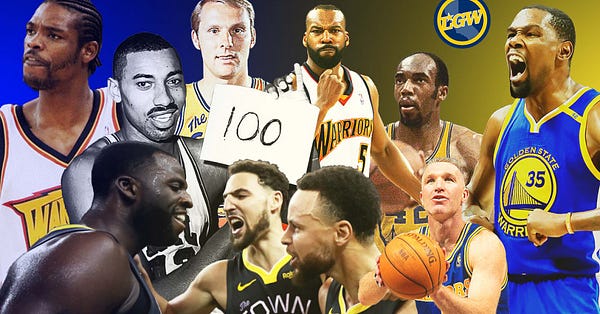 letsgowarriors.com
Showdown: Dubs All-Time Draft Round 1, game 3: Durant and Webber go up against Nate Thurmond's team
How will a frontcourt featuring two dominant scoring bigs fare against a team featuring some of the best defenders in Warriors history?