Rumor: NBA aggressively aims restart at Christmas Day
Basketball back by December 25th? The NBA seems to think it's a possibility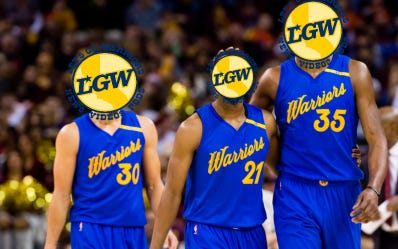 NBA on Christmas Day?

With some suspiciously timed leaks, NBA fans across the world began salivating at the prospect of the league's return to action as soon as December 25th. To call this timeline "aggressive" is an understatement - but then again, they pulled off the Orlando Bubble in a nearly flawless fashion. So who knows?
Could those mad lads and lasses over at the NBA do it? Could they start the 2020-2021 season before the calendar advances?
It would be an epic feat of will if they manage to pull this off. Much like the Orlando Bubble, it's likely that the initial salvo of games will be in some sort of self-contained environment. The league has already discussed baseball-style homestands, where teams would play a short series against each other, rather than jet setting around the continental United States.
It makes sense to go ahead and restart as soon as possible.
Reportedly, some of these changes are fueled by the league's growing understanding that their stated goals of playing a full season in front of arenas full of fans are becoming increasingly less viable. America is still fully embroiled in a pandemic that has risen to our highest number of new cases per day - so it makes a lot of sense to pivot away from that earlier goal and make due with what they can to salvage a lost year.
Fans aren't coming back to stadiums - not in anywhere near the previous numbers, anyways. But as we saw in the wildly entertaining bubble, just having the games resume restores some joy into my locked down and isolated life.
So yes. Please hook me up with some Christmas day basketball!
But there's another undercurrent to be aware of here. The riptide that could suck this fun far out to sea: the ongoing labor battle being waged behind the scenes between the league and the Players Association.
Ongoing Labor Negotiations and revenue sharing
The NBA, which reportedly lost out on as much as a billion dollars due to the ongoing pandemic, is eager figure out a path back to normalcy as soon as possible. Per The Athletic, the league lost $694 million just from their 258 canceled regular-season games - a figure which doesn't account for the playoffs.
After widely being rumored to return in February (or so) next year, this would be a significant leap forward for the NBA's schedule. They've still got to finalize their revenue audit, agree on a new labor deal and salary cap levels, and then figure out venues and format for the season.
That's a lot.
Which is why these detailed leaks make a guy like me suspicious.
Talks between the NBA and union have been productive on making the necessary financial allowances on 2020-21 salary-cap and luxury-tax thresholds to account for the massive losses in revenues from the pandemic, sources said.

Ongoing talks are centering on increased escrow taken from players' salaries, sources said. The league and union are still awaiting full audits on the basketball-related income that accounts for the league's 51-49 revenue split with players. Agents are bracing for the possibility of up to 40% of the escrow being withheld from players, sources told ESPN
So, the leaks are telling a story here.
Everything is progressing along nicely! So well in fact, that we could start the next season in two months, unless those pesky players argue that they don't want to totally change the balance of revenue sharing.
Recall that during the previous lockout, players went in looking for greater free agency, but ended up actually losing ground in exchange for a larger split of league revenue. From a labor perspective, those are hard-earned gains that the union will be hesitant to give back.
Back to that ESPN article associated with that Woj tweet above:
Oct. 30 is setting up to be a key date. The NBA and NBPA agreed that day would be the deadline to complete ongoing discussions on modifications to the collective bargaining agreement for the 2020-21 season, a deadline date that requires the league or union to provide 45 days notice if either decides to terminate the CBA -- a scenario that sources continue to believe is a remote possibility.
That means that the league and players only have one week to resolve the labor negotiations. Within this context, it's not that difficult of a mental leap to see why the league would want to leak news of an early Christmas present for fans that thought we were going to be without basketball for three to four months.
Maybe it's reading too much in the tea leaves, but this is precisely the type of public relations campaign that a heavy hitter negotiator would use to set their counterparties under more public pressure to quickly resolve any money issues.
To whit:
If the players can be convinced to leave more money on the table with the understanding that a quick return to action is in everyone's interests, then it could expedite any labor negotiations.
But it locks the players into that lower revenue split until further notice. A significant concession.
Both sides seem confident in getting a new deal in place, and a return of the NBA by Christmas would be an amazing gift - but don't get too sold on this idea just yet, there are a lot of hurdles to leap.
Bottom line?
Both sides have exactly one week to come to an agreement.
This aggressive December timeline presumes that everything goes quickly and smoothly, but make no mistake, that conversation around revenue sharing split is not a small discussion occurring between the NBA and the players association.
There's a lot more that can go wrong than right here, but the NBA has a proven track record of making due within the contexts of Covid.
One way or another, we'll at least find out within a week.
The league keeps saying that 40% of their revenues are from the fans at games, but that means that the other 60% is contingent on it being in people's faces and minds. The players, the gear, the ads during the broadcasts - that is a 60% that is strongly telling the league to get back out there.