Put some respect on the Denver Nuggets
Plus, can the Celtics even the series, or do the Heat answer?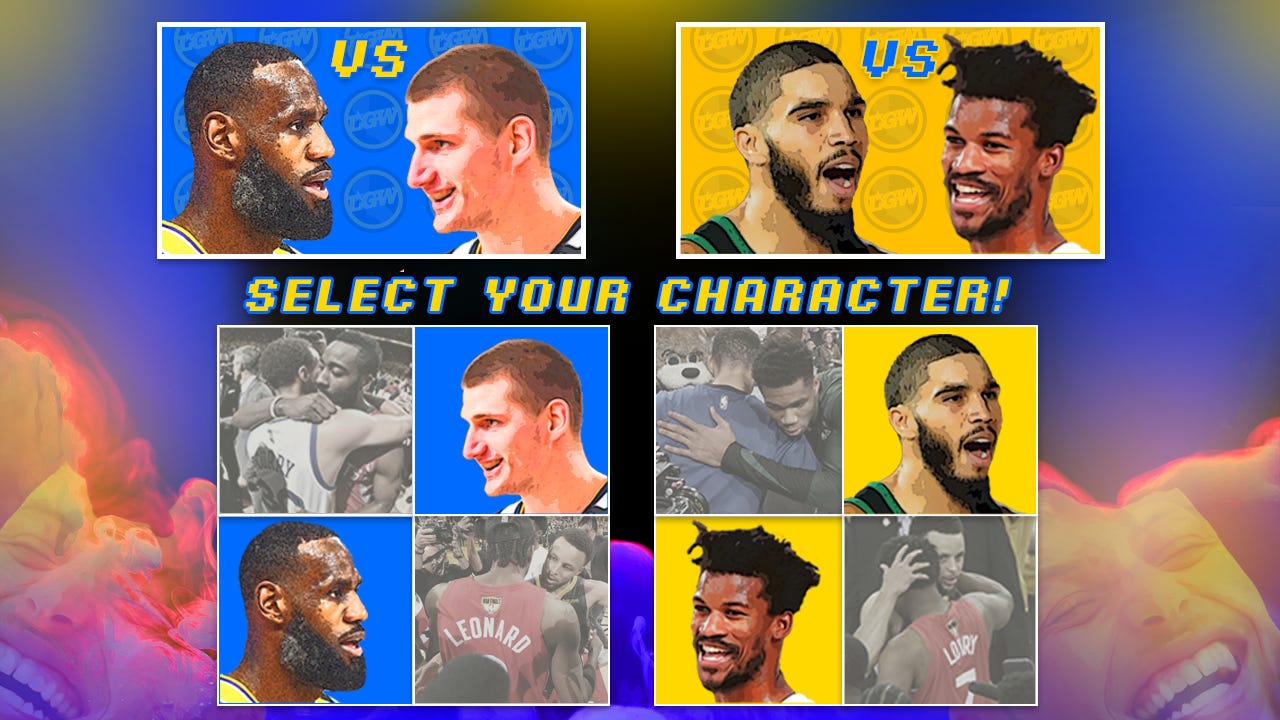 The Denver Nuggets are an unproven commodity. The face of the franchise, Nikola Jokic entered the league looking like a puffy faced 16 year old with an unhealthy penchant for late night pizza and two liter bottles of soda. The team's highest draft pick is Jamal Murray, who went 7th in the draft.
[Trivia: Murray was selected with the New York Knicks pick that was traded to the Nuggets as part of the Carmelo Anthony trade; feels like a lifetime ago.]
Across the scoreboard, you've got the Los Angeles Lakers - probably the league's biggest deal, as far as franchises go.
That team is led by LeBron James, annointed one. Alongside him? An athletic freak of nature with point guard skills in a center's body. Both of them were #1 picks in their respective draft classes.
And it was Anthony Davis that (rightfully) commanded the bulk of everyone's attention after hitting a big game winner to give the Lakers a commanding 2-0 lead. So sure, it's fair to wonder if the Lakers - the presumptive favorites of betting odds - were on their way to crushing the "pretender" Nuggets.
But something strange is happening with this Denver team in crunch time.
They dominated most of game 3, before LeBron James and Anthony Davis (plus some shockingly adept play from Rajon "playoff" Rondo) brought the Lakers within striking distance as the fourth quarter came to a close.
Is it possible that people are still sleeping on this Nuggets squad? After dispatching the Clippers and their two big name stars, you'd think that we as a society would have learned our lesson. What the Nuggets are doing right now is special. Not just in a cool Disney movie about the plucky underdogs way, but honest to goodness special; as in historically significant playoff performances.
Take a look at the comparisons for the statistical averages the Nuggets two best players are putting up:
Jamal Murray is shooting 72.7% (8-11) from 3-pt range in clutch time, the highest such mark as far as the records can track, as per Marc Spears; and watch what Jokic does to Davis here (note that Davis is widely regarded as one of the league's top defenders):
Anyways, if you have any questions about the Nuggets, get them out now. If not, hop on the bandwagon because this is one heck of a team!
This Heat-Celtics series is fun!
Heading into tonight's game 4 (5:30 pm PST; ESPN), the Boston Celtics are focused on evening the series. Feeding off an emotional postgame kerfuffle after starting the series by going down into an 0-2 hole, Boston responded with a haymaker win in game three.
Largely on the strength of their primary wing players, Jaylen Brown (26 points, 7 rebounds) and Jayson Tatum (25 and 14), the Celtics dominated Miami inside and out. As we pointed out in the recap, Boston finished with 60 points in the paint and 30 free throw attempts - the most of any playoff game for the Celtics so far, and the 2nd most the Heat have allowed all season long.
But these teams don't get here by being soft, so expect this one to go deep like a Rocky movie, as the Heat and Celtics batter each other before landing the final blow. Speaking of boxing, what did you all think of Gordon Hayward's new mustache? I think the old timey boxer look rather suits him: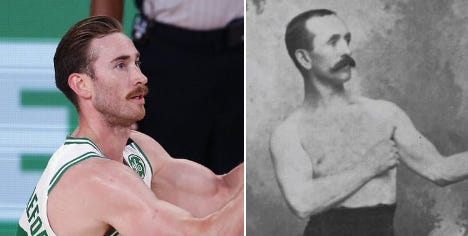 Looking at the stats, there are some pretty basic corrections that Miami should be able to make today.
For starters, the Heat shot 12-44 from deep - a meager 27.3%. For a team that shot well all season (averaged around 38% on the season) this is one of those swings that should just naturally correct itself. Duncan Robinson (4-8) and Tyler Herro (4-12) were some of the culprits, so I think it's safe to expect a rapid return to the outside shooting norm for this team.
Andre Iguodala is another factor to watch, as he deals with a balky back that is all too familiar for Warriors fans. After playing 15 minutes in game one, and then 7 and 8 minutes in games 2 and 3, respectively, it's a fair question to ask how much the Heat can rely on the veteran. Ideally, he'll be available to play that steadying role off the bench.
Currently listed as questionable for game 4, Iguodala's availability and effectiveness are unfortunately very much up in the air. Miami needs him. Though he plays limited minutes, and doesn't score much Warriors fans should be well-versed in this man's on-court value.
Higher up the depth chart, it looks like the Celtics still don't have any good answers for Bam Adebayo. The rising young center led all scorers with 27 points in game three (on an incredibly efficient 10-14 shooting) to go along with 16 rebounds, 3 steals, and 2 blocks.