Preview: Warriors vs. Wizards - back-to-back games... back-to-back wins? YES. Back-to-back wins, please!
Also: digging into Kerr's comments about Curry and "security blankets"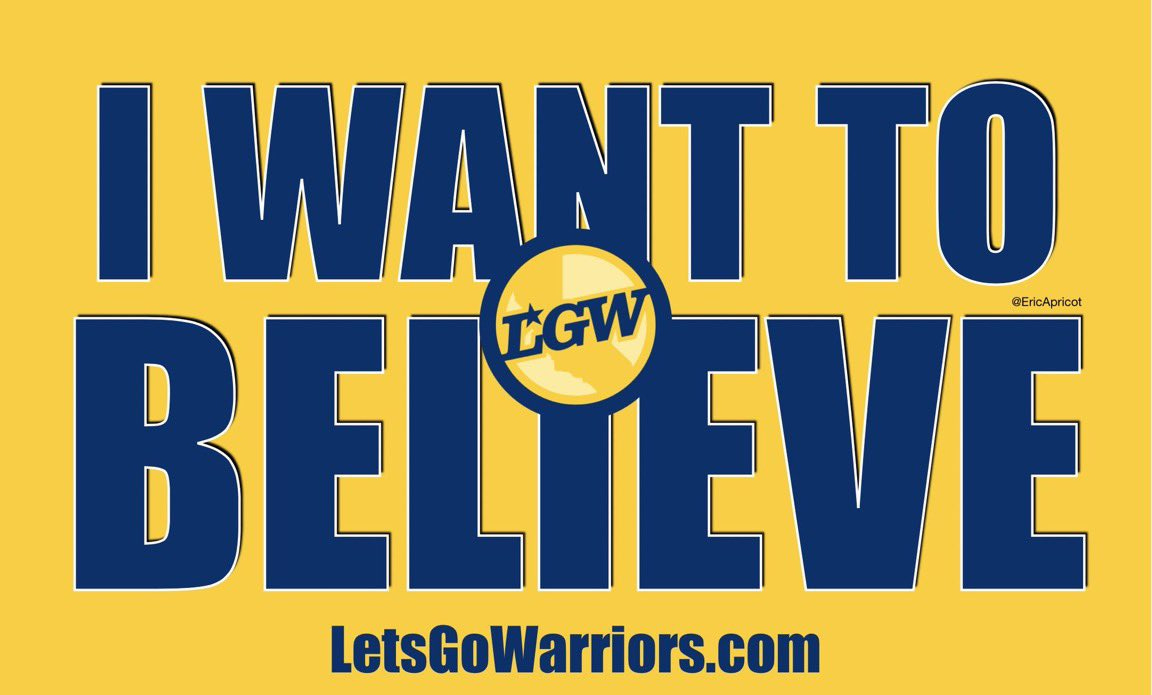 Fresh off one of the best wins of the season (though the population of wins to choose from is admittedly barren), the Golden State Warriors are headed right back into the fray as they welcome the Washington Wizards to the Chase Center for the first time.
The Wizards have already dropped a game to the Warriors this year, an exclusive club, to be sure.
---
GAME DETAILS
WHO: Golden State Warriors (13-47) vs. Washington Wizards (21-37)
WHEN: Sunday, March 1, 2020; 5:30pm PST
WHERE: Chase Center, San Francisco, CA
WATCH: NBC Sports Bay Area
---
Did Steve Kerr throw shade on Steph Curry?
For a season where so much went wrong, fans and teammates alike have been anxiously looking forward to the return of All NBA guard, Stephen Curry. Though he's only appeared in four games this season, Curry has still managed to define this season - by his absence.
While we've all been well aware of the "tanking" occuring this season, it was really Curry's departure that precipitated the fall. Just look at the teams rolling Net rating throughout the season - can you see the Curry injury, and the talent dump at the trade deadline?
So it was understandable that some internet eyebrows were raised when Kerr was quoted by ESPN saying this about Curry and his need to get some playing time in with the new squad:
"I think it's important for Steph and Andrew to get to know each other and to play together," Kerr said, via ESPN. "I think it's important for Steph to play without all the guys we've lost who are not gonna be back next year — Kevin [Durant] and Andre [Iguodala] and Shaun [Livingston].

"Steph, in many ways, has depended on those guys, as sort of a giant security blanket. For a guy who is so skilled and talented, this has still been a team effort over the years, and he's been blessed with some of the smartest players and most talented players in the league.
This comment was pounced on by certain vocal members of NBA Twitter as yet another damning indictment pointing towards the serial disrespect that Kerr, and to a lesser extent the Warriors organization.
Of course, the statement itself is factual.
The reality is that so much of Curry's game during the rise of the dynasty has been predicated on Kerr's egalitarian system - but if those supporting players are not super talented, heady veterans then perhaps it makes a little sense to prioritize your top players' individual performances.
And the problem here is that this is something of an antithesis to Kerr's entire coaching paradigm. In the Kerr system, the greatest strengths are used to shore up team weaknesses (moving Andre Iguodala to the bench, putting Curry off ball more frequently); rather than a system like Mike D'Antoni's Rockets, which is much more akin to Mark Jackson's cliche "put the ball in the hands of your best player, and let him go to work."
Back-to-back wins?
The Warriors have only won consecutive games twice during this entire season: one four-game win streak built around the cathartic dismantling of the Houston Rockets on Christmas day, and a pair of winsover the Cleveland Cavaliers and Washington Wizards.
That Wizards game was a rare feat for this Warriors team: a road win. In addition to last night's win over the Suns in Phoenix, Golden State has road wins over the New Orleans Pelicans, Memphis Grizzlies, Chicago Bulls, and Cleveland Cavaliers… and the Wizards.
Led by Bradley Beal, the Wizards team is decent offensively (11th in the league with 111.1 points per 100 possessions), but atrocious defensively (their 115 defensive rating is the very worst in the NBA).
It's a favorable matchup - if such a thing exists for the barebones roster Golden State is running out with these days - for the Warriors mid-tier defense and bad offense. Will the team be able to overcome fatigue and a hungry Wizards team looking for revenge?
It's not impossible!
Roster moves keep on happening
At time of writing, there has been no formal announcement regarding Draymond Green's availability. Given the short turnaround with a game tipping off less than 24 hours after the team's last outing, any bodies that can return to action would be most welcome.
We wrote a ton on Green and his value yesterday, but I just want to take a moment and single out something I saw on Twitter. As fun as it was watching rookie Eric Paschall assert himself yesterday, the team has been objectively better with Green working alongside him.
Also, the Warriors ball handling experiment in yesterday's "no point guards need apply" aside, Golden State has taken steps to use yet another 10-day contract to have a look at another marginal NBA talent.
News broke earlier today that the Warriors are bringing in a player affected by the lockout in the Chinese Basketball association. Chasson Randle is still going to be a while getting here, but it looks like this is someone the Warriors have had their eye on for a while; as per ESPN:
Randle has reached a settlement with Tianjin of the Chinese Basketball Association, Comer said, and will be granted a FIBA letter of clearance as soon as his request is processed in Switzerland.

Two previous attempts to sign a 10-day contract were initially blocked by his Chinese team.
Prediction
Sure, why not, right?
Two in a row for the home team. The Warriors have found a spark, and even with eight fatigued players, they have a shot at winning this game - and that's just about as much as anyone can ask out of the short-handed Warriors right now.
So I choose to believe. Let's go Warriors!