Preview: Warriors visit the Suns, get one last shot at a win before the All Star break
Kevon Looney's hip problems resurface, he's listed as "Questionable" for tonight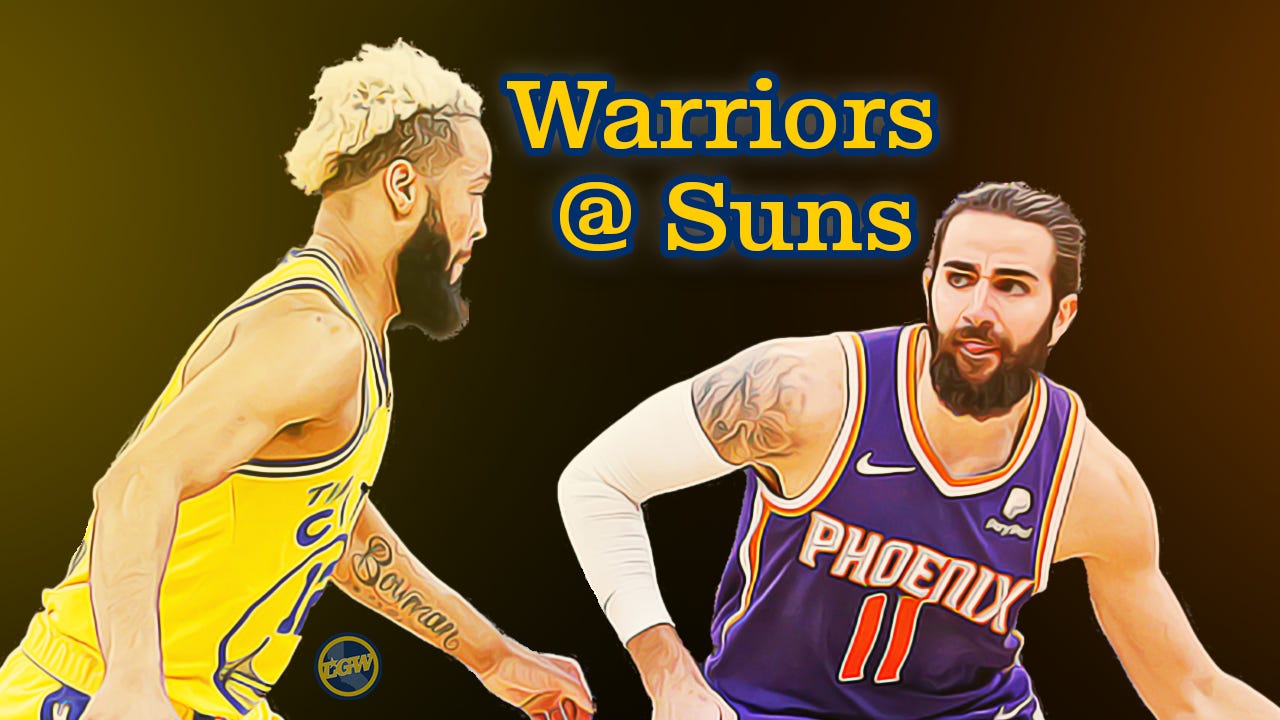 The opening salvo of the 2019-2020 season has left much of Dub Nation shell shocked. Though well past the halfway point of the season, the NBA All Star break serves as a signal that the end of the campaign is in sight. For the Golden State Warriors and their fans, the season can't end soon enough. Highlighted by injuries and framed within the context of departed players, the opening of the Chase Center era has been far from auspicious.
And yet, there is a silver lining to all of this. The Warriors were never going to be able to just reload and run it back - not after the sheer amount of departed and injured talent - but this season has refilled the coffers in a way that many didn't think was going to be possible in such a short period of time.
So the Warriors head into the All Star break bowed but not beaten, and everyone is hopeful for the future. This is how sports are supposed to be. Staying on top is harder than getting to the top, and now the Warriors have.
---
GAME DETAILS
WHO: Golden State Warriors (12-42) at Phoenix Suns (21-33)
WHERE: Talking Stick Arena, Phoenix, AZ
WHEN: Wednesday February 12, 2020; 6:00 pm PST
WATCH: NBC Sports Bay Area
---
Time to shut Looney down for the season?
After Kevin Durant announced he was leaving, the Warriors were faced with a design choice: push forward with the status quo, or reload and try again later. Because of a number of factors, this season has been the latter. So while the Warriors spend a gap year reloading for a more serious push back towards title contention next season, maybe it makes sense for Kevon Looney to take a similar tack.
So far this season, he's managed just 176 minutes - which is just 64 more total minutes than Stephen Curry (who has been out with an injury after appearing in just four games).
Plagued with neurological issues that have affected his hips and core, Looney has struggled mightily in his first season working under his newly signed 3-year, $15 million contract. After appearing in the first game of the season, Looney sat out the next 20 games before making a brief return. He played in 10 games but was clearly nowhere near 100% so went right back onto the injury list.
After missing 17 more games, Looney came back on January 30th and looked pretty good - initially. Playing between 10 and 20 minutes per night, he's looked uneven. Putting up 11 points, 5 rebounds and 3 assists in one game; but scoring two points or less in the four others it may be time to honestly ask: should the Warriors just shut him down for the rest of the season?
Even as an internet doctor, I'll admit to this being beyond my (imaginary) expertise. This whole scene sucks for everyone involved. Looney needs to get completely healthy, and from what we've seen, and the indications from the team, that is simply not yet the case here.
After earning a career average TS% of close to .600, he's dipped all the way down to .391 - the very worst such mark on the entire team. His scoring rate is the worst of his career, and he's blocking less shots than at any time since his rookie year.
He will likely sit out this game, and use the impending All Star break to reevaluate. Given the way the season has gone, and the importance of Looney to this roster moving forward, I wouldn't be surprised to see the team put him back on the injured reserve list - potentially for another extended stint.
Marquese Chriss - starting Center next season?
A strange change has overtaken the Golden State Warriors. Since trading for Andrew Bogut back in 2012, this team has had a strong preference for a big Center. Someone that can control the paint defensively, and serve as a big body for screens as our shooters run around flinging the ball and chasing great shots on offense.
This was the same sentiment that earned Zaza Pachulia the starting role for so long, though he didn't log heavy minutes, coach Steve Kerr was not shy about voicing his desire to start a big body down low.
But all of that changed when the team salvaged the career of JaVale McGee. He was all the way out of the league when ex-teammate Andre Iguodala lobbied the Warriors to give him a chance in training camp. McGee ended up not just securing a spot on the team, but introducing an entirely new concept: vertical spacing.
From Anthony Slater in his recap of the loss to the Heat, just take a look at the numbers that Chriss has put up in his two games since the Warriors inked him to a fully guaranteed NBA deal:
Saturday against the Lakers: 26 points, nine rebounds, two blocks, 12-of-15 shooting.

Monday against the Heat: 17 points, nine rebounds, one block and two steals.
It unleashes another gear to the Golden State offense - even without the stretching floor spacers, Curry and Thompson, Chriss is the sort of dynamic post threat that can thrive in the modern NBA.
From NBA.com's advanced lineup data, check out the top three offensive units for the Warriors this season:

Gone are the days of the large-bodied bruisers - who are now isolated on the perimeter and buried by the speed and passing of current-era NBA offenses. The Warriors have much of their roster locked in for next year (barring major moves in the offseason, which should not be ruled out), and Chriss appears to be a natural fit to slot in alongside the Warriors revamped core moving forward.
It's an aside here, but worth mentioning: an athletic wing who can run (like say, Andrew Wiggins) should also thrive in this environment, once Curry and Thompson return to stretch the floor.
The Suns - a cautionary tale of mediocrity
Growing up, I absolutely adored the Phoenix Suns. These were the heyday of Kevin Johnson, Dan Majerle, Charles Barkley and Tom Chambers - which made me a pre-built fan when Steve Nash and Amar'e Stoudemire blasted on to the scene. That "7 seconds or less" high firing offense was the predecessor to much of today's pace and space era of fast-paced offenses that attack in transition, and shoot freely when opportunity appears.
Unfortunately for the Suns - who haven't seen the playoffs in a decade - those days are long gone. Now, Phoenix finds themselves churning away on the treadmill of the NBA's lower middle class. Too bad to attract top free agents, but not bad enough to plummet to the cellar of the league, where all the juiciest draft picks are harvested.
That is the purgatory that Devin Booker and the Phoenix Suns find themselves in now. They are a bad team - but nowhere near as bad as the teams at the bottom of the tank standings.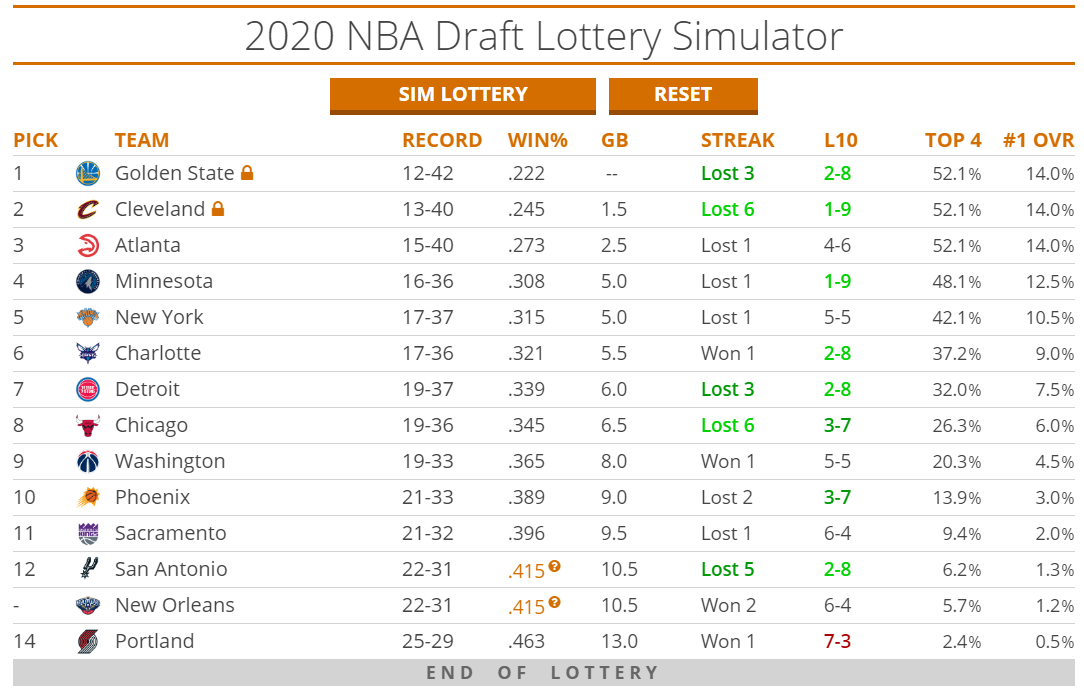 So, what's going wrong in Phoenix right now?
First, it's fair to point out that the Suns are dealing with some injuries. Nowhere near the scale of the calamity of the Warriors' season, but they've been nicked up enough to make a difference. Currently, Aron Baynes, Deandre Ayton, Frank Kaminsy, and Dario Saric are all either out, or questionable.
Looking at the stats, this is a team that doesn't seem to do anything at an elite level. They rank 17th in offensive efficiency, and 20th in defensive efficiency. Going a bit deeper, these value are pretty directly correlated with shooting. The Suns simply do not shoot well (their .525 eFG% is 20th in the league), not are they able to do a very good job at slowing down opposition shooting. Here's the entire table of their four factors, as per basketball reference.

There's nothing egregiously wrong in there, but they also do very little effectively enough to require game planning around.
If anything, the team's free throw rate (ranked 4th in fouls drawn per shot attempt) could cause a team as bad as the Warriors some concern. Most of that is Devin Booker. One of the more promising and heralded young guards in the NBA, he's taking just over seven free throws per game. He's also their leading scorer (26.4 points per game, on an extremely efficient TS% of .628), and second on the team in assists (6.3 per game, behind only Ricky Rubio's 8.6).
And there are some role players that are nice enough to covet. Kelly Oubre is pitching in 19 points and 6.6 rebounds per game, and second-year player Deandre Ayton is turning into a top young Center in the league.
Prediction
This game will serve as something as a microcosm for the Suns. Are they good enough to beat this iteration of the Warriors? Probably.
But that's the problem for Phoenix. Though they have nearly twice as many wins on the season, they only sit a few spots above Golden State in the Western Conference standings - just far enough to ensure their pick will be somewhere in the late lottery.
On the other hand, the Warriors have had an extremely trying season, but they still have enough top end talent to pull out a game against the Suns.
I'll roll the dice on this one and call for a Warriors win. Draymond Green wants to head into the All Star break with a win, Wiggins locks Booker up, and Golden State comes out on top tonight.