Discover more from Dub Nation HQ
High Quality coverage of the Golden State Warriors with the best commenting community in the world.
Over 3,000 subscribers
Preview: The Riley doctrine - Finals pit NBA mastermind against this generation's final boss
Heat's defense-first roster and personnel choices just might be up to the task of beating LeBron James, Anthony Davis.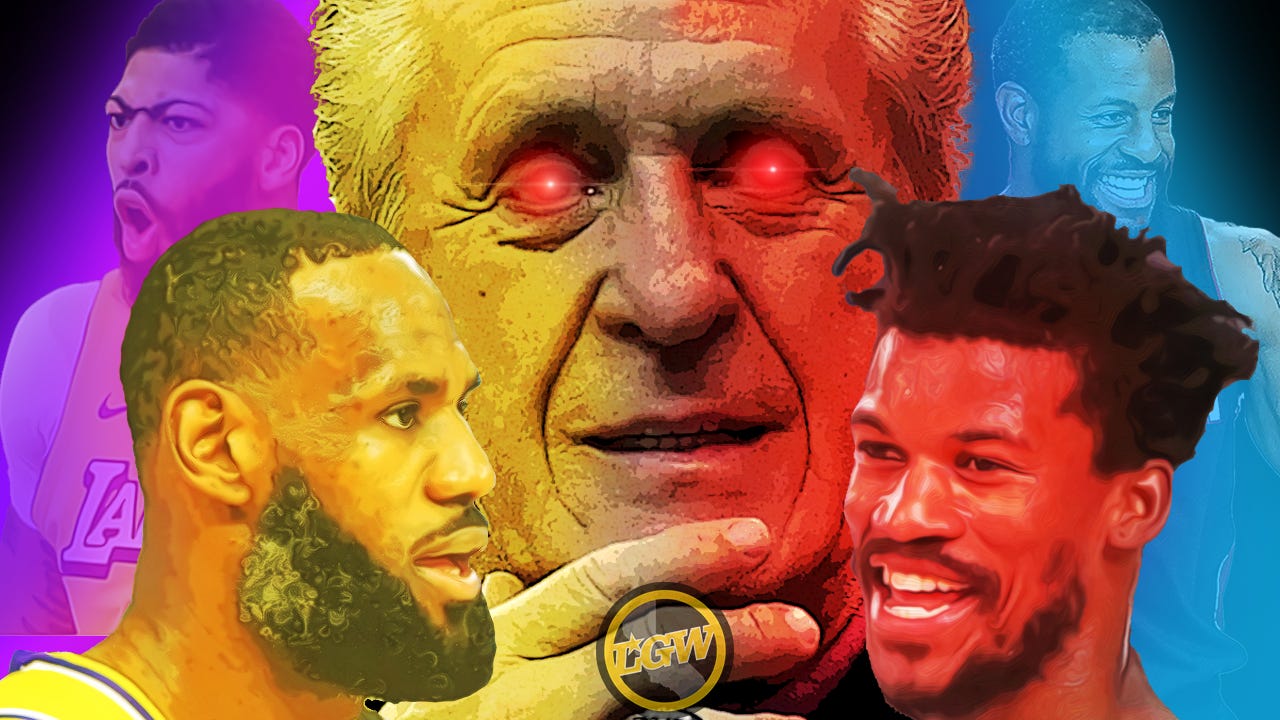 For the first time in six years, the NBA Finals are starting without the Golden State Warriors. While Klay Thompson is returning to the practice court, the world rolls on, as the Miami Heat take on the Los Angeles Lakers in a battle that no one predicted. Well, no one except for recently acquired L.A. guard J.R. Smith, apparently.
Though the league's historians might have been wishing for a throwback Lakers-Celtics series, this year's matchup comes with plenty of intrigue.
The meta
This era of the so-called Superteam (consisting of a core of 3 all-stars / all-NBA players) constructed via free agency, was ushered in when LeBron took his talents to Miami's South Beach in 2010. It was a mostly successful run that garnered back-to-back championships in 2012 and 2013. But after losing the Finals the subsequent year, James opted out and returned to play for the Cleveland Cavaliers. It left the Heat in a situation similar to the Warriors of the 2020 season - a tumultuous, immediate descent from the top of the mountain to the bottom of the NBA standings.
Pat Riley, famously, was not a fan:
"I was silent," Riley says. "I didn't say anything. My mind began to just go. And it was over. I was very angry when LeBron left. It was personal for me. It just was. I had a very good friend who talked me off the ledge and kept me from going out there and saying something like Dan Gilbert. I'm glad I didn't do it."
[That article, by the way, is a fascinating profile on nine-time NBA Champion, Riley. Written just a few years ago, it paints a profile of one of the league's biggest names that has fallen into the shadows but never stopped pulling the strings.]
LeBron James is something of a locust swarm in regards to franchise health. Powering in on a storm of talent, he has a pattern of leaving organizations destitute as he whisks off to form a new superteam. He is talented enough to promise a trip to the Finals though, so many see the "LeGM" actions as a smart way to maximize his Championship window. The Heat recovered well because of Riley's calming hand (and the steadying presence of Dwyane Wade) and will be the first one of his ex-teams to come back around to meet him in the Finals.
The Lakers, LeBron's second landing spot after Miami, have gone all in on a roster that features the supreme talents of James and newly acquired star, Anthony Davis. And it's with this top-heavy roster that he re-enters Riley's bailiwick, setting up a head-to-head battle that should be an extremely entertaining Finals battle between two very good team.
Key Matchups
There are a couple different levels that we are going to cover for the matchups in these Finals: team design, and player-specific matchups to watch.
Design considerations: A look at some of the broader battles that are going to be going down in the Finals this year.
Both teams have gotten here by beating good teams, but in so doing, have shown decidedly different preferences in how their team operates. As it always goes in these extended series, there's going to be a sort of wrestling match, as both coaches try to assert their preferred styles in an arms race of counters and modifications.
For Los Angeles, I expect them to try to stick with their larger lineups, using Dwight Howard and even JaVale McGee alongside Anthony Davis to put pressure on Miami's Bam Adebayo in the post by overwhelming the rest of the Heat roster with their size. Other than that though, there's not a ton of imagination to be found - or needed - in LA. They will utilize LeBron as a point guard, likely splitting time on offense between attacking mismatches against the Heat's younger wing players, and working the two-man game with Anthony Davis.
Speaking of Anthony Davis, he will play a key role in determining how often and how effective the Heat are able to deploy that 2-3 zone that shut down the Celtics' shooters so thoroughly. As we wrote about previously, the Heat are part of a broader resurgence of the zone defense in the NBA.
Historically, the zone defense was a way to keep your bigs in the paint, where they could protect the rim while your other guys flitter around chasing ball handlers and denying shots.
It used to be that the conventional wisdom that you shoot over the top of these zone, but that's dated a bit. For one thing, the Heat are among the best at challenging outside shots - over the course of the series against the Celtics, 73.2 percent of Boston's 3-point attempts were contested by Miami, as per Seth Partnow. That's a lot.
And secondly, the Lakers are not especially great from outside - they ranked 12th this season on three-point shooting percentage, hitting a solid but not exceptional 35.5%. Enter: Anthony Davis, zone buster:
Expect the Lakers to try beating the zone with Davis in the middle, just below the free throw line, where there tends to be a gap in zone coverage. From there, he's got a nice midrange jump shot, or can take it to the interior. Well really, Davis can hurt you in any number of ways, I tabulated some numbers from Pounding the Glass, and look at Davis' exponential increase recently in his assist rate: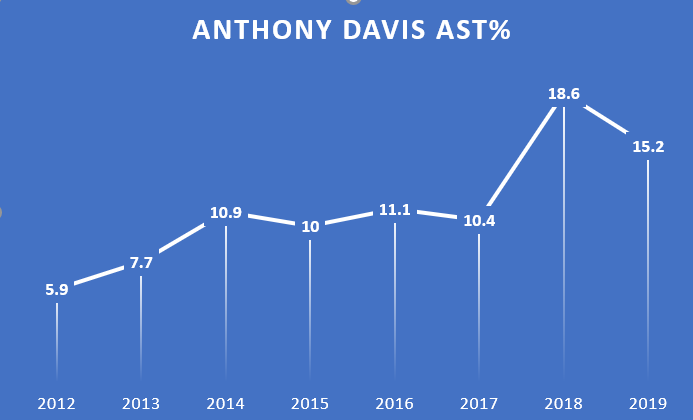 I guess if you're picking someone to play man-to-man defense on Davis, Adebayo is near the top of the list.
This is important because even as teams improve defensively against the three-pointer, so too are offenses more willing to put up contested shots. Pulling defenders off the top of that zone as they worry about not just Davis in the post, but the resultant offensive rebounds.
Notably, the Lakers are fantastic on the offensive glass, via Michael Pina, "[t]he league average offensive rebound rate right now is 18.9 percent on those shots, but L.A. is snatching 24.9 percent of them."
Player battles
Let's start with the elephant in the room: LeBron James.
This man is without debate, one of the very best, most impactful players to have ever played in the NBA. His consistent success and well-rounded game can almost single-handedly propel a team into the Finals. His accolades are… pretty good:
But this is where Miami starts to look a little bit more threatening to the Lakers chances. As great as LeBron is, he'll be facing some of his most challenging individual defenders.
Since the 2015 Finals, no defender has guarded James more than Iguodala, who has held James to 44% shooting on 139 field goal attempts, as per the Undefeated. Only 10 players have appeared in six or more Finals in a row, and James and Iguodala are the only two active players on that list.
And look, the dream outcome here isn't even to stop LeBron James. All Iguodala has to do is what he did in the 2015 Finals when he held James 35.8 points, 13.3 rebounds and 8.8 assists for the series, which is still nice - but James did so on .398/.310/.687 shooting splits; extremely poor efficiency.
Yes, Iguodala is older, but so is James. With Jimmy Butler and Jae Crowder also at the Heat's disposal, James may have difficulty scoring - and that's really all you can ask.
Since we already sort of covered the Davis versus Adebayo matchup talking about Miami's zone defense, let's instead take a look at the battles that will take place around the edges - the young Heat backcourt against the mishmash Lakers supporting cast.
While certainly no Klay Thompson, the Heat have found an extremely promising rookie in Tyler Herro, a sharp-shooting, astute defender that can get hot in a hurry. It's going to fall to some combination of Danny Green, Alex Caruso, and Rajon Rondo to slow him down - and how well that works out will go a long way towards pushing this series in one direction or another.
The coolest thing about Herro's game is that he's done more with less, in these playoffs. Check out the regular season, versus postseason - where he plays more minutes, with less touches, and yet somehow scores significantly more points per Scoring Attempt (that's "PSA in the table below).

Between Herro and starter Goran Dragic, the Heat present a much more formidable scoring pair that anyone not named Murray the Nuggets had. Where the Lakers are extremely top heavy, the Heat are balanced - they've got six players averaging double digits in scoring during the playoffs. While Rajon Rondo has been playing extremely well in the playoffs, the Lakers need to somehow win a bench battle against what appears to be a vastly better supporting cast in Miami.
Prediction
Miami wins if: Adebayo can play somewhat even with Davis, and LeBron struggles with his scoring efficiency against the bevy of able defenders on the Heat.
Lakers win if: The Heat have no answer for LeBron on the break, or Davis in the high post.
This is a tough one for me, the Lakers are the Vegas favorites, by a fair amount, and coming in, I thought I'd pick LeBron to beat whoever came out of the East. But after writing this, and doing all the leg work to compare these teams, I'm going with the Heat.
I think the coaching edge is significantly in Miami's favor, and they have the personnel and institutional insight required to plan for James.
I choose: The Heat in 7.
Let's go Andre.
Clap clap clap-clap-clap.