Discover more from Dub Nation HQ
High Quality coverage of the Golden State Warriors with the best commenting community in the world.
Over 3,000 subscribers
Preview: No LeBron James (again) as Lakers visit the Warriors
Draymond Green expected back for Golden State, but lack of shooting has been the major struggle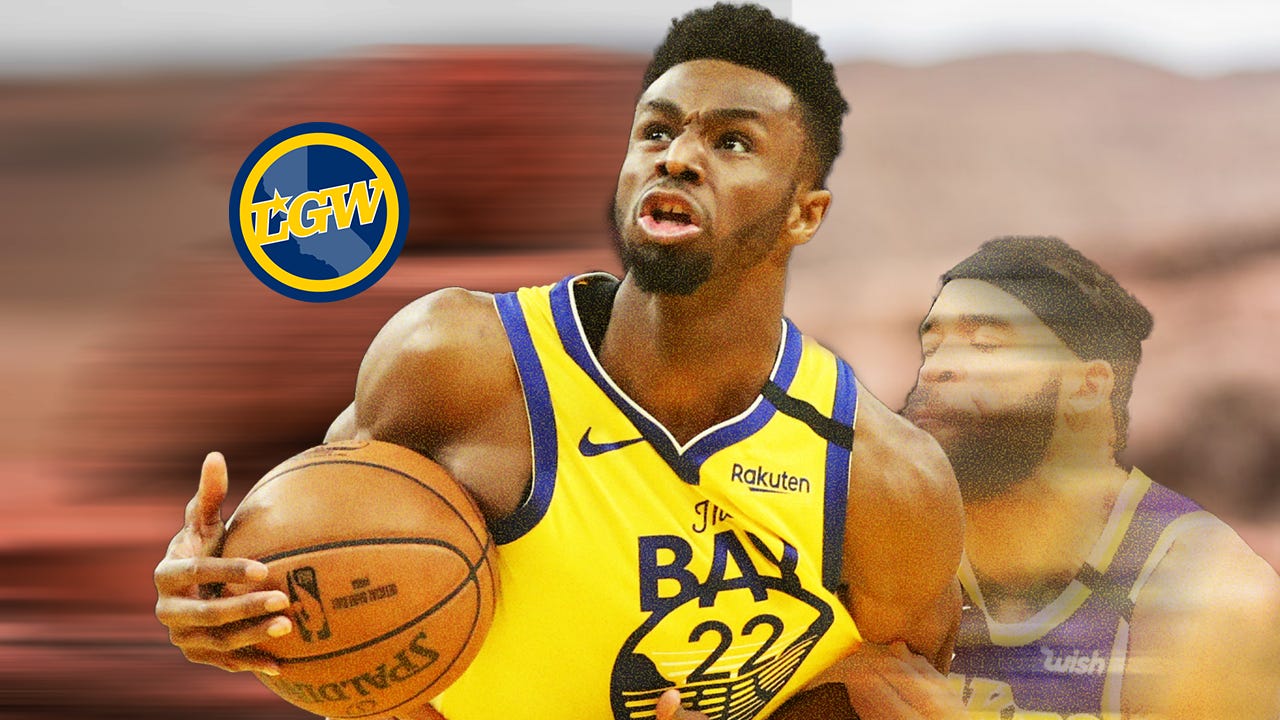 The Golden State Warriors continue their slide towards the offseason and a blissful end to what has been one of the more painful season to watch, in my memory. Tonight's matchup is yet another one that will be pencilled in as a loss coming into the game. The odds makers don't expect this one to be especially close either, the Los Angeles Lakers are currently favored by 13.5 points.
But the Warriors, as always, are favored in our hearts.
A couple of quick injury updates for tonight:
-Draymond Green, who sat the previous game with a minor injury, has resumed all activity and practiced with the team yesterday. He is expected to play, putting the team at what passes for full health around here these days.
-LeBron James will not play, and Anthony Davis (elbow) is listed as probable. James has been healthy all year, having missed only two games prior to tonight so the Warriors are hoping to see some hiccups from a team playing without their leader.
---
GAME DETAILS
WHO: Golden State Warriors (12-46) vs. Los Angeles Lakers (44-12)
WHEN: Thursday February 27, 2020; 7:30pm PST
WHERE: Chase Center Arena, San Francisco, CA
WATCH: TNT
---
Warriors still desperate for reliable wings and some shooting
You don't land the worst record in the NBA without earning it, and there is a lot going wrong with the Warriors these days. That said, one of the biggest design flaws in the roster right now is a general lack of scoring punch - or more specifically, no one can really shoot. It's not just that the team misses the Splash Brothers, it's that the replacement players are often shooting well below league average.
These are coach Steve Kerr's Warriors, so no, the answer to the team's offensive woes will definitely not be a bunch of isolation plays for Eric Paschall. Though it could conceivably return better results than what the Warriors moribund offense is currently producing - the team's 103.7 offensive rating is the worst in the league.
Here's the team's shooting efficiency from last season via Positive Residual's NBA True Shooting charts (note that red = above average shooting efficiency):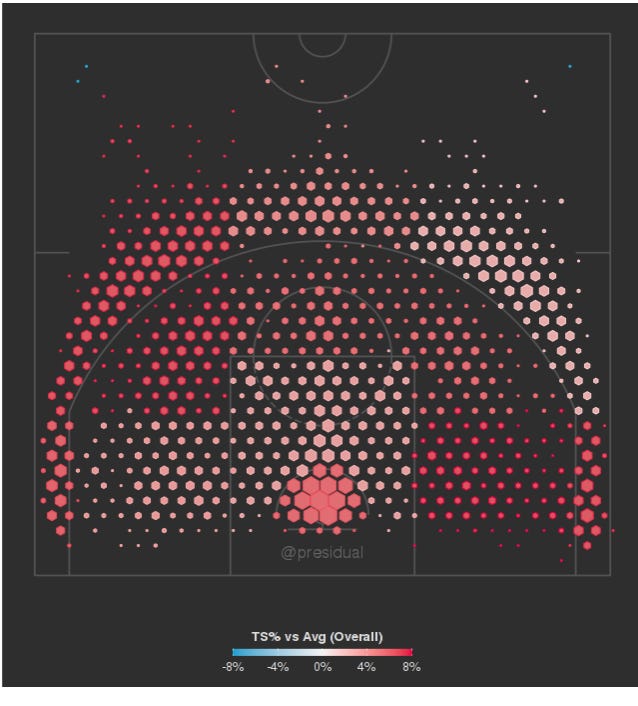 And then, for comparison, here's the current season - played without all sorts of players that helped make all those pretty red hexagons in the image above (note blue = bad):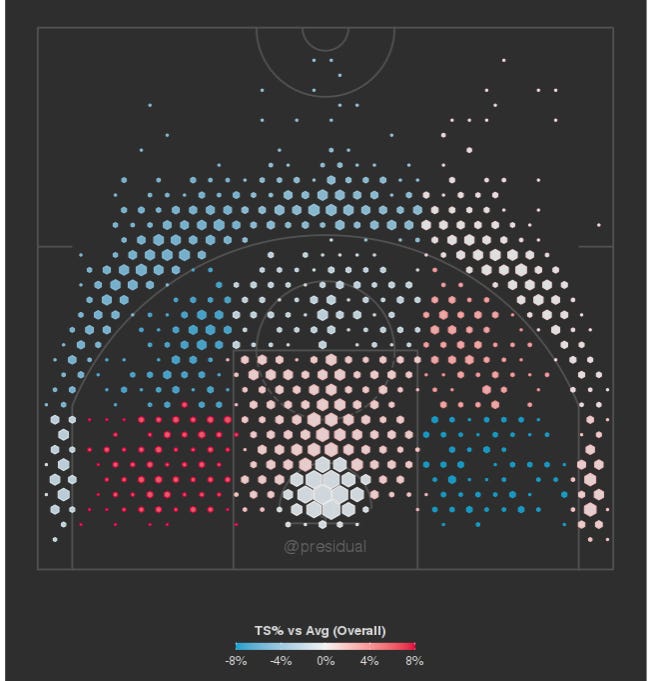 You don't need a degree in basketballogy to understand what happened. All the shooting talent is gone. Without Steph Curry, Klay Thompson, and Kevin Durant, we already knew the offense was going to take a big dip. But to go from the best shooting team to the worst is hard, even without your main guys. So how did the Warriors fall so far?
One problem is Jordan Poole. Sixth on the team with 14 shot attempts per 36 minutes of action, he has been historically inefficient. Since stats were first reliably tracked (all the way back to 1946-'47) Poole is the least accurate shooter to ever attempt at least 240 three-pointers in a season. Ever. Let that sink in for a minute. This is a man that is shooting nearly five threes per game.
When the Warriors drafted him, it was because he was supposedly NBA-ready. "We drafted him for his ability to put the ball in the basket," coach Steve Kerr said back in October.
As LGW user Missing Barry was kind enough to look up for us recently, Poole is shooting just 33.3% on corner 3's (with 85.7% of those shots assisted). In other words, the "easiest" three pointer to make is still a challenge for him. Even worse, you can't blame the defense; per nba.com Poole has converted only 30% on wide open (6+ feet) and 24.3% on open (4-6 feet) threes.
But if you click through that link, you'll notice some very famous players. The book on Poole's career is far from closed, but to last in the NBA he will have to dramatically improve his shot.
The Warriors are well aware of the need for shooting, but are having a tough time finding shooters that are viable to play. Here are the team's top shooters, by percentage, via Basketball Reference: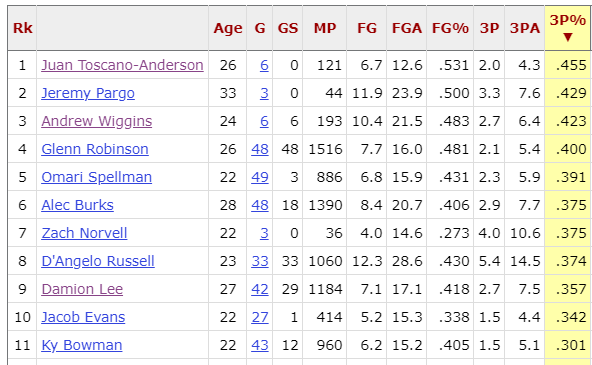 As they've said they were going to do, Golden State has used another 10-day contract to take a look at a player. Though I thought maybe they'd take a look at ex-Spurs player Jonathan Simmons, the Warriors signed Mychal Mulder, who has been shooting 40% from deep in the G League this season, scoring 17 points in around 30 minutes per game. Recent call up Juan Toscano-Anderson has looked like he could potentially play off the Warriors bench next season, but the Warriors are hoping to find another gem that will thrive in the Warriors system - and back to an earlier point: the team needs lots of help with their scoring, even after Curry and Thompson return.
It's clear that Golden State is still searching for some sort of reliable shooting off the bench for next season. With so much payroll tied up in the top of the roster, it is becoming increasingly important to hit on some of these fringe candidates.
Lakers eyeing the championship
It's been an odd experience watching the Warriors single-season pivot from champ to bottom dweller. For Los Angeles, it's been the opposite - after missing the playoffs entirely they managed to snag one of the NBA's brightest talents. With Anthony Davis now in place alongside LeBron James, the Lakers are back amongst the upper echelons of the league.
Looking at the team's four factors, there aren't many weaknesses here. This is a well-rounded championship-quality team that should roll over Golden State with ease.

They are the third most efficient shooting team, and do a good job of limiting opponents shot quality on the defensive end. We already pointed out how flimsy the Warriors attack and defense are, in a vacuum - against a team as solid as these Lakers, it could get real ugly real fast.
However, LeBron James is a major cog in the Lakers machine. And the only concern for the powerhouse Lakers team at this point is health. James is getting a bit long in the tooth, so recurring core injuries like this are something to monitor:
James, 35, missed 17 games with a left groin strain last season. He first picked up the injury in a Christmas Day loss to the Warriors in 2018, in what ended up being his last trip to Oracle Arena.
Without him, Los Angeles will turn to some unusual lineup combos and ask players like Rajon Rondo and Avery Bradley to do a bit extra in order to help pick up the slack. While this is fantastic training for their ongoing team development, learning to cover for main players can be troublesome, especially one as dynamic as James.
The Lakers will still have the best player on the floor, by far, but Draymond Green has been able to bother Anthony Davis in big games. But the question for Green will be if this is, indeed a big game. One of the big factors behind Green mostly setting the cruise control on the season is that these games don't matter. In fact, with Curry coming back as soon as Sunday, losses are perhaps even a good thing right now.
Prediction
This is a strange time of season, so let's get a win for the hometown team tonight!
Inexplicably, I'm calling for a Warriors win.
Being on the other side of one of those weird games that the elite Warriors used to always lose for no reason against lottery teams would be a welcome salve for a Warriors team (and fanbase) that has taken more than their fair share of losses this season.