Discover more from Dub Nation HQ
High Quality coverage of the Golden State Warriors with the best commenting community in the world.
Over 3,000 subscribers
Showdown: Dubs All-Time Draft Round 1 - Legends of yesteryear vs modern finesse
Rick Barry and Robert Parish lead a team packed with old school talent, but can Chris Mullin, Gil Arenas, and a dynamic modern-era squad break them down?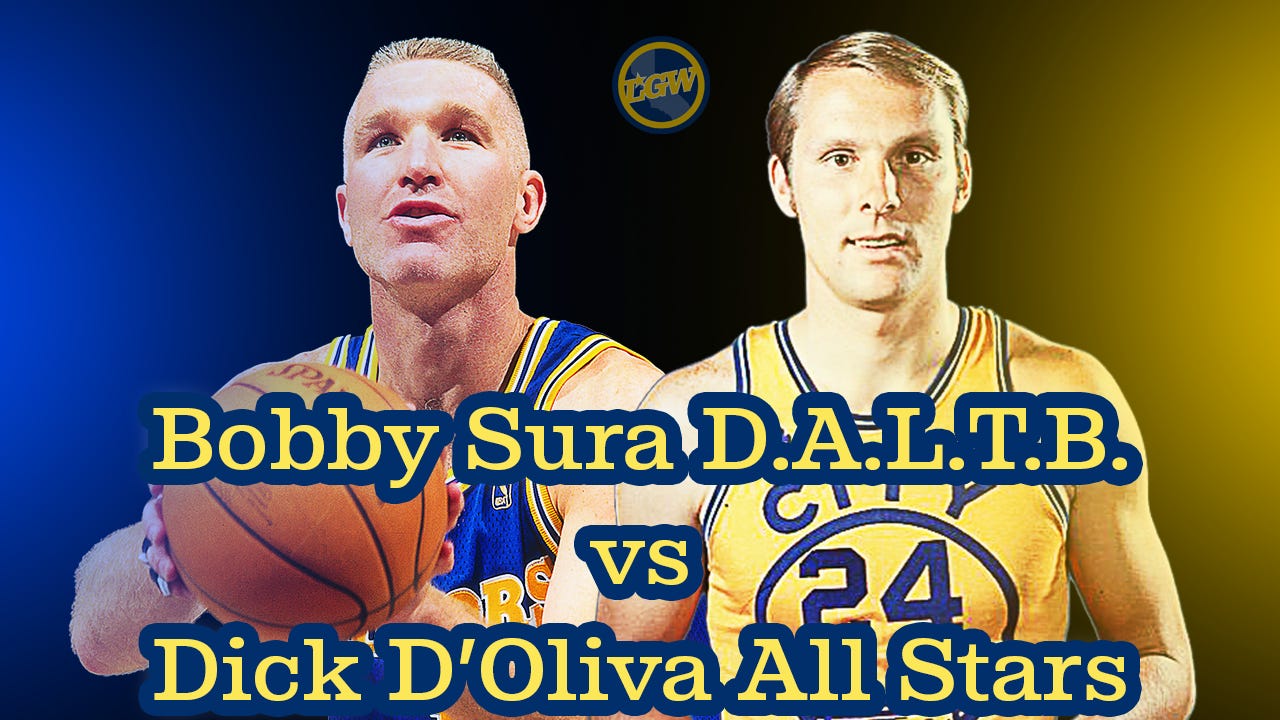 Our first battle of the bracket was a beatdown from the Steph Curry-led Todd Fuller House over the Gold Blooded Goons.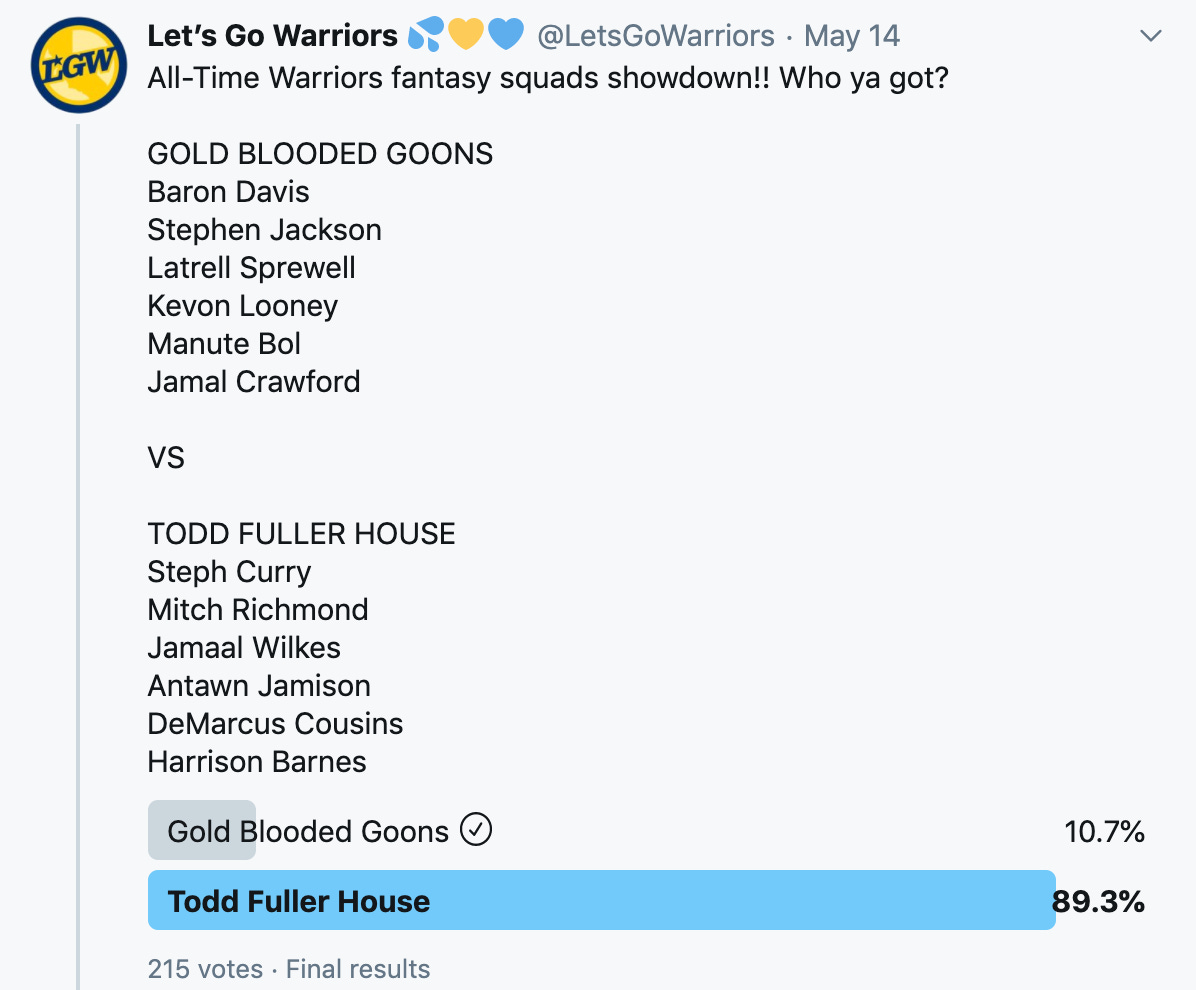 Today's matchup pits Chris Mullin against Rick Barry, as a franchise with hooks into Golden State's historical archives takes on a team with a ton of firepower. So here we go, it's the second game of the first round: our beloved Dr. Tom's "Bobby Sura do-a Love-a the Basketball" takes on a team that still airs their games in black and white on TVs that use antennas: the Dick D'Oliva All-Stars.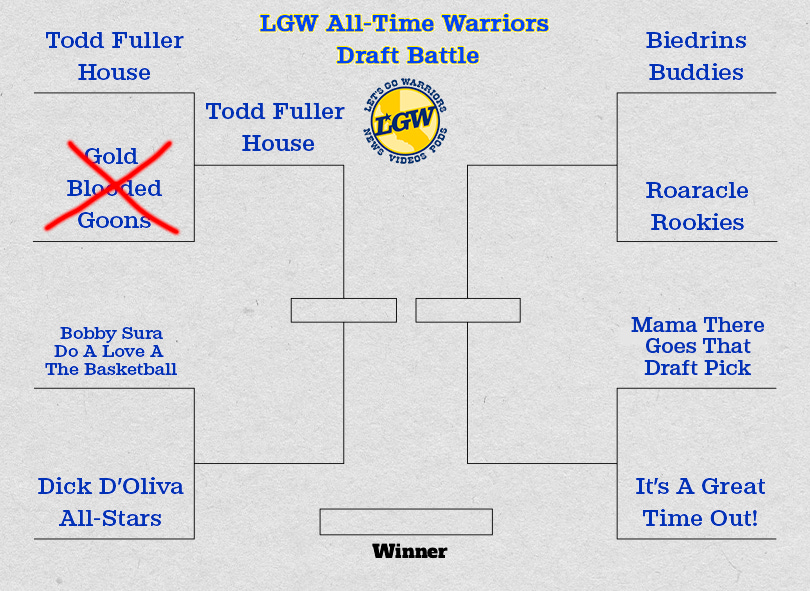 Bobby Sura do-a Love-a the Basketball
Chris Mullin and Gilbert Arenas lead a team that is one of the sneakier threats in the tournament. Though a bit short on the defensive end of the court, this squad more than makes up for it with an abundance of offensive weapons.
Strength: Absurd amounts of offense
Weakness: Defense? What defense?
This team is so stacked with offense, it's hard to know where to start. Gilbert Arenas takes the point as a man who played his way into a max contract. This is a three-time NBA All-Star, three-time member of the All-NBA Teams, and was voted the NBA Most Improved Player in the 2002–03 season.
Alongside him is Bernard King, a hall of famer who was an explosive scorer and one of the prototypical wings of the 1980's.
Chris Mullin is the likely leader of this team. He brings a legitimate set of accolades with an Olympic medal piled on top for good measure. Mullin's sweet shooting stroke was transformational as the NBA tiptoed their way into the three-point era.
In the frontcourt, David Lee and Al Harrington are the sort of pairing that Don Nelson could coach into a team that no one wants to face in the playoffs, despite a complete lack of defense. Both players are adept in the three factors (dribbling, passing, and shooting), which could be especially problematic against some of the historic bigs from the past, especially operating in space on the fast break.
Off the bench the have Tom "Crazy Russian" Meschery, a dynamic power forward with a penchant for rebounds who helped lead the Warriors to four playoff appearances.
Dick D'Oliva All-Stars
In a draft of "All-Time Warriors greats" this is the franchise that dipped most consistently into the history books. I'll admit to needing a fair amount of remedial internet research to write up this team, so for now, just know that they've got Rick Barry and Robert Parish as their franchise cornerstones.
Strengths: Hall of Famers galore, including two of the greatest inBarry and Parish.
Weaknesses: The team was borne from a timeline so remote that they still track game stats on an abacus.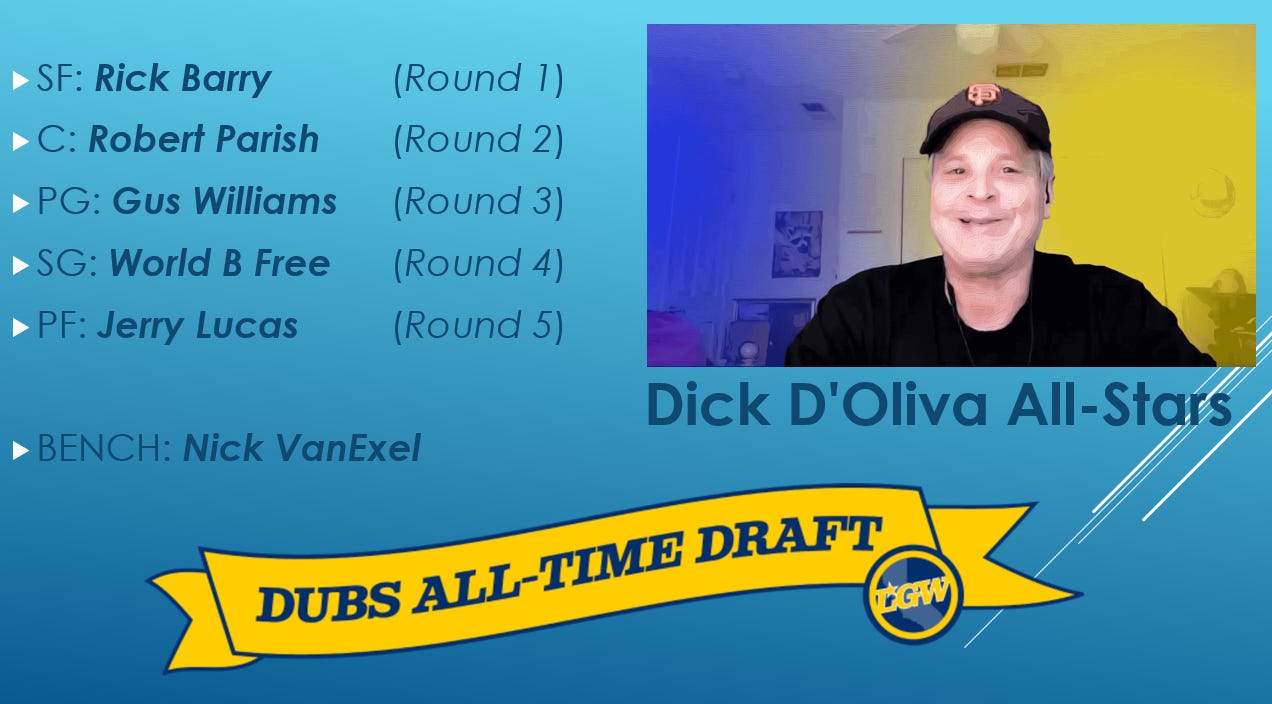 With such a solid wing/big pairing in Barry/Parish, the Dick D'Oliva All-Stars have enough top tier talent to hang with anyone.
But just in case any of our readers aren't up on their history, Barry was one of the best players to ever play the game. Here he is putting up 55 points in the NBA Finals. Parish likewise should need no introduction. He played an astonishing 21 years in the league and was known for his strong defense, reliable high arcing mid-range game, and clutch rebounds.
Gus "The Wizard" Williams (and yes, here's a link to some footage) was known for his crafty finishing moves and ahead-of-his-time eurostep - both of which will still be a problem in the modern era. A two-time All-Star with an explosive first step, Williams only played two seasons with the Warriors; where he earned All-NBA Rookie First Team honors.
World B. Free was one of the league's first "gunners," as a man who became known for lighting up the score board. He never made the Hall of Fame, but that was largely due to the classes of players he was up against.
We've got to go way back for Jerry Lucas, a man who dominated the league with solid fundamentals and a nose for the ball. A three time all-NBA First Team selection, All-Star seven times, and the 1964 Rookie of the Year, this is a man who just got buckets and rebounds, averaging as many as 19 points and 16 rebounds while playing for the Warriors.
Matchups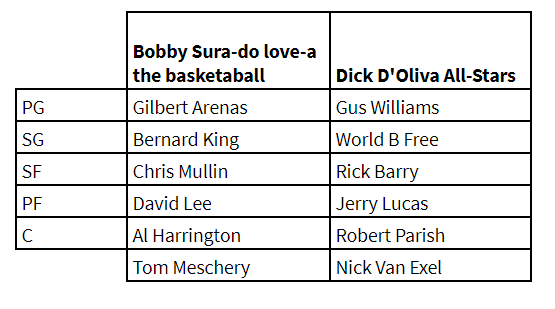 Before we dive in, a note:
One of these teams uses numerous players from a bygone era. I tend to give them some consideration for historic greatness, but am assuming we will be plopping everyone into a modern NBA setting. Vote according to your hearts and minds, and please take my biased takes with a grain of salt while forming your own opinions.
Point Guard
Both Arenas and Williams are going to struggle covering their counterparts on defense. Each player is known as an offensive specialist, but Arenas gets the advantage here because he's got a slight physical advantage over the 6'2" Williams, but mostly because he has a three-point shot. Williams played four seasons prior to the existence of the three-point line, and like many at the time, did not readily embrace the outside shot.
Advantage: Bobby Sura do-a Love the Basketball
Shooting Guard
This one is too close to call for me. Both of these players are excellent offensive weapons, but neither really stands out to me as the clearly superior player
Advantage: Even.
Small Forward
Mullin versus Barry would be an absolutely phenomenal battle. Neither player was known for exceptional feats of athleticism, and yet both were putting up big numbers on their way to the Hall of Fame. As we saw with the point guard battle though, the complete lack of a three point shot would be a significant barrier for Barry to overcome. Within the context of this matchup, I'm giving the edge to Barry because of his more well-rounded floor game; but if Mullin and Arenas both get hot from deep, I'm not sure that the OG squad could score enough points to keep up.
Advantage: Dick D'Oliva All-Stars
Power Forward
The matchup at Forward in this game would be like a pitcher's duel in baseball - except with rebounds. Both of these players are astonishingly crafty rebounders, fighting their way through positioning battles and stuffing the stat sheet despite of a lack of size. However, David Lee is dynamic in a way that a Forward drafted in 1962 couldn't even conceive of in his day. Lee's ability to dribble, pass, and shoot are going to be a significant advantage for his team.
Lee is going to drop Lucas' jaw to the floor when he shows of his moves on the perimeter, but Lucas is going to grab boards on the block all series
Advantage: Advantage Bobby Sura do-a Love-a the Basketball
Center
I don't know who comes out on top of this matchup. Parish is a vastly superior player. Within the context of NBA history, Parish stands among the Pantheon of gods, while Harrington is… a pretty nice player. Much like the David Lee conundrum above though, Parish may struggle to maintain focus on Harrington.
Especially by the time he came to Golden State, Harrington had developed into a true outside shooting threat. Harrington is much more of a tweener rather than a traditional big, and Parish may not have the lateral quickness to stay with him on the perimeter.
Advantage: Dick D'Oliva All-Stars; it's "The Chief", folks… he's going to be a force.
Bench
Meh. Honestly, by the final round, every franchise was scrambling to find impact players. Due to my strong dislike of Nick Van Exel, and the fact that he was only with the Warriors for one subpar season, I guess we will call this in favor of the other team.
Advantage: Bobby Sura do-a Love-a the Basketball
Chemistry
Does a team that includes so much offense even need to play defense? That's going to be the real question in this matchup. It's hard to gauge how well some historic players would hold up against a modern NBA athlete, but the presence of three-point shooting here seriously hamstrings the Dick D'Oliva All-Stars.
With both Mullin and Arenas on the court, along with the rest of this speedy roster, anyone they play is going to need to be able to put up boatloads of points; and there's only so much damage you can do if your entire team can't shoot threes.
That said, a team anchored by Barry and Parish should be able to mostly hang with any team. These are players on the upper echelon of the NBA pantheon, and they would be playing with the best team they've ever been on.
Prediction
Arenas, Lee, and Harrington are all going to be extremely difficult covers. As much as it pains me to slap another loss on All-Time great Rick Barry's resume, I think the modern offensive weapons are going to completely flummox the old guys.
Bobby Sura do-a Love-a the Basketball in 5 games.
Vote now on Twitter…
And let us know in the comments who should win!