Discover more from Dub Nation HQ
High Quality coverage of the Golden State Warriors with the best commenting community in the world.
Over 3,000 subscribers
Preview and Game Thread: Curry's return delayed, Warriors visit Suns
Ky Bowman out, Jordan Poole questionable - Warriors once again find themselves woefully short-handed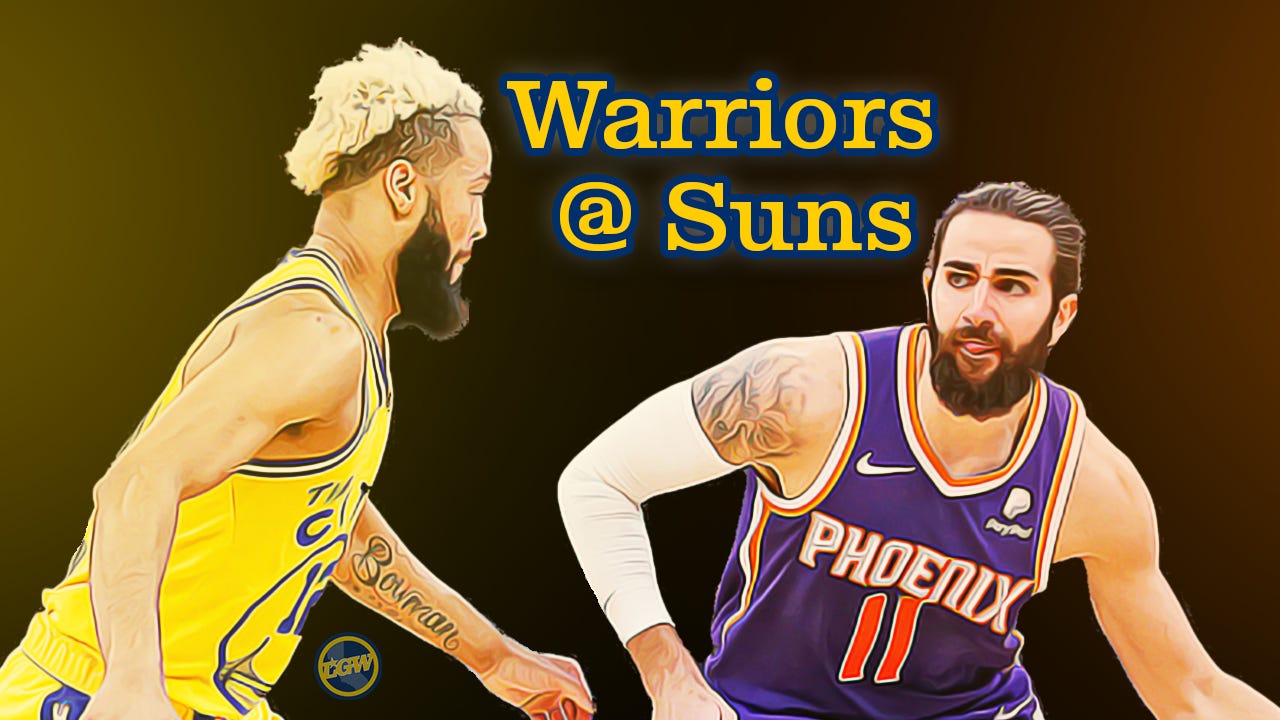 The cycle of pain churns on for the Golden State Warriors, who will head to Phoenix to play the Suns in the first game of a back-to-back weekend.
Ky Bowman, who rolled his ankle in garbage time against the Los Angeles Lakers will be out with an injury that is "not a day-to-day thing" according to coach Steve Kerr. Jordan Poole, one of the team's only other healthy primary ball handler took a very concerning-looking non-contact fall in the last game, but he's listed as questionable so hopefully he can give it a go for the short handed Warriors.
What's up with Stephen Curry?
We don't know.
The team met and came to a collective decision yesterday, and made the formal decision to hold him out past the initially forecast return date (tomorrow). Sad news for a team that needs the emotional boost of Curry's return as much, or more than, getting an actual win.
After undergoing hand surgery back in November, a timeline was built that would have him back on the court sometime around the beginning of March. But for the past few weeks, we've been treated to video and images of him doing all sorts of activities that would seem to indicate his return was imminent; with various NBA insiders reporting that March 1st was identified as the team his return.
But in a move that foreshadowed today's announcement, coach Steve Kerr preached patience, and reiterated the uncertainty surrounding Curry's new normal:
---
GAME DETAILS
WHO: Golden State Warriors at Phoenix Suns ()
WHEN: Saturday, February 29, 2020; 6:00 pm PST
WHERE: Talking Stick Arena, Phoenix, AZ
WATCH: NBC Sports Bay Area
---
A final audition for Dragan Bender
Bender is signed to a 10-day contract that only runs through Sunday's game, one of the stream of temporary hires that the Warriors have employed. Rather than settle for one of the marginal players they know they could have, Golden State has smartly been kicking the tires on a series of guys.
It's a big ask: hoping these players can come in from nearly being out of the league and immediately contribute in a meaningful way on what has been the worst team in the NBA this year.
His stats have not been especially impressive (3.3 points, 4.7 rebounds, 1.7 assists in around 22 minutes per game), but he has shown flashes.
Ok yeah, it is fair to point out that you just saw the only block of Bender's Warriors career, but that also highlights the difficult path these guys on 10-day contracts are facing. If his minutes allotment holds, it means that Bender has just about 40 minutes of court time left to resurrect his career.
It's somewhat appropriate that one of his two remaining games is against the Phoenix Suns, the team that took him 4th in the draft but couldn't find a way to help him succeed. Like Marquese Chriss (18 points and 12 rebounds in the previous meeting between these two teams), a fellow ex-Sun that found a new home here in Golden State, Bender is likely doubly motivated to show up against his former team.
Draymond Green vs. Devin Booker, part 2?
I don't want to spend too much time talking about Draymond Green (since I extracted this portion of the preview and gave it it's very own article), but the last game between these two teams was one of the clearest flashes we got of an engaged Green.
Normally I wouldn't pull such a large block of text, but what Daniel Hardee wrote on Green for the previous game against the Suns is still relevant, especially as he returns to action after getting booted out of the last contest by the referees.
I've always enjoyed the analogy of Draymond Green as the heart of the Golden Sate Warriors dynasty. His contributions are often below the surface but supremely necessary to the Dubs system functioning, pumping out the lifeblood that powers vitality.

But this season, Dray's impact on the injury-reduced Warriors is more like the heart sustaining an under-the-weather dad knocked out from a double dose of Nyquil. That heartbeat is still obviously absolutely crucial to life, but that body ain't doing a damn thing until that sleep coma wears off.
But Green was responsible for locking up scoring sensation Devin Booker in that game, and he came through like the champion he is in the 4th quarter.
…he took the challenge of locking up the Suns precocious scoring machine Booker in the fourth quarter of a tight game. Booker checked into the game with six minutes left, having already scored 25 points. Green began picking him up in the half court, getting low in his stance and hounding him around the perimeter.

Booker, who today was named as an All-Star game as an injury replacement for Damian Lillard, could do nothing against Green's defense. He couldn't penetrate, nor could he get space for a clean jumper. The best the youngster could muster was wild desperation passes when Green's teammates overhelped off of Rubio.

Booker went 0-2 for the rest of the game, with his lone two points coming at the charity stripe.
These players can remember stat lines and specific plays from years ago, so I am certain that both players will recall the matchup at the end of their last game. Though Green doesn't naturally cover Booker's position, if this is a tight game in the closing frame, don't be surprised to see Green out there in his defensive stance again.
Prediction
Stack up another loss on the tank job.
But between Chriss getting revenge on his former team, and Bender playing to extend his professional career; plus the Draymond Green/Devin Booker showdown from the last time these two teams met, hopefully we are at least treated to a fun, close game.