Discover more from Dub Nation HQ
High Quality coverage of the Golden State Warriors with the best commenting community in the world.
Over 3,000 subscribers
Preview: Andre Iguodala returns, will visit Chase Center for the first time; but always have a place in our hearts
Also, early returns on Wiggins were promising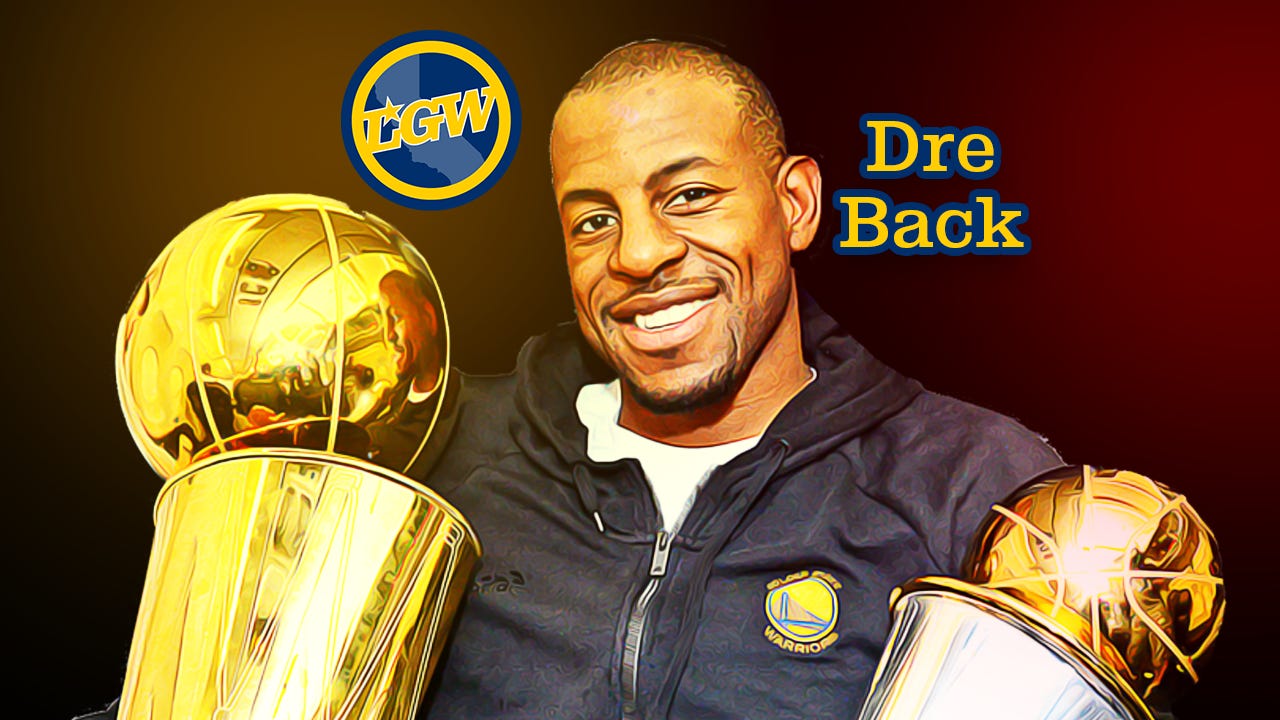 The biggest takeaway from Saturday's loss to the Los Angeles Lakers was that this iteration of the Golden State Warriors is not appreciably worse than the one we've all been watching these past months. Despite trading away half the team and all our leading scorers, the Warriors still looked at least as competitive as they had before the trade deadline maneuverings that landed them a handful of picks while shedding enough salary to avoid the repeater luxury tax.
What does that mean moving forward? Unfortunately it's much too early to say if General Manager Bob Myers made the right decision in trading for Andrew Wiggins and his massive contract; but the initial returns are promising… and more important for internet (over)reactions: it was not a disaster. It's a long journey. This is still an extremely short-handed team until Curry returns in March, so Wiggins and the rest of the Warriors are going to be facing an uphill battle - very much on brand for this Sisyphean season.
Up next, Andre Iguodala dusts off his old man game to come back and say hello to his old team. It's just the second game with his new team, the Miami Heat, who will be playing without Jimmy Butler.
---
GAME DETAILS
WHO: Golden State Warriors (12-41) vs Miami Heat (34-17)
WHEN: Monday February 10, 2020; 7:30 pm PST
WHERE: Chase Center; San Francisco, CA
WATCH: NBC Sports Bay Area
---
Andre Iguodala - always a Warriors
Basketball, like life, isn't always clean and straightforward. As much as the franchise (and fans) would have loved to keep Andre Iguodala with the team until his retirement, it just didn't work out like that. Since that didn't happen, we were hoping for a reunion next season, looks like that may not work out either. He's already meshing and thriving with his new team:
Once Kevin Durant decided to leave (which was actually about halfway through last season's campaign according to a recent interview) it threw the Warriors into a series of contingencies. For the first time in a while, the Warriors entered this offseason reacting to outside forces that had thrown them for a loop. So, Iguodala had to go. A hefty salary meant that he was a mandatory move, and even then Golden State found themselves hard capped - which further complicated their machinations. So keeping him was never a realistic option given the way the Warriors roster unfolded.
But Iguodala, ever the savvy veteran bided his time, patiently waiting for the right opportunity while sitting out in Memphis and healing his body and resting his mind. Finally, the Miami Heat stepped up with an offer that the Grizzlies couldn't refuse, and Iguodala took his talents to South Beach.
Expect a raucous welcome for the three-time NBA Champion 2015 NBA Finals MVP.
Iguodala was one of the foundational pieces of the Warriors dynasty, the first disciple of Steph Curry. He was the first free agent to join this team with intention and vision of legitimately contending for multiple championships alongside the homegrown talent of Steph Curry, Klay Thompson, and Draymond Green. That core three is still here, so there was a common shared hope that perhaps Iguodala would return and shore up the wing for us.
It cost the Warriors a first round draft pick to move Iguodala's contract, which seemed to be indicative of the Finals MVP's declining value. But the Miami Heat gave him $15 million dollars this year (with another $15 million team option next season, that includes a trade kicker), and Iguodala seems to be relishing the chance to rekindle parts of his game that he cast aside to integrate with the Warriors:
"Playing with [the Golden State Warriors], we go to the Finals every year, and the media scrutiny behind every single move -- you get exhausted. You've had a good break, but then you kind of see where the game's trending, you don't know, it's like, 'Where do I fit in?' And it's kind of a blessing in disguise, like this is the perfect spot. I can do a lot of different things here.

A lot of different things. It doesn't have to be just defense or just passing. Or just in the corners. It's going to be good. It's going to be good. I'm going to do a lot of different things."
Dub Nation is as attached to Iguodala as much as any other player. His stalwart presence has meant as much to this franchise, and the dynasty run, as just about anything else. And neither he - nor we - will ever forget that. It's going to be fun rooting for him and watching his renewed life in Miami; even as we wistfully dream about what could be.
The Wiggins era: early returns are strong to very strong
When we traded for Andrew Wiggins, I'll admit to being incredulous. There are some truths that will be immutable, regardless of the outcome of Wiggins' tenure here. First, let me start off by affirming that yes, Wiggins is a tremendous talent. If we played 100 games to 100 points each, I would be lucky to make one single basket.
BUT.
That contract is not good. Maybe he can turn into the quaternary support player that completes the new-look Warriors roster. Statistically, he profiles as Glenn Robinson with a few extra inches of height - and whether those two inches of height and reach are indeed worth an extra 25 million dollars is really the main knock on this trade.
However, as Golden State has been eager to point out: there really aren't many franchise-altering wing players projected to come out of this upcoming draft. Nor does the team want to be like the New York Knicks, clearing space and moving contracts all to set themselves up for landing a big name free agent that never comes.
So, Wiggins is the answer at the wing.
It makes a lot of sense, just from a roster construction standpoint, and Wiggins, in his first game in a Warriors uniform, gave everyone a solid glance as to precisely what that vision is. He's got enough scoring chops to deliver points on a reasonable efficiency, and seems well suited to the Warriors system that is designed to produce cuts and layups for players like him. He had 24 points (on just 12 shot attempts), 5 steals, 3 assists, and a couple rebounds. We don't even need that level of production from him when the Splash Brother return, but it's nice to know the potential is there.
More importantly, from a value and roster construction standpoint, Wiggins does fill a position of need. No one will ever be able to replace Kevin Durant, but the Warriors desperately needed an athletic player with the legitimate size and speed to play the three in the modern NBA. Wiggins is that.
Am I an idiot for questioning the trade? Maybe!
Nothing against the player, but before we traded for him, his was the near total consensus-level worst contract in the league. But here's the part that Joe Lacob and the Warriors are banking on: if Wiggins can actually, reliably play like he did in his first game, then the contract isn't that bad anymore and the front office may not be as crazy as Iguodala's hands. As Lacob told The Athletic's Tim Kawakami recently, these things can't be looked at as absolutes. If Wiggins helps this team win more than D'Angelo Russell could have, this is not wasted money:
"Anybody who can't see that this is a great deal for us, I don't know what they're thinking," Lacob said. "You can sit and talk about what his salary is, but (Wiggins) had the same salary as D-Lo. They're both good players. They're different players. You can question whether this is a better fit; we think it is, as much as I liked D-Lo. He's a really good player. And I think it's good for him, too. So it's a fair, good thing for both teams."
So far, it's looked good enough. If it continues to work this well with the return of Curry, and eventually Thompson, then blog boys like me look dumb for calling it a bad contract, the teams will be very good, and everyone will be happy.
Checking in on the Heat
Since this is supposed to be an actual preview, and not just my diatribe on overpriced wing players, let's go ahead and talk about the Miami Heat.
First of all, it's important to understand how good the Heat are. While Iguodala probably loves sunshine and playing in a state with no income tax, there are some viable basketball reasons to look twice at Miami.
Currently sitting in the fourth seed in the Eastern Playoff bracket, the Heat have thrived mostly on the strength of their offense - which is the 7th most efficient in the NBA. The defense is mediocre, sitting right in the middle at a pedestrian 14th - but we can safely expect that to change with the inclusion of Iguodala.
However, the team will be playing with star player, Jimmy Butler:
The team plays slow (their pace is the third slowest in the league), but shoots efficiently (4th best eFG% as per basketball reference), and gets to the line a ton - where they lead the league in free throws per shot attempt.
Prediction
Will Iguodala take Wiggins under his wing and help us develop the next generation of super wing? I think that's more likely than a win tonight, as Iguodala and a very strong Heat team should cruise into town and overpower this bad Warriors team - even without Jimmy Butler.
Regardless though, with Iguodala back around, it's going to get emotional. Dub Nation will never forget Iguodala's role on this team, or his appropriate place amongst the pantheon of greats during the dynasty run.
It's a new era everywhere, so let's go Warriors!