On glass ankles: Bucks star goes down, team wins a tenuous victory to avoid the brooms
Rondo outshines Westbrook; Giannis goes down but his team wins without him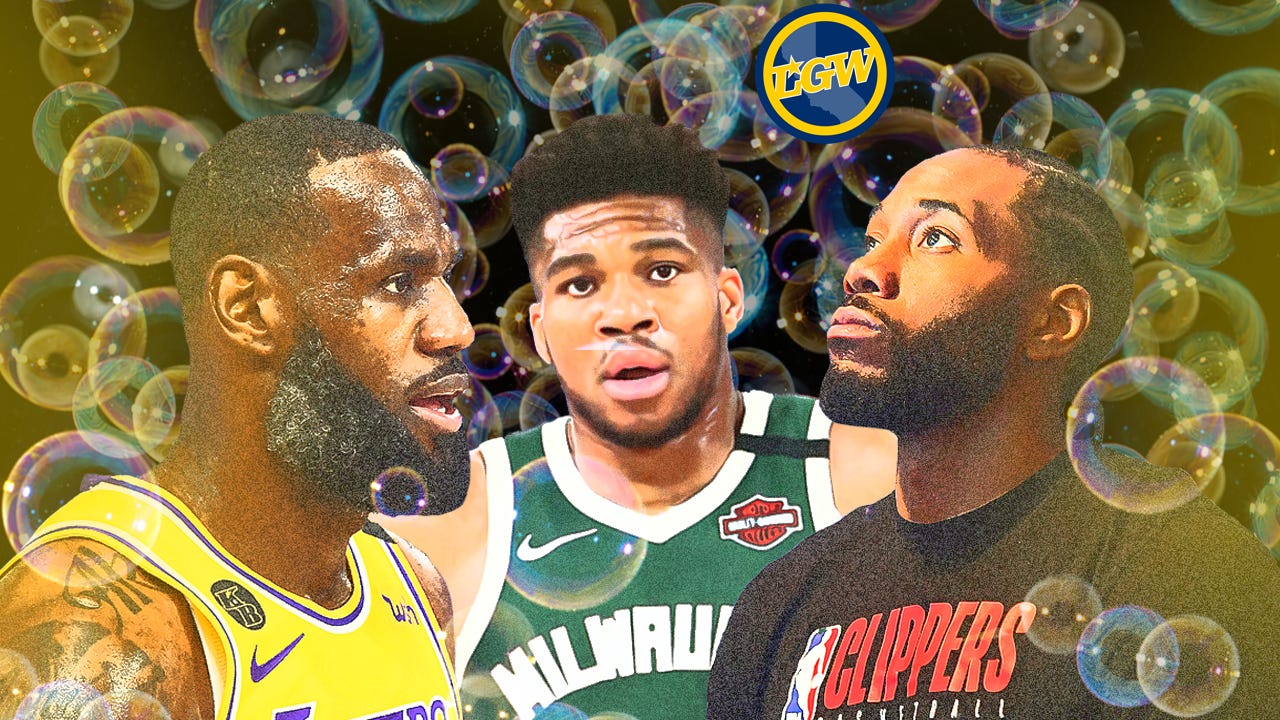 The urban dictionary defines glass ankles as "an injury prone ankle with the structural integrity of a house of cards on a bouncy castle." Anyone who has ever suffered from this condition knows how fragile and tender the joint can become - every minor tweak becomes a significant injury.
Because of my background in skateboarding and basketball I am extremely familiar with the condition. So is Golden State Warrior, Stephen Curry. Now, it looks like we have a commonality with Milwaukee Bucks star Giannis Antetokounmpo.
Here's the play. Note that this was on takeoff, not the landing.
Antetokounmpo came into the pivotal game 4 with a wobbly ankle that has seen a series of sprains/rolls. He was formally listed as "Questionable - Game Time Decision" but informally listed as "desperately needed" heading up against a shockingly tough Miami Heat team that was on the verge of sweeping the top-seeded Bucks out of the Playoffs.
He was fantastic in his limited time, scoring 19 points on 8-for-10 shooting along with 4 rebounds, a steal, and a block (in just 11 minutes) before the injury claimed him.
Whether it was due to a renewed urgency from the Bucks' supporting cast, or the Heat relaxing after Antetokounmpo went down, the team from Milwaukee eeked out a win to avoid the sweep.
For those that were rubbing their hands at what a sweep could mean for Antetokounmpo's future with the franchise:
Rondo outperforms Westbrook, LeBron looks unstoppable as Lakers even series
34 year-old Rajon Rondo had 10 points, 9 assists and 5 steals in 29 minutes in the win to even the series against the Houston Rockets at 1-1. When he was on the court, the Lakers outscored the Rockets by 28 points.
It was an early punch to the face that set the tone for the Los Angeles Lakers. After controversial referee Scott Foster slapped two quick fouls on the fire hydrant-shaped shoulders of PJ Tucker, the Rockets do-it-all 6'5" center, it was Markieff Morris that did the basketball equivalent of smacking the opponent with a folding chair while they weren't looking.
Morris hit four 3-pointers in a span of 2 minutes 46 seconds in that 1st quarter - all assisted by Rondo. Morris ended the night 6-of-8 from the field for 16 points.
LeBron James commented a day earlier on the Rockets frenetic style, and how difficult it was to cover, but it was coach Frank Vogel that made it easier for the Lakers by benching Center Dwight Howard and going small with Morris. Ex-Warriors JaVale McGee disappeared after halftime with some sort of ankle pain (he had an MRI, but I can't find any additional information beyond that).
Embracing the Rockets size and pace, the Lakers simply outclassed Houston, due in no small part to a disastrous night from ex-MVP Russell Westbrook. Westbrook shot 4-of-15 from the field for just 10 points, while serving up seven succulent turnovers.
It was all the help that LeBron James needed. He went off (as usual) for 28 points, 11 rebounds and 9 assists, and got plenty of support from Anthony Davis, who finished with 34 points and 10 rebounds.
Here is the entire game, distilled to a two second clip:
My favorite series: Raptors Celtics
The NBA has two games on offer, the first time ever that fans were treated to NBA basketball on Labor Day.
The early game (3:30 on TNT) will feature my surprise favorite series of the playoffs this year. Knotted up at two games each, the Raptors have recovered from the OG Anunoby buzzer-beating haymaker in Game 3. This is a now a best-of-3 series, and each one of these remaining games is mandatory viewing for me.
Watch for Kyle Lowry. He's been the glue that holds everything together, and without him Fred VanFlesus has looked decidedly mediocre. Via NBA.com:
Through those first two games, the Raptors were a minus-1 in 64 minutes with Fred VanVleet and Kyle Lowry on the floor together and, incredibly, a minus-30 in 17 minutes with VanVleet on the floor without Lowry. The solution was simply to not let Lowry rest. The 34-year-old point guard played 46:29 in Game 3 and then 43:47 in Game 4.
My least favorite series: Clippers Nuggets
On paper, this is a match up I should really be more interested in. I know that the Clippers are one of the best teams, and the the Nuggets are going to be well positioned to challenge them with their post-centric offense and dangerous pick-and-roll game.
The series is even tied up right now at one game apiece, and will air at 6:30 (ish) on TNT. I think the games have been starting about 15 minutes later than the posted start time, but anyone that has a more accurate accounting, feel free to let us all know in the comments.