Discover more from Dub Nation HQ
High Quality coverage of the Golden State Warriors with the best commenting community in the world.
Over 3,000 subscribers
Number one seed says what? Lakers lose first game, Bucks on cusp of elimination
Tough night for the top-ranked teams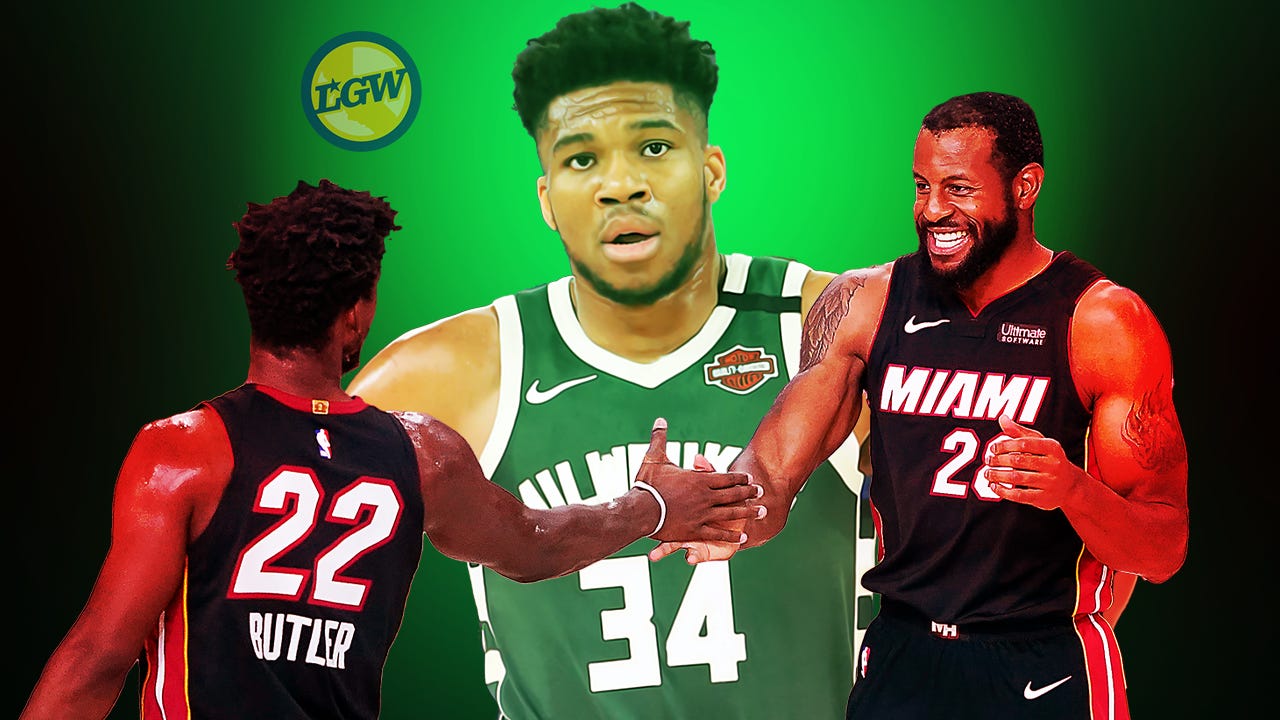 Coming into the Orlando bubble, we all knew that crazy things could happen. More so than in years past, the field is relatively flat, with no consensus best team. Beyond that, there are no fans, no home court advantage, and very few distractions. In other words, this year's NBA playoffs are unprecedented.
So it shouldn't be a surprise that we are getting some surprises.
Uneasy is the head that wears a crown
Life is tough at the top. In a league that is constantly undergoing an arms race to knock each other off the top of the pile, there's an inherent target sign on the chests of the top seeded teams. Now, generally that doesn't matter because the teams at the top are strong enough to fend off challenges, but this year's top teams are both dealing with some design flaws - and hoping that they aren't critical path issues.
Giannis Antetokounmpo and his Milwaukee Bucks find themselves in the most tenuous position. Perched on the precipice looking down at an 0-3 hole, this is a team that is staring their own mortality in the face. Is the coaching to blame, or the players?
But let's talk about those design flaws first. Antetokounmpo is without question one of the best players in the league. How high up on the list he lands is a personal question, but he's objectively good. Extremely good, even.
So why is his team getting crushed?
We use the term "complete player" but it's an extremely vague term. Every single basketball player has holes in their game. Stephen Curry does not rack up many blocked shots, Michael Jordan didn't nail tons of threes. It's on the players and coaches to recognize these gaps and work around them.
Antetokounmpo is a tremendously gifted athlete, with the prerequisite size, speed, and basketball acumen needed to dominate the court. But he is not without limitations. A defensive ace, Antetokounmpo's offense is largely contingent on his athleticism allowing him to drive and step around defenders. He hasn't needed much more than that through this point in his career.
But (and I said this yesterday) if you can stop that initial dive play, the gazelle-like gait of Antetokounmpo quickly devolved into the awkward dance moves of a teenager at their first school dance. Without a go to post move (like seriously Giannis, get a drop step move for the love of GOD!), the star gets stuck in the post with no good way out; and the coach doesn't seem to be adjusting to this reality:

Beyond that, as Daniel Hardee pointed out in our series preview, there are some design considerations at play that make the Heat an especially bad strategic matchup for the top seeded Bucks: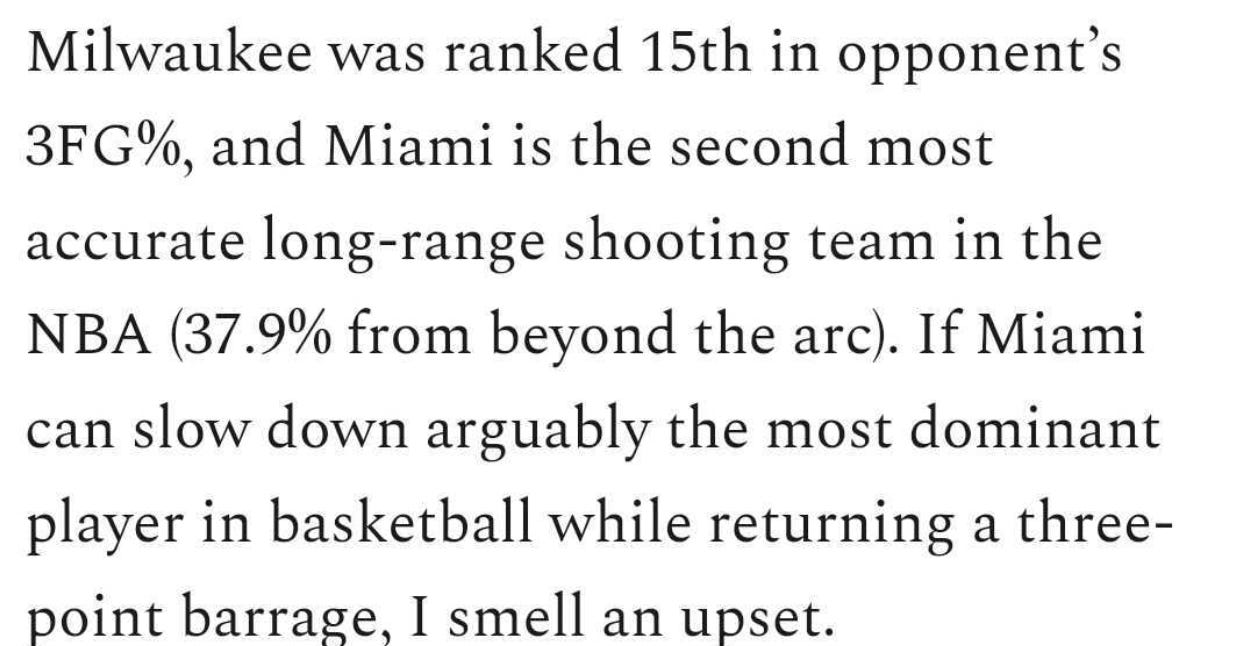 Jimmy Butler and Andre Iguodala, along with the rest of the Heat team are shocking the league right now, but it's the Bucks that are at immediate risk here. Barring a historic comeback, this is a franchise that may spend a lot of time this offseason staring at themselves in the mirror and trying to figure out where to go next.
For LeBron James and the Los Angeles Lakers, the situation is much less dire, but still concerning.
The Lakers built a roster like they were playing on of those "best teams for 15 bucks" games but they spent 11 dollars on LeBron and Anthony Davis. You can fill those spots well, but the Lakers neither did that, nor did they design any sort of scheme to embrace the quirky roster construction. Really counting on top end talent but almost actively undermining their ability to do what they do best, the Lakers front office bizarrely seems to have intentionally embraced a lack of shooters.
It's put their stars in an unenviable position of needing to personally carry a series where they aren't matched up against the best players on the opposition's team.
So while James and Davis man the interior, it falls to guys like Kyle Kuzma to overpower the Rocket's perimeter players, and that just hasn't been the case - assuming it's even possible.
Meanwhile, the Lakers are stuck with a big roster. While Dwight Howard and JaVale McGee are both useful players in a vacuum, against the high octane perimeter Rockets attack, they are worse than not helpful, they can be a full on detriment.
Davis and LeBron simply don't play the right position to directly take on Harden, or Westbrook, leaving their supporting cast of misfit toys with an unduly heavy burden. For the Rockets, this is like taking the batting weights off the bats of their offense after playing a very tough, and well-suited Thunder defense. Via Anthony Slater:
The Thunder was the best team in basketball this season keeping teams off the free-throw line. In the first round, they lived up to that reputation against Harden, holding him to single-digit free-throw attempts in six of seven games, a true accomplishment.

The Lakers let Harden get 11 free throws in the first half of Game 1.
Today's action: Celtics Raptors hold intrigue; Clippers should keep rolling
The NBA is on a solid "two games per day" schedule now. Up this afternoon, Game 3 of the Celtics-Raptors series; followed by Game 2 of Clippers-Nuggets.
That Eastern Conference SemiFinal match is the one I;ll be most interested in watching. After powering through the regular season and the opening round of the playoffs, the defending champion Toronto Raptors suddenly look mortal.
It's a showdown of two egalitarian teams. Both well-balanced but with a star or two, the Celtics have been beating the Raptors with their top talent, as well as outclassing them with their systemic brilliance.
Our friend Joe Viray called in "commie ball" in light of the socialist offenses in play here, and I love it. Toronto was a prayer of a buzzer beating three away from being down 0-3, so expect yet another tense nail biter of a game today at 3:30pm.
I don't think the Denver Nuggets are especially strong, or any sort of meaningful threat in these playoffs, but they get another crack at the Los Angeles Clippers tonight at 6pm.