NBA Playoffs day 3 preview and recap - WE HAVE UPSETS!
Some surprising results yesterday add much needed drama. Strap in for yet another day of quadruple header action.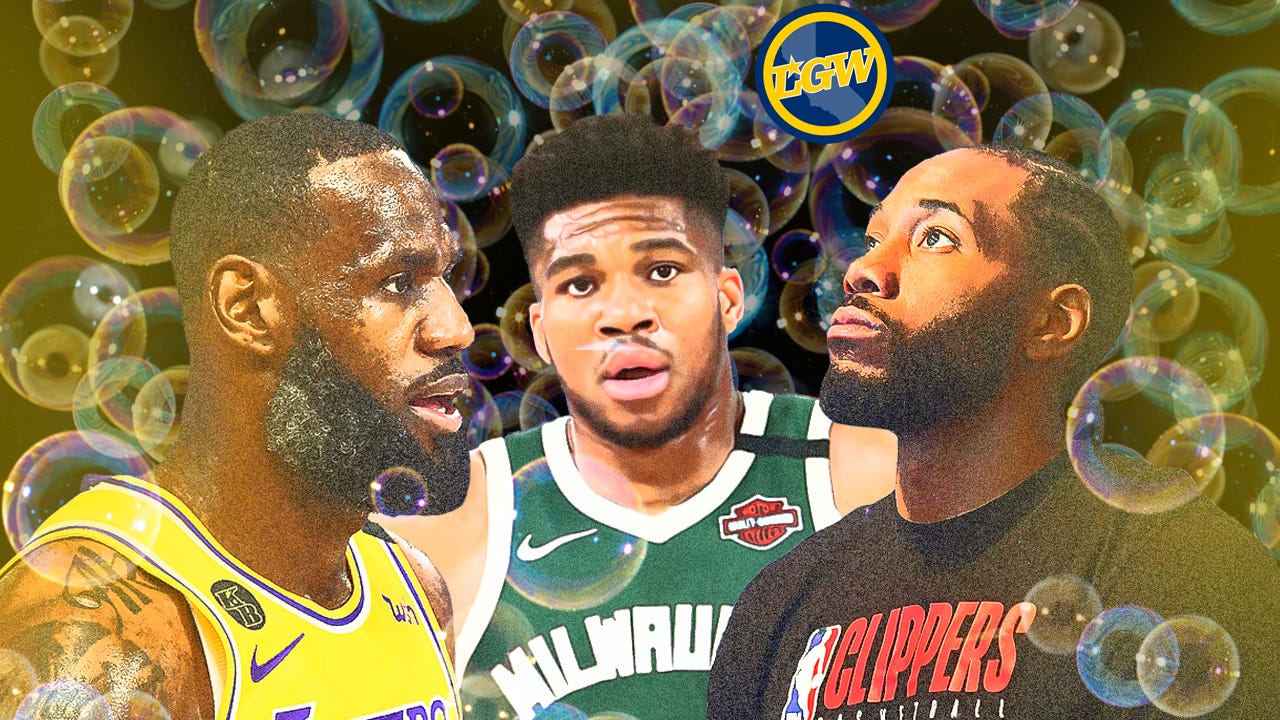 Is Damian Lillard the best point guard to ever play the game!?
No, probably not. But after Lillard and his upstart Portland Trailblazers ran LeBron James' Los Angeles Lakers into the ground last night, the hot takes are flying around the internet.
I'll just leave this right here:

We'll get into all the results from yesterday, but first here is…
What's on tap for today
Toronto Raptors (2) vs. Brooklyn Nets (7), 10:30 am PST, NBA TV
Toronto leads the series 1-0.
The Raptors came in as heavy favorites (and one of Vegas' favorite picks to make the finals) so it's no shock that they were too much for the Nets in game one.
Brooklyn is making a roster change in order to go small, hoping to turn the series into a run-and-gun battle. The Raptors are well-suited to a fast pace, so this is one of those risks that a playoff team has to take in order to give themselves a puncher's chance against an objectively more talented and experienced team.
No. 3 Denver Nuggets vs. No. 6 Utah Jazz, 1 p.m. PST, TNT

Denver leads the series 1-0.
While Donovan Mitchell went off for a historic playoff scoring record, the Utah Jazz fell short because they were unable to stop the tandem of Jamal Murray and Nikola Jokic. Ben Dowsett did a phenomenal job of breaking down the struggles that Utah, and their highly touted defensive anchor, Rudy Gobert had in game one. Now, Denver as had a great offense for a couple of years now, but you simply cannot give up this level of efficiency on basic pick and roll coverage in a playoff series, and expect to win:
Murray's two-man game with center Nikola Jokic was outright unstoppable: Per tracking data provided by a league source, the Nuggets scored 36 points on 23 Murray-Jokic pick-and-rolls ending in a shot, foul, turnover or pass to an immediate shooter, or 1.56 points per chance.
Utah is playing without Mike Conley, which is a huge detriment here, as he would certainly draw the primary defensive assignment on Murray. It would seem logical to change their defensive scheme a bit (Dowsett proposes sending additional double team help at Murray on the drive), but it will be interesting to see how Utah adjusts - or doesn't.
Boston Celtics (3) vs. No. 6 Philadelphia 76ers (6), 3:30 p.m. PST, TNT

Boston leads series 1-0.
The Celtics won a tough game 1, but it was costly. Gordon Hawyard suffered a Grade 3 ankle sprain (that's a very bad one), that will keep him out through the Finals. For Boston, it's a tremendous blow, especially in a series like this, where their wing depth was a significant advantage.
For the Sixers, who are also playing without a starter (Ben Simmons), this present an opportunity that they must capitalize on.
No. 2 Los Angeles Clippers vs. No. 7 Dallas Mavericks, 6 p.m. PST, TNT
Clippers lead series 1-0.
Luka Doncic scored 42 points, 9 assists, and 7 rebounds (as well as 11 turnovers) but couldn't quite get the Dallas Mavericks a playoff win in game one. The trio of Kawhi Leonard, Paul George, and Lou Williams proved just a bit too much for a young team to hang with.
The Clippers did not look great throughout most of game 1, but managed to squeeze out a win. While they may not need much more than that to get past the Mavericks, it was far from dominant and something that the Clippers are going work diligently to tighten up.
Dallas has problems of their own. Porzingis finished Monday's game, with 14 points in 20 minutes and was getting the Clippers in foul trouble before sitting out most of the 2nd half. Worryingly, it looks like Porzingis is still struggling with knee soreness.
Now, keep in mind that this is not the surgically repaired one - he had ACL surgery on his left kneeback in 2018. Still, the game could have gone differently had he been available for the second half of game 2, if Porzingis can't go tonight, the Clippers jobs just got a whole lot easier.
Quick recaps of yesterday's action
Orlando Magic Shock the world, beat Bucks by 12
Ok, I'll admit it: I was so wrong yesterday. Count yours truly amongst the "most shocked" about this game. Milwaukee had a phenomenal year, often blasting teams out of the water and sitting their stars, like the peak Warriors used to do. Unfortunately, the regular season is meaningless now and Giannis Antetokounmpo and the Bucks are going to have to rediscover their dominance.
Is this a bad matchup, a random fluke, or an indictment of Antetokounmpo's ability to manufacture points against a playoff defense?
The emergent superstar struggled mightily in the playoffs last year, and another early exit would be extremely troubling for a team that was expected to push deep into the post season.
Miami Heat beat the Indiana Pacers
Other than rooting for Andre Iguodala, this series is a good watch because of how close in overall talent these two squads are. Miami managed to upset the Pacers, and how this series goes the rest of the way is anyone's guess.
Rockets smash Thunder
The sad reality here is that OKC just does not appear to have enough top end talent to hang with the Houston Rockets. The Thunder, who found surprising success on the back of a sneaky good season from newly acquired Shai Gilgeous-Alexander, and a three-headed guard lineup featuring the aging but still effective Chris Paul.
Unfortunately, the Houston Rockets well-oiled offensive machine was just too much for the Thunder, who were on their heels all night and lost by 15 points. This was one of those games where the final score made the game look closer than it was, so expect the Thunder to go back to the drawing board and try something different in game 2.
It's Dame Time, and LeBron apparently misses the fans
When the Los Angeles Lakers were assembling their roster, they left a few structural flaws. Mostly, it's been fine, since a team with LeBron and Anthony Davis should win most of their games regardless of the rest of the roster. But after suffering a couple of key injuries to their already paper thin point guard depth, the Lakers were forced to run a big lineup that got stuck in the mud against the Blazers speedy offensive weapons.
Of course, it's LeBron, so you can expect a tough series, and how much stock anyone puts into a game 1 loss is a personal choice - but this was hardly an ideal way to kickoff LeBron's title chase in the West. After missing the playoffs entirely in his first year in Los Angeles, you can expect the chatter to increase around James and his 3-6 record in the Finals.
Not one to take a loss without excuses, James bizarrely pointed to the lack of fans (which somehow affects him and his team more than their opponents, I guess?).
That's it for today.
Please stay hydrated, stay safe from fires, and the pandemic raging across our country. In a world with so much going wrong, I am really enjoying having the NBA playoffs in my life right now.